Here are some prayer points for family with corresponding bible verses that will help you cover your family in prayer.
Next to the church, the Christian family is top target for Satan and his host of demons.
In short, top of Satan's yearly annual agenda is the wreckage of Christian homes, marriages and families.
You shouldn't be surprised about that at all; without the family, God's plan on earth cannot be carried out.
God needed a family of Joseph to bring to the world the Messiah.
Who knows, your family may just be bringing another savior to the world (Obadiah 1:21).
And the church and of course the society is made up of families.
So destroy the family, and you destroy the church and the society – that's Satan's mission.
But good news is no matter what Satan does to bring your family down and out, you can always stop him and revert whatever if you know how to pray and pray right.
Heads up, we have offered to put together some important prayer points for family to help you get started.
READ ALSO: Prayer Points For Healing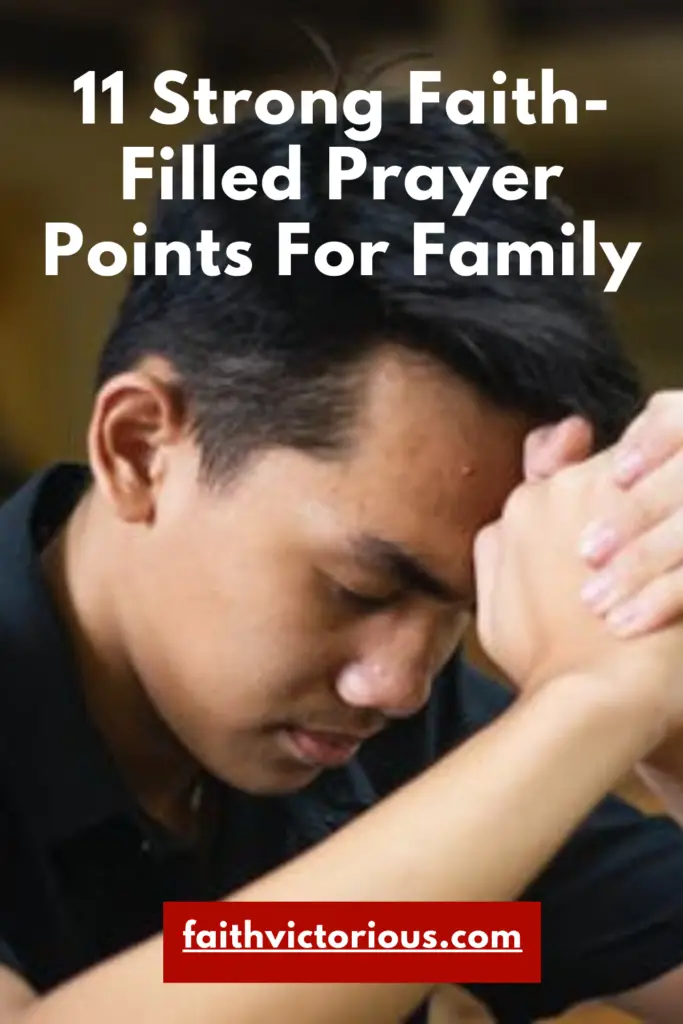 11 Prayer Points For Family With Bible Verses
To make it simple, we have broken down prayer points for family into different areas of the family unit, so you are able to touch specific areas as you pray.   
1. Prayer Point For Family Health
Father, in the name of Jesus Christ of Nazareth, I declare an end to diseases and sicknesses in my family. We live in health because health is ours and it is your will for us to be well. I enforce the blood bought healing and health benefits of redemption in Christ in my home and family now. And no plague shall come near our dwelling, in Jesus name.
"And ye shall serve the LORD your God, and he shall bless thy bread, and thy water; and I will take sickness away from the midst of thee." (Exodus 23:25)
2. Prayer Point For Family Finances
Oh Lord God of Abraham, Isaac and Jacob, the earth is yours and its fullness. I pray the fullness of the earth comes to me and my family. I declare that our financial needs are amply supplied. We have enough to eat and to give to others in need. The Lord is our shepherd, we do no lack for money, in Jesus name
"But my God shall supply all your need according to his riches in glory by Christ Jesus." (Philippians 4:19)
3. Prayer Points For Family Protection
Lord, your word declares that no evil shall befall me and neither shall any plague come near my household. This promise Lord is for me and my family. I therefore join my words with your Word in faith, and declare that my family is shielded and protected from every evil, attack, plagues and pestilence. I put the bomb bunker of the blood of Christ over my family and its entire members, in the name of Jesus Christ.

"There shall no evil befall thee, neither shall any plague come nigh thy dwelling." (Psalm 91:10)
PEOPLE ALSO READ: Prayer Points For Breakthrough
4. Prayer Point For Parents And Guardian
Lord, I pray for strength, health and long life for my parents, (dad and mum), I declare that as their days are, so shall their strength be. I receive for them health and wealth. I receive for them wisdom and understanding to always make right choices and decisions that will take the family to greater heights and levels of wealth, influence and impact, in the name of Jesus Christ. The will live to see their children's children, in Jesus name.
"Because he hath set his love upon me, therefore will I deliver him: I will set him on high, because he hath known my name. He shall call upon me, and I will answer him: I will be with him in trouble; I will deliver him, and honour him. With long life will I satisfy him, and shew him my salvation." (Psalm 91:14-16)
5. Prayer Point For Family Breakthrough
Oh Lord, I pray and declare that my family, every member of it is breaking forth this season, in the name of Jesus. I declare fruitfulness, new heights and new ground. I rebuke stagnation, delays and failures. I receive for them wisdom, understanding, favor, relationships and divine connection that make for breakthroughs, in Jesus name.
"And the remnant that is escaped of the house of Judah shall again take root downward, and bear fruit upward:" (Isaiah 37:31)
PEOPLE ALSO READ: Prayer Points For Families And Marriages
6. Prayer Point For Family Unity
Lord, I pray for unity in my family. I come against every spirit that is dividing us, causing us to fight one against another; I bind you evil spirit of disunity and cast you out of my family, in Jesus name. I call for peace, I call for righteousness, I call for unity, I call for quietness and rest in my family, in the name of Jesus Christ.  
"Two are better than one; because they have a good reward for their labour. For if they fall, the one will lift up his fellow: but woe to him that is alone when he falleth; for he hath not another to help him up. Again, if two lie together, then they have heat: but how can one be warm alone? And if one prevail against him, two shall withstand him; and a threefold cord is not quickly broken." (Ecclesiastes 4:9-12)
7. Prayer Point For Family Restoration
Lord, restore us as you have said. Bring my family back to glory, power and purpose, in Jesus name. Help us to retrace our steps and to get it right at this time. Have mercy upon us Lord and bring us again to opportunities and places of abundance, flourishing, increase and prosperity as in days gone by. Fill us afresh with your Spirit Lord, in Jesus name.
"And I will restore to you the years that the locust hath eaten, the cankerworm, and the caterpiller, and the palmerworm, my great army which I sent among you." (Joel 2:25)
PEOPLE ALSO READ: Prayer Points For Protection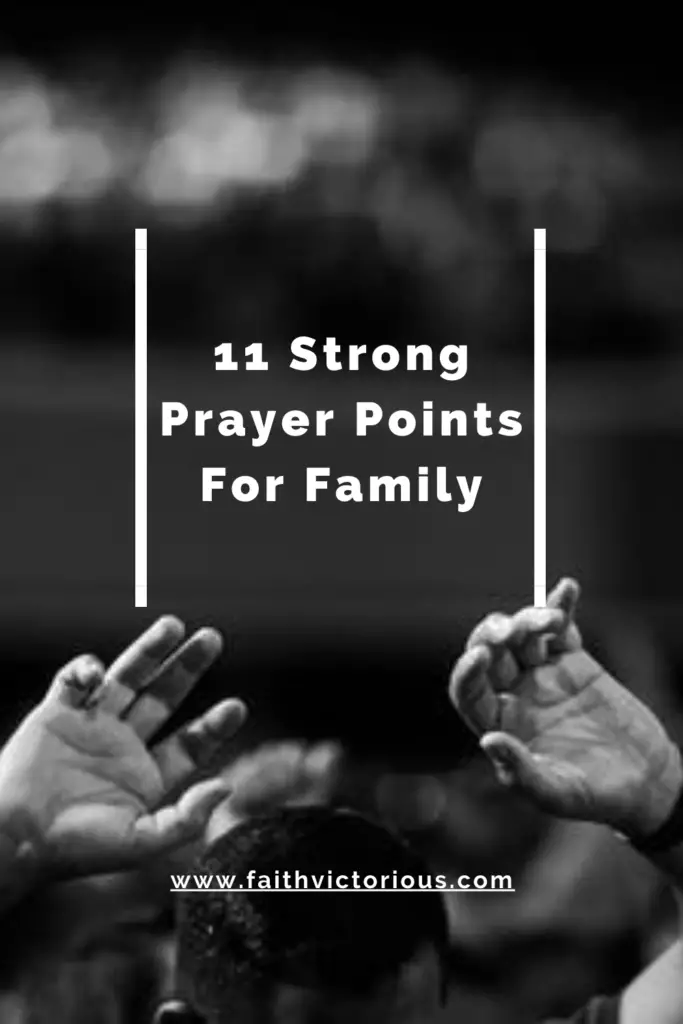 8. Prayer Points For Children
Lord, I declare that all my children shall be taught of you, and great shall be their peace. I declare that they shall all turn out well and right in life, in the name of Jesus Christ. l declare that they are for signs and for wonders in this life. No evil shall before them. They are the seed of the righteous, they shall be mighty on earth. I receive for them long life, health and prosperity. Not any of them shall die young and premature, in Jesus name.
"Behold, I and the children whom the LORD hath given me are for signs and for wonders in Israel from the LORD of hosts, which dwelleth in mount Zion.' … And all thy children shall be taught of the LORD; and great shall be the peace of thy children. (Isaiah 8:18, 54:13) 
PEOPLE ALSO READ: Prayer Points For Peace
9. Prayer Points For Unsaved Family Members
Lord, I pray for the salvation of every unsaved member of my family; I ask that you send somebody their way; someone they will listen to and that will bring them to the knowledge of the truth in Christ Jesus, in Jesus name. I rebuke every blinding demon that is holding their understanding from seeing the light of the gospel, in Jesus name.
"And they said, Believe on the Lord Jesus Christ, and thou shalt be saved, and thy house." (Acts 16:31)
10. Prayer Point For Spiritual Prosperity
Lord, I pray for every member of my family, that they prosper spiritually; that they come to know you more. I pray for increased understanding of the Word for them. I pray for revelation, insights and exact knowledge of the Word for them. I pray that they be constantly filled with the Spirit, walking in His fullness; manifesting the gifts, power and glory of the Spirit, in Jesus name. I ask for increase grace and multiplied peace for every one, in Jesus name
"Blessed be the God and Father of our Lord Jesus Christ, who hath blessed us with all spiritual blessings in heavenly places in Christ:" (Ephesians 1:3)
11. Prayer Point For All Round Blessing
Father, I pray for all round blessing for all my family members. I declare that we prosper in spirit, mind and body, in the name of Jesus. We are fervent in spirit, strong in our bodies and sound in mind, in Jesus name.
"May God himself, the God of peace, sanctify you through and through. May your whole spirit, soul and body be kept blameless at the coming of our Lord Jesus Christ. The one who calls you is faithful, and he will do it. (1 Thessalonians 5:23-24, NIV)
Thank you Lord for answer to prayers, In Jesus name. Amen!
PS: Unless otherwise stated all scriptural quotations in this post are taken from the Authorised King James Version. And all scriptural quotations tagged NIV are taken online from the New International Version 2011, published by Biblica.
PEOPLE ALSO READ: Prayer Points For Thanksgiving
Conclusion
We trust you find this post on prayer points for family helpful.
Plus, we believe the corresponding bible verses will instills faith in you.
To pray prayers that are effective, you must have God's word for it – a legal ground to offer your prayers.
And you know what; God always honors His word.   
Now, these prayers can be prayed anytime of the day: morning, noon, night… and you may even have to add a bit of waiting – fasting to it, if need be.
But praying these prayer points for family regularly and in faith will produce the best result.
Just to add; to really make power available as you pray, you may have to pray intensely in the spirit as you pray these prayers.
You can never pray in the spirit and not pray correctly.
And when the Word is prayed in the spirit, the effect is always dynamic.
11 Strong Prayer Points For Family (With Bible Verses)