If you're surfing the net for prayer points for protection, you have come to the right place.
The days we live in are evil, Satan and his host of evil spirits are working tirelessly to steal, kill and to destroy.
But for the Christian, you're not disadvantaged at all.
God is committed to your safety, security and protection.
He has made provision in His word for your protection and safety.
He has made available powerful weapons that guarantee your safety and protection in the midst of evil and wickedness in spite of the devil and his agents.
One of such weapons (weapons of our warfare) is prayer
In this post, we will share with you scriptural based prayer points for protection.
These prayer points for protection when prayed in faith and seriously will ensure your safety and protection in this evil time.
See!
Read also: Prayer Points For Family
21 Powerful Prayer Points For Protection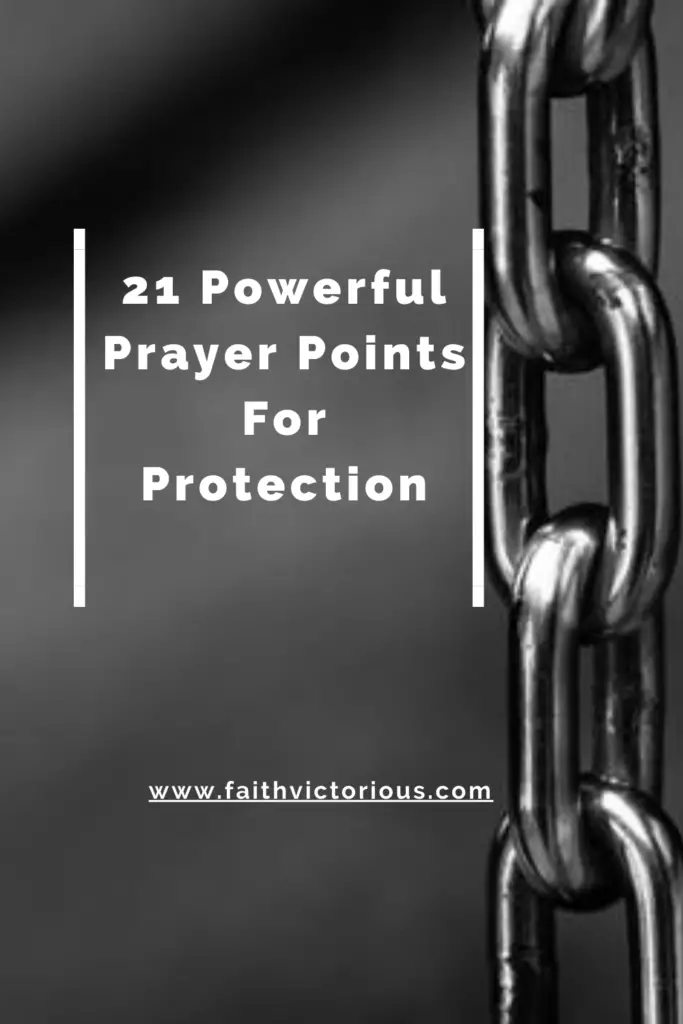 Now, the following is a list of prayer points for protection from all forms of evil, harm, attack, plagues, pandemic and pestilence.
All these prayer points are backed up with verses from the Holy Bible.
They can be prayed as prayer for your personal protection, you can pray them for the protection of your family, children, husband and more.
You can also pray them as prayer of protection at work and in your business.  
1. Father in the name of Jesus, according to your word, I pray that every one that is planning against me and plotting to harm me shall fall for my sake, in the name of Jesus Christ.
2. Lord, your word declares that no weapon formed against me shall prosper, I take side with your word and declare that no weapon formed against me in any form or fashion shall prosper, in the name of Jesus.    
3. Every voice that is speaking against me right now, be silent and drown now, in the name of Jesus.
4. I destroy and bring to naught every spell, enchantment, wish, incantations that are being made against me right now, in the name of Jesus. Let them fall to the ground, and may they never work against me, in Jesus name.
5. Lord, I pray for deliverance from demons of darkness and from all their evil plots. They shall not succeed with their plan at night and in the day.
6. I ask and I receive safety and security at all times. If I by mistake step on any charm, I shall not be harm, in the name of Jesus.
7. I pray that you give your angels charge over me to keep me in all my ways so that accident and evil will not overtake me, in the name of Jesus.
8. Lord, I receive protection and preservation in the midst of evil in the name of Jesus Christ.
9. I pray Lord that you use your favor as a shield of protection over me and my family, in the name of Jesus
10. Oh Lord arise as you have said and save me from all oppression of the devil, in the name of Jesus Christ.
PEOPLE ALSO READ: Prayer Against bad Dreams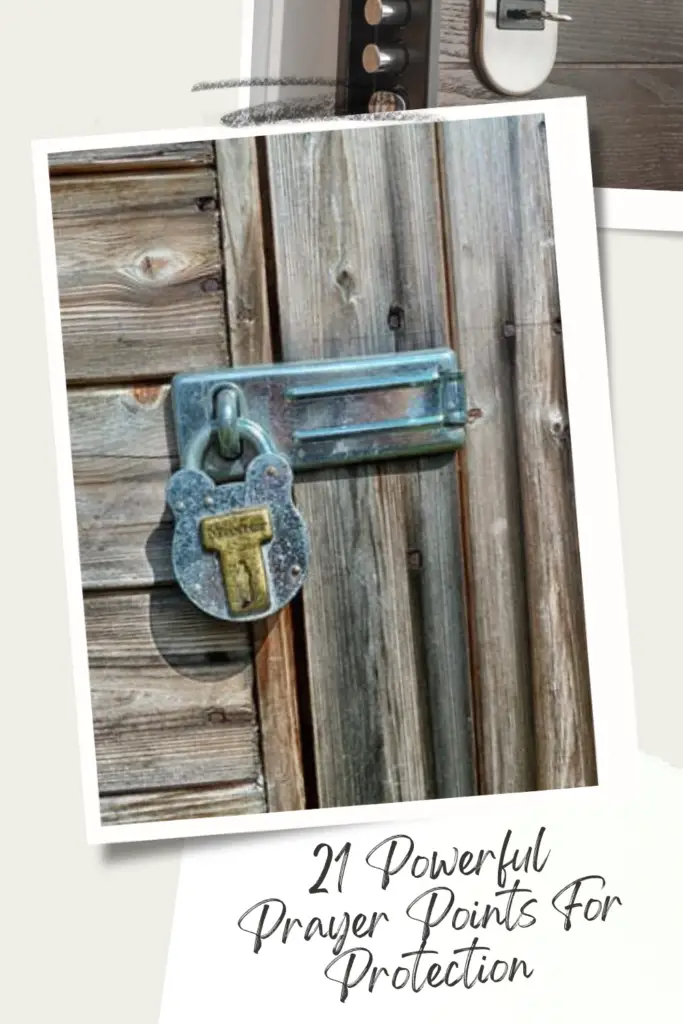 11. Lord, as I go about my business today, I refuse to fear because you are with me to protect and to guide me all day long; for you will not fail me.
12. Lord, I trust your word that you will hold me up with your right hand of righteousness today and always, in the name of Jesus Christ. 
13. Father, I declare that though I'm troubled on every side, I shall not be distressed. And though I may be perplexed, yet I will never come to despair, in the name of Jesus Christ.
14. Yes Lord, I know I will be persecuted in this world but you will not forsake me, you will be with me in trouble, through it all.
15. And Lord, though I may be cast down and wounded, I declare that I shall not be destroyed. Satan and his evil cannot destroy me, in the name of Jesus Christ.
16. Lord, in the day of trouble hear me and defend me by your name according to holy written word, in Jesus name.
17. Lord your word declares that you will deliver me from every evil work and preserve me unto your heavenly kingdom; do as you have said Lord, in the name of Jesus.
18. Father, I ask for discretion and understanding to preserve, keep and to deliver me in this evil times, in the name of Jesus Christ.
19. Father, I thank you because you have committed yourself by your word to keep me safe in the arms of Christ such that no one will be able to pluck me out of your hand and that of Christ, thank you for I am safe in you Lord.
20. Lord, my eyes are on you for to keep me from evil so much so that you will not allow that my foot to be moved, nor will you permit evil to touch me.
21. Father, I trust you to keep me from all evil both in the day and in the night and you will preserve my going out and my coming in today and always, in the name of Jesus Christ.
Amen! 
PEOPLE ALSO READ: Prayer Points For Breakthrough
13 Bible Verses About Prayer Points For Protection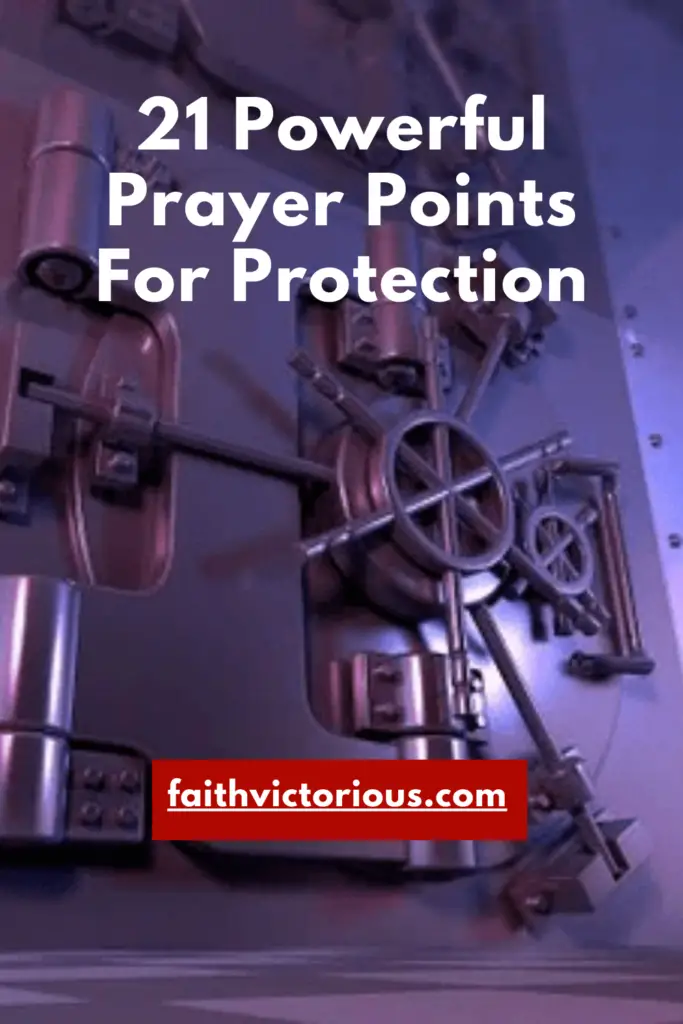 Isaiah 54:17:
"No weapon that is formed against thee shall prosper; and every tongue that shall rise against thee in judgment thou shalt condemn. This is the heritage of the servants of the LORD, and their righteousness is of me, saith the LORD." 
2. Psalm 23:
"The LORD is my shepherd; I shall not want. He maketh me to lie down in green pastures: he leadeth me beside the still waters. He restoreth my soul: he leadeth me in the paths of righteousness for his name's sake. Yea, though I walk through the valley of the shadow of death, I will fear no evil: for thou art with me; thy rod and thy staff they comfort me. Thou preparest a table before me in the presence of mine enemies: thou anointest my head with oil; my cup runneth over. Surely goodness and mercy shall follow me all the days of my life: and I will dwell in the house of the LORD for ever."
"But let all who take refuge in you be glad; let them ever sing for joy. Spread your protection over them, that those who love your name may rejoice in you. Surely, Lord, you bless the righteous; you surround them with your favor as with a shield."
"Because the poor are plundered and the needy groan, I will now arise," says the Lord. "I will protect them from those who malign them." And the words of the Lord are flawless, like silver purified in a crucible, like gold refined seven times. You, Lord, will keep the needy safe and will protect us forever from the wicked,"
5. Deuteronomy 31:6:
"Be strong and of a good courage, fear not, nor be afraid of them: for the LORD thy God, he it is that doth go with thee; he will not fail thee, nor forsake thee." 
6. Isaiah 41:10:
"Fear thou not; for I am with thee: be not dismayed; for I am thy God: I will strengthen thee; yea, I will help thee; yea, I will uphold thee with the right hand of my righteousness."
7. Psalm 91:1-13
"He that dwelleth in the secret place of the most High shall abide under the shadow of the Almighty. I will say of the LORD, He is my refuge and my fortress: my God; in him will I trust. Surely he shall deliver thee from the snare of the fowler, and from the noisome pestilence. He shall cover thee with his feathers, and under his wings shalt thou trust: his truth shall be thy shield and buckler. Thou shalt not be afraid for the terror by night; nor for the arrow that flieth by day; Nor for the pestilence that walketh in darkness; nor for the destruction that wasteth at noonday. A thousand shall fall at thy side, and ten thousand at thy right hand; but it shall not come nigh thee. Only with thine eyes shalt thou behold and see the reward of the wicked. Because thou hast made the LORD, which is my refuge, even the most High, thy habitation; There shall no evil befall thee, neither shall any plague come nigh thy dwelling. For he shall give his angels charge over thee, to keep thee in all thy ways. They shall bear thee up in their hands, lest thou dash thy foot against a stone. Thou shalt tread upon the lion and adder: the young lion and the dragon shalt thou trample under feet." 
8. 2 Corinthians 4:8-10:
"We are troubled on every side, yet not distressed; we are perplexed, but not in despair; Persecuted, but not forsaken; cast down, but not destroyed; Always bearing about in the body the dying of the Lord Jesus, that the life also of Jesus might be made manifest in our body."
9. 2 Timothy 4:18:
"And the Lord shall deliver me from every evil work, and will preserve me unto his heavenly kingdom: to whom be glory for ever and ever. Amen."
10. Proverbs 2:10-12:
"When wisdom entereth into thine heart, and knowledge is pleasant unto thy soul; Discretion shall preserve thee, understanding shall keep thee: To deliver thee from the way of the evil man, from the man that speaketh froward things;"
11. Psalm 20:1:-2
"The LORD hear thee in the day of trouble; the name of the God of Jacob defend thee; Send thee help from the sanctuary, and strengthen thee out of Zion;"
12. John 10: 27-29:
"My sheep hear my voice, and I know them, and they follow me: And I give unto them eternal life; and they shall never perish, neither shall any man pluck them out of my hand. My Father, which gave them me, is greater than all; and no man is able to pluck them out of my Father's hand. 
13. Psalm 121:
"I will lift up mine eyes unto the hills, from whence cometh my help. My help cometh from the LORD, which made heaven and earth. He will not suffer thy foot to be moved: he that keepeth thee will not slumber. Behold, he that keepeth Israel shall neither slumber nor sleep. The LORD is thy keeper: the LORD is thy shade upon thy right hand. The sun shall not smite thee by day, nor the moon by night. The LORD shall preserve thee from all evil: he shall preserve thy soul. The LORD shall preserve thy going out and thy coming in from this time forth, and even for evermore."
PS: Unless otherwise stated all scriptural quotations in this post are taken from the Authorised King James Version. And all scriptural quotations tagged NIV are taken online from the New International Version 2011, published by Biblica.
PEOPLE ALSO READ: Prayer Points For Thanksgiving
Conclusion
As you can see, these prayer points for protection are scripturally based thus making them powerful and effective.
Plus, God is committed to His word and any time you pray according to His word, he hears you.
So since these prayer points for protection are based on His word, you can be rest assured that God has heard you and that He will see to it that you are protected at all times.
Shalom!
Please share if you find the post helpful!
21 Powerful Prayer Points For Protection (With Bible Verses)