If you're surfing the net for bible verses for birthday woman, you're most welcome.
Birthdays are wonderful moments, times to reflect on life, where you are at with life and where you dream to be in the near future.
Plus, it is time to count your blessing and name them one by one.
And if you're a woman and mother, that makes it all the more interesting.
You surely know what life and living is, most importantly, you know the joy of loving and raising a family – husband, kids – the most exciting job in the world.
That's why for the most part, you have to be celebrated and celebrated big because you know what birthday really means.
But what better way to mark and celebrate your birthday than the right scriptures to proclaim over yourself or over that of another woman celebrating her birthday.
That said, we have put together bible verses for birthday woman for prayers, declaration and wish for you and every other woman.
You can send these verses to any woman on her birthday.
Hope you find these bible verses for birthday woman soul lifting and fulfilling.
Read also: Birthday Prayer For Myself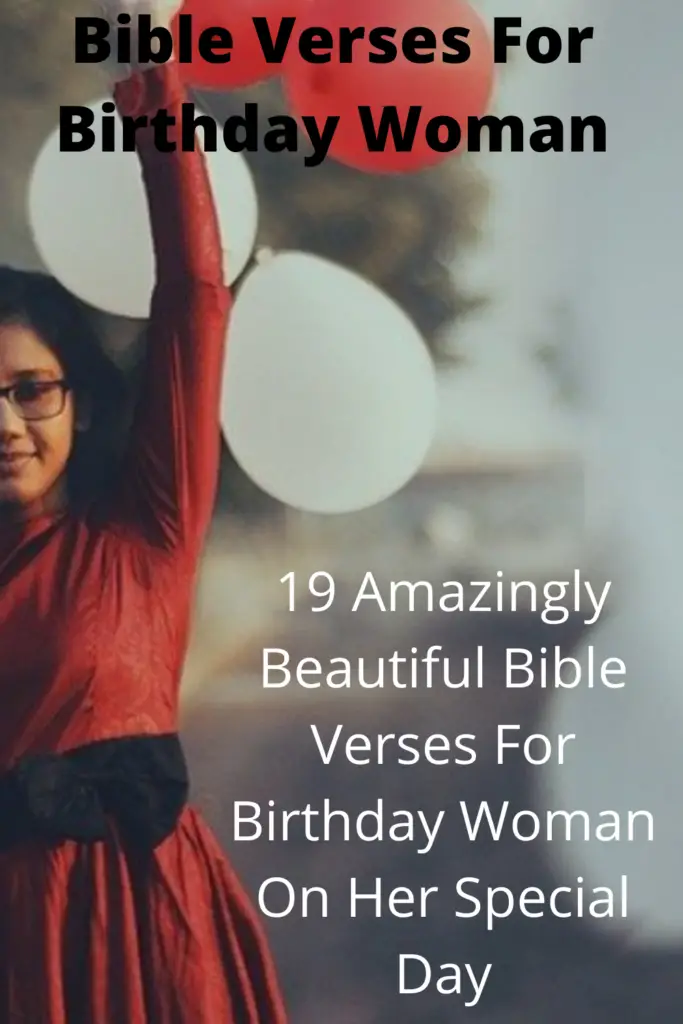 19 Bible Verses For Birthday Woman
The following are amazing bible verses for birthday woman, perfect for her birthdays no matter the age she is marking.
1. Proverbs 31:10:
"Who can find a virtuous woman? for her price is far above rubies." 

2. Deuteronomy 33:25: 
"Thy shoes shall be iron and brass; and as thy days, so shall thy strength be."
3. Judges 5:6-7: 
"In the days of Shamgar the son of Anath, in the days of Jael, the highways were unoccupied, and the travellers walked through byways. The inhabitants of the villages ceased, they ceased in Israel, until that I Deborah arose, that I arose a mother in Israel."
4. Luke 1:28: 
"And the angel came in unto her, and said, Hail, thou that art highly favoured, the Lord is with thee: blessed art thou among women."
5. Judges 5:24-27:
"Blessed above women shall Jael the wife of Heber the Kenite be, blessed shall she be above women in the tent. He asked water, and she gave him milk; she brought forth butter in a lordly dish. She put her hand to the nail, and her right hand to the workmen's hammer; and with the hammer she smote Sisera, she smote off his head, when she had pierced and stricken through his temples. At her feet he bowed, he fell, he lay down: at her feet he bowed, he fell: where he bowed, there he fell down dead."
Read Also: Bible Verses For Overcoming Anxiety
6. 1 Samuel 25:3:
"Now the name of the man was Nabal; and the name of his wife Abigail: and she was a woman of good understanding, and of a beautiful countenance: but the man was churlish and evil in his doings; and he was of the house of Caleb."
7. Ruth 4:11-12:
"And all the people that were in the gate, and the elders, said, We are witnesses. The LORD make the woman that is come into thine house like Rachel and like Leah, which two did build the house of Israel: and do thou worthily in Ephratah, and be famous in Bethlehem: And let thy house be like the house of Pharez, whom Tamar bare unto Judah, of the seed which the LORD shall give thee of this young woman."
8. 2 Timothy 1:5:
"When I call to remembrance the unfeigned faith that is in thee, which dwelt first in thy grandmother Lois, and thy mother Eunice; and I am persuaded that in thee also." 
9. Psam 84:11:
"For the LORD God is a sun and shield: the LORD will give grace and glory: no good thing will he withhold from them that walk uprightly"
10. Psalm 85:10-13:
"Mercy and truth are met together; righteousness and peace have kissed each other. Truth shall spring out of the earth; and righteousness shall look down from heaven. Yea, the LORD shall give that which is good; and our land shall yield her increase. Righteousness shall go before him; and shall set us in the way of his steps." 
"Houses and wealth are inherited from parents, but a prudent wife is from the Lord."
12. Zephaniah 3:17:
"The LORD thy God in the midst of thee is mighty; he will save, he will rejoice over thee with joy; he will rest in his love, he will joy over thee with singing."
Read also: Bible Verses For Birthday Wishes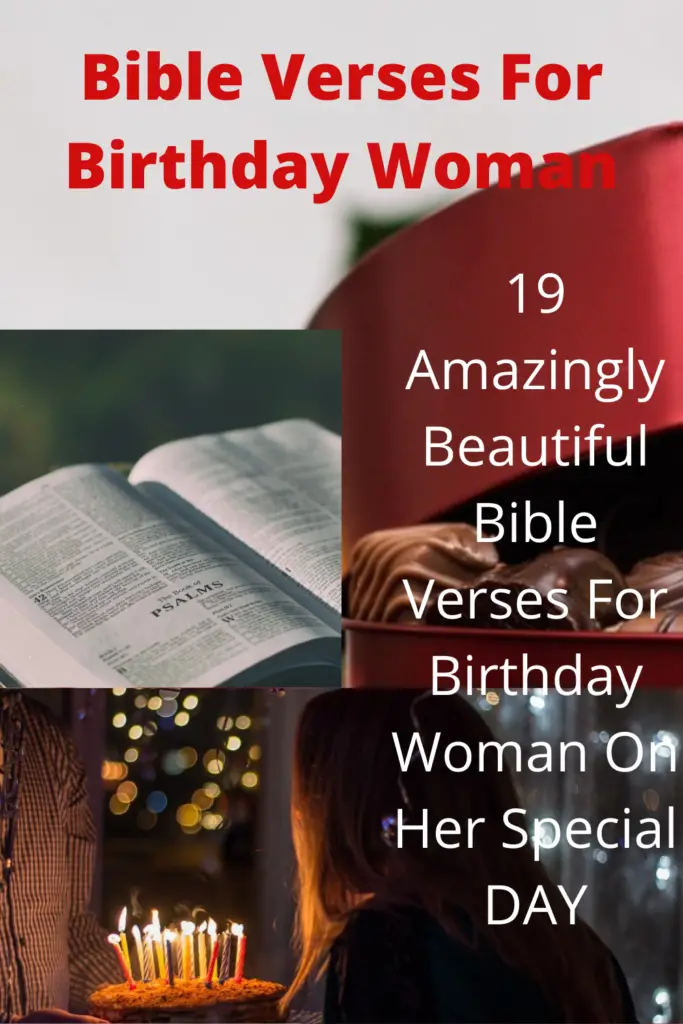 13. Isaiah 54:1-9:
"Sing, O barren, thou that didst not bear; break forth into singing, and cry aloud, thou that didst not travail with child: for more are the children of the desolate than the children of the married wife, saith the LORD. Enlarge the place of thy tent, and let them stretch forth the curtains of thine habitations: spare not, lengthen thy cords, and strengthen thy stakes; For thou shalt break forth on the right hand and on the left; and thy seed shall inherit the Gentiles, and make the desolate cities to be inhabited. Fear not; for thou shalt not be ashamed: neither be thou confounded; for thou shalt not be put to shame: for thou shalt forget the shame of thy youth, and shalt not remember the reproach of thy widowhood any more. For thy Maker is thine husband; the LORD of hosts is his name; and thy Redeemer the Holy One of Israel; The God of the whole earth shall he be called. For the LORD hath called thee as a woman forsaken and grieved in spirit, and a wife of youth, when thou wast refused, saith thy God. For a small moment have I forsaken thee; but with great mercies will I gather thee. In a little wrath I hid my face from thee for a moment; but with everlasting kindness will I have mercy on thee, saith the LORD thy Redeemer. For this is as the waters of Noah unto me: for as I have sworn that the waters of Noah should no more go over the earth; so have I sworn that I would not be wroth with thee, nor rebuke thee."
14. Lamentations 3:22-23:
"It is of the LORD'S mercies that we are not consumed, because his compassions fail not. They are new every morning: great is thy faithfulness."
15. Jeremiah 29:11:
"For I know the thoughts that I think toward you, saith the LORD, thoughts of peace, and not of evil, to give you an expected end." 
16. 3 John 2:
"Beloved, I wish above all things that thou mayest prosper and be in health, even as thy soul prospereth." 
17. 1 Samuel 1:16-17:
"Count not thine handmaid for a daughter of Belial: for out of the abundance of my complaint and grief have I spoken hitherto. Then Eli answered and said, Go in peace: and the God of Israel grant thee thy petition that thou hast asked of him."
18. Numbers 6:24-26: 
"The LORD bless thee, and keep thee: The LORD make his face shine upon thee, and be gracious unto thee: The LORD lift up his countenance upon thee, and give thee peace."
19: Isaiah 54:10-17:
"For the mountains shall depart, and the hills be removed; but my kindness shall not depart from thee, neither shall the covenant of my peace be removed, saith the LORD that hath mercy on thee. O thou afflicted, tossed with tempest, and not comforted, behold, I will lay thy stones with fair colours, and lay thy foundations with sapphires. And I will make thy windows of agates, and thy gates of carbuncles, and all thy borders of pleasant stones. And all thy children shall be taught of the LORD; and great shall be the peace of thy children. In righteousness shalt thou be established: thou shalt be far from oppression; for thou shalt not fear: and from terror; for it shall not come near thee. Behold, they shall surely gather together, but not by me: whosoever shall gather together against thee shall fall for thy sake. Behold, I have created the smith that bloweth the coals in the fire, and that bringeth forth an instrument for his work; and I have created the waster to destroy. No weapon that is formed against thee shall prosper; and every tongue that shall rise against thee in judgment thou shalt condemn. This is the heritage of the servants of the LORD, and their righteousness is of me, saith the LORD."
PS: Unless otherwise stated all scriptural quotations in this post are taken from the Authorised King James Version. And all scriptural quotations tagged NIV are taken online from the New International Version 2011, published by Biblica.
Read also: Bible Verses For 70th Birthday
Wrapping up
No doubt there are several bible verses for birthday woman, but for the most part, we think the 19 Bible verses above are just too good for the day.
They are perfect and good to send as birthday messages to a mother, wife, pastor, boss, sister, colleague, friend and every other woman that means the world to you.
You can even put these verses also on cards, post on social media or even email to that special woman.
Plus, you could even write it on her birthday cake… that will be wao!
I bet you; you would have made her day on that special day – her birthday.
Be a blessing to a woman today with these special bible verses for birthday woman. God bless you!     
Read Also: Prayer Points For Success
19 Bible Verses For Birthday Woman On Her Special Day