Looking for bible verses for 70th birthday on this special milestone birthday?
We have you covered.
70 years birthday is worthy of celebration, a very remarkable milestone birthday at that.
But what better way to mark it than with the word of God – bible verses!
To that end, we have carefully selected bible verses for 70th birthday that will speak to the occasion.
You can send any or all of these bible verses for 70th birthday to a dad, mom, uncle, granddad, grand mom, aunty, friend, relative, brother or sister who is 70 today.
Plus, any of these bible verses for 70th birthday can be printed on birthday cards, banners and or written on that special cake for this special birthday.
You never can tell what this would mean to this septuagenarian on this his platinum jubilee birthday celebration.  
Read also: Birthday Prayer For Myself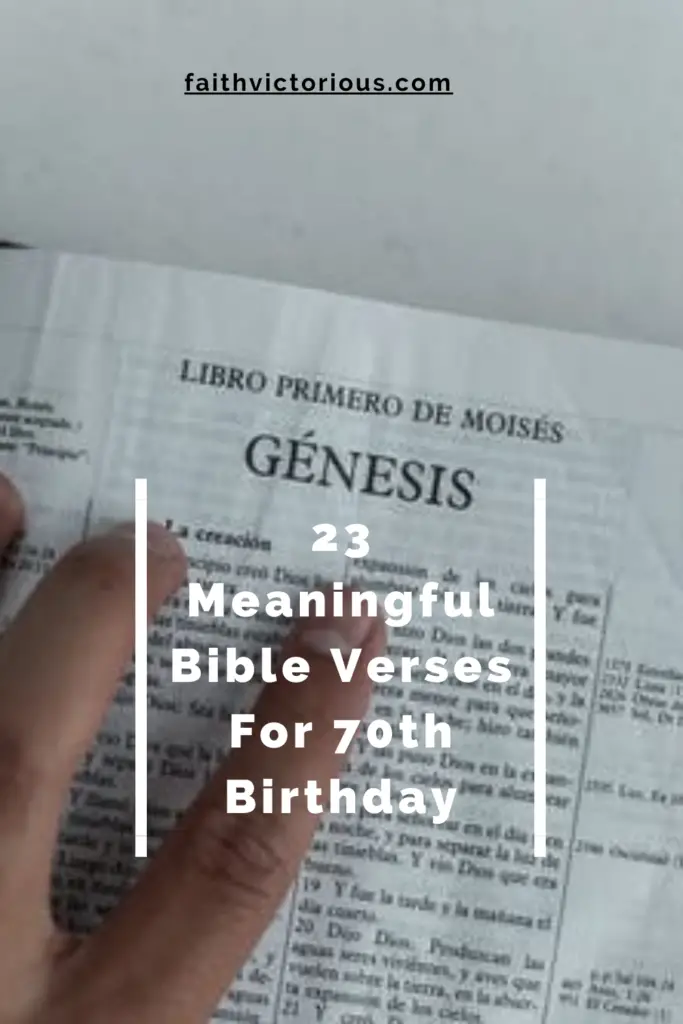 23 Bible Verses For 70th Birthday
The following are bible verses for 70th birthday:
1. Deuteronomy 33:25:
"Thy shoes shall be iron and brass; and as thy days, so shall thy strength be." 
"Our days may come to seventy years, or eighty, if our strength endures; yet the best of them are but trouble and sorrow, for they quickly pass, and we fly away."
3. Psalm 92:12-14:
"The righteous shall flourish like the palm tree: he shall grow like a cedar in Lebanon. Those that be planted in the house of the LORD shall flourish in the courts of our God. They shall still bring forth fruit in old age; they shall be fat and flourishing;" 
4. Proverbs 11:21:
"Though hand join in hand, the wicked shall not be unpunished: but the seed of the righteous shall be delivered." 
5. Psalm 127:3-4:
"Lo, children are an heritage of the LORD: and the fruit of the womb is his reward. As arrows are in the hand of a mighty man; so are children of the youth."
6. 2 Timothy 4:7-8:
"I have fought a good fight, I have finished my course, I have kept the faith: Henceforth there is laid up for me a crown of righteousness, which the Lord, the righteous judge, shall give me at that day: and not to me only, but unto all them also that love his appearing."
7. Job 5:25-26:
"Thou shalt know also that thy seed shall be great, and thine offspring as the grass of the earth. Thou shalt come to thy grave in a full age, like as a shock of corn cometh in in his season. Lo this, we have searched it, so it is; hear it, and know thou it for thy good."
8. Psalm 91:16:
"With long life will I satisfy him, and shew him my salvation." 
9. Genesis 15:15:
"And thou shalt go to thy fathers in peace; thou shalt be buried in a good old age." 
10. Proverbs 10:27-28:
"The fear of the LORD prolongeth days: but the years of the wicked shall be shortened. The hope of the righteous shall be gladness: but the expectation of the wicked shall perish." 
11. Proverbs 9:10-11:
"The fear of the LORD is the beginning of wisdom: and the knowledge of the holy is understanding. For by me thy days shall be multiplied, and the years of thy life shall be increased." 
12. Job 42:16-17:
"After this lived Job an hundred and forty years, and saw his sons, and his sons' sons, even four generations. So Job died, being old and full of days." 
Read also: Bible Verses For Birthdays Wishes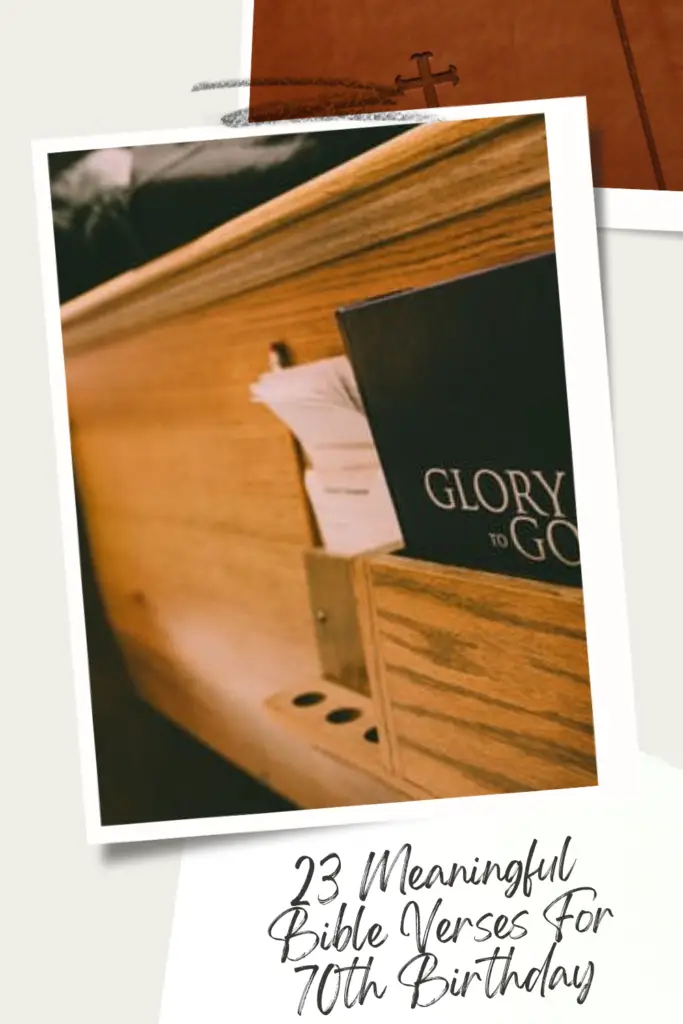 13. Job 12:12:
"With the ancient is wisdom; and in length of days understanding." 
14. Ecclesiastes 9:11:
"I returned, and saw under the sun, that the race is not to the swift, nor the battle to the strong, neither yet bread to the wise, nor yet riches to men of understanding, nor yet favour to men of skill; but time and chance happeneth to them all."
15. Isaiah 11:2:
"And the spirit of the LORD shall rest upon him, the spirit of wisdom and understanding, the spirit of counsel and might, the spirit of knowledge and of the fear of the LORD;"
16. Job 23:10:
"But he knoweth the way that I take: when he hath tried me, I shall come forth as gold."

17. Ecclesiastes 7:11:
"Wisdom is good with an inheritance: and by it there is profit to them that see the sun."
18. Isaiah 33:6:
"And wisdom and knowledge shall be the stability of thy times, and strength of salvation: the fear of the LORD is his treasure."
19. 1 John 2:13-14:
"I write unto you, fathers, because ye have known him that is from the beginning. I write unto you, young men, because ye have overcome the wicked one. I write unto you, little children, because ye have known the Father." 
20. Isaiah 46:4:
"And even to your old age I am he; and even to hoar hairs will I carry you: I have made, and I will bear; even I will carry, and will deliver you."
21. Isaiah 49:18:
"Lift up thine eyes round about, and behold: all these gather themselves together, and come to thee. As I live, saith the LORD, thou shalt surely clothe thee with them all, as with an ornament, and bind them on thee, as a bride doeth."
22. Isaiah 60:4:
"Lift up thine eyes round about, and see: all they gather themselves together, they come to thee: thy sons shall come from far, and thy daughters shall be nursed at thy side."     
23. Genesis 35:29:
"And Isaac gave up the ghost, and died, and was gathered unto his people, being old and full of days: and his sons Esau and Jacob buried him."
Read also: Bible Verses For Birthday Woman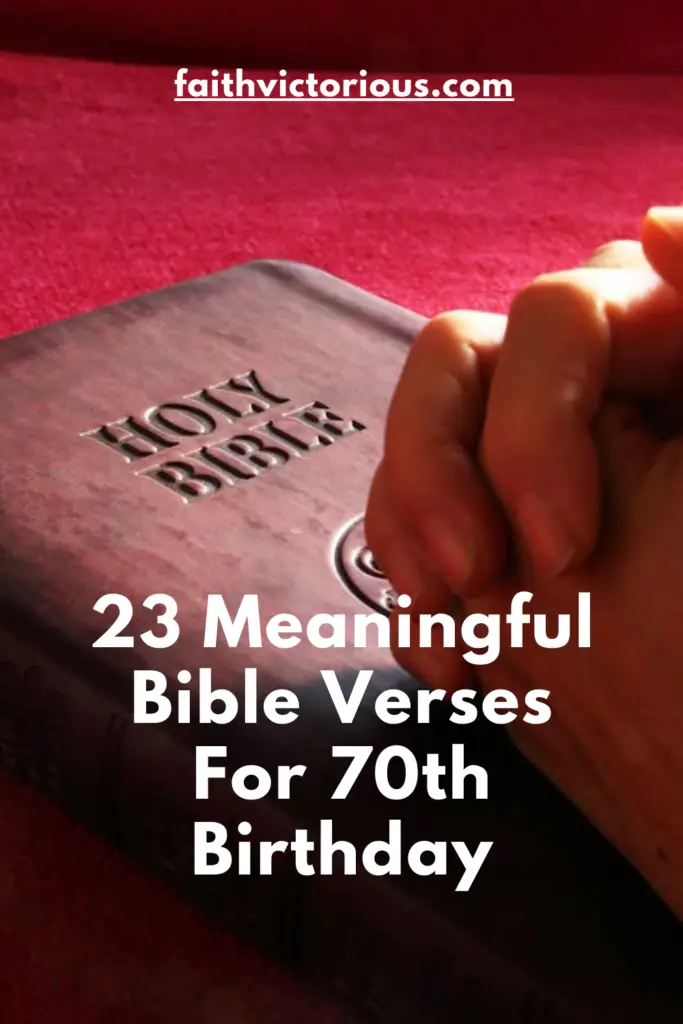 PS: Unless otherwise stated, all scriptural quotations in this post are taken from the Authorised King James Version. And all scriptural quotations tagged NIV are taken online from the New International Version 2011, published by Biblica.
Conclusion
You can readily see that there are bible verses for 70th birthday to help you celebrate that special someone in a deep meaningful way.
We trust that these bible verses for 70th birthday will help you communicate your love, appreciation and blessing to this septuagenarian on this his special birthday.
We are confident that these bible verses will help deliver the good.
And don't forget this: what you make happen for someone, God will make happen for you.
As you celebrate this septuagenarian on this his platinum jubilee birthday celebration, you are sowing seeds for long life – you are saying to yourself, 'I will be 70 someday and will also be celebrated.'
READ ALSO: The Lord's Prayer Explained
23 Meaningful Bible Verses For 70th Birthday