Looking for bible verses for birthdays wishes to send to a love one, friend and family member on his special day?
You have come to the right place.
Or perhaps it's even your birthday and you are thinking of some on-hand bible verses for birthdays wishes to pray over self, then you are just on course, we have you sorted out.
Birthdays are memorable days, a time to think, thank and plan, a time to reflect on the gift of life and the grace of God, a time to pray all the more.
Plus, birthdays are time to bless and to be blessed, a time to give of your prayers and love and to receive the same from friends, family, and well-wishers.
But sometimes, you find that you do not have the right and adequate scriptures to help you communicate your thought and wishes.
That happens to a lot of us.
To help you therefore, we have put together for a quick reference, bible verses for birthdays wishes in a one-stop shop, readily available for you.
These bible verses for birthdays wishes are on-point, relevant, up-to-date and will most likely help you communicate your thought, prayers, wishes and blessings on this special day.
Take a look.
Read also: Birthday Prayer For Myself
19 Bible Verses For Birthdays Wishes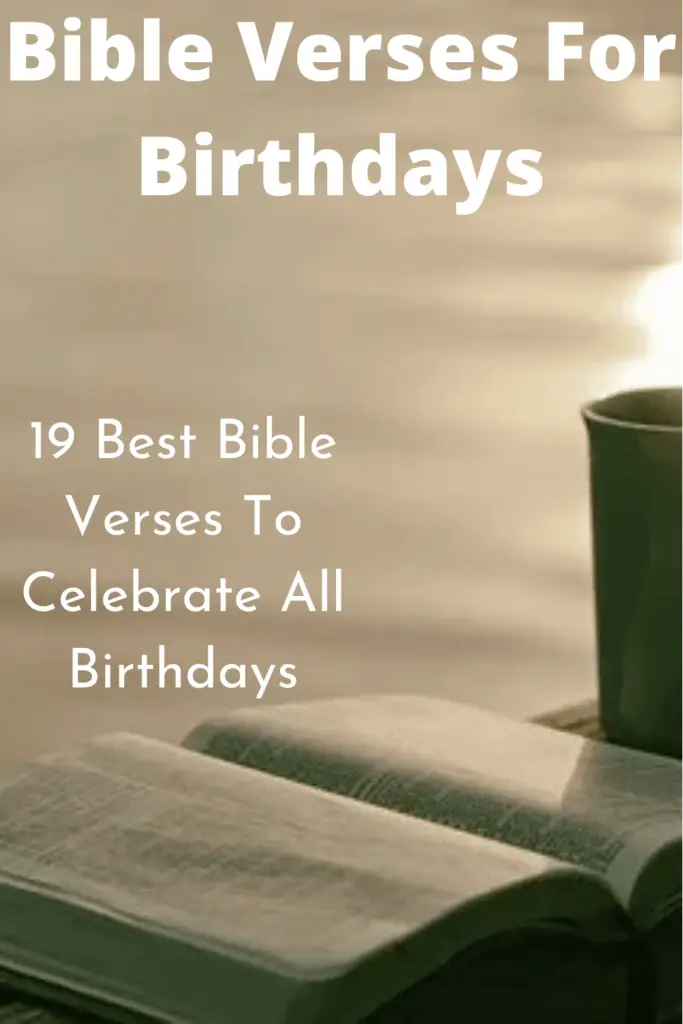 In no particular order, here are your quick referenced bible verses for birthdays wishes, these bible verses are perfect for all birthdays.
Deuteronomy 33:25: 
"Thy shoes shall be iron and brass; and as thy days, so shall thy strength be." 
2. Numbers 6:24-26: 
"The LORD bless thee, and keep thee: The LORD make his face shine upon thee, and be gracious unto thee: The LORD lift up his countenance upon thee, and give thee peace."
3. Psalm 20:1-4:
"The LORD hear thee in the day of trouble; the name of the God of Jacob defend thee; Send thee help from the sanctuary, and strengthen thee out of Zion; Remember all thy offerings, and accept thy burnt sacrifice; Grant thee according to thine own heart, and fulfil all thy counsel."
4. Psalm 91:14-16:
"Because he hath set his love upon me, therefore will I deliver him: I will set him on high, because he hath known my name. He shall call upon me, and I will answer him: I will be with him in trouble; I will deliver him, and honour him. 
With long life will I satisfy him, and shew him my salvation."
5. Psalm 90:12:
"So teach us to number our days, that we may apply our hearts unto wisdom."
6. Jeremiah 29:11:
"For I know the thoughts that I think toward you, saith the LORD, thoughts of peace, and not of evil, to give you an expected end."
7. Psalm 118:24:
"This is the day which the LORD hath made; we will rejoice and be glad in it."
8. Exodus 23:25-26:
"And ye shall serve the LORD your God, and he shall bless thy bread, and thy water; and I will take sickness away from the midst of thee. There shall nothing cast their young, nor be barren, in thy land: the number of thy days I will fulfil."
9. Psalm 37:3-5:
"Trust in the LORD, and do good; so shalt thou dwell in the land, and verily thou shalt be fed. Delight thyself also in the LORD; and he shall give thee the desires of thine heart. Commit thy way unto the LORD; trust also in him; and he shall bring it to pass." 
Read also: Bible Verses For Birthday Woman
10. Psalm 16:4-5, 11:
"The LORD is the portion of mine inheritance and of my cup: thou maintainest my lot. … The lines are fallen unto me in pleasant places; yea, I have a goodly heritage… Thou wilt shew me the path of life: in thy presence is fulness of joy; at thy right hand there are pleasures for evermore."
11. Psalm 23:
"The LORD is my shepherd; I shall not want. He maketh me to lie down in green pastures: he leadeth me beside the still waters. He restoreth my soul: he leadeth me in the paths of righteousness for his name's sake. Yea, though I walk through the valley of the shadow of death, I will fear no evil: for thou art with me; thy rod and thy staff they comfort me. Thou preparest a table before me in the presence of mine enemies: thou anointest my head with oil; my cup runneth over. Surely goodness and mercy shall follow me all the days of my life: and I will dwell in the house of the LORD for ever." 
12. Joshua. 1:8-9:
"This book of the law shall not depart out of thy mouth; but thou shalt meditate therein day and night, that thou mayest observe to do according to all that is written therein: for then thou shalt make thy way prosperous, and then thou shalt have good success. Have not I commanded thee? Be strong and of a good courage; be not afraid, neither be thou dismayed: for the LORD thy God is with thee whithersoever thou goest."
13. Psalm 139:14, 23-24:
"I will praise thee; for I am fearfully and wonderfully made: marvellous are thy works; and that my soul knoweth right well. … Search me, O God, and know my heart: try me, and know my thoughts: And see if there be any wicked way in me, and lead me in the way everlasting." 
14. Lamentations 3:22-23:
"It is of the LORD'S mercies that we are not consumed, because his compassions fail not. They are new every morning: great is thy faithfulness." 
15. Zephaniah 3:17 (NIV)
"The Lord your God is with you,the Mighty Warrior who saves. He will take great delight in you; in his love he will no longer rebuke you, but will rejoice over you with singing."
16. Prov 9:10-11:
"The fear of the LORD is the beginning of wisdom: and the knowledge of the holy is understanding. For by me thy days shall be multiplied, and the years of thy life shall be increased." 
17. 2 Corinthians 9:8, 10,15:
"And God is able to make all grace abound toward you; that ye, always having all sufficiency in all things, may abound to every good work:… Now he that ministereth seed to the sower both minister bread for your food, and multiply your seed sown, and increase the fruits of your righteousness;)… Thanks be unto God for his unspeakable gift." 
18. 3 John 1:2:
"Beloved, I wish above all things that thou mayest prosper and be in health, even as thy soul prospereth." 
19. Deuteronomy 28:3-8, 12:
"Blessed shalt thou be in the city, and blessed shalt thou be in the field. Blessed shall be the fruit of thy body, and the fruit of thy ground, and the fruit of thy cattle, the increase of thy kine, and the flocks of thy sheep. Blessed shall be thy basket and thy store. Blessed shalt thou be when thou comest in, and blessed shalt thou be when thou goest out. The LORD shall cause thine enemies that rise up against thee to be smitten before thy face: they shall come out against thee one way, and flee before thee seven ways. The LORD shall command the blessing upon thee in thy storehouses, and in all that thou settest thine hand unto; and he shall bless thee in the land which the LORD thy God giveth thee…. The LORD shall open unto thee his good treasure, the heaven to give the rain unto thy land in his season, and to bless all the work of thine hand: and thou shalt lend unto many nations, and thou shalt not borrow. And the LORD shall make thee the head, and not the tail; and thou shalt be above only, and thou shalt not be beneath;…"
Read also: Bible Verses For 70th Birthday
PS: Unless otherwise stated, all scriptural quotations in this post are taken from the Authorised King James Version. And all scriptural quotations tagged NIV are taken online from the New International Version 2011, published by Biblica.
How To Use Bible Verses For Birthdays Wishes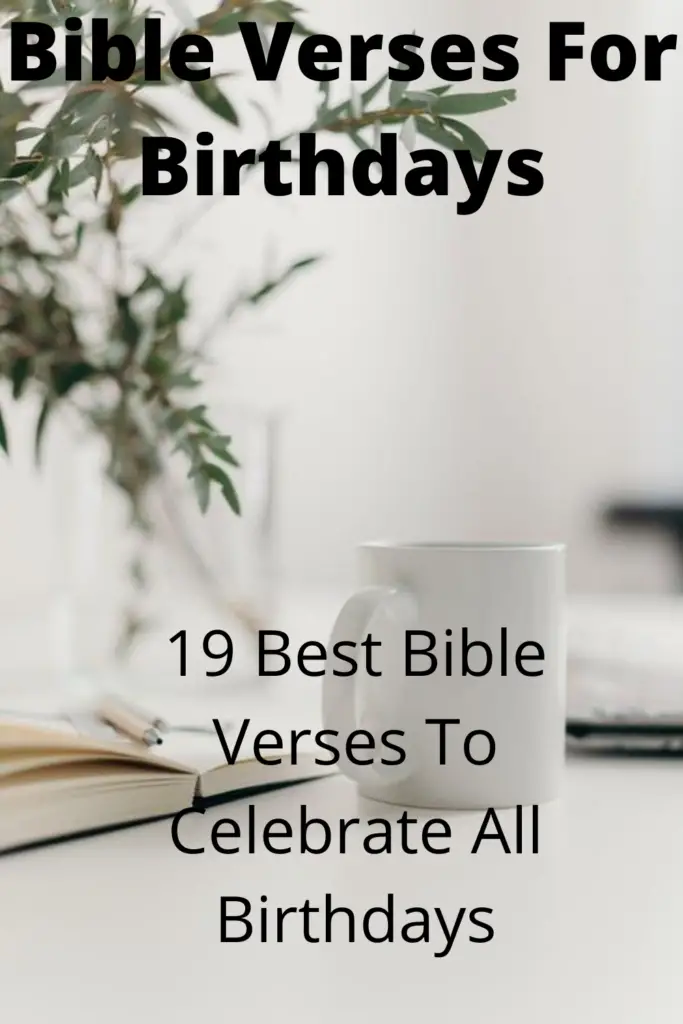 You can see that you readily have available and on-hand, bible verses for birthdays wishes that meet the need.
They are perfect and can be sent to anyone on their birthday.
Any of these bible verses can be prayed over self, loved ones, family and friends; over any and every one whose birthdays you are celebrating.
And they are suitable for all kinds of birthdays whatever the age; daughters birthdays, sons birthdays, mothers birthdays, dad birthdays, sisters birthdays and more.
Plus, these verses can be sent by way of text messages, on social media, printed on card and even on birthday cake.
Best of all, you can do an audio voice recording (mp3) of these scriptures (with your voice) and then send it to that special someone on his and her birthday.
You never can tell what hearing your voice of prayer, wishes can mean to that special someone.
Final word
Boom! You now have on-hand bible verses for birthdays wishes – perfect for all birthdays.
Just the very ones you needed to help you speak to the heart of that special someone and to hit the nail on the head.
Plus, you also have seen how best you can use these bible verses.
What's more!
Just go and send that special someone any or a couple of those birthday verses put together.
You may never know what a blessing you will be today to that special someone, and what joy you will bring to his heart.
Whatever, we hope that these bible verses for birthdays truly meet your need and help you communicate your deepest emotion, thought, wishes and prayer on this special day.
Shalom!
Please share if you find the post helpful!
19 Beautiful Bible Verses For Birthdays Wishes