If you are surfing the net for prayer points for success, we have your back.
We have put together prayer points for success you can use to pray.
These prayer points come with corresponding bible verses.
Plus, these prayer points are actually coined from the corresponding bible verses providing you a basis to pray bible based prayers.
And you know that prayers prayed based upon God's word must cut the attention of heaven.
And when you are sure that God has heard your prayer, then your confidence that you will receive the answer will be boosted.
"And this is the confidence that we have in him, that, if we ask any thing according to his will, he heareth us: And if we know that he hear us, whatsoever we ask, we know that we have the petitions that we desired of him." (1 John 5:14-15)
READ ALSO: Prayer Points For Restoration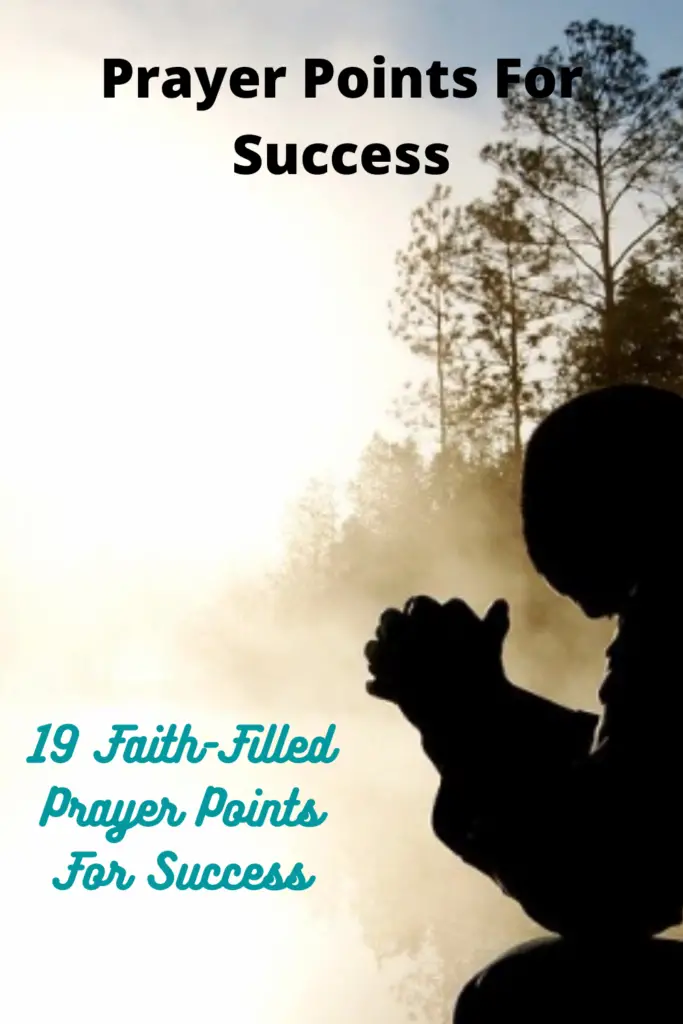 Prayer Points for Success In All Areas Of Life
God is committed to your success; He wants you to succeed with all that you do.
Jesus died to make your success a done deal.
Through prayer, you can appropriate God's promises of success and also activate Jesus provision on the cross for your success.
That said.
Nonetheless exhaustive, here are prayer points for success to get you started as you set yourself to pray for success.
1. Lord, your word declares that you want me to succeed with the things I do, now Lord, I receive grace to do my part, to play my role in the journey to success, in Jesus name.
"This book of the law shall not depart out of thy mouth; but thou shalt meditate therein day and night, that thou mayest observe to do according to all that is written therein: for then thou shalt make thy way prosperous, and then thou shalt have good success." (Joshua 1:8)
2. Father, I commit my plans, my work and strategies for success (name them) into your hand, whatever is committed to you, you are able to keep. Lord, keep, preserve and bring to success the work of my hand, in Jesus name.
"Commit to the Lord whatever you do, and he will establish your plans." (Proverbs 16:3, NIV)
3. Father, I know that worry destroys productivity, I pray that you help me to focus on plan and pursuits rather than anxiety, in Jesus name.
"Be careful for nothing; but in every thing by prayer and supplication with thanksgiving let your requests be made known unto God." (Philippians 4:13)
4. Lord, your word does not encourage laziness, therefore, I refuse to be lazy. I come against every form of laziness in my mind, soul and spirit, in the name of Jesus. I declare I am vibrant in spirit and active in mind and body.
"He becometh poor that dealeth with a slack hand: but the hand of the diligent maketh rich." (Proverbs 10:4)
5. Father, I thank you for giving me a sound and balanced mind. I declare my mind is productive, my mind is teeming with breakthrough ideas that make for success, in Jesus name.
"For God hath not given us the spirit of fear; but of power, and of love, and of a sound mind." (2 Timothy 1:7)
6. Father, I understand that it is by wisdom that every enterprise is built, I pray for the spirit of wisdom to be operational and at work in me. I ask and I receive understanding and knowledge for inventions in Jesus name.
"Through wisdom is an house builded; and by understanding it is established: And by knowledge shall the chambers be filled with all precious and pleasant riches." (Proverbs 24:3-4)
7. Lord, I pray for an understanding and discerning mind to be able to make sound judgment and take decisions that make for success, in Jesus name.
"And shall make him of quick understanding in the fear of the LORD: and he shall not judge after the sight of his eyes, neither reprove after the hearing of his ears:" (Isaiah 11:3)
8. Father, I pray also for strength; physical and mental to be able to pursue the visions, purposes and ideas you inspire in my heart. I rebuke weakness of the body and mind. I declare that I exude in physical and mental strength, in Jesus name.
"It is God that girdeth me with strength, and maketh my way perfect." (Psalm 18:32)
READ ALSO: Prayer Points For Breakthrough
9. Lord, I pray that you give me the opportunities for wise counsel and raise for me men and women of integrity with wise hearts to give me godly counsels, in Jesus name.
"Without counsel purposes are disappointed: but in the multitude of counsellors they are established. (Proverbs 15:22)
10. Father, I pray for the grace to stay humble, to wait and to learn in Jesus name. Let pride not have the better part of me, in Jesus name.
"But he giveth more grace. Wherefore he saith, God resisteth the proud, but giveth grace unto the humble."
11. Lord, wealth and success come from you and the power to succeed also comes from you. I pray that the power to succeed be let loosed in me by your Spirit, in Jesus name. Breathe on me fresh ideas, new insights and new thoughts, in Jesus name.
"But thou shalt remember the LORD thy God: for it is he that giveth thee power to get wealth, that he may establish his covenant which he sware unto thy fathers, as it is this day." (Deuteronomy 8:18)
12. Father, I pray for grace to work and to labor on the goals and ideas you inspired in me until they all come through to success, in Jesus name.
"In all labour there is profit: but the talk of the lips tendeth only to penury." (Proverbs 14:23)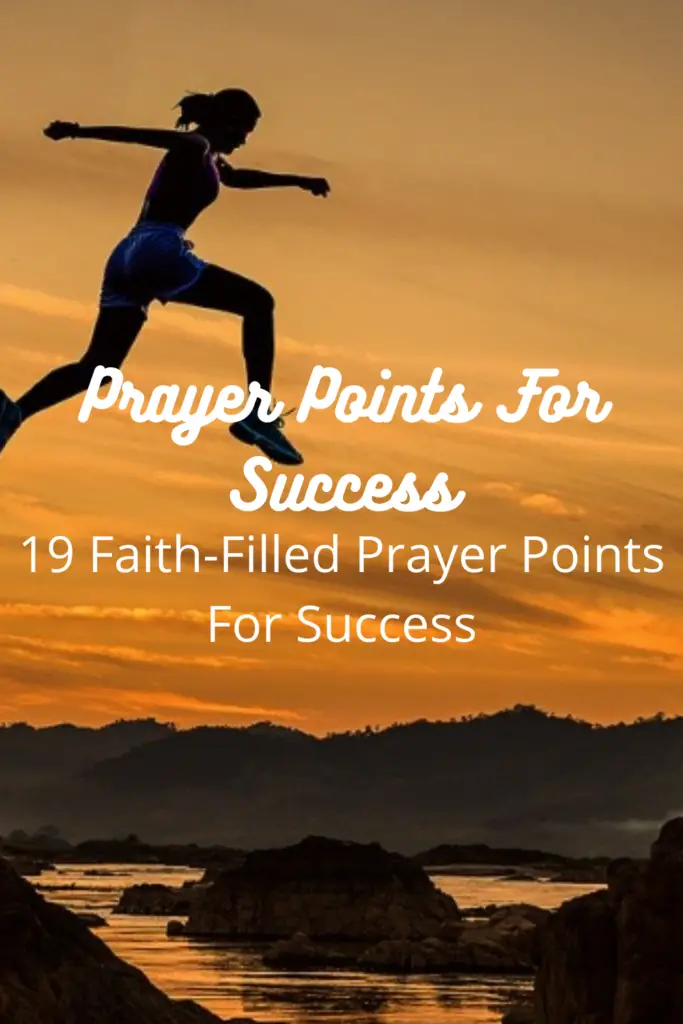 13. Father, I understand that success is conditioned on my obedient to your word. I pray for grace to do your word, to walk in covenant relationship and obligation with you. I receive grace to partner with you for success, in Jesus name.
"And keep the charge of the LORD thy God, to walk in his ways, to keep his statutes, and his commandments, and his judgments, and his testimonies, as it is written in the law of Moses, that thou mayest prosper in all that thou doest, and whithersoever thou turnest thyself:" (1 Kings 2:3)
14. Father, I understand that I am a custodian and steward as far as my work is concerned, I pray for grace to be a faithful steward. I ask for grace to conduct my business to please you, in Jesus name.
"Moreover it is required in stewards, that a man be found faithful." 1 Corinthians 4:2 
15. I come against the spirit of fear, in the name of Jesus. I put my trust in the fact that you will help me. Lord do as you have said. Help me, hold my hand and walk with me on to success, in Jesus name.
"Fear thou not; for I am with thee: be not dismayed; for I am thy God: I will strengthen thee; yea, I will help thee; yea, I will uphold thee with the right hand of my righteousness." (Isaiah 41:10)
16. Father, my hope of success is in you, I trust you to help me, I trust you to guide me, I trust you to inspire me. Lord, I depend on you for all things in my journey of success, in Jesus name.
"Blessed is the man that trusteth in the LORD, and whose hope the LORD is." (Jeremiah 17:7)
17. Lord, without you directing me on my ventures, success will be far away and many will even take undue advantage of me. Now, I pray Lord that you lead, guide and direct me day by day in the conduct of my business, in Jesus name.
"Trust in the LORD with all thine heart; and lean not unto thine own understanding. In all thy ways acknowledge him, and he shall direct thy paths." (Proverbs 3:3-5)
18. Father, I ask for the grace to be dedicated and committed to my work. I come against doubts, laziness and un-seriousness, in Jesus name.
"Whatsoever thy hand findeth to do, do it with thy might; for there is no work, nor device, nor knowledge, nor wisdom, in the grave, whither thou goest." (Ecclesiastes 9:10)
19. Father, I pray that as I keep your word and heed wise and godly counsel, I will be fruitful and productive in my work, in Jesus name.
"And he shall be like a tree planted by the rivers of water, that bringeth forth his fruit in his season; his leaf also shall not wither; and whatsoever he doeth shall prosper." (Psalm 1:3)
READ ALSO: Prayer Points For Thanksgiving
Final word
We trust that these bible based prayer points for success will help you get started on your journey to success.
Pray them often: morning, afternoon and night.
Plus, pray them in faith believing that prayers based upon God's word will receive heaven's attention.
Let your confidence in the integrity of God's word keep your heart in the place of expectation as you wait for the answers to your prayer.
And you may have to also pray these prayer points for success in the spirit, that way, you will be able to touch other areas that are beyond your understanding at the moment.
"God is able to do exceeding abundantly above all that you ask or imagine, according to His power that's at work in you."
All the best!
19 Strong Prayer Points For Success (With Bible Verses)