Here are some prayer points for restoration that you can use to pray.
Whatever you have lost in life; marriage, relationships, family, God is a able to restore all back to you.
We serve a God of restoration – He restores all things.
But first off, to be able to pray these prayer points for restoration in solid faith, you will have to be assured of a few facts.
One, restoration is made possible through the shed blood of Christ.
Two, Jesus died on the cross to provide you a legal ground to have all things restored to you.
Three, prayer is one of God's ways to activate and appropriate your blood bought restoration.
Four, faith is required on your path to effectively pray for restoration; without faith, you can never get anything from God.
Five, faith comes by the word of God. So your ground for faith and answer to prayer is the word of God.
Six, find a Scripture that covers your need, pray standing on that Scripture, and as sure as the throne of God, so will be the answer to your prayer.
READ ALSO: Prayer For Marriage Restoration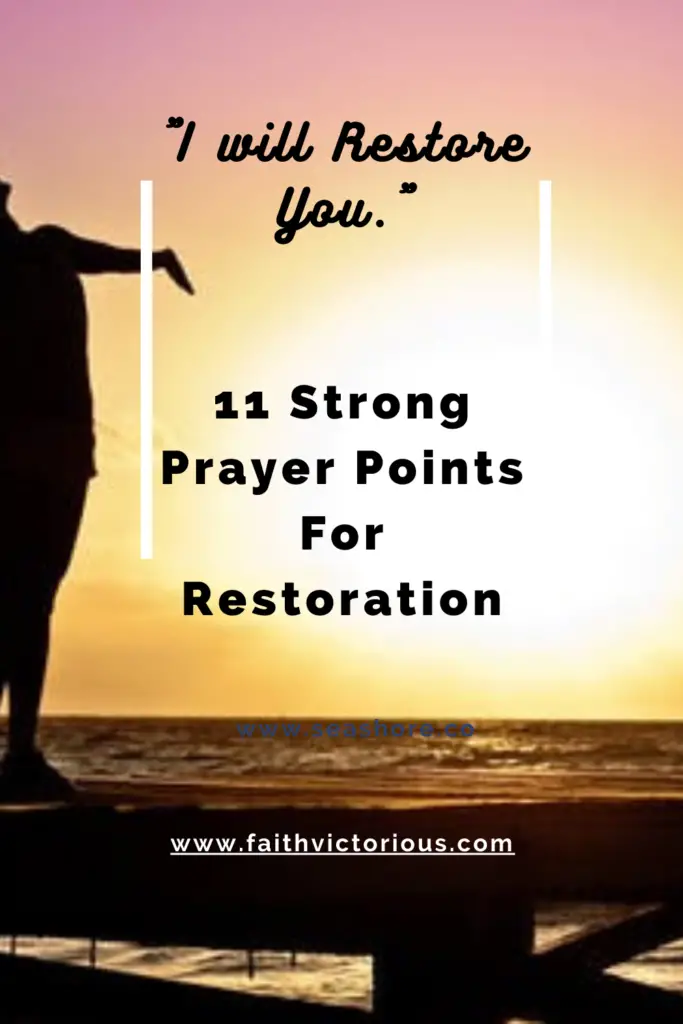 Prayer Points For Restoration
To help you tailor your prayer for restoration to several areas of need, we have broken prayer points for restoration into 11 categories.
Each category addresses a major part of restoration.
So whatever your need, pray these prayer points for restoration in faith and wait in patience for the answer to come.
"Therefore I say unto you, What things soever ye desire, when ye pray, believe that ye receive them, and ye shall have them." (Mark 11:24)
And
"And we desire that every one of you do shew the same diligence to the full assurance of hope unto the end: That ye be not slothful, but followers of them who through faith and patience inherit the promises." (Hebrews 6:11-12)
1. Prayer For The Restoration Of Health
Father, you are faithful to your word, I ask that you restore my health and heal all my wounds. Heal me of all weaknesses, sicknesses, pain and diseases, in the name of Jesus Christ.
"For I will restore health unto thee, and I will heal thee of thy wounds, saith the LORD; because they called thee an Outcast, saying, This is Zion, whom no man seeketh after." (Jeremiah 30:17 )
2. Prayer For The Restoration Of Marriage
Father, your plan and highest wish for me is a healthy, stable, inseparable marriage. Now, Lord, I pray for restoration of my marriage. I pray for tenderness, forgiveness and tolerance towards each other for me and my spouse, in the name of Jesus. Bring back oh Lord, the fire of love into my marriage again, in Jesus name.
"And said, For this cause shall a man leave father and mother, and shall cleave to his wife: and they twain shall be one flesh? Wherefore they are no more twain, but one flesh. What therefore God hath joined together, let not man put asunder." (Matthew 19:5-6)
3. Prayer For The Restoration Of Wasted Years
Father, my times are in your hand. Yes, I may have wasted so many years not heading the right direction, not getting it right with you and with life, but now Lord, I pray that you restore my years. Give me double for my shame, Lord, in Jesus name.
"And I will restore to you the years that the locust hath eaten, the cankerworm, and the caterpiller, and the palmerworm, my great army which I sent among you." (Joel 2:25)
4. Prayer For The Restoration Of Family
Father, I pray for the restoration of my family. I pray that you knit the hearts of every of my family member together in love and unity. I pray that everyone of us will put forgiveness, tolerance and patience above all else in the family, in Jesus name. I receive grace for forgiveness for every one member of the family, in Jesus name.
"And they said, Believe on the Lord Jesus Christ, and thou shalt be saved, and thy house." (Acts 16:31) 
5. Prayer For Financial Restoration
Oh God of all grace, I pray that you cause me to abound in financial grace. Lead me into places and opportunities for financial abundance, blessing and prosperity, in the name of Jesus Christ. Bring me into relationships for financial advancements. Fill me with insights, ideas and concepts for money making, in Jesus name.
And God is able to make all grace abound toward you; that ye, always having all sufficiency in all things, may abound to every good work: (2 Corinthians 9:8)
PEOPLE ALSO READ: Prayer Points For Mercy
6. Prayer For Ministry Restoration
Lord, I pray that you forgive me of all sins of disobedience and rebellion, I pray that you restore my ministry in your mercy. Let my hair grow again. Let the anointing of your Spirit come back on me again. Give me power and boldness with your word and in prayer again Lord. In Jesus name I pray.
"Then the Philistines seized him, gouged out his eyes and took him down to Gaza. Binding him with bronze shackles, they set him to grinding grain in the prison. But the hair on his head began to grow again after it had been shaved. (Judges 16:21-22, NIV)
7. Prayer For The Restoration Of Soul
Lord Jesus, you are anointed to bind hearts that are broken. Please Lord, restore and heal my soul of every emotional wound and pain. Remove the darkness, gloominess, heaviness and depression from my heart, Lord. Help me to forgive everyone that has abused me, used me, taken advantage of me and dumped me. Help also to forgive myself and to let go, I pray Lord Jesus.
"The Spirit of the Lord is upon me, because he hath anointed me to preach the gospel to the poor; he hath sent me to heal the brokenhearted, to preach deliverance to the captives, and recovering of sight to the blind, to set at liberty them that are bruised, To preach the acceptable year of the Lord." (Luke 4:18-19)
8. Prayer For Restoration Of Lost Glory
Father, I pray that you restore my lost glory; revive me again and I shall live. Turn my captivity oh Lord, let my flesh come back, let my bones live again. Cause a fresh breathe of your spirit to enter and set me upon my feet again as in days gone by, in Jesus name. Restore me spirit, soul and body, Lord, in Jesus name.
"And the LORD turned the captivity of Job, when he prayed for his friends: also the LORD gave Job twice as much as he had before." (Job 42:10)
PEOPLE ALSO READ: Prayer Points On Divine Intervention With Bible Verses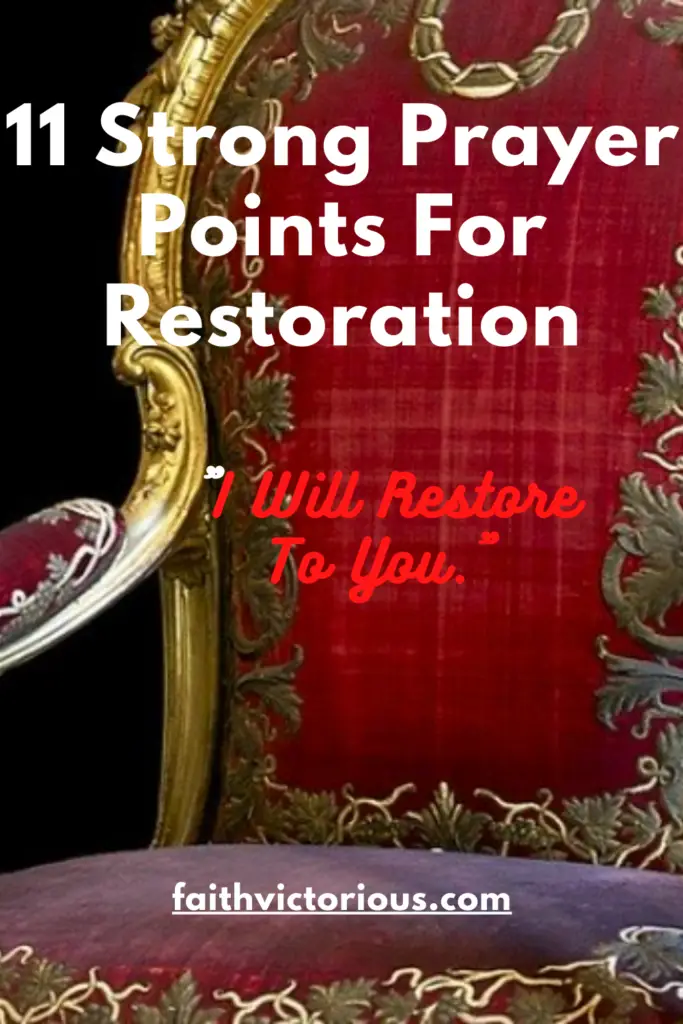 9. Prayer For The Restoration Of Hope
Father, my hopes have been dashed so many times and my heart sick because of broken promises and deferred hope. So Lord, I pray for healing and restoration. Restore all hope to me by your Spirit, in Jesus name. Hope is the anchor of the soul, Lord, restore my anchor, let the light come back Lord, let me find reason to live again, let me have reason to sing again, Lord, in Jesus name. 
"Now the God of hope fill you with all joy and peace in believing, that ye may abound in hope, through the power of the Holy Ghost." (Romans 15:13)
10. Prayer For The Restoration Of Broken Relationship
Oh God of restoration, bring back my lost and broken relationship for good, in the name of Jesus Christ. Let me find reason to forgive and accept my wrongs, in the name of Jesus Christ. Heal my relationships and they shall be whole. Restore my marriage and business relationships for good, restore every meaningful relationships that brings glory and honor to your name in my life, Lord, in Jesus name.
"Mercy and truth are met together; righteousness and peace have kissed each other. Truth shall spring out of the earth; and righteousness shall look down from heaven. Yea, the LORD shall give that which is good; and our land shall yield her increase." (Psa 85:10-12)
11. Prayer For The Restoration of Business
Father, I pray for your favor and smile upon my business. Your word declares that whatsoever the obedient believer does, he shall prosper. Let your life, light and prosperity beam upon my business in Jesus name. I call for a revamp of my work and all my businesses, in Jesus name.  
Thank you Lord for answer to prayers, in Jesus name. Amen!
"And he shall be like a tree planted by the rivers of water, that bringeth forth his fruit in his season; his leaf also shall not wither; and whatsoever he doeth shall prosper." (Psalm 1:3)
PEOPLE ALSO READ: Prayer Points For Spiritual Growth
Final word
Prayer points for restoration!
God is able to restore to you all you have lost if you ask Him in prayer.
Now that you have asked Him, go ahead and begin to thank Him for the answers.
And if you feel like you have not prayed through on a particular or all areas of your life that needs restoration, go back and pray those prayer points for restoration again, until your heart is assured that God has heard and answered your prayer.
"…But let him ask in faith, nothing wavering."
11 Strong Prayer Points For Restoration (With Bible Verses)