Every marriage needs prayer, and for you, if your marriage is rocking right now, prayer for marriage restoration is what you need.
To be candid, Satan hates Christian marriages as much as he hates the church.
That's why he will pull up every storm in the world against your marriage.
But you can stop him.
Prayer is one way to stopping Satan in his track as he comes against your marriage – that's where prayer for marriage restoration comes in.
You should not be ignorant of the devices of the devil; if your marriage is fading, losing its flavor, joy and love right now, Satan is at work.
If you have even gone as far as separation, Satan is to blame.
You have got to pray to put him on the run and then have your marriage restored back to its beauty and glory.
God is love, love never dies, love never fades because God (who is Love) is ageless.
When love and light in your marriage is beginning to wane and fade, something's is wrong.
It's time to pray and bring the fire back.
READ ALSO: Prayer Points For Restoration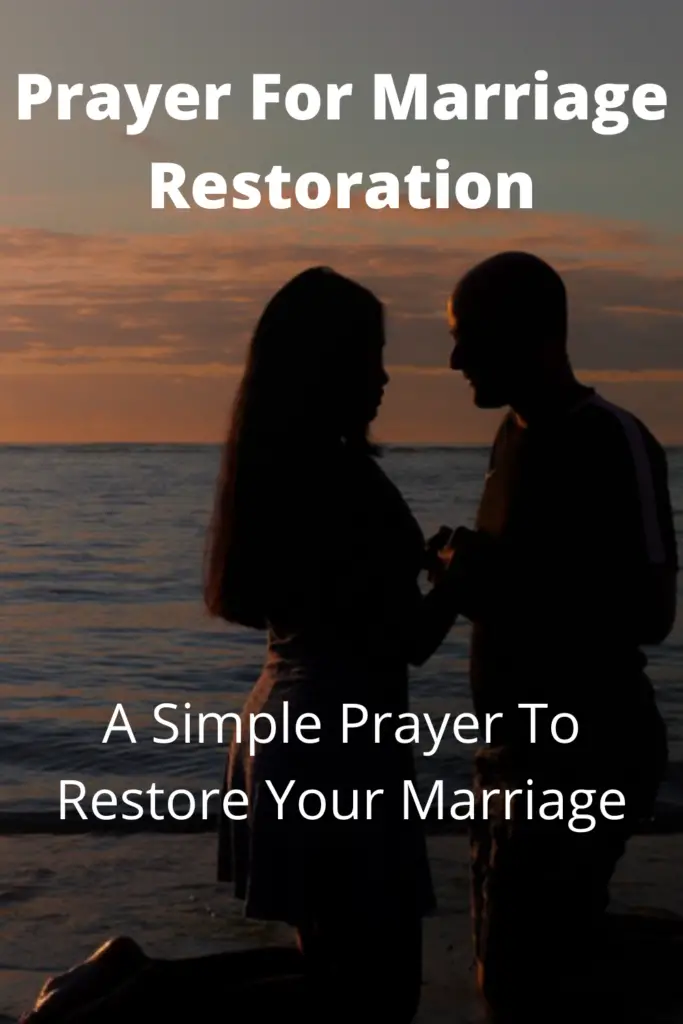 Prayer For Marriage Restoration
Here's a simple prayer for marriage restoration that will help you cover your marriage in prayer.
Father, in the name of Jesus, I want to thank you for the blessedness of marriage, thank you for the joy in sharing together with you in oneness by virtue of marriage. And thank you for how far you have brought me and my spouse in this marriage.
Now, Lord, I am not ignorant of the devices of the devil, he wants to wreck and destroy my marriage. But I will not allow it.
I therefore take authority over every stranger; man, woman, evil spirits that Satan has set and stirred up against me to wreck my marriage. I stop you in your track, Satan, I command you to desist from your operation over my marriage, now, in Jesus name.
I say enough is enough. Pack your load and go.
Now, Lord, I pray for restoration; reunion, fresh love, unity, oneness, peace, purpose, tenderness, tolerance and understanding in my marriage, in Jesus name.
I pray for all round restoration; let the wind of your Spirit blow the blessings in – spirit, soul and body, in Jesus name.
I declare that the fire of love is back in my home, in Jesus name.
We are blessed again with love, money, health, peace and joy as in days gone by, in Jesus name.
Thank you Lord for answer to prayers, in Jesus name. Amen!
READ ALSO: Prayer Points For Spiritual Growth
29 Bible Verses For Marriage Restoration
Nonetheless exhaustive, these bible verses for marriage restoration will give you a head start and point you in the right direction.
Take responsibility for your marriage, praying scriptural based prayer for marriage restoration.
1. Joel 2:25:
"And I will restore to you the years that the locust hath eaten, the cankerworm, and the caterpiller, and the palmerworm, my great army which I sent among you." 
2. Psalm 18:44-45:
"As soon as they hear of me, they shall obey me: the strangers shall submit themselves unto me. The strangers shall fade away, and be afraid out of their close places." 
3. Job 33:26:
"He shall pray unto God, and he will be favourable unto him: and he shall see his face with joy: for he will render unto man his righteousness." 
4. Psalm 80:3:
"Turn us again, O God, and cause thy face to shine; and we shall be saved." 
5. Amos 9:14:
"And I will bring again the captivity of my people of Israel, and they shall build the waste cities, and inhabit them; and they shall plant vineyards, and drink the wine thereof; they shall also make gardens, and eat the fruit of them." 
6. Jeremiah 30:17:
"For I will restore health unto thee, and I will heal thee of thy wounds, saith the LORD; because they called thee an Outcast, saying, This is Zion, whom no man seeketh after." 
7. Psalm 51:12:
"Restore unto me the joy of thy salvation; and uphold me with thy free spirit." 
PEOPLE ALSO READ: Prayer Points For Marriage Restoration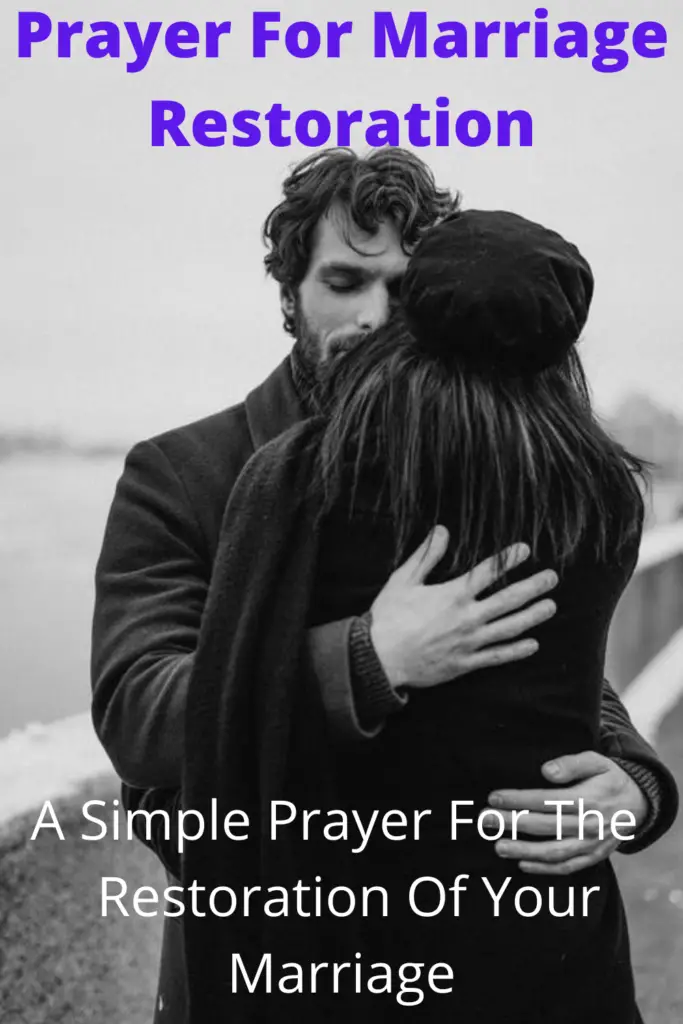 8. Isaiah 61:7:
"For your shame ye shall have double; and for confusion they shall rejoice in their portion: therefore in their land they shall possess the double: everlasting joy shall be unto them.
9. 1saiah 57:18:
"I have seen his ways, and will heal him: I will lead him also, and restore comforts unto him and to his mourners." 
10. Isaiah 58:12:
"And they that shall be of thee shall build the old waste places: thou shalt raise up the foundations of many generations; and thou shalt be called, The repairer of the breach, The restorer of paths to dwell in." 
11. Jeremiah 3:22:
"Return, ye backsliding children, and I will heal your backslidings. Behold, we come unto thee; for thou art the LORD our God." 
12. Jeremiah 15:19:
"Therefore thus saith the LORD, If thou return, then will I bring thee again, and thou shalt stand before me: and if thou take forth the precious from the vile, thou shalt be as my mouth: let them return unto thee; but return not thou unto them." 
13. Jeremiah 30:17:
"For I will restore health unto thee, and I will heal thee of thy wounds, saith the LORD; because they called thee an Outcast, saying, This is Zion, whom no man seeketh after." 
14. Hosea 14:4:
"I will heal their backsliding, I will love them freely: for mine anger is turned away from him." 
15. Zephaniah 3:19, NIV:
"At that time I will deal with all who oppressed you. I will rescue the lame; I will gather the exiles. I will give them praise and honor in every land where they have suffered shame."
16. Zechariah 1:17:
"Cry yet, saying, Thus saith the LORD of hosts; My cities through prosperity shall yet be spread abroad; and the LORD shall yet comfort Zion, and shall yet choose Jerusalem. 
17. Zechariah 8:3:
"And it shall come to pass, that as ye were a curse among the heathen, O house of Judah, and house of Israel; so will I save you, and ye shall be a blessing: fear not, but let your hands be strong." 
PEOPLE ALSO READ: Fasting And Praying For Relationship Restoration
18. Zechariah 9:12:
"Turn you to the strong hold, ye prisoners of hope: even to day do I declare that I will render double unto thee;"
19. Acts 3:19-21:
"Repent ye therefore, and be converted, that your sins may be blotted out, when the times of refreshing shall come from the presence of the Lord; And he shall send Jesus Christ, which before was preached unto you: Whom the heaven must receive until the times of restitution of all things, which God hath spoken by the mouth of all his holy prophets since the world began".
20. Job 42:10:
"And the LORD turned the captivity of Job, when he prayed for his friends: also the LORD gave Job twice as much as he had before." 
21. 1 John 5:4:
"For whatsoever is born of God overcometh the world: and this is the victory that overcometh the world, even our faith." 
22. 1 Peter 5:10
"But the God of all grace, who hath called us unto his eternal glory by Christ Jesus, after that ye have suffered a while, make you perfect, stablish, strengthen, settle you." 
23. Mark 11:24:
"Therefore I say unto you, What things soever ye desire, when ye pray, believe that ye receive them, and ye shall have them." 
24. Jeremiah 29:11:
"For I know the thoughts that I think toward you, saith the LORD, thoughts of peace, and not of evil, to give you an expected end." 
25. Galatians 6:1:
"Brethren, if a man be overtaken in a fault, ye which are spiritual, restore such an one in the spirit of meekness; considering thyself, lest thou also be tempted." 
26. Matthew 6:33:
"But seek ye first the kingdom of God, and his righteousness; and all these things shall be added unto you." 
PEOPLE ALSO READ: Prayer Points For Healing
Final word
Prayer for marriage restoration!
No doubt, you have been given a start with this post on prayer for marriage restoration.
That simple prayer for marriage restoration is carefully tailored to meet all areas of the marriage life and relationship.
Pray this prayer in faith and you will see the glory of God.
Don't also forget to pray intensely in the spirit too – that way, you will be able to cover other areas of your marriage that are beyond your understanding at the moment.
Plus, you have bible verses to back up your prayer- and God is faithful; He will always honor His word.
He will answer prayers that are based on His word.
But remember, that as you pray, you must also learn to forgive your spouse of all wrongs.
Plus, you must also adjust and change some things; behaviors, actions and habits that may be contributing to the wreckage of your marriage.
Take full responsibility; spiritual, physical, emotion…for your marriage restoration.
Be wise!
A Prayer For Marriage Restoration (With Bible Verses)