Whatever may be the need, if you have decided to fast for 3 days, then this guide on how to fast and pray for 3 days can be of help to you!
A lot happens when you combine prayer with fasting.
In short, the Lord Himself declares that there are 'these kinds' that will not go except through prayer and fasting. (See Matthew 17:21, KJV)
And that's the truth.
But to be sure you fast and fast well, you need knowledge.
To be sure you fast and get results; you need some scriptural sense and also common sense.
Thankfully, this guide on how to fast for 3 days will furnish you with both the scriptural sense and the common sense approach to fasting.
READ ALSO: How To Fast And Pray For A Breakthrough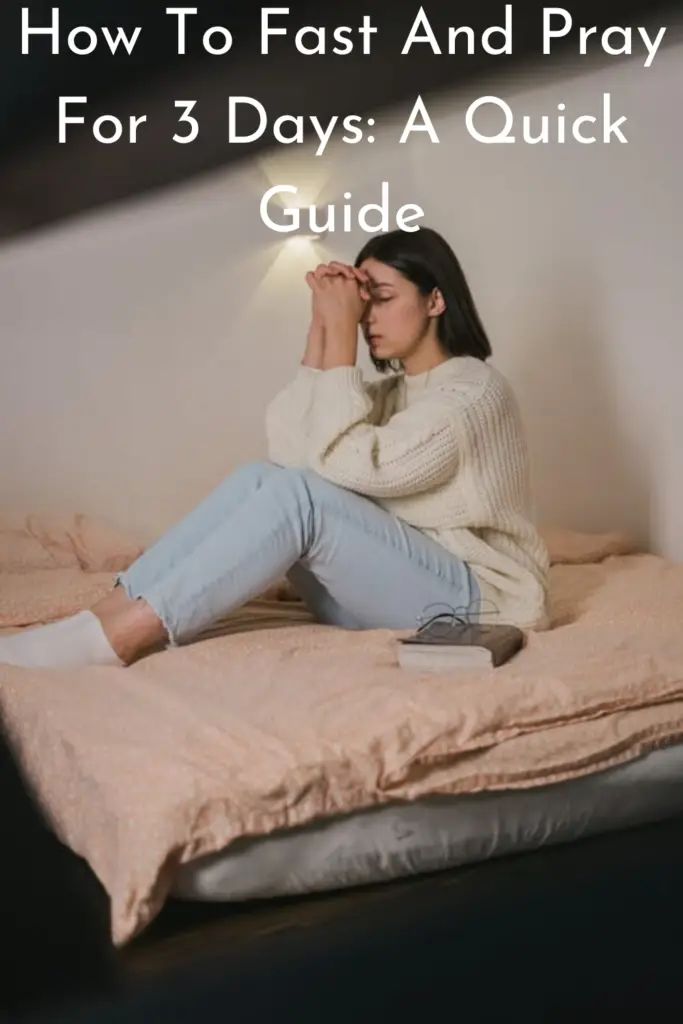 How To Fast And Pray For 3 Days
To set yourself to successfully fast and pray for 3 days and to really make the most of your time with the Lord, the following are a few things you should know and do:
1. Let The Lord Inspire Your Fast
The very first step to fast and pray successfully for 3 days is to ensure that the Lord is the one that is calling you to the fast.
Yes, you can respond to a certain need by calling yourselves to fasting and to prayer, but it is a lot more interesting and more rewarding when it is the Lord Himself who is calling you to it.
And when the Lord calls you to it, He gives you grace to stay strong and stay through all the time you will be fasting.     
2. Prepare Your Mind (Attitude)
Now that you feel the Lord is calling you to a time of fasting and prayer, it is time to adjust your mind and embrace what the Lord is saying.
You will have to tell yourself firmly 'that since it is God that is calling for this, then I must and can go for it.'
"I can do all this through him who gives me strength," should be the attitude. (See Philippians 4:13, NIV)
Plus, 'God has something install for me, that's why He's calling me up higher,' should be another attitude of your mind.
God will never call you to waste your time. He's too serious for that.    
3. Prepare Your Body
Now, in getting ready to go for the 3 days fast (whether partial or total – depending on the type of fast you feel led to undertake), you must also do well to prepare your physical body.
That means you must be in good health and good shape physically.
You must prior to the day you will commence your fast be eating well and sleeping well.
Eat energy given food and lots of fruits; these will supply you the needed physical strength to go on when the fast is getting hot particularly if you are going for a total fast for the 3 days.    
PEOPLE ALSO READ: How To Fast And Pray For Beginners
4. Prepare Your Heart In Repentance
To make the most of your prayer and fasting, you must make sure that nothing stands between you and God.
That is, there must not be any sin not confessed and forsaken in your life.
Yes, you must come clean before the Lord, search your heart and repent of any known sin.
To get bold with the Lord in the place of prayer, your conscience must be free of guilt and condemnation.
Let us therefore come boldly unto the throne of grace, that we may obtain mercy, and find grace to help in time of need. (Hebrews 4:16, KJV)
5. Get Off Work Or Work Less
If you can, it is best to stay off work the whole 3 days while you fast, so you can give the whole time and attention to the Lord.
You can ask in advance for a casual leave, but if you cannot but work, your work for the 3 days must not be rigorous. That way, you are able to conserve strength to pray.
6. Set A Goal For Your Fasting And Prayer
To be able to fast successfully, you should have an objective, an expectation.
You just don't go fasting aimlessly; you must know why you are fasting.
Better still, you should check with the Holy Spirit for why you are fasting and to what extent, by listening to your heart.
In any case, the Holy Spirit has the prerogative to let you in on the secret or reason for the fast, but He also has the prerogative not to – He does everything as He wills.
And if He decides not to let you in on the reason for the fast, that's not a problem, you can always trust Him.
He is faithful, knows all things, and He will surely tell you why He calls for the fast somehow, someway, someday – may be in the middle of the fast or even after the fast.
In this case, you will need to depend solely on His inspiration for even what to pray. And this is made very easy by learning to pray in the spirit.
7. Look For Scripture That Cover The Case
Now, God expects you to take scriptural responsibility for the reason for the fast.
The moment you find out the reason for the fast, then go search the Holy Scriptures for bible verses and passages that cover the case.
This is also true if you are the one that call yourself to the fast in response to a need, you will still need to get scriptural support for your prayers all the same.
You must arm yourself with relevant scriptures; these scriptures will form the basis of your prayer points during the fast.
PEOPLE ALSO READ: Benefits Of Fasting And Prayers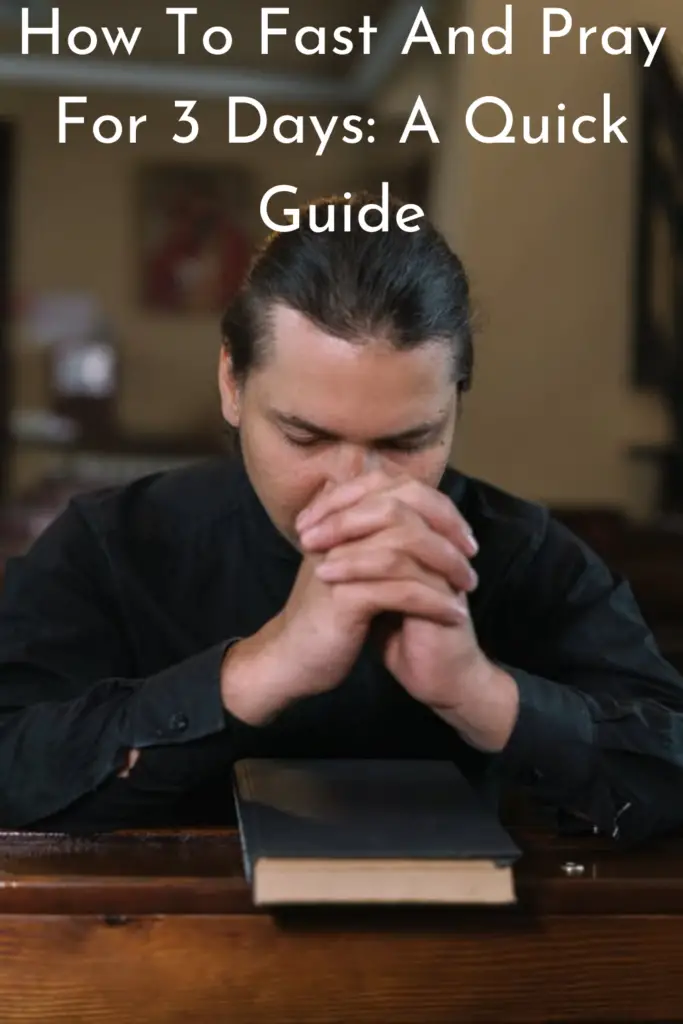 8. Schedule Your Prayer Time
To be able to really maximize your prayer time during the 3 days of fasting, you will have to schedule your prayer time.
You can decide that you will at least be spending 2 hours at a stretch for each prayer session for the 3 days of fasting and prayer.
For instance, you can decide that your first prayer time of the day will be from 6am to 9am in the morning. Then the next will be from 12pm to 2pm in the afternoon and then 4pm to 6pm in the evening, while all the time reading books or scriptures in between.
Then, you may choose to spend the hours of 7pm to 11:59 pm resting, studying and meditating on the word. And then get back to praying by 12am in the morning.
Then you can repeat this process the whole 3 days sticking dutifully to your schedule unless otherwise interrupted by the Holy Spirit.  
9. Choose A Place For Prayer
Now, it is important to know that God loves and respects altars, places consecrated to meeting with Him.
So as you fast and pray, you will do well to not only set the time to pray but to also set a place for your prayer.
Consecrate the place in your heart to the Lord and respect the place and make sure you always go that place or spot every time you want to pray.
It may surprise you to know that angels would always stay on that spot or be stationed around that spot all the time you are fasting and praying, waiting to meet with you and to deliver God's instructions and answer to your prayers to you.
Hey, don't forget that.
And he went on his journeys from the south even to Bethel, unto the place where his tent had been at the beginning, between Bethel and Hai; Unto the place of the altar, which he had made there at the first: and there Abram called on the name of the LORD. (Genesis 13:3-14, KJV) 
10. Prepare A List Of Prayer Points From The Scriptures That Cover Your Case
You will need to arm yourself also with prayer points that will help get your started and focused as you fast and pray.
These prayer points must be born out of the scriptures that cover your case and must also be inspired by the Holy Spirit.
God is not obligated to answer your prayers irrespective of how much you shout, speak, sound and cry, but He is under obligation to honor His word. So when you bring up His word back to Him in prayers, you can be sure that God will answer.
So the shortest cut and surest way to have God answer your prayer is to pray His word, bring His word back to Him.    
Take with you words, and turn to the LORD: say unto him, Take away all iniquity, and receive us graciously: so will we render the calves of our lips. (Hosea 14:2, KJV)
I will worship toward thy holy temple, and praise thy name for thy lovingkindness and for thy truth: for thou hast magnified thy word above all thy name. (Psalm 138:2, KJV)
PEOPLE ALSO READ: How To Pray When Under Spiritual Attack
11. Spend Quality Time In Fellowship With The Holy Spirit
Again, to be able to fast and pray successfully for 3 days, you must create time for deep and intense fellowship with the Lord.
This time of fellowship is not a time of prayer; it is a time to praise the Lord, to worship Him and to just bless His name.
It is at such time that the Lord speaks to your heart about the situation, the answer to the prayer, or gives you more insight into what you are doing, why you are doing it and how to do it.
Please, in all you do, don't joke with the time of fellowship and communion with the Holy Spirit.
I found out that it is in fellowship with the Lord that you find all the answers to every issues of life – a word for the wise!    
12. Pray The Scriptures That Cover Your Case
Now, get to it, follow your schedule and actually pray.
First pray the prayer points that you have made from the scriptures that cover your case and then to make it stronger and more on point, pray those same very scriptures themselves.
Then go ahead and pray in the spirit, pray even more in the spirit than you would in understanding. 
13. Take Time To Study More Of Scriptures
Like we have noted above, studying and reading of scriptures is a vital part of the fasting and prayer exercise.
So ensure that you give more time than you ordinarily would to reading and studying the word to know the mind of God through the Scripture.
God may just speak the answer to your prayers while studying the word by causing a particular scripture to come alive and jump at you.
Take it from me, that's God speaking to you.
He speaks best to us with His word.
14. Look for A Quiet Place To Rest And Meditate On The Word
Again, meditation is a vital part of your prayer session as well as rest.
You will need a very quiet place to do both.
You would recall that Jesus did these often; He always reclines into quiet places not just to pray, but to fellowship with His Father in meditation while at the same time taking the time to rest. (See Mark 1:35)
PEOPLE ALSO READ: Things To Avoid When Fasting And Praying
15. Depend On The Help Of The Spirit All Through
You need grace to stay with your decision; your goals and prayer schedule; the Holy Spirit makes grace available.
He is the Spirit of grace and supplication (See Zechariah 12:10)
So to stay through, you will have to depend on the Holy Spirit all through.
And you must always learn to voice this dependence on Him by simply acknowledging Him as your help, helper, strength and strengthener.
Always call on the Holy Spirit asking Him to help, inspire and strengthen you.
You will be amazed at the supply of grace when you do.
16. Deal With Anxiety
The Scripture is clear on anxiety; if you will go on worrying, then there's no need to waste your time praying.
Anxiety is your claim and believe that God is not able to help you or do for you what you are seeking Him for.
So you see how big an insult anxiety is on the Lord.
So put away fretfulness, fear, anxiety and worry and hold to God's word to come through for you.
And the go on thanking and praising the Lord.
Do not be anxious about anything, but in every situation, by prayer and petition, with thanksgiving, present your requests to God. (Philippians 4:6, NIV)
17. Wait In Expectation And Thanksgiving Till The Answer Comes
A lot of people pray without expectations, and even when there are expectations, they are not real and serious.
You can't just go spend 3 days in fasting and prayer and just walk casually away after everything expecting nothing serious.
That kind of an attitude will cheat you from receiving the answer to your prayer.
Your expectation births faith in your heart and faith keeps you focus and strong, looking out and waiting to see the answer to your prayer.
Then to stay in faith, you will have to stay thanking God all the time till the answer comes.
If a man die, shall he live again? all the days of my appointed time will I wait, till my change come. (Job 14:14, KJV)
Therefore I say unto you, What things soever ye desire, when ye pray, believe that ye receive them, and ye shall have them. (Mark 11:24, KJV)
Don't forget God's law (word) that states: "For surely there is an end; and thine expectation shall not be cut off." (Proverbs 23:18, KJV)    
PEOPLE ALSO READ: How Do You Pray Against The Spirit Of Confusion!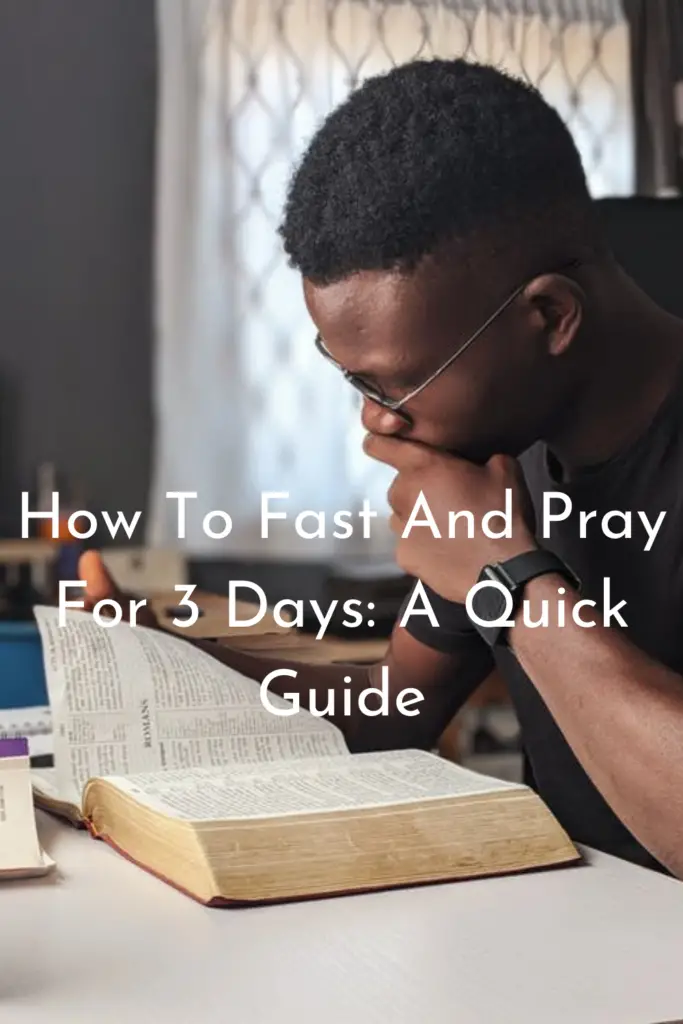 Conclusion
You have seen the steps on how to fast and pray for 3 days, if you will pay attention to them and let the Lord lead you on, you will always receive answer to your prayers.
These steps are no hard, fast and fixed rules; they are just met to help you get started.
But when you step out in faith on these steps, while depending on the Holy Spirit for the ultimate guide, then you can be sure that you will be able to make the most of the 3 days of fasting and prayer.
Now, this guide on how to pray and fast for 3 days will not be complete, if you do not learn something about praying in the spirit.
That will make a whole lot of difference for you and furnish you further with understanding on how to fast and pray for 3 days successfully.
All the best! 
How To Fast And Pray For 3 Days: A Quick Guide