If you are having the feeling or notion that you are under spiritual attack right now, this guide on how to pray when under spiritual attack can be of great help to you.
If you think the devil will leave you alone because you are a Christian, or because you speak in tongues and are loaded with the word, then you are mistaken.
As long as you're in this world, the devil will always come at you.
 He will sometimes mount the best of his spiritual arsenals focusing primarily on you.
That's when you start having this sense of being under heavy spiritual attack.
What that means is that Satan is actually concentrating a good number of his time on you; he has just increased his attacked on you sending more of his demons to go after you.
But you don't have anything to fear if you are feeling this way; this is because no weapon formed against you shall prosper, according to God's word. (See Isaiah 54:17, KJV)
Confident that God is for you and that His word is behind you, all you need do is to set yourself to pray and actively frustrate Satan's plans and efforts.
But you will need to learn how to pray when under spiritual attack to be able to successfully tumble, overthrow, and overtake his assaults and assailants.
This is where this guide in how to pray when under spiritual attack comes handy.
Let's get to it.
READ ALSO: How Do You Pray Against The Spirit Of Confusion!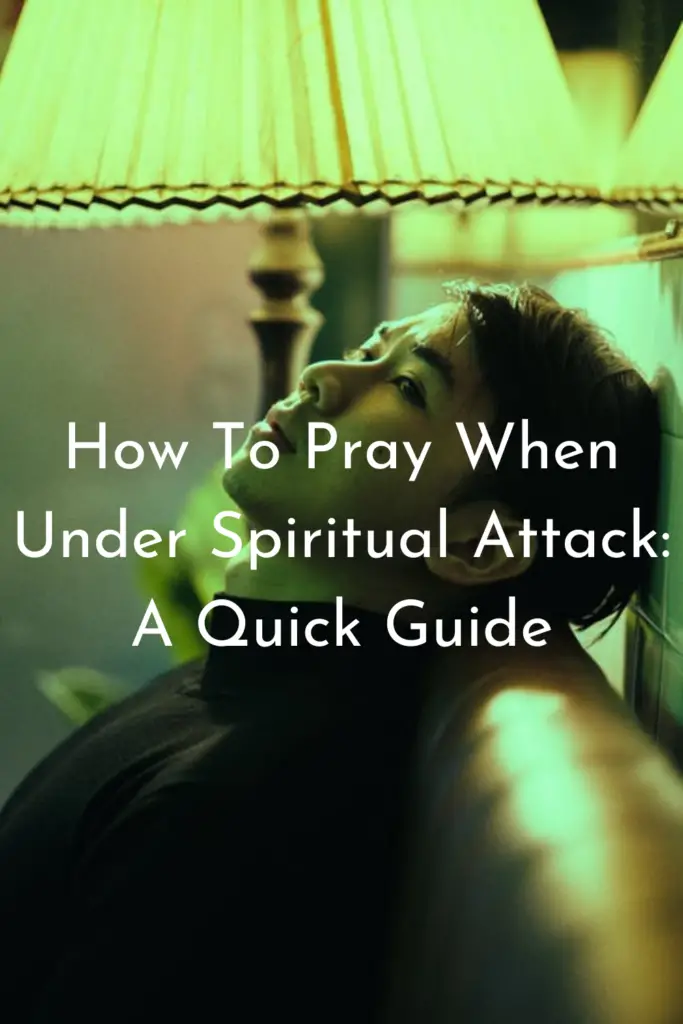 How To Pray When Under Spiritual Attack 
The following are some of the things you need to know and understand in your quest to learn how to pray when under spiritual attack.
1. Be Discerning
First, you have to be discerning to know in what area of your personality the attack is actually coming on.
Is the attack coming on your mind?
It is concentrated on your body or spirit?
You must know where you are feeling it, where the clumsiness and pressure is coming on.
Once you are able to decipher that, then the battle is half won.
(For the weapons of our warfare are not carnal, but mighty through God to the pulling down of strong holds). Casting down imaginations, and every high thing that exalteth itself against the knowledge of God, and bringing into captivity every thought to the obedience of Christ (2 Corinthians 10:4-5, KJV)
2. Repent Of Any Known Sin
Secondly, you must be sure that you are not living in sin.
This is because sin not only opens you up to spiritual attack; it makes the attack to be successful.
So, repent of any known sin, confessing them before Lord and asking for His forgiveness.
Just make sure there's no place for guilt and condemnation in your spirit that may slow you down or make you completely impotent before the Lord and even Satan when it comes to exercising your rights in prayer.
He that covereth his sins shall not prosper: but whoso confesseth and forsaketh them shall have mercy. (Proverbs 28:13, KJV) 
3. Get Scriptures That Match The Situation
Thirdly, you will have to look for scriptures that cover the whole area of spiritual warfare and also ones that are specific to your case, that is if you have been able to figure out why and which area of your personality the attack is focused on.
Then having armed yourself with scriptures (bullets of the Spirit), you are now ready to pray.
Above all, taking the shield of faith, wherewith ye shall be able to quench all the fiery darts of the wicked. And take the helmet of salvation, and the sword of the Spirit, which is the word of God: Praying always with all prayer and supplication in the Spirit, and watching thereunto with all perseverance and supplication for all saints (Ephesians 6:16-18, KJV)
READ ALSO: Benefits Of Fasting And Prayers
4. Address The Devil
Fourthly, go to pray addressing the devil.
Don't pray to God, address the devil.
Command him to take his hands off you because you are God's property.
Command also his demons to desist from their operations against you, in Jesus name.
Declare that his weapons will not prosper in your life no matter what, in Jesus name.
Like Jesus, tell Satan what is written, bring God's word against Him.
He has no resistance to the word when declared through your lips in faith.
He is discerned by God to fall flat before the word of the Lord proclaimed, declared and spoken.
That's the sword of the Spirit – the spoken word.
And these signs shall follow them that believe; In my name shall they cast out devils (Mar 16:17a, KJV)
For verily I say unto you, That whosoever shall say unto this mountain, Be thou removed, and be thou cast into the sea; and shall not doubt in his heart, but shall believe that those things which he saith shall come to pass; he shall have whatsoever he saith. (Mar 11:23, KJV)
5. Use The Name Of Jesus
Some of the Scriptures you must arm yourself with are ones that talk about the power and authority that is in the name of Jesus.
Then in prayer, quote these scriptures not to God but against the devil.
Practically beat him down coming against him with the name of Jesus.
The name of Jesus is both a sword and an emblem.
In it lie your authority to beat the devil down, at the same time, it is also a major weapon itself to beat the devil too.
So, if all you can is to start to call and shout the name of Jesus, the name of Jesus, like an army marching and chanting war songs as they set themselves array to battle, you too are to be singing and chanting the name right now.
Wherefore God also hath highly exalted him, and given him a name which is above every name: That at the name of Jesus every knee should bow, of things in heaven, and things in earth, and things under the earth. (Philippians 2:9-10, KJV) 
6. You Can Use The Weapon Of Fasting
Depending on the severity of the attack, you may have to go fasting.
After all, Jesus said that there are 'these kinds' that will not go except by prayer and fasting. (See Matthew 17:21, KJV)
So you may need to call yourself to fasting.
It could be a day's fast, 3 days fast, or more as the case may.
It could be partial or absolute fast, whatever form of fasting you feel led to do, just stay in there and pray until you have the victory.
You will know when the clouds have lifted, when the victory has come.
Hallelujah!
READ OUR POST ON: How To Fast And Pray For 3 Days
7. Destroy Satan's Stronghold With The Blood Of Jesus
Yes, use the blood of Jesus against him; he cannot resist the power of the blood of Christ.
Now, in using the weapon of the blood, don't get into defense, that is, don't use it as a defensive weapon by just shouting 'I cover myself with the blood of Jesus' (that's okay though), but use it as an offensive weapon.
Assault Satan and his hosts of demons with the blood of Christ.
Don't defend, attack.
In praying against spiritual attack, you don't defend, you attack, you pull down, and you overthrow satanic fortifications in the name of Jesus Christ. 
And they overcame him by the blood of the Lamb, and by the word of their testimony; and they loved not their lives unto the death. (Revelation 12:11, KJV)
READ ALSO: Fasting And Prayer Scriptures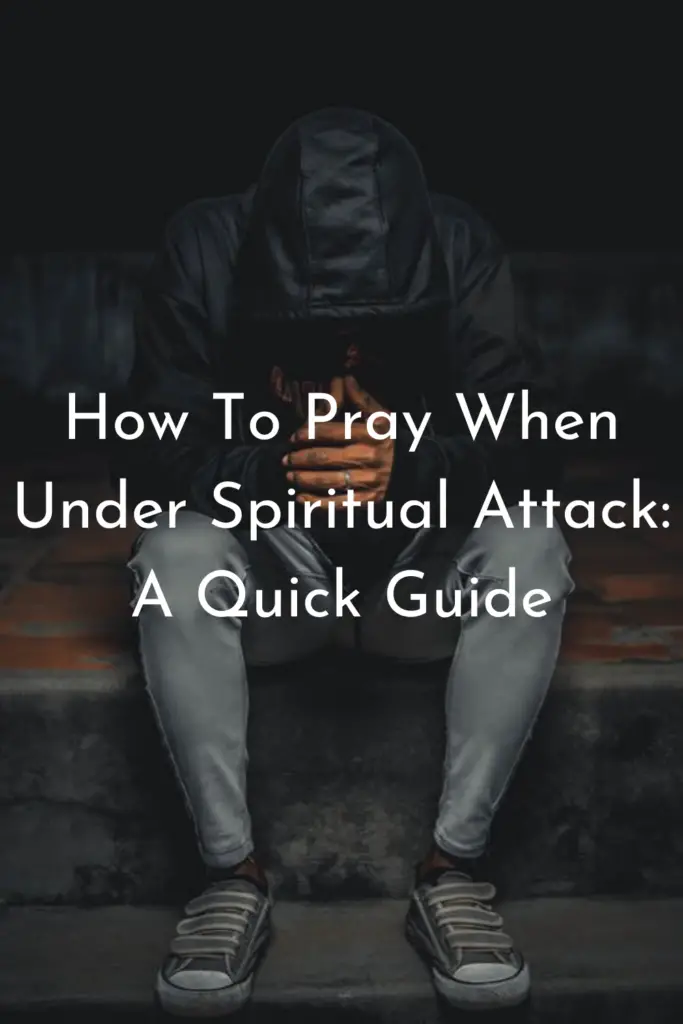 Conclusion
Yes, there's more on how to pray when under spiritual attack, but with the 7 proven strategies discussed above, you can be sure to completely rout the devil and his hosts of demons sent against you.
Now, you may need to set out specific times of the day to pray, you can pray in the dead of the night by 12 am to 2 am, or you can pray in the early hours of the day.
You can possibly also pray in the day time, but just make sure you pray and pray well, focused, unrelenting, until you sense the feeling of attack lifts.
No retreat, no surrender.
If anyone will surrender, it is Satan that must surrender, because He is programmed to do so.
You are a victor in Christ and will always triumph. (See 2 Corinthians 2:14, KJV)
He is a loser in life and will always fail.
Now to add, it will be well for you to also resolve to praying in the spirit if not more, when you are really serious about praying to terminate satanic attack.
That way, you will be able to pray mysteries, pray the very mind of God and touch other areas that may be hidden and unknown to you at the time.
Praying in the spirit helps you exhaust your prayer; it is one of the surest ways on how to pray when under spiritual attack.
All the best!    
How To Pray When Under Spiritual Attack: A Quick Guide