Here are prayer points for family protection and guidance you can use to pray.
The protection and security of your family affects you in every way.
God forbids that a member of your family is kidnapped, you will be affected.
What happens if a member of the family gets in trouble, sick, is involved in a fatal accident, depressed, broke and brought down by bandits and fraudsters, it will touch you, one way or the other.
In these last days, where Satan is fully out, ravaging and storming our cities, homes and schools with violence and organized crime, you and I have to intensify our prayer for protection.
And in today's world where distractions and many voices are calling for attention, you will need the discernment of spirit to receive guidance.
May you and your family members not be a victim of any of these organized crime today, in Jesus name!
Prayer, effective prayer can help put God's protection over your life and over the members of your household.
This is where prayer points for family protection and guidance comes handy.
Are you ready to be God's man for the protection and guidance of your family in the matter of prayer and intercession?
If that's you, let's get to praying and pray now.
READ ALSO: Intercessory Prayer Points For Family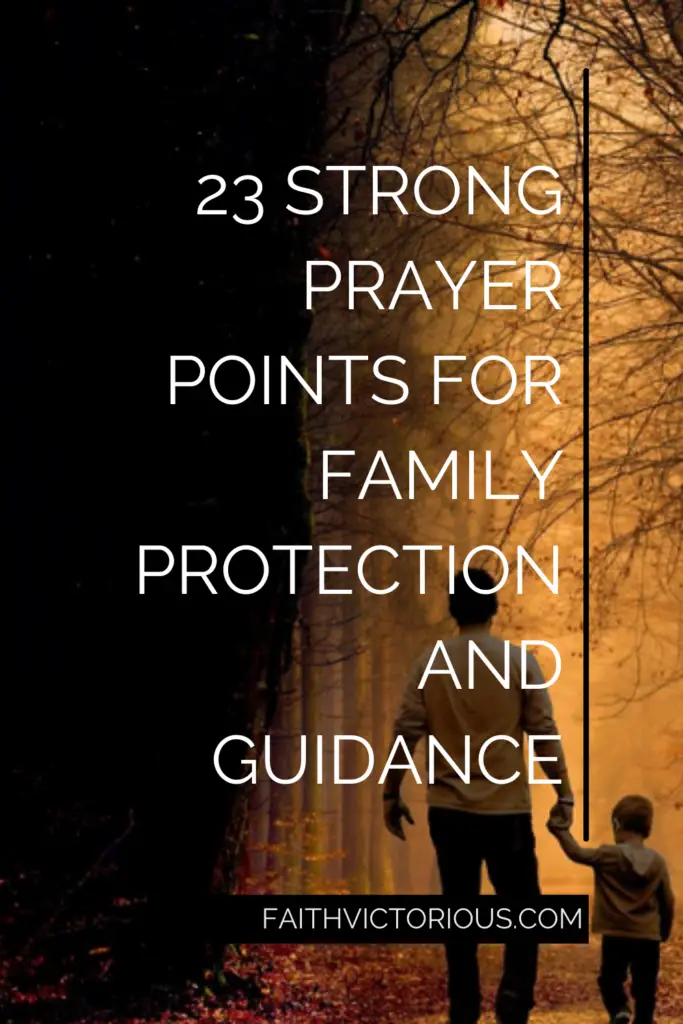 Prayer Points For Family Protection And Guidance
The following is a list of prayer points for family protection and guidance you can pray right now:
1. Lord, please shield my family from organize crime, deliver my family from evil in these tough and challenges evil days, in Jesus name.
And lead us not into temptation, but deliver us from evil… (Matthew 6:13a, KJV)
2. Father, be our cover in the day and our protection at night, in the name of Jesus Christ.
3. Lord, nowhere seem to be safe in our land and nation today, but safety and security is in you, hide us under the shadow of your wings and keep us as the apple of your eyes, in Jesus name.
4. Lord protect us from evil by the divine presence, in Jesus name.
He shall cover thee with his feathers, and under his wings shalt thou trust: his truth shall be thy shield and buckler. Thou shalt not be afraid for the terror by night; nor for the arrow that flieth by day; Nor for the pestilence that walketh in darkness; nor for the destruction that wasteth at noonday. (Psalm 91:4-6, KJV)
5. Oh Lord, give your angels the charge over my family, let your warrior angels be actively at work in the defense, shielding and protection of every member of the family, in Jesus name.
6. Oh Lord, let your angels guide the way for every member of the family so we will not walk into evil and become a prey to the devil, in Jesus name.
For he shall give his angels charge over thee, to keep thee in all thy ways. (Psalm 91:11, KJV)
7. Lord, guide our appetites and attitudes so we will not say because we are looking for money, we then fall victim of wicked and designing people, in Jesus name.  
And that we may be delivered from unreasonable and wicked men: for all men have not faith. (2 Thessalonians 3:2, KJV)
8. Oh Lord, order our steps aright, lead us in the paths of peace and righteousness, in Jesus name.
The steps of a good man are ordered by the LORD: and he delighteth in his way. (Psalm 37:23, KJV)
9. Lord, guide and guard us daily and lead us in the way everlasting, in Jesus name.
Teach me to do thy will; for thou art my God: thy spirit is good; lead me into the land of uprightness. (Psalm 143:10, KJV)
10. Father, help us to be discerning, help us to learn when to say no and when to say yes to people and calls, in Jesus name.
Give therefore thy servant an understanding heart to judge thy people, that I may discern between good and bad: for who is able to judge this thy so great a people? (1 Kings 3:9, KJV)
11. Oh Lord, we cannot keep ourselves, but we pray for mercy, let your mercy undertake for us, let your mercy keep us when we are asleep and awake Lord, in Jesus name.
PEOPLE ALSO READ: Night Prayer Points For Family Protection
12. Lord, show every member of the family the way of their lives, the way to go, the path to tread, the cause to choose, follow and to live for, in Jesus name.
Thou wilt shew me the path of life: in thy presence is fulness of joy; at thy right hand there are pleasures for evermore. (Psalm 16:11, KJV)
13. Hold by your hand Lord, and bring every member of the family in their place of glory and honor, in Jesus name.
Fear thou not; for I am with thee: be not dismayed; for I am thy God: I will strengthen thee; yea, I will help thee; yea, I will uphold thee with the right hand of my righteousness. (Isaiah 41:10, KJV)
14. Lord, guide our choices, inform our decisions, and influence our thoughts and attitudes with your word, power and love, in Jesus name.
15. Lord, we do not see tomorrow, we do not know tomorrow and we do not own tomorrow, but Lord, in your mercy show us tomorrow, guide us into it with hope, faith and love, in Jesus name.
16. Father, grant us that we may know your glory, delight in your presence and hope in your plan and purpose for our lives, in Jesus name.
And he said, I beseech thee, shew me thy glory. (Exodus 33:18, KJV)
17. Father, show us a token for good that we may be comforted, in the name of Jesus Christ.
Shew me a token for good; that they which hate me may see it, and be ashamed: because thou, LORD, hast holpen me, and comforted me. (Psalm 86:17, KJV)
18. Father of light, light the path of every member of the family, so we will clearly know the way to go and the path to tread, in Jesus name.
19. Oh Lord and Father of glory, let the glory you created my family for and that you created for my family be upon us, let it manifest fully, in Jesus name.
20. Oh Lord God, show us and don't hold back the way to go and the path to tread this new season, of the corporate live of the family, in Jesus name.
21. Oh Lord of glory, show us your way like you did Moses of old and guide us in thy paths like you did the children of Israel for 40 years in the wilderness, in Jesus name.
He made known his ways unto Moses, his acts unto the children of Israel. (Psalm 103:7, KJV)
22. Make of us Lord a family of discerning people, men and women and even children with discerning hearts, in Jesus name.
23. Bless Lord, I pray, the family with understanding, skill, knowledge and wisdom to mine the silver and gold of the earth, so we can take our share of the profit of the earth, in Jesus name.
As for these four children, God gave them knowledge and skill in all learning and wisdom: and Daniel had understanding in all visions and dreams. (Daniel 1:17, KJV)
Now, go ahead and thank God for answer to prayers, prayed in Jesus name.
PEOPLE ALSO READ: 40+ Prayer Points Against Family Curses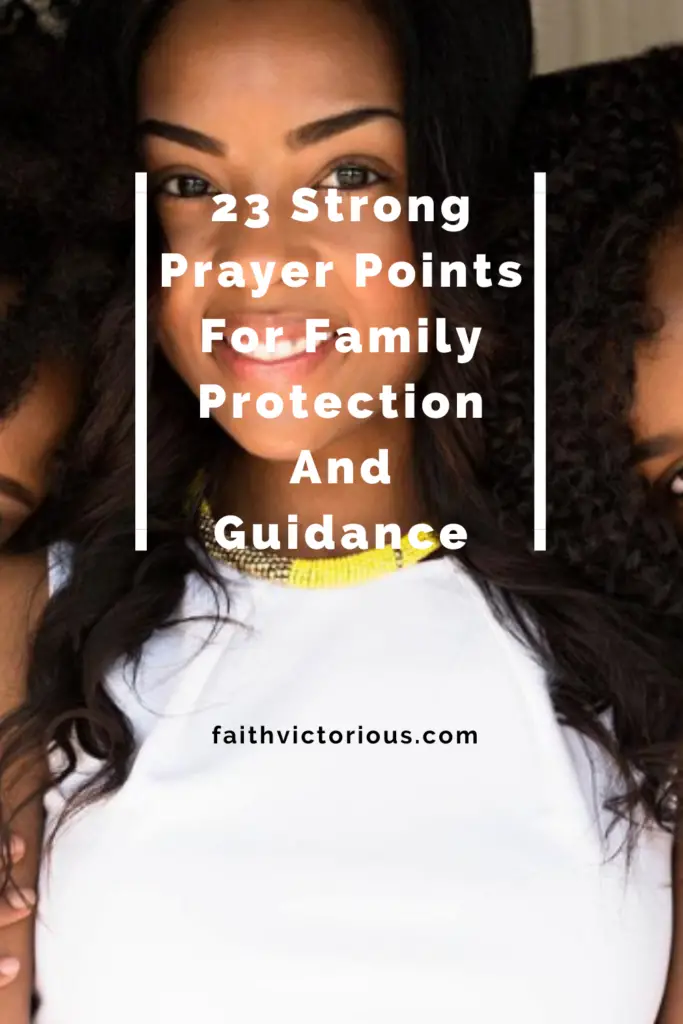 Conclusion
Nonetheless exhaustive, these prayer points for family protection and guidance is meant to give you a head start in prayer.
You are supposed to throw yourself in and allow God to use you to bring about His highest purpose for your family – which can only be by prayer.
You see, really, everything in the kingdom is by prayer.
You pray for protection, provision, guidance, grace, mercy, love…..everything.    
Now, I want to encourage you to not quilt praying for your family until you begin to see the glory of God manifesting in your family big time and each member of the family becoming and attaining to God's ultimate plan for their lives.
And even when you begin to see it, don't stop until every member of the family has learnt the art of intercession and are now praying for themselves.
That way, you can be sure that the glory of the family will be sustained, protection and guidance will be sustained.
One more thing: you will do well to give yourself to praying these prayer points for family protection in the spirit if you really want to exhaust your prayers.
That's because praying in the spirit is your guaranteed way to praying responsively, sufficiently and responsibly.
With the practice, you are able to pray the mind of God for the occasion on any and every matter.
You pray well and pray all, when you pray in the spirit.
Pray in your understanding as much as you can, but pray in the spirit all the more. (1 Corinthians 14:15, KJV)
God bless you.
All the best!
23 Strong Prayer Points For Family Protection And Guidance