Here are prayer points for anointing that you can use to pray.
Hey, you need the anointing of God on your life to be able to do what God has called you to do.
When God calls a person, He furnishes him with an ability, an enablement to do what he's assigned to do, that enablement is the anointing.
Put simply, the anointing is God's supernatural power and force at work in and on you that helps you accomplish God's purpose and enforce His reign and dominion in your sphere of influence.
The anointing is God in you accomplishing His work on earth.
Without it, you can't do God's work.
And boy, you need the anointing in these last days than ever, even more than anything else.
That's why you must not in any way, joke and make light of these prayer points for anointing.
Believe me, the measure of the anointing you walk in even in your area of calling is commensurate to the amount of time you spent in God's presence, praying and hanging out with the Lord – fellowship.
So, are you ready to spend good time with God like Moses, Elijah and the apostles of old did who walked in great power and anointing?
These prayer points for anointing may be a good place to start.
READ ALSO: Prayer Points On Anointing To Excel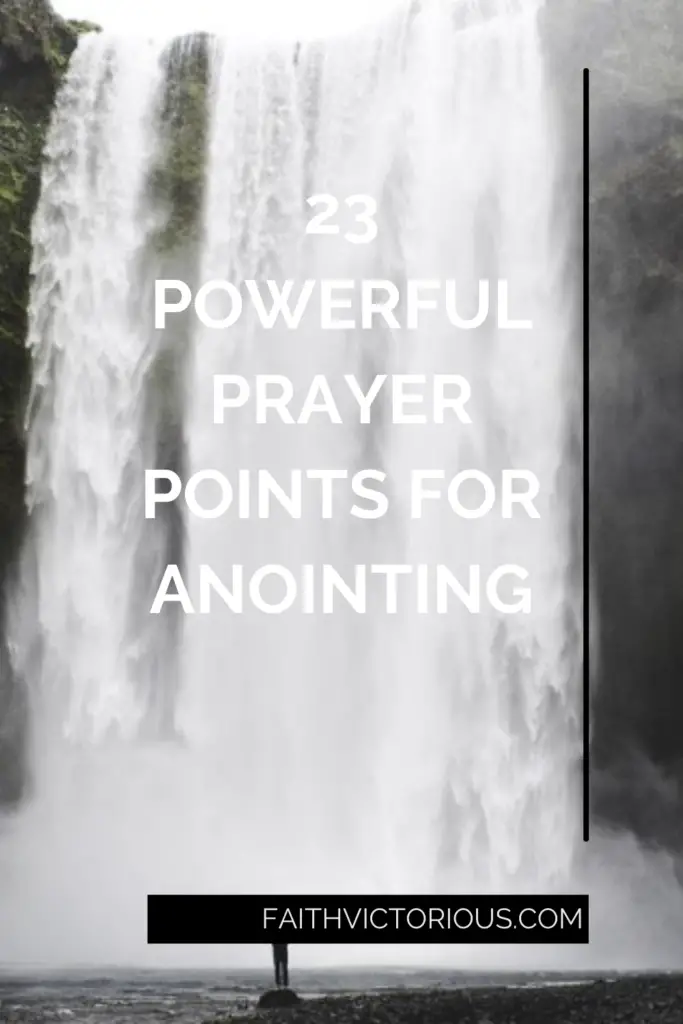 Prayer Points For Anointing
The following are prayer points for anointing that you can pray to open yourself up for a fresh and full filling and continuous infilling of the power of the Holy Spirit of God.
1. Lord, I'm in need, I'm in need of you, I'm in need of your presence, I'm in need of your glory, stir up a holy hunger in my spirit for all of you, Lord, in Jesus name.
Blessed are they which do hunger and thirst after righteousness: for they shall be filled. (Matthew 5:6, KJV)
2. Father, you will not fill to the full a vessel that's not purify and sanctified completely, Lord, purify me with your holy fire, in Jesus name.
3. Sanctify my thoughts, words and actions and in-actions Lord by the refining fire of your sweet Holy Spirit, in Jesus name.
If a man therefore purge himself from these, he shall be a vessel unto honour, sanctified, and meet for the master's use, and prepared unto every good work. (2 Timothy 2:21, KJV)
4. Father, I give you my character and attitudes, walk through me, work on me and make my attitude and character conform to the very image of Christ, your holy Son, in Jesus name.
Let this mind be in you, which was also in Christ Jesus… (Philippians 2:5, KJV)
5. Now, Lord, fill me with your holy fire, fill me with your electrifying power for the sake of the work, in Jesus name.
6. Lord, take me into glory and fill me with your awesome presence, so that my very presence in a place will bring your manifest presence to that place, in Jesus name.
7. Fill me with power by the Spirit of the LORD to declare your righteous counsel and judgment to the nations, in Jesus name.
But truly I am full of power by the spirit of the LORD, and of judgment, and of might, to declare unto Jacob his transgression, and to Israel his sin. (Micah 3:8, KJV)
8. Open my eyes in worship to behold your glory and your majesty and cause me Lord to become what I behold; for in beholding, we become, in Jesus name.
But we all, with open face beholding as in a glass the glory of the Lord, are changed into the same image from glory to glory, even as by the Spirit of the Lord. (2 Corinthians 3:18, KV)
9. Lord, anoint my tongue with fire and power to proclaim your holy name among the people until you make all flesh obedient to you in Christ, in Jesus name.
10. Let your word in my mouth heal the sick, cast out devils and deliver the oppressed, in Jesus name.
11. Oh Lord, let the dead hear the voice of Jesus in my voice and let it be that all that will hear the voice will live, in Jesus name.
Verily, verily, I say unto you, The hour is coming, and now is, when the dead shall hear the voice of the Son of God: and they that hear shall live. (John 5:25, KJV)
12. Father, let your life and glory fill me to the full so much so that my hands will be a conductor and conveyor of your life and power, in Jesus name.
For the earth shall be filled with the knowledge of the glory of the LORD, as the waters cover the sea. (Habakkuk 2:14, KJV)
PEOPLE ALSO READ: Prayer Points For Prophetic Anointing
13. Lord, quicken me with the divine life, fill me to the overflow with the divine presence to the glory of your name Lord, in Jesus name.
Plead my cause, and deliver me: quicken me according to thy word. (Psalm 119:154, KJV)
14. Father, release upon me, the Spirit of the LORD, the Spirit of dominion, so I can exercise and perpetuate your influence and dominion on earth, everywhere I go, in Jesus name.
15. Anoint me Lord to enforce your righteous judgment on earth; help me to make both the visible and the invisible world of men and demons obedient to your word and Christ, in Jesus name.
And the Spirit of the LORD came upon him, and he judged Israel, and went out to war: and the LORD delivered Chushanrishathaim king of Mesopotamia into his hand; and his hand prevailed against Chushanrishathaim. (Judges 3:10, KJV)
16. Use me Lord to subdue the nations for you. Anoint me with fierce anointing to cast out devils, to disgrace Satan and his wicked hosts of darkness everywhere I go to preach, teach and minister for you, in Jesus name.
Thus saith the LORD to his anointed, to Cyrus, whose right hand I have holden, to subdue nations before him; and I will loose the loins of kings, to open before him the two leaved gates; and the gates shall not be shut… (Isaiah 45:1, KJV) 
17. Lord, anoint me with special anointing that even handkerchiefs and aprons from me will heal the sick and cast out devils like it was with the apostle Paul, in Jesus name.
And God wrought special miracles by the hands of Paul… (Acts 19:11, KJV)
18. Lord, open my eyes to see life, glory and power in your word, for your word is life, in Jesus name.
Open thou mine eyes, that I may behold wondrous things out of thy law. (Psalm 119:18, KJV)
19. Teach me Lord to walk in sync with the Holy Spirit, that I may know where He's leading every time, so I may follow, in Jesus name.
20. Open my ears to hear the Spirit, open my mind to perceive His ways, move and action and give me grace to align, follow, flow and surrender to the wind of the Spirit on the go, in Jesus name.
21. Lord, teach me surrender, teach me total dependence on the Spirit, help me to learn to surrender and soar with the wind of the Spirit every time it blows, in Jesus name.
For thou art my rock and my fortress; therefore for thy name's sake lead me, and guide me. (Psalm 31:3, KJV)
22. Father, strengthen my resolve to follow you, to go all out for you, to serve you without any ulterior motive of gain and rewards on earth, in Jesus name.
For the Lord GOD will help me; therefore shall I not be confounded: therefore have I set my face like a flint, and I know that I shall not be ashamed. (Isaiah 50:7, KJV)
My heart is fixed, O God, my heart is fixed: I will sing and give praise. (Psalm 57:7, KJV)
23. Lord, give me the grace to follow, your grace is all I need, your grace is enough for me, in the name of Jesus Christ.
Now, go ahead and thank the Lord for answer to prayers, in Jesus name.
PEOPLE ALSO READ: Prayer For A Supernatural Anointing For Fresh Fire
Conclusion
Nonetheless exhaustive, these prayer points for anointing are meant to give you a head start in prayer as you set yourself to seek God for the anointing of His Spirit.
See, prayer and praying for the anointing is not a once and for all time thing, no.
You need and will have to continue in prayer even when you begin to see the anointing of God manifesting in your life.
You see, the anointing of yesterday is not sufficient for today.
You need fresh anointing every day.
That's why you will have to continue in intimate fellowship and prayer with the Lord for fresh filling and to stay filled with the Spirit.
That's a choice you need to make right now, it is the price you will pay for the anointing.
Don't you ever forget that sir and ma.
Now, in conclusion, we would encourage you to learn to always give yourself to praying in the spirit.
That way, you will be able to continue in intimate fellowship and communion with the Holy Spirit 24/7.
Your sweetest and easiest way to stay in fellowship and be at the top of your game in your walk with and work for the Lord is through praying in the spirit all the time.
May it be to you like it was of the Apostle Paul so you will be bold to say like he did; I thank my God, I speak in tongues more than ye all… (1 Corinthians 14:18, KJV)
God bless you.
All the best! 
23 Powerful Prayer Points For Anointing