Here are prayer points on anointing to excel that you can use to pray.
You see, there's something as the anointing to make progress, to make profit, excel, to remain relevant and stay on top of your game.
No matter what your endeavors are, you need power to make progress, power to move from point A to point B in the ladder and path of progress.
If you don't understand this and crave it, you may remain at a spot for a long time.
See, one can be at a spot for an unnecessarily long time even with all the knowledge, skill, experience and connection one has.
It takes the grace of God to change levels, to move up and step up.
This grace, it is called the anointing.
It is simply an ability to do, an enablement given by God to do and become what He asked you to do and what He has planned and purposed you will be.
Good enough, praying is one way to align your thoughts with God and to also secure the anointing to be and become.
That's the reason why we have put together these prayer points on anointing to excel to help you pray and pray right.
Ready to change levels and move a step farther and higher on your path and ladder of progress?
Time to pray, then.
READ ALSO: Prayer Points For Anointing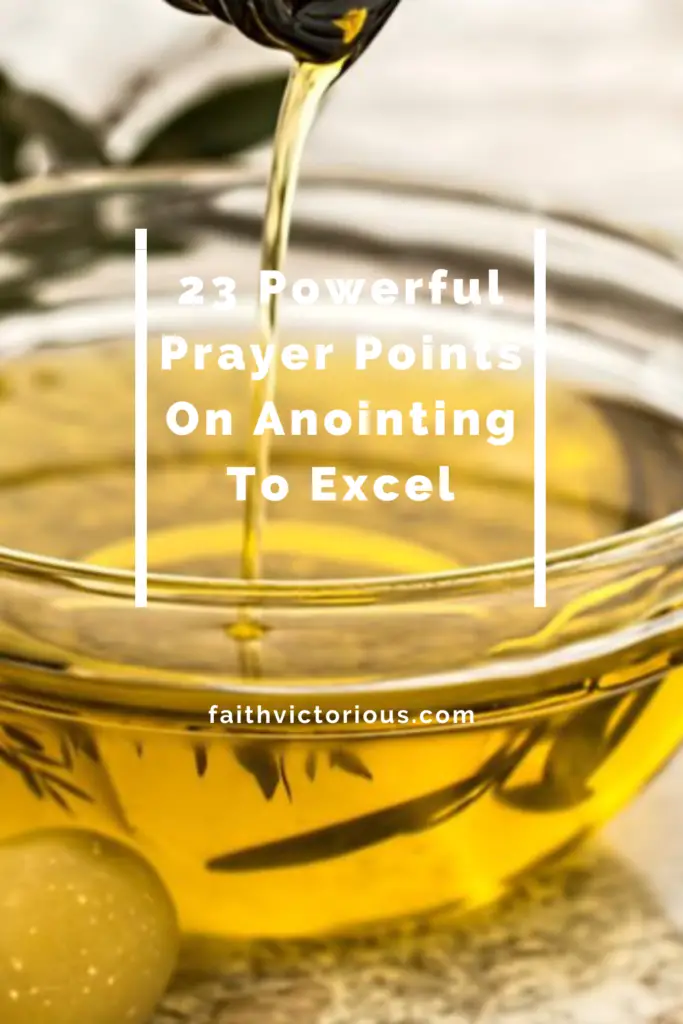 Prayer Points On Anointing To Excel
The following are prayer points on anointing to excel that you can arm yourself with and take with you as you swing into action, praying:
1. Father, God of all flesh, no man can receive anything unless you give him, no one can excel in life unless you move him up, me too Lord, move me up, raise me up, in Jesus name.
John answered and said, A man can receive nothing, except it be given him from heaven. (John 3:27, KJV)
But thou, O LORD, art a shield for me; my glory, and the lifter up of mine head. (Psalm 3:3, KJV)
2. Lord, you give power to the weak, those who have no might you increase their strength, me too Lord, give me power, increase my strength, in Jesus name.
He giveth power to the faint; and to them that have no might he increaseth strength. (Isaiah 40:29, KJV)
3. Lord, look down from heaven and raise me, bring me out of the pit of low life, pain and poverty, in Jesus name.
He sent from above, he took me, he drew me out of many waters. (Psalm 18:16, KJV)
4. Lord, by your power and grace, enable me, grant me divine enablement, so I will be able to do and accomplish in life, all you have earmarked for me to do and accomplish, in Jesus name.
Then he answered and spake unto me, saying, This is the word of the LORD unto Zerubbabel, saying, Not by might, nor by power, but by my spirit, saith the LORD of hosts. (Zechariah 4:6, KJV)
5. Father, break from my life, every yoke of limitation, every power that inhibits growth and prosperity, in Jesus name.
6. Oh Lord, deliver me from low self-esteem, low estimation of self and even of your ability in me, in Jesus name.
7. Father, give me a renewed vision of myself, help me to see myself the way you see me, and help me also to believe in myself and your ability in me like you do, in Jesus name.
8. Father, remove from me blindness of the mind and heart, littleness of sight and perception, in Jesus name.
9. Lord, move me forward, cause me to break through the ranks of limitation and littleness by the power of the Holy Spirit, in Jesus name.
10. Father, send your power into my life, let the force of the anointing of the Holy Spirit of God transport me from where I am right now to where next I should be, in Jesus name.
For thou art my lamp, O LORD: and the LORD will lighten my darkness. For by thee I have run through a troop: by my God have I leaped over a wall. (2 Samuel 22:29-30, KJV)
11. Lord, send your fire into my life to burn and destroy character and attitudes that are limiting my growth and progress in life, in Jesus name.
12. Lord, help me to form holy and wholesome attitudes and character that make for growth and lifting in life, in Jesus name.
And he shall sit as a refiner and purifier of silver: and he shall purify the sons of Levi, and purge them as gold and silver, that they may offer unto the LORD an offering in righteousness. Then shall the offering of Judah and Jerusalem be pleasant unto the LORD, as in the days of old, and as in former years. (Malachi 3:3-4)
PEOPLE ALSO READ: Prayer Points For Prophetic Anointing
13. Father, give me grace, let your grace be evident in my life, let your grace work in me and make me become what I am to become, in Jesus name.
Surely he scorneth the scorners: but he giveth grace unto the lowly. (Proverbs 3:34, KJV)
14. Give me wings to fly Lord, grant me that I may develop spiritual capacity and capability for flight and lifting, in Jesus name.
15. Father, bear and carry me on Eagle's wings, carry me on your back Lord and bring me to new heights and depths in you Lord, in Jesus name.
Ye have seen what I did unto the Egyptians, and how I bare you on eagles' wings, and brought you unto myself. (Exodus 19:4, KJV)
16. Lord, grace my life with the anointing for ease, in Jesus name.
17. Lord, make my life beautiful, let me be a living witness and testimony of your mercy, grace and favor, so when people see me, their testimony will be; 'that's the man the Lord has blessed,' in Jesus name.  
And he came near, and kissed him: and he smelled the smell of his raiment, and blessed him, and said, See, the smell of my son is as the smell of a field which the LORD hath blessed…(Genesis 27:27, KJV)
For the LORD taketh pleasure in his people: he will beautify the meek with salvation. (Psalm 149:4, KJV)
18. Oh Lord, in your mercy lift me, in your mercy connect me, in your mercy take me to the mountains of success and victories, in Jesus name.
Hear, O LORD, and have mercy upon me: LORD, be thou my helper. (Psalm 30:10, KJV)
19. Lord, inspire me with thoughts of possibilities, thoughts of increase and greatness, in Jesus name.
20. Lord, again I pray; inspire me with ideas, insights and concepts that I will employ for a real change of level, in Jesus name.
For who hath known the mind of the Lord, that he may instruct him? But we have the mind of Christ. (1 Corinthians 2:16, KJV)
21. Give me wisdom, skill and understanding Lord that will make me a praise on the earth, a display of your glory and excellence on earth, in Jesus name.
In whom are hid all the treasures of wisdom and knowledge. (Colossians 2:3, KJV)
22. Open my eyes to see the pattern of which I am to follow to build, and open my ears to hear instructions on what and how to build, in Jesus name.
According to all that I shew thee, after the pattern of the tabernacle, and the pattern of all the instruments thereof, even so shall ye make it. (Exodus 25:9, KJV)
23. Lord, give me grace to do, grace to become, grace to adhere, grace to follow, in Jesus name
Now, go ahead and thank God for answer to prayers, in Jesus name.
PEOPLE ALSO READ: Prayer For A Supernatural Anointing For Fresh Fire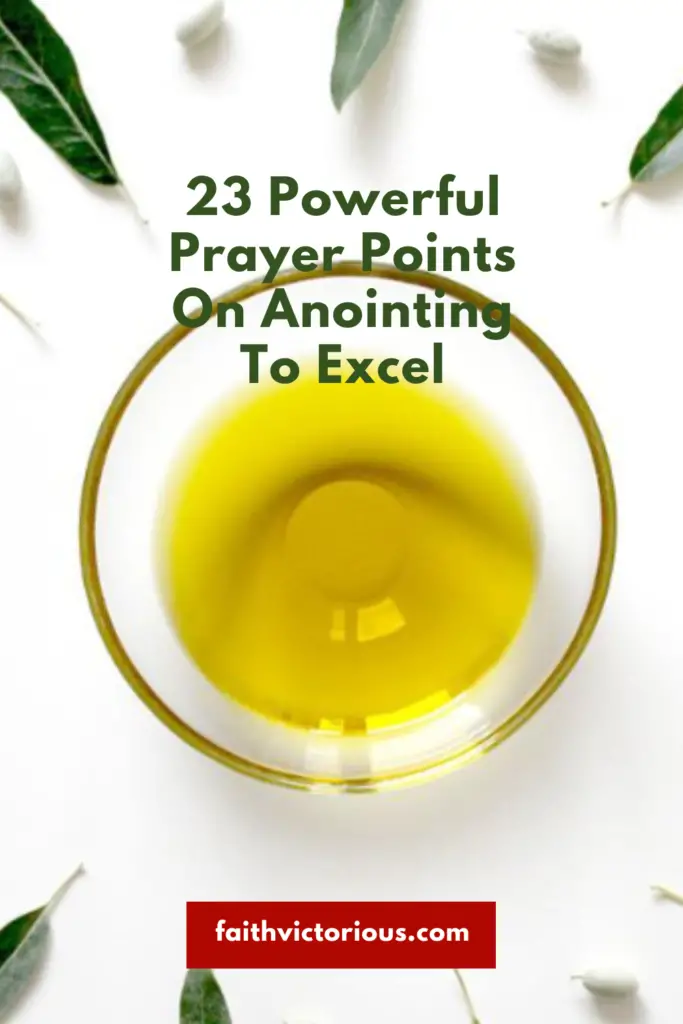 Conclusion
Nonetheless exhaustive, these prayer points on anointing to excel will help get you started and going as set yourself to seek God for change of levels.
God wants you to excel more than your wildest imagination.
He, of course knows too, the limitations you face, things, visible and invisible that are inhibiting your progress.
But thankfully, He has reserved and prepared an anointing to break those yokes and to move you into your place of glory.
Note, not only is the anointing enough to break the yoke, the anointing too will move you, compel you into your greatness.
Believe with me.
God knows that you cannot help yourself, now, He has made help available. (Isaiah 59:16, KJV)
So what is left is for you to take advantage of His help and grace through prayer.
Sufficient enough to get you on praying mode are these prayer points on anointing to excel.
Will you give yourself and all to praying them?
You will see the glory of God, if you do.
Now, to help you pray well and better, you will have to learn and uphold a holy and most advance prayer fashion called praying in the spirit.
When you do, prayer will become a joy and a long for engagement for you.
The dryness and struggle in prayer will dissipate because you now know how to pray the very will and mind of God in conformity, cooperation and side by side with the Spirit.
Prayer is a delight when you learn to pray in the spirit.
Go for it, learn it and practice it regularly, daily, all the time.
And pray in the Spirit on all occasions with all kinds of prayers and requests. (Ephesians 6:18a, NIV)
God bless you.
All the best!
23 Powerful Prayer Points On Anointing To Excel