Here are some powerful psalms for healing that you can say or pray.
Healing belongs to you, the believer.
God healed Israel in the Old Testament, Jesus healed them in the New, and the Holy Spirit through believers heals today.
Yes, God heals through many means and ways, but foremost of them all is His word.
That's why the Scripture declares: He sent His word and healed them and delivered them from their destruction. (Psalm 107:20, KJV)
Jesus is the living healing word, the Holy Scriptures is the active and quickening healing word for today.
Sure enough, the Psalm is replete with a good number of scriptures that will help communicate and transfer the healing and saving power of God to any one in need of healing.
Now, let's take a look at them.
Are you ready?
READ ALSO: Powerful Psalms For Deliverance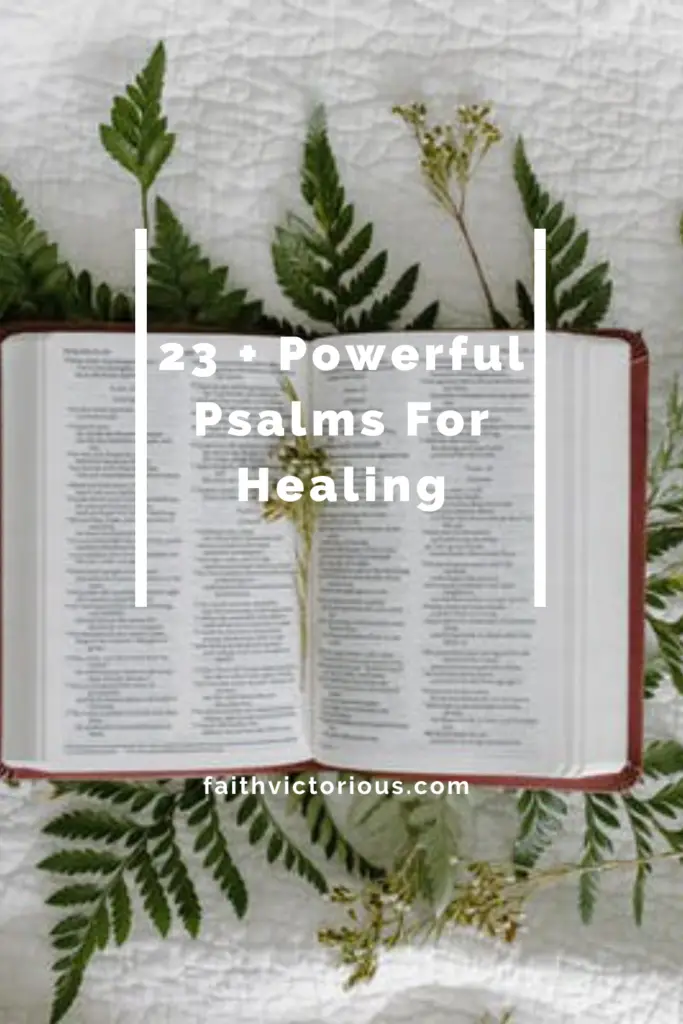 Powerful Psalms For Healing
The following are powerful psalms for healing that you can say and or pray over self and loved ones in need of healing, whether it be spiritual, mental or bodily healing:
1. Psalm 147:3, KJV:
He healeth the broken in heart, and bindeth up their wounds. 
2. Psalm 103:2-5, KJV:
Bless the LORD, O my soul, and forget not all his benefits: Who forgiveth all thine iniquities; who healeth all thy diseases; Who redeemeth thy life from destruction; who crowneth thee with lovingkindness and tender mercies; Who satisfieth thy mouth with good things; so that thy youth is renewed like the eagle's. 
3. Psalm 6:2, KJV:
Have mercy upon me, O LORD; for I am weak: O LORD, heal me; for my bones are vexed. 
4. Psalm 60:2, KJV:
Thou hast made the earth to tremble; thou hast broken it: heal the breaches thereof; for it shaketh. 
5. Psalm 41:3-4, KJV:
The LORD will strengthen him upon the bed of languishing: thou wilt make all his bed in his sickness. I said, LORD, be merciful unto me: heal my soul; for I have sinned against thee. 
6. Psalm 30:2-3, KJV:
O LORD my God, I cried unto thee, and thou hast healed me. O LORD, thou hast brought up my soul from the grave: thou hast kept me alive, that I should not go down to the pit. 
7. Psalm 43:5, KJV:
Why art thou cast down, O my soul? and why art thou disquieted within me? hope in God: for I shall yet praise him, who is the health of my countenance, and my God. 
8. Psalm 67:1-2, KJV:
God be merciful unto us, and bless us; and cause his face to shine upon us; Selah. That thy way may be known upon earth, thy saving health among all nations. 
9. Psalm 18:32-33, KJV:
It is God that girdeth me with strength, and maketh my way perfect. He maketh my feet like hinds' feet, and setteth me upon my high places. 
10. Psalm 21:1, KJV:
The king shall joy in thy strength, O LORD; and in thy salvation how greatly shall he rejoice! 
11. Psalm 28:8-9, KJV:
The LORD is their strength, and he is the saving strength of his anointed. Save thy people, and bless thine inheritance: feed them also, and lift them up for ever. 
12. Psalm 27:1, KJV:
The LORD is my light and my salvation; whom shall I fear? the LORD is the strength of my life; of whom shall I be afraid? 
PEOPLE ALSO READ: Powerful Psalms For Blessings
13. Psalm 29:11, KJV:
The LORD will give strength unto his people; the LORD will bless his people with peace. 
14. Psalm 59:9, KJV:
Because of his strength will I wait upon thee: for God is my defence. 
15. Psalm 73:26, KJV:
My flesh and my heart faileth: but God is the strength of my heart, and my portion for ever. 
16. Psalm 84:7, KJV:
They go from strength to strength, every one of them in Zion appeareth before God. 
17. Psalm 86:16, KJV:
O turn unto me, and have mercy upon me; give thy strength unto thy servant, and save the son of thine handmaid. 
18. Psalm 118:14, KJV:
The LORD is my strength and song, and is become my salvation. 
19. Psalm 105:37, KJV:
He brought them forth also with silver and gold: and there was not one feeble person among their tribes. 
20. Psalm 57:3, KJV:
He shall send from heaven, and save me from the reproach of him that would swallow me up. Selah. God shall send forth his mercy and his truth. 
21. Psalm 138:7, KJV:
Though I walk in the midst of trouble, thou wilt revive me: thou shalt stretch forth thine hand against the wrath of mine enemies, and thy right hand shall save me. 
22. Psalm 20:6, KJV:
Now know I that the LORD saveth his anointed; he will hear him from his holy heaven with the saving strength of his right hand. 
23. Psalm 107: 17-20, KJV:
Fools because of their transgression, and because of their iniquities, are afflicted. Their soul abhorreth all manner of meat; and they draw near unto the gates of death. Then they cry unto the LORD in their trouble, and he saveth them out of their distresses. He sent his word, and healed them, and delivered them from their destructions. 
PEOPLE ALSO READ: Powerful Psalms For Financial Blessings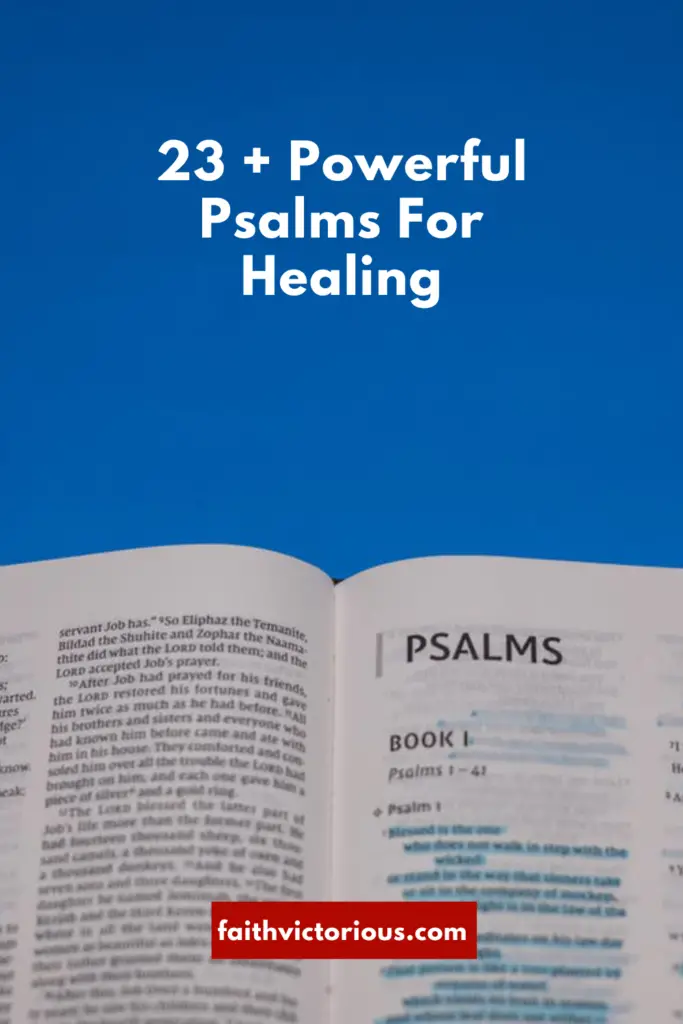 Conclusion
Nonetheless exhaustive, these powerful psalms for healing are loaded with God's power to heal and to save.
Pray them, say them, stand on them in faith until your healing comes and your health spring forth speedily.
God is in His word.
His power is released through His word.
When spoken and declared by faith, the power of God is released into any situation bringing about salvation, healing, deliverance, restoration, lifting and triumph.
Now, you have to take responsibility today, release God's healing power into your situation right now by simply saying and or praying these powerful psalms for healing.
Then hold in faith and don't stop; for as a long as the Lord lives and His word is credible, healings, physical manifestation of your deliverance will surely come.
Hold fast to the confession of your faith without wavering, for He that promises is faithful and has integrity. (Hebrews 10:23, NIV)
God bless you.
All the best!
23+ Powerful Psalms For Healing