Here are Powerful psalms for deliverance you can say and or pray.
If there is ever any book in the bible that is a repertoire of scriptures on God's power to heal and to deliver, it is the book of Psalm.
In it you see God's mighty hand of deliverance on the children of Israel; from Moses and Israel in their journey in the wilderness for 40 years and to King David – His call and reign in Israel for 40 years also.
The Psalm is a demonstration of God's power to heal, save, deliver, and to protect those who trusted Him to help them.
Today, God is the same, what He did for Moses and David and Israel, He will do for you under the same circumstance.
These powerful psalms are a reminder of what He did then, what He is doing now, and what He will do afterward.
The Lord is your deliverer.
Are you ready for this?
READ ALSO: Powerful Psalms For Healing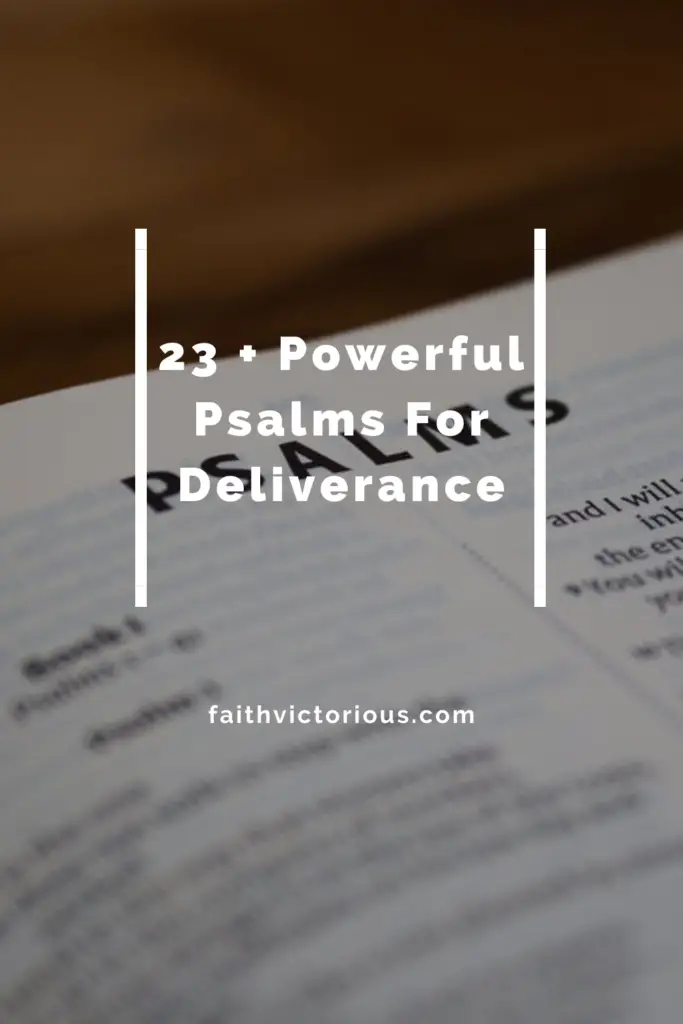 Powerful Psalms For Deliverance
The following are powerful psalms for deliverance you can say and or pray over self, family, business, property etc. for God's sustained protection:
1. Psalm 32:7, KJV:
Thou art my hiding place; thou shalt preserve me from trouble; thou shalt compass me about with songs of deliverance. Selah. 
2. Psalm 18:16-17, 19, 48, 50, KJV:
He sent from above, he took me, he drew me out of many waters. He delivered me from my strong enemy, and from them which hated me: for they were too strong for me… He brought me forth also into a large place; he delivered me, because he delighted in me… He delivereth me from mine enemies: yea, thou liftest me up above those that rise up against me: thou hast delivered me from the violent man… Great deliverance giveth he to his king; and sheweth mercy to his anointed, to David, and to his seed for evermore.  
3. Psalm 119:114, KJV:
Thou art my hiding place and my shield: I hope in thy word. 
4. Psalm 7:10, KJV:
My defence is of God, which saveth the upright in heart. 
5. Psalm 20:5-9, KJV:
We will rejoice in thy salvation, and in the name of our God we will set up our banners: the LORD fulfil all thy petitions. Now know I that the LORD saveth his anointed; he will hear him from his holy heaven with the saving strength of his right hand. Some trust in chariots, and some in horses: but we will remember the name of the LORD our God. They are brought down and fallen: but we are risen, and stand upright. Save, LORD: let the king hear us when we call. 
6. Psalm 34:4, 17-22, KJV:
I sought the LORD, and he heard me, and delivered me from all my fears… The righteous cry, and the LORD heareth, and delivereth them out of all their troubles. The LORD is nigh unto them that are of a broken heart; and saveth such as be of a contrite spirit. Many are the afflictions of the righteous: but the LORD delivereth him out of them all. He keepeth all his bones: not one of them is broken. Evil shall slay the wicked: and they that hate the righteous shall be desolate. The LORD redeemeth the soul of his servants: and none of them that trust in him shall be desolate. 
7. Psalm 107:17-20, KJV:
Fools because of their transgression, and because of their iniquities, are afflicted. Their soul abhorreth all manner of meat; and they draw near unto the gates of death. Then they cry unto the LORD in their trouble, and he saveth them out of their distresses. He sent his word, and healed them, and delivered them from their destructions. 
8. Psalm 35:17, 19, KJV:
Lord, how long wilt thou look on? rescue my soul from their destructions, my darling from the lions… Let not them that are mine enemies wrongfully rejoice over me: neither let them wink with the eye that hate me without a cause. 
9. Psalm 28:8, KJV:
The LORD is their strength, and he is the saving strength of his anointed. 
10. Psalm 67:1-2, KJV, KJV:
God be merciful unto us, and bless us; and cause his face to shine upon us; Selah. That thy way may be known upon earth, thy saving health among all nations.
11. Psalm 69:14-15, KJV:
Deliver me out of the mire, and let me not sink: let me be delivered from them that hate me, and out of the deep waters. Let not the waterflood overflow me, neither let the deep swallow me up, and let not the pit shut her mouth upon me.
12. Psalm 71:1-7, KJV:
In thee, O LORD, do I put my trust: let me never be put to confusion. Deliver me in thy righteousness, and cause me to escape: incline thine ear unto me, and save me. Be thou my strong habitation, whereunto I may continually resort: thou hast given commandment to save me; for thou art my rock and my fortress. Deliver me, O my God, out of the hand of the wicked, out of the hand of the unrighteous and cruel man. For thou art my hope, O Lord GOD: thou art my trust from my youth. By thee have I been holden up from the womb: thou art he that took me out of my mother's bowels: my praise shall be continually of thee. 
PEOPLE ALSO READ: Powerful Psalms For Financial Blessings
13. Psalm 144:7, KJV:
Send thine hand from above; rid me, and deliver me out of great waters, from the hand of strange children; 
14. Psalm 22:5, KJV, KJV:
They cried unto thee, and were delivered: they trusted in thee, and were not confounded. 
15. Psalm 33:16-19, KJV:
There is no king saved by the multitude of an host: a mighty man is not delivered by much strength. An horse is a vain thing for safety: neither shall he deliver any by his great strength. Behold, the eye of the LORD is upon them that fear him, upon them that hope in his mercy; To deliver their soul from death, and to keep them alive in famine. 
16. Psalm 54:7, KJV:
For he hath delivered me out of all trouble: and mine eye hath seen his desire upon mine enemies. 
17. Psalm 55:18, KJV:
He hath delivered my soul in peace from the battle that was against me: for there were many with me. 
18. Psalm 56:13, KJV:
For thou hast delivered my soul from death: wilt not thou deliver my feet from falling, that I may walk before God in the light of the living? 
19. Psalm 60:4-5, KJV:
Thou hast given a banner to them that fear thee, that it may be displayed because of the truth. Selah. That thy beloved may be delivered; save with thy right hand, and hear me. 
20. Psalm 86:13, KJV:
For great is thy mercy toward me: and thou hast delivered my soul from the lowest hell. 
21. Psalm 116:8, KJV:
For thou hast delivered my soul from death, mine eyes from tears, and my feet from falling.
22. Psalm 108:5-6, KJV:
Be thou exalted, O God, above the heavens: and thy glory above all the earth; That thy beloved may be delivered: save with thy right hand, and answer me. 
23. Psalm 30:2, KJV:
O LORD my God, I cried unto thee, and thou hast healed me. O LORD, thou hast brought up my soul from the grave: thou hast kept me alive, that I should not go down to the pit. 
PEOPLE ALSO READ: Powerful Psalms For Blessings
Conclusion
Nonetheless exhaustive, these powerful psalms for deliverance will suffice you if you are in need of deliverance.
Veritable and powerful, these psalms for deliverance will release the power of God into your situation under any circumstances, so long as you are in faith.
God's word spoken or declared is the power to save all who believe. (Romans 1:16, NIV)
So, take the time to declare these psalms with faith and confidence and also pray them as the case may be.
But don't forget that when you pray them, you still have to say them and continue to say them until you see your change (deliverance) come.
Jesus is your mighty deliverer. All the best!
23+ Powerful Psalms For Deliverance