Here are powerful psalms for financial blessings you can say and or pray.
God cares about money, He cares about your finances, He cares about your well-being.
It matters to God that you have money.
To that end, He made a way through the death and resurrection of Jesus Christ for you to have and hold money.
It is important that you know that you have a blood bought right to financial blessings; Jesus risen from the dead is your right to financial prosperity.
His blood is the security for your finances.
But you must know how to activate your cash flow spiritually.
This is done through daily powerful prophetic declaration of God's word.
You talk to money, it has ears and it will respond to God's word in your mouth.
That's the purpose really for these powerful psalms for financial blessing.
In it, we have put together psalms you can declare over your finances to induce prosperity.
Are you ready!
Let's go.
READ ALSO: Powerful Psalms For Healing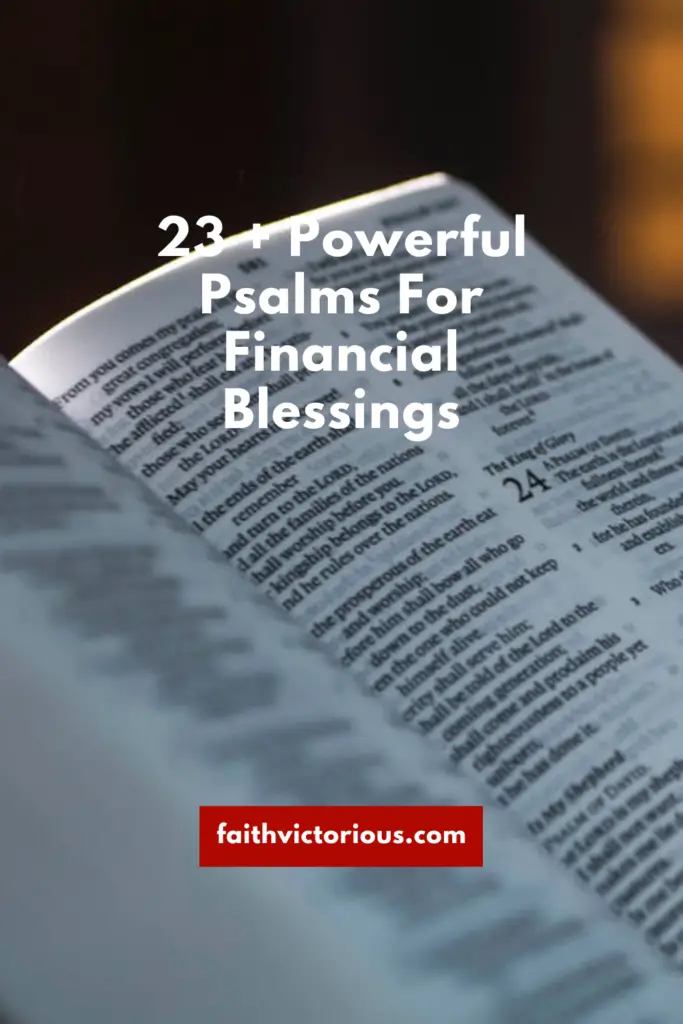 Powerful Psalms For Financial Blessings
The following are powerful psalms for financial blessings you can say and or pray actively and dutifully over your finances daily to activate and induce financial blessing and cash flow:
1. Psalm 23:1-2, KJV:
The LORD is my shepherd; I shall not want. He maketh me to lie down in green pastures: he leadeth me beside the still waters. 
2. Psalm 16:5-6, KJV:
The LORD is the portion of mine inheritance and of my cup: thou maintainest my lot. The lines are fallen unto me in pleasant places; yea, I have a goodly heritage. 
3. Psalm 84:11, 12, KJV:
For the LORD God is a sun and shield: the LORD will give grace and glory: no good thing will he withhold from them that walk uprightly. O LORD of hosts, blessed is the man that trusteth in thee. 
4. Psalm 103:4-5, KJV:
Who redeemeth thy life from destruction; who crowneth thee with lovingkindness and tender mercies; Who satisfieth thy mouth with good things; so that thy youth is renewed like the eagle's. 
5. Psalm 24:7, KJV:
Lift up your heads, O ye gates; and be ye lift up, ye everlasting doors; and the King of glory shall come in. 
6. Psalm 18:19, 35, KJV:
He brought me forth also into a large place; he delivered me, because he delighted in me… Thou hast also given me the shield of thy salvation: and thy right hand hath holden me up, and thy gentleness hath made me great. 
7. Psalm 118:5, KJV:
I called upon the LORD in distress: the LORD answered me, and set me in a large place. 
8. Psalm 72:3, 15-16, KJV:
The mountains shall bring peace to the people, and the little hills, by righteousness… And he shall live, and to him shall be given of the gold of Sheba: prayer also shall be made for him continually; and daily shall he be praised. There shall be an handful of corn in the earth upon the top of the mountains; the fruit thereof shall shake like Lebanon: and they of the city shall flourish like grass of the earth. 
9. Psalm 67:5-7, KJV:
Let the people praise thee, O God; let all the people praise thee. Then shall the earth yield her increase; and God, even our own God, shall bless us. God shall bless us; and all the ends of the earth shall fear him. 
10. Psalm 35:27, KJV:
Let them shout for joy, and be glad, that favour my righteous cause: yea, let them say continually, Let the LORD be magnified, which hath pleasure in the prosperity of his servant.
11. Psalm 30:5-7, KJV:
For his anger endureth but a moment; in his favour is life: weeping may endure for a night, but joy cometh in the morning. And in my prosperity I said, I shall never be moved. LORD, by thy favour thou hast made my mountain to stand strong: thou didst hide thy face, and I was troubled. 
12. Psalm 118:24-25, KJV:
This is the day which the LORD hath made; we will rejoice and be glad in it. Save now, I beseech thee, O LORD: O LORD, I beseech thee, send now prosperity.
PEOPLE ALSO READ: Powerful Psalms For Blessings
13. Psalm 97:11, KJV:
Light is sown for the righteous, and gladness for the upright in heart. 
14. Psalm 37:23, 25, KJV:
The steps of a good man are ordered by the LORD: and he delighteth in his way… I have been young, and now am old; yet have I not seen the righteous forsaken, nor his seed begging bread. 
15. Psalm 132:13-15, 17-18, KJV:
For the LORD hath chosen Zion; he hath desired it for his habitation. This is my rest for ever: here will I dwell; for I have desired it. I will abundantly bless her provision: I will satisfy her poor with bread… There will I make the horn of David to bud: I have ordained a lamp for mine anointed. His enemies will I clothe with shame: but upon himself shall his crown flourish. 
16. Psalm 104:28, KJV:
That thou givest them they gather: thou openest thine hand, they are filled with good. 
17. Psalm 105:37, KJV:
He brought them forth also with silver and gold: and there was not one feeble person among their tribes. 
18. Psalm 90:17, KJV:
And let the beauty of the LORD our God be upon us: and establish thou the work of our hands upon us; yea, the work of our hands establish thou it. 
19. Psalm 112:4, KJV:
Unto the upright there ariseth light in the darkness: he is gracious, and full of compassion, and righteous. 
20. Psalm 44:3, KJV:
For they got not the land in possession by their own sword, neither did their own arm save them: but thy right hand, and thine arm, and the light of thy countenance, because thou hadst a favour unto them. 
21. Psalm 43:4, KJV:
Then will I go unto the altar of God, unto God my exceeding joy: yea, upon the harp will I praise thee, O God my God. 
22. Psalm 145:14-16, KJV:
The LORD upholdeth all that fall, and raiseth up all those that be bowed down. The eyes of all wait upon thee; and thou givest them their meat in due season. Thou openest thine hand, and satisfiest the desire of every living thing. 
23. Psalm 71:21, KJV:
Thou shalt increase my greatness, and comfort me on every side. 
PEOPLE ALSO READ: Powerful Psalms For Deliverance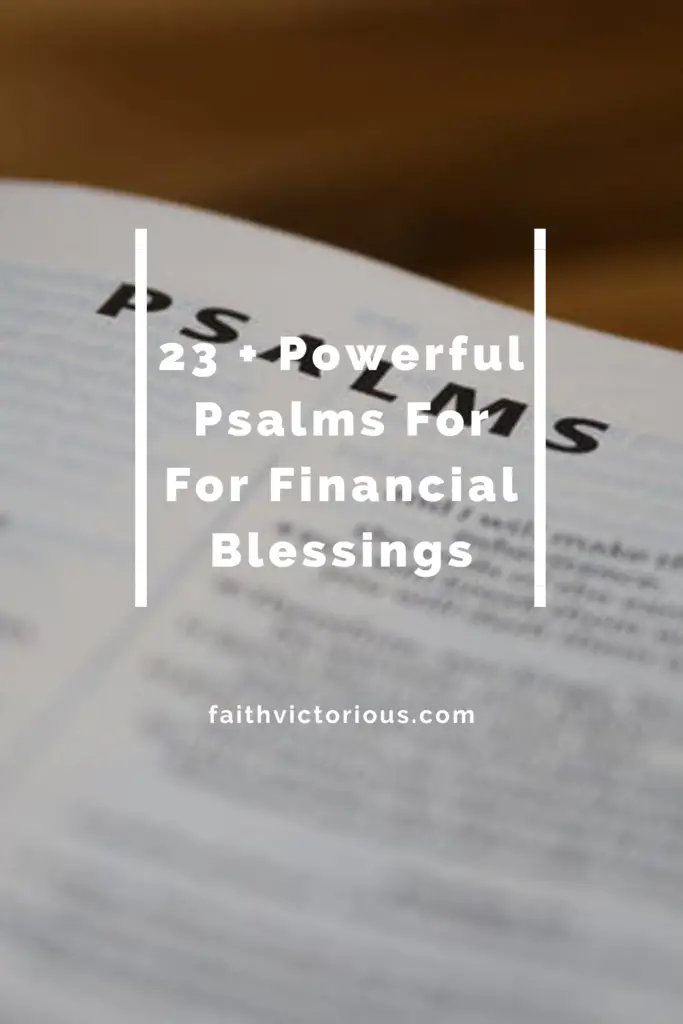 Conclusion
Nonetheless exhaustive, these powerful psalms for financial blessings are intended to furnish you with scriptures in and from the book of Psalm that you can use to activate financial blessings.
Individually and collectively, these scriptures in and from the psalms are scriptural bullets you can use in prayer in the matter of your finances.
Now, after you have prayed them, you will still need to say them if you really want to see a tangible change.
Yes, praying about your finances is good, but saying and declaring the word of God (and in this case, these powerful psalms for financial blessings) is better.
You pray to release God's power into your finances, but you proclaim (say) to condition the finances and to take delivery of the provision made through the power of God. 
Pray as much as you can about financial blessings, but say and declare God's word much more.
For the word of God declared is the power of God unto salvation to everyone that believes. (Romans 1:16, NIV)
God bless you.
All the best.  
23+ Powerful Psalms For Financial Blessings