Here are powerful psalms for blessings that you can say or use to pray.
God's blessings are secured for you in Christ if you are a believer.
Yet, you still need to play your part to activate and receive the blessings.
Whether it is the blessing of marriage, children, money, sound health, long life, wisdom, strength, guidance and direction, employment and engagement, and more, your faith and prayer are required to bring down the blessings on your life and family in physical form.   
Now, the psalms are a good way to have this done.
Whether you are to pray it or say the psalms, it has the power to deliver the blessings of God on your life, seeing it is God's word you are praying and saying.
Never forget this: God's word is His ultimate power. (Psalm 107:20, NIV)
When prayed and or proclaimed, it has the power to release God's supernatural power into your life and any situation bringing about a desired, positive change.
These powerful psalms for blessing will do just that; it will release the power of God into your life and situation, bringing about an abundance of the rain of the blessings of God on your life.
Are you ready for this?
Let's get to it.
READ ALSO: Powerful Psalms For Healing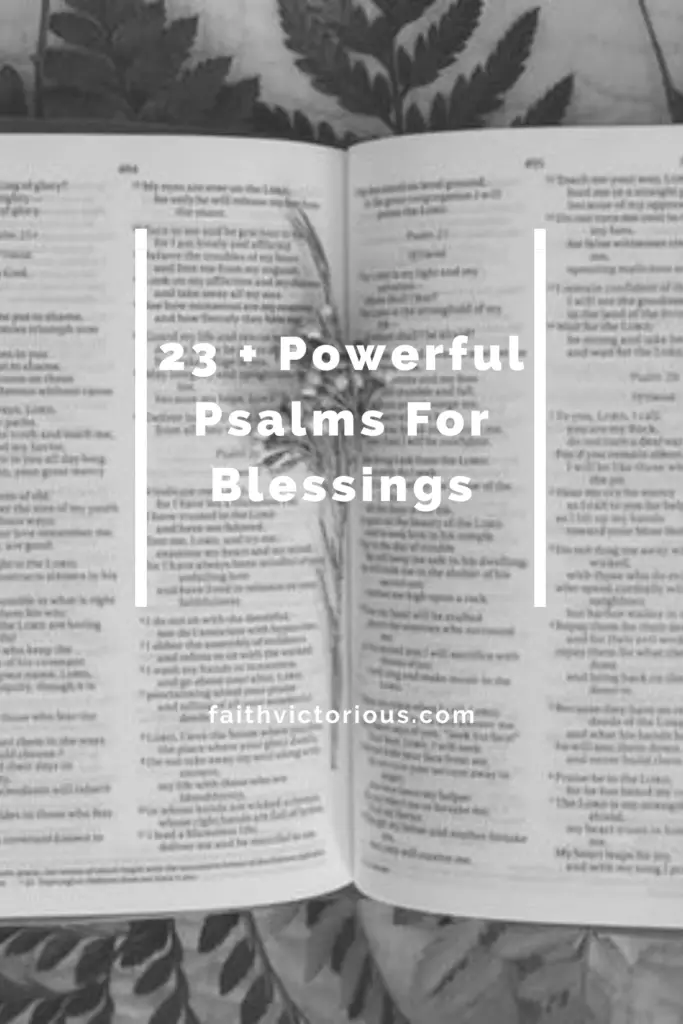 Powerful Psalms For Blessings
The following are powerful psalms for blessing you can say and or pray to activate and release your blood bought (the blood of Christ of course) blessings from God:
1. Psalm 1:1-3, KJV:
Blessed is the man that walketh not in the counsel of the ungodly, nor standeth in the way of sinners, nor sitteth in the seat of the scornful. But his delight is in the law of the LORD; and in his law doth he meditate day and night. And he shall be like a tree planted by the rivers of water, that bringeth forth his fruit in his season; his leaf also shall not wither; and whatsoever he doeth shall prosper. 
2. Psalm 3:8, KJV:
Salvation belongeth unto the LORD: thy blessing is upon thy people. Selah. 
3. Psalm 24:3-5, KJV:
Who shall ascend into the hill of the LORD? or who shall stand in his holy place? He that hath clean hands, and a pure heart; who hath not lifted up his soul unto vanity, nor sworn deceitfully. He shall receive the blessing from the LORD, and righteousness from the God of his salvation. 
4. Psalm 5:12, KJV:
For thou, LORD, wilt bless the righteous; with favour wilt thou compass him as with a shield. 
5. Psalm 28:7-9, KJV:
The LORD is my strength and my shield; my heart trusted in him, and I am helped: therefore my heart greatly rejoiceth; and with my song will I praise him. The LORD is their strength, and he is the saving strength of his anointed. Save thy people, and bless thine inheritance: feed them also, and lift them up for ever. 
6. Psalm 29:11, KJV:
The LORD will give strength unto his people; the LORD will bless his people with peace. 
7. Psalm 67:1-2,6, KJV:
God be merciful unto us, and bless us; and cause his face to shine upon us; Selah. That thy way may be known upon earth, thy saving health among all nations… Then shall the earth yield her increase; and God, even our own God, shall bless us. 
8. Psalm 115:12-13, KJV:
The LORD hath been mindful of us: he will bless us; he will bless the house of Israel; he will bless the house of Aaron. He will bless them that fear the LORD, both small and great. 
9. Psalm 128:5, KJV:
The LORD shall bless thee out of Zion: and thou shalt see the good of Jerusalem all the days of thy life. 
10. Psalm 84:11, KJV:
For the LORD God is a sun and shield: the LORD will give grace and glory: no good thing will he withhold from them that walk uprightly. 
11. Psalm 72:3, 7, KJV:
The mountains shall bring peace to the people, and the little hills, by righteousness… In his days shall the righteous flourish; and abundance of peace so long as the moon endureth.
12. Psalm 91:14-16, KJV:
Because he hath set his love upon me, therefore will I deliver him: I will set him on high, because he hath known my name. He shall call upon me, and I will answer him: I will be with him in trouble; I will deliver him, and honour him. With long life will I satisfy him, and shew him my salvation. 
PEOPLE ALSO READ: Powerful Psalms For Financial Blessings
13. Psalm 92:12-15, KJV:
The righteous shall flourish like the palm tree: he shall grow like a cedar in Lebanon. Those that be planted in the house of the LORD shall flourish in the courts of our God. They shall still bring forth fruit in old age; they shall be fat and flourishing; To shew that the LORD is upright: he is my rock, and there is no unrighteousness in him. 
14. Psalm 21:1, KJV:
The king shall joy in thy strength, O LORD; and in thy salvation how greatly shall he rejoice! 
15. Psalm 18:2, 35, 39, 50, KJV:
The LORD is my rock, and my fortress, and my deliverer; my God, my strength, in whom I will trust; my buckler, and the horn of my salvation, and my high tower… Thou hast also given me the shield of thy salvation: and thy right hand hath holden me up, and thy gentleness hath made me great… For thou hast girded me with strength unto the battle: thou hast subdued under me those that rose up against me… Great deliverance giveth he to his king; and sheweth mercy to his anointed, to David, and to his seed for evermore. 
16. Psalm 112:2, 4, KJV:
His seed shall be mighty upon earth: the generation of the upright shall be blessed… Unto the upright there ariseth light in the darkness: he is gracious, and full of compassion, and righteous. 
17. Psalm 118:27, KJV:
God is the LORD, which hath shewed us light: bind the sacrifice with cords, even unto the horns of the altar. 
18. Psalm 135:4, KJV:
For the LORD hath chosen Jacob unto himself, and Israel for his peculiar treasure. 
19. Psalm 103:3-5, KJV:
Who forgiveth all thine iniquities; who healeth all thy diseases; Who redeemeth thy life from destruction; who crowneth thee with lovingkindness and tender mercies; Who satisfieth thy mouth with good things; so that thy youth is renewed like the eagle's. 
20. Psalm 105:37, KJV:
He brought them forth also with silver and gold: and there was not one feeble person among their tribes. 
21. Psalm 16:5, 6, 11, KJV:
The LORD is the portion of mine inheritance and of my cup: thou maintainest my lot. The lines are fallen unto me in pleasant places; yea, I have a goodly heritage… Thou wilt shew me the path of life: in thy presence is fulness of joy; at thy right hand there are pleasures for evermore.
22. Psalm 128:2-3, 6, KJV:
For thou shalt eat the labour of thine hands: happy shalt thou be, and it shall be well with thee. Thy wife shall be as a fruitful vine by the sides of thine house: thy children like olive plants round about thy table… Yea, thou shalt see thy children's children, and peace upon Israel. 
23. Psalm 138:3, 8, KJV:
In the day when I cried thou answeredst me, and strengthenedst me with strength in my soul… The LORD will perfect that which concerneth me: thy mercy, O LORD, endureth for ever: forsake not the works of thine own hands. 
PEOPLE ALSO READ: Powerful Psalms For Deliverance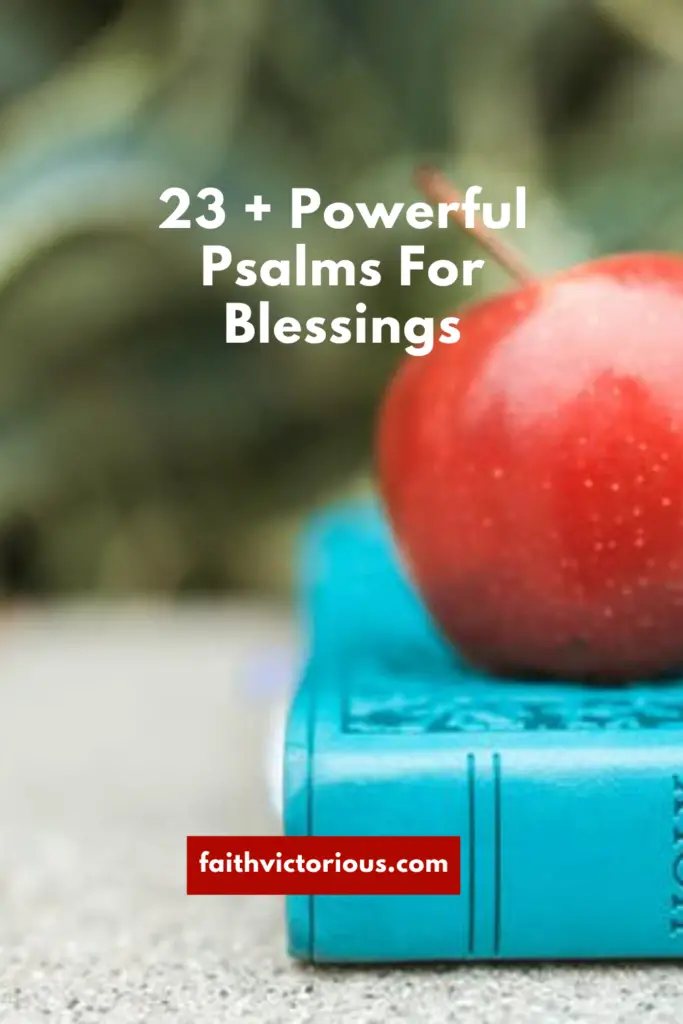 Conclusion
Nonetheless exhaustive, these powerful psalms for blessings are a great way to activating and releasing the blessings of God upon your life.
These blessings the Scripture says makes rich and does not add sorrow. (Proverbs 10:22, KJV)
See, blessings come through words, blessings are more than physical possessions and pleasures, real blessings encompasses peace, joy, prosperity, sound mind, safety and security, and the very presence of the Holy Spirit.
And all these blessings are available in Christ.
Your part is to activate them, taking your share of the blessings.
You only do this by faith, that is, faith expressing itself through words.
And you can verily see that that's what these psalms are about – these powerful psalms for blessing are word coated with the life and power of God which when declared will go into the realm of the spirit to activate the cloud of blessings upon you.
And as you keep believing, praying and saying these psalms, as surely as the Lord lives, the cloud will gather and the rain will fall on you. (Ecclesiastes 11:3a, KJV)
Blessings, blessings, sustained blessing of peace and prosperity shall be your testimony, in Jesus name. (Psalm 122:7, KJV)
Amen.
God bless you.
23+ Powerful Psalms For Blessings