Here are the most powerful psalms against enemies that you can use to pray or simply declare.
The Holy Bible houses your greatest arsenal against every of your assailant.
In it, you have bullets, weapons to bring down the enemy.
Evidently, it is in the psalms that you really find a good array of these bullets of the Spirit (the word of God)
Now, we have taken upon ourselves to help you with a collection of such scriptures in the Psalms, so that you can have a go to reference-guide in a one-stop shop when you are looking to get scripture-bullets to do and to win the battle with your enemy.
These most powerful psalms against enemies are what we found.
Are you ready to get acquainted and equip yourself with these scripture bullets?
Let's get to see them.
READ ALSO: Most Powerful Psalms For Protection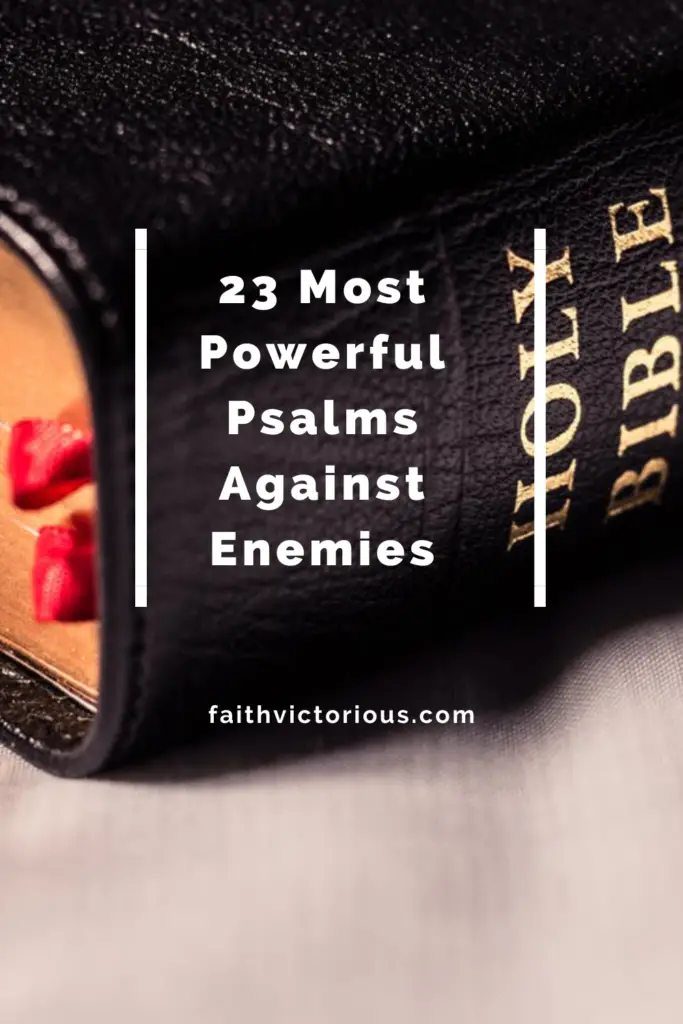 Most Powerful Psalms Against Enemies
The following are the most powerful psalms against enemies that you can use to pray and or say to rout your enemies on all front, any time, any day:
1. Psalm 68:1, KJV:
Let God arise, let his enemies be scattered: let them also that hate him flee before him. 
2. Psalm 35:1-6,8, KJV:
Plead my cause, O LORD, with them that strive with me: fight against them that fight against me. 
Take hold of shield and buckler, and stand up for mine help. Draw out also the spear, and stop the way against them that persecute me: say unto my soul, I am thy salvation. Let them be confounded and put to shame that seek after my soul: let them be turned back and brought to confusion that devise my hurt. Let them be as chaff before the wind: and let the angel of the LORD chase them. Let their way be dark and slippery: and let the angel of the LORD persecute them… Let destruction come upon him at unawares; and let his net that he hath hid catch himself: into that very destruction let him fall. 
3. Psalm 3:7-8, KJV:
Arise, O LORD; save me, O my God: for thou hast smitten all mine enemies upon the cheek bone; thou hast broken the teeth of the ungodly. Salvation belongeth unto the LORD: thy blessing is upon thy people. Selah. 
4. Psalm 27:1-3, KJV:
The LORD is my light and my salvation; whom shall I fear? the LORD is the strength of my life; of whom shall I be afraid? When the wicked, even mine enemies and my foes, came upon me to eat up my flesh, they stumbled and fell. Though an host should encamp against me, my heart shall not fear: though war should rise against me, in this will I be confident. 
5. Psalm 2:1-4, KJV:
Why do the heathen rage, and the people imagine a vain thing? The kings of the earth set themselves, and the rulers take counsel together, against the LORD, and against his anointed, saying, Let us break their bands asunder, and cast away their cords from us. He that sitteth in the heavens shall laugh: the Lord shall have them in derision. 
6. Psalm 104:35, KJV:
Let the sinners be consumed out of the earth, and let the wicked be no more. Bless thou the LORD, O my soul. Praise ye the LORD. 
7. Psalm 109:29, KJV:
Let mine adversaries be clothed with shame, and let them cover themselves with their own confusion, as with a mantle. 
8. Psalm 143:9-12, KJV:
Deliver me, O LORD, from mine enemies: I flee unto thee to hide me. Teach me to do thy will; for thou art my God: thy spirit is good; lead me into the land of uprightness. Quicken me, O LORD, for thy name's sake: for thy righteousness' sake bring my soul out of trouble. And of thy mercy cut off mine enemies, and destroy all them that afflict my soul: for I am thy servant. 
9. Psalm 59:10-11, 13, KJV:
The God of my mercy shall prevent me: God shall let me see my desire upon mine enemies. Slay them not, lest my people forget: scatter them by thy power; and bring them down, O Lord our shield… Consume them in wrath, consume them, that they may not be: and let them know that God ruleth in Jacob unto the ends of the earth. Selah. 
10. Psalm 68:2, 30, KJV:
As smoke is driven away, so drive them away: as wax melteth before the fire, so let the wicked perish at the presence of God… Rebuke the company of spearmen, the multitude of the bulls, with the calves of the people, till every one submit himself with pieces of silver: scatter thou the people that delight in war. 
11. Psalm 144:5-8, KJV:
Bow thy heavens, O LORD, and come down: touch the mountains, and they shall smoke. Cast forth lightning, and scatter them: shoot out thine arrows, and destroy them. Send thine hand from above; rid me, and deliver me out of great waters, from the hand of strange children; Whose mouth speaketh vanity, and their right hand is a right hand of falsehood. 
12. Psalm 13:2-5, KJV:
How long shall I take counsel in my soul, having sorrow in my heart daily? how long shall mine enemy be exalted over me? Consider and hear me, O LORD my God: lighten mine eyes, lest I sleep the sleep of death; Lest mine enemy say, I have prevailed against him; and those that trouble me rejoice when I am moved. But I have trusted in thy mercy; my heart shall rejoice in thy salvation. 
PEOPLE ALSO READ: Psalms Against Spiritual Attack
13. Psalm 71:10-13, KJV:
For mine enemies speak against me; and they that lay wait for my soul take counsel together, Saying, God hath forsaken him: persecute and take him; for there is none to deliver him. O God, be not far from me: O my God, make haste for my help. Let them be confounded and consumed that are adversaries to my soul; let them be covered with reproach and dishonour that seek my hurt. 
14. Psalm 86:14-17, KJV:
O God, the proud are risen against me, and the assemblies of violent men have sought after my soul; and have not set thee before them. But thou, O Lord, art a God full of compassion, and gracious, longsuffering, and plenteous in mercy and truth. O turn unto me, and have mercy upon me; give thy strength unto thy servant, and save the son of thine handmaid. Shew me a token for good; that they which hate me may see it, and be ashamed: because thou, LORD, hast holpen me, and comforted me. 
15. Psalm 92:9-11, KJV:
For, lo, thine enemies, O LORD, for, lo, thine enemies shall perish; all the workers of iniquity shall be scattered. But my horn shalt thou exalt like the horn of an unicorn: I shall be anointed with fresh oil. Mine eye also shall see my desire on mine enemies, and mine ears shall hear my desire of the wicked that rise up against me. 
16. Psalm 138:7, KJV:
Though I walk in the midst of trouble, thou wilt revive me: thou shalt stretch forth thine hand against the wrath of mine enemies, and thy right hand shall save me. 
17. Psalm 1:6, KJV:
For the LORD knoweth the way of the righteous: but the way of the ungodly shall perish. 
18. Psalm 9:3, KJV:
When mine enemies are turned back, they shall fall and perish at thy presence. 
19. Psalm 34:16, KJV:
The face of the LORD is against them that do evil, to cut off the remembrance of them from the earth. 
20. Psalm 83:14-18, KJV:
As the fire burneth a wood, and as the flame setteth the mountains on fire; So persecute them with thy tempest, and make them afraid with thy storm. Fill their faces with shame; that they may seek thy name, O LORD. Let them be confounded and troubled for ever; yea, let them be put to shame, and perish: That men may know that thou, whose name alone is JEHOVAH, art the most high over all the earth. 
21. Psalm 37:20, KJV:
But the wicked shall perish, and the enemies of the LORD shall be as the fat of lambs: they shall consume; into smoke shall they consume away. 
22. Psalm 101:7-8, KJV:
He that worketh deceit shall not dwell within my house: he that telleth lies shall not tarry in my sight. I will early destroy all the wicked of the land; that I may cut off all wicked doers from the city of the LORD. 
23. Psalm 119:95, KJV:
The wicked have waited for me to destroy me: but I will consider thy testimonies. 
PEOPLE ALSO READ: Psalms For Spiritual Warfare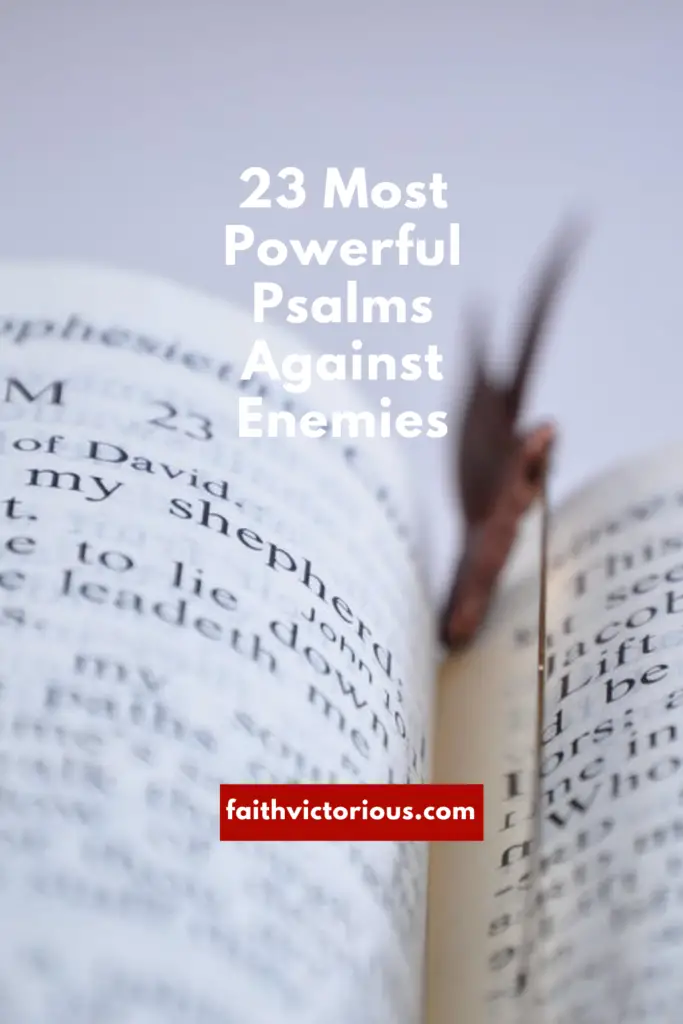 Conclusion
Nonetheless exhaustive, these most powerful psalms against the enemies are intended to help furnish you with sound, accurate, relevant and up-to-date scripture bullets you can use to bring down and destroy your enemies.
Being God's word, they can never fail seeing that God Himself does not fail.
These psalms are met to be said or prayed as the case may.
You may decide to only pray them if you are one who prays everything, but after you have prayed, you will still to continue to say these psalms in order for you to maximize the power and destructive potentials of these psalms upon an enemy.
For short, pray them but say them more than you pray them.
That way, you are able to sustain your offense against the enemy.
In prayer, you offend and invade your enemy, but in saying (proclaiming and declaring the psalms, God's word), you sustain the offense. (Mark 11:23, KJV)
That's the scriptural way to waging and winning battle in the realm of the spirit.
God bless you.
All the best.
23+ Most Powerful Psalms Against Enemies