Here are psalms against spiritual attack that you can say or pray.
God's word is your offensive weapon against the onslaughts and attacks of the devil.
No matter how much you engage your enemy, if you don't use the right weapons, you will never be able to bring him down.
And in the context of scriptures, the right and foremost weapon to defeating the enemy is the Word of God.
Jesus overcame Satan that way.
'It is written…' 'It is written again' was Jesus' weapon that He used to beat Satan hands down. (See Matthew 4:4,7 NIV)
God's method of winning any battle has not changed.
His word is your weapon.
And you very well know that the psalms are a vital part of God's holy written word.
Dotted all through the psalms are scripture verses against spiritual attack.
This post on psalms against spiritual attack is our attempt to help put together in a one-stop shop psalms you can use to repel and rebuff spiritual attack.
Want to have a look?
Let's see.
READ ALSO: Psalms For Spiritual Warfare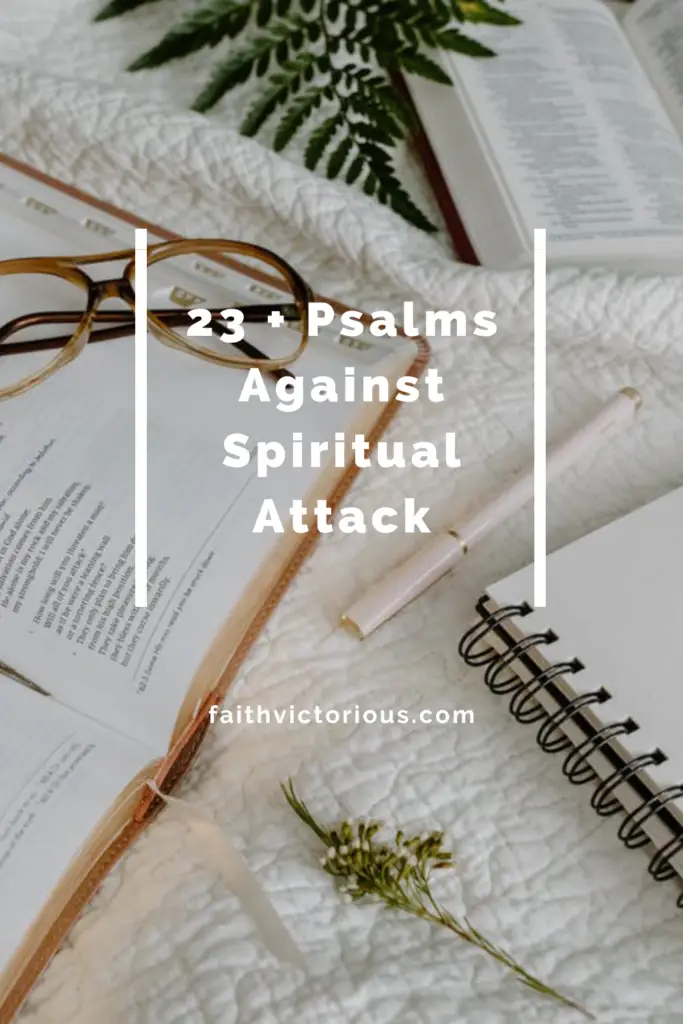 Psalms Against Spiritual Attack
The following is a collection of psalms against spiritual attack that you can pray or say to counterattack and drive back spiritual attack:
1.  Psalm 3:1-3, KJV:
LORD, how are they increased that trouble me! many are they that rise up against me. Many there be which say of my soul, There is no help for him in God. Selah. But thou, O LORD, art a shield for me; my glory, and the lifter up of mine head. 
2. Psalm 2:1-5, KJV:
Why do the heathen rage, and the people imagine a vain thing? The kings of the earth set themselves, and the rulers take counsel together, against the LORD, and against his anointed, saying, Let us break their bands asunder, and cast away their cords from us. He that sitteth in the heavens shall laugh: the Lord shall have them in derision. Then shall he speak unto them in his wrath, and vex them in his sore displeasure. 
3. Psalm 27:1-3, KJV:
The LORD is my light and my salvation; whom shall I fear? the LORD is the strength of my life; of whom shall I be afraid? When the wicked, even mine enemies and my foes, came upon me to eat up my flesh, they stumbled and fell. Though an host should encamp against me, my heart shall not fear: though war should rise against me, in this will I be confident. 
4. Psalm 118:7, KJV:
The LORD taketh my part with them that help me: therefore shall I see my desire upon them that hate me. 
5. Psalm 37:14-15, KJV:
The wicked have drawn out the sword, and have bent their bow, to cast down the poor and needy, and to slay such as be of upright conversation. Their sword shall enter into their own heart, and their bows shall be broken. 
6. Psalm 28:3-4, KJV:
Draw me not away with the wicked, and with the workers of iniquity, which speak peace to their neighbours, but mischief is in their hearts. Give them according to their deeds, and according to the wickedness of their endeavours: give them after the work of their hands; render to them their desert. 
7. Psalm 5:8-10, KJV:
Lead me, O LORD, in thy righteousness because of mine enemies; make thy way straight before my face. For there is no faithfulness in their mouth; their inward part is very wickedness; their throat is an open sepulchre; they flatter with their tongue. Destroy thou them, O God; let them fall by their own counsels; cast them out in the multitude of their transgressions; for they have rebelled against thee. 
8. Psalm 18:29, 39, 48, KJV:
For by thee I have run through a troop; and by my God have I leaped over a wall… For thou hast girded me with strength unto the battle: thou hast subdued under me those that rose up against me… He delivereth me from mine enemies: yea, thou liftest me up above those that rise up against me: thou hast delivered me from the violent man.  
9. Psalm 125:2, KJV:
As the mountains are round about Jerusalem, so the LORD is round about his people from henceforth even for ever. 
10. Psalm 35:1-5, KJV:
Plead my cause, O LORD, with them that strive with me: fight against them that fight against me. Take hold of shield and buckler, and stand up for mine help. Draw out also the spear, and stop the way against them that persecute me: say unto my soul, I am thy salvation. Let them be confounded and put to shame that seek after my soul: let them be turned back and brought to confusion that devise my hurt. Let them be as chaff before the wind: and let the angel of the LORD chase them. 
11. Psalm 91:3-7, KJV:
Surely he shall deliver thee from the snare of the fowler, and from the noisome pestilence. He shall cover thee with his feathers, and under his wings shalt thou trust: his truth shall be thy shield and buckler. Thou shalt not be afraid for the terror by night; nor for the arrow that flieth by day; Nor for the pestilence that walketh in darkness; nor for the destruction that wasteth at noonday. A thousand shall fall at thy side, and ten thousand at thy right hand; but it shall not come nigh thee. 
12. Psalm 33:7, KJV:
He gathereth the waters of the sea together as an heap: he layeth up the depth in storehouses. 
PEOPLE ALSO READ: Most Powerful Psalms Against Enemies
13. Psalm 51:1-3, KJV:
Have mercy upon me, O God, according to thy lovingkindness: according unto the multitude of thy tender mercies blot out my transgressions. Wash me throughly from mine iniquity, and cleanse me from my sin. For I acknowledge my transgressions: and my sin is ever before me.
14. Psalm 5:12, KJV:
For thou, LORD, wilt bless the righteous; with favour wilt thou compass him as with a shield. 
15. Psalm 144: 2, 11, KJV:
My goodness, and my fortress; my high tower, and my deliverer; my shield, and he in whom I trust; who subdueth my people under me… Rid me, and deliver me from the hand of strange children, whose mouth speaketh vanity, and their right hand is a right hand of falsehood: 
16. Psalm 93:3-4, KJV:
The floods have lifted up, O LORD, the floods have lifted up their voice; the floods lift up their waves. The LORD on high is mightier than the noise of many waters, yea, than the mighty waves of the sea. 
17. Psalm 141:9-10, KJV:
Keep me from the snares which they have laid for me, and the gins of the workers of iniquity. Let the wicked fall into their own nets, whilst that I withal escape. 
18. Psalm 9:19-20, KJV:
Arise, O LORD; let not man prevail: let the heathen be judged in thy sight. Put them in fear, O LORD: that the nations may know themselves to be but men. Selah. 
19. Psalm 106:47, KJV:
Save us, O LORD our God, and gather us from among the heathen, to give thanks unto thy holy name, and to triumph in thy praise.
20. Psalm 25:2-3, KJV:
O my God, I trust in thee: let me not be ashamed, let not mine enemies triumph over me. Yea, let none that wait on thee be ashamed: let them be ashamed which transgress without cause. 
21. Psalm 16:8, KJV:
I have set the LORD always before me: because he is at my right hand, I shall not be moved. 
22. Psalm 142:6-7, KJV:
Attend unto my cry; for I am brought very low: deliver me from my persecutors; for they are stronger than I. Bring my soul out of prison, that I may praise thy name: the righteous shall compass me about; for thou shalt deal bountifully with me. 
23. Psalm 138:7, KJV:
Though I walk in the midst of trouble, thou wilt revive me: thou shalt stretch forth thine hand against the wrath of mine enemies, and thy right hand shall save me. 
PEOPLE ALSO READ: Most Powerful Psalms For Protection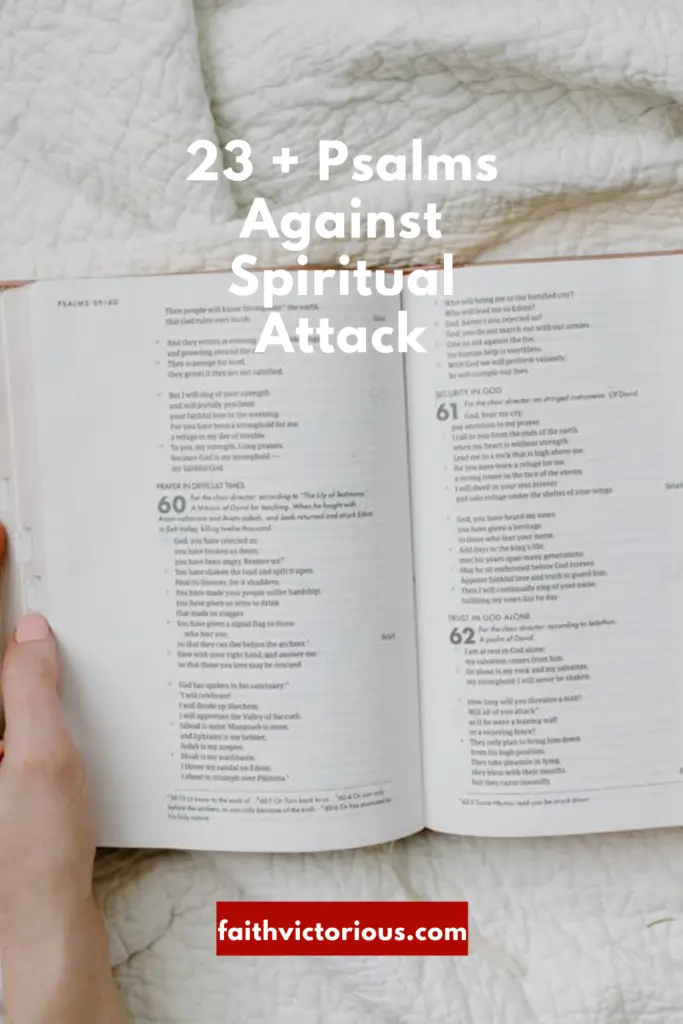 Conclusion
Nonetheless exhaustive, these psalms against spiritual attack will suffice you.
All you need do is to arm yourself with these scriptures, meditate upon them, and keep them in your spirit.
Above all, keep them in your mouth, say them, pray them, and make your mouth do its job.
Here's something in the school of the spirit that you must understand when it comes to doing spiritual battle; YOUR MOUTH IS WHAT DETERMINES YOUR VICTORY.
You see, God's word, scriptures are the bullets for the battle, your mouth is the rifle, the gun that releases the bullets.
So, no matter how many magazine you have to fire at your enemy, until you engage your rifle in action, the bullets will not do their intended job – kill.
God's word and your mouth are the two most vitals weapons in the school of the Spirit for effective, decisive offense in spiritual warfare.
Get these psalms against spiritual attack to work by talking and praying them as much as you can.
That way, victory is sure, winning is guaranteed.
God bless you.  
23+ Psalms Against Spiritual Attack