Here are powerful psalms for business success you can say or pray over your business.
These psalms are pregnant with God's power and you are to release them into your life, world and business just by saying them.
And if you say them long enough, you will begin to see the invisible hand of the almighty God work in your favor, bringing about success in your business.
Don't you ever underestimate the power of the word of God declared! (See Psalm 33:9, KJV)
Sure enough, that's what these powerful psalms for business success are about.
The psalms are a vital part of the very word of God, you know!.
Are you ready to make your tongue do its work by saying these powerful psalms for business success over your business beginning today?
Ready!
Let's go!
READ ALSO: Psalm To Attract Customers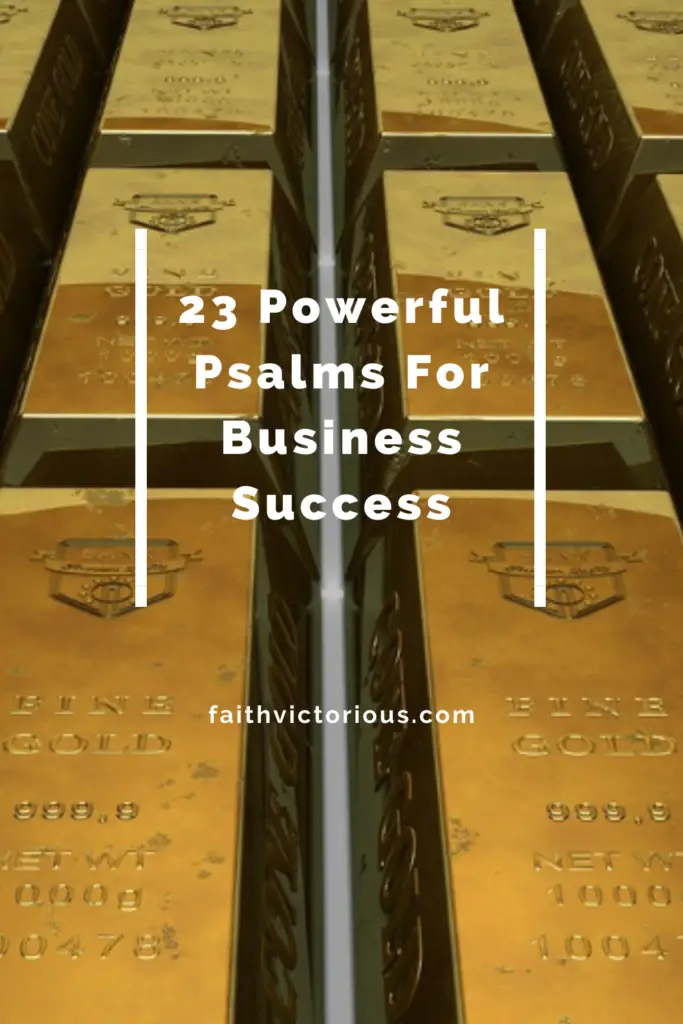 Powerful Psalms For Business Success
The following is a collection of powerful psalms for business success you can dutifully say and or pray over your business to induce success:
1. Psalm 90:17, KJV:
And let the beauty of the LORD our God be upon us: and establish thou the work of our hands upon us; yea, the work of our hands establish thou it. 
2. Psalm 23:1-2a, KJV:
The LORD is my shepherd; I shall not want. He maketh me to lie down in green pastures: he leadeth me beside the still waters. 
3. Psalm 16:11, KJV:
Thou wilt shew me the path of life: in thy presence is fulness of joy; at thy right hand there are pleasures for evermore. 
4. Psalm 25:14, KJV:
The secret of the LORD is with them that fear him; and he will shew them his covenant. 
5. Psalm 44:3, KJV:
For they got not the land in possession by their own sword, neither did their own arm save them: but thy right hand, and thine arm, and the light of thy countenance, because thou hadst a favour unto them. 
6. Psalm 112:4, KJV:
Unto the upright there ariseth light in the darkness: he is gracious, and full of compassion, and righteous. 
7. Psalm 118:27, KJV:
God is the LORD, which hath shewed us light: bind the sacrifice with cords, even unto the horns of the altar. 
8. Psalm 119:105, KJV:
Thy word is a lamp unto my feet, and a light unto my path. 
9. Psalm 43:3, KJV:
O send out thy light and thy truth: let them lead me; let them bring me unto thy holy hill, and to thy tabernacles. 
10. Psalm 119:130, KJV:
The entrance of thy words giveth light; it giveth understanding unto the simple. 
11. Psalm 18:28-29, KJV:
For thou wilt light my candle: the LORD my God will enlighten my darkness. For by thee I have run through a troop; and by my God have I leaped over a wall. 
12. Psalm 27:1, KJV:
The LORD is my light and my salvation; whom shall I fear? the LORD is the strength of my life; of whom shall I be afraid? 
PEOPLE ALSO READ: Psalms For Financial Breakthrough
13. Psalm 84:11, KJV:
For the LORD God is a sun and shield: the LORD will give grace and glory: no good thing will he withhold from them that walk uprightly. 
14. Psalm 37:37, KJV:
Mark the perfect man, and behold the upright: for the end of that man is peace. 
15. Psalm 97:11, KJV:
Light is sown for the righteous, and gladness for the upright in heart. 
16. Psalm 1:3, KJV:
And he shall be like a tree planted by the rivers of water, that bringeth forth his fruit in his season; his leaf also shall not wither; and whatsoever he doeth shall prosper. 
17. Psalm 24:9, KJV:
Lift up your heads, O ye gates; even lift them up, ye everlasting doors; and the King of glory shall come in. 
18. Psalm 37:29, KJV:
The righteous shall inherit the land, and dwell therein for ever. 
19. Psalm 118:25, KJV:
Save now, I beseech thee, O LORD: O LORD, I beseech thee, send now prosperity. 
20. Psalm 35:27, KJV:
Let them shout for joy, and be glad, that favour my righteous cause: yea, let them say continually, Let the LORD be magnified, which hath pleasure in the prosperity of his servant. 
21. Psalm 92:12-14, KJV:
The righteous shall flourish like the palm tree: he shall grow like a cedar in Lebanon. Those that be planted in the house of the LORD shall flourish in the courts of our God. They shall still bring forth fruit in old age; they shall be fat and flourishing; 
22. Psalm 104:10-14, KJV:
He sendeth the springs into the valleys, which run among the hills. They give drink to every beast of the field: the wild asses quench their thirst. By them shall the fowls of the heaven have their habitation, which sing among the branches. He watereth the hills from his chambers: the earth is satisfied with the fruit of thy works. He causeth the grass to grow for the cattle, and herb for the service of man: that he may bring forth food out of the earth; And wine that maketh glad the heart of man, and oil to make his face to shine, and bread which strengtheneth man's heart. 
23. Psalm 144:13-15, KJV:
That our garners may be full, affording all manner of store: that our sheep may bring forth thousands and ten thousands in our streets: That our oxen may be strong to labour; that there be no breaking in, nor going out; that there be no complaining in our streets. Happy is that people, that is in such a case: yea, happy is that people, whose God is the LORD. 
PEOPLE ALSO READ: Psalms For Favour And Breakthrough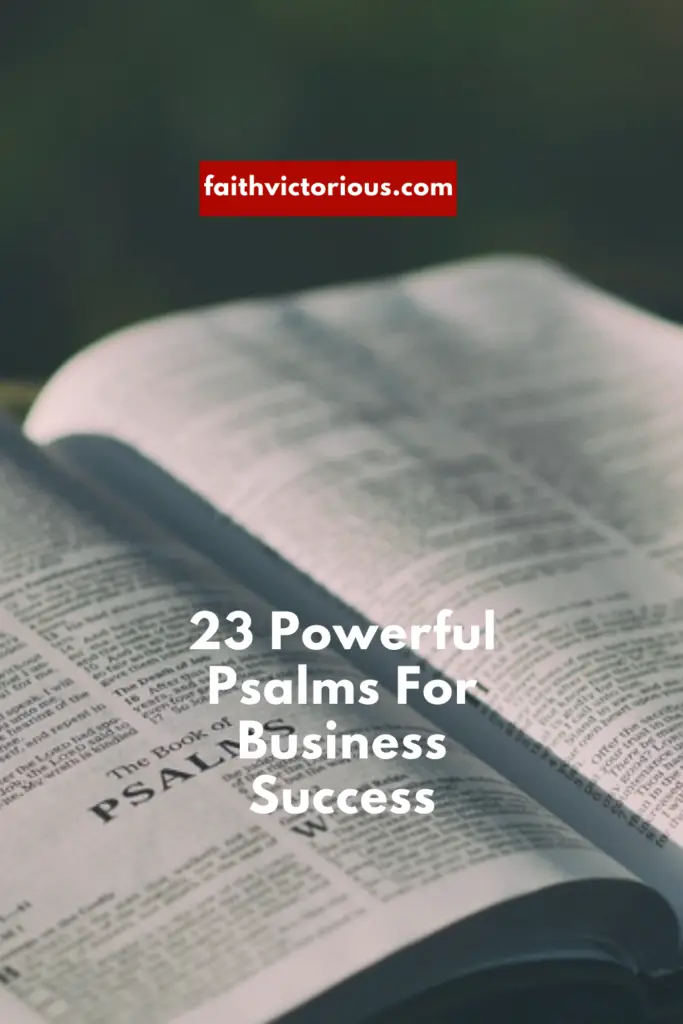 Conclusion
Nonetheless exhaustive, these powerful psalms for business success are power bullets (God's word) that you can release into your life and business.
They cannot fail and have never known to fail.
Why?
It is because God cannot fail.
If God cannot fail, then His word too cannot fail.
Take active and conscious responsibility for your business success by making your mouth do its work saying these powerful psalms for business success day and night until your business breaks forth into victory.
God bless you!  
23+ Powerful Psalms For Business Success