Here are psalm to attract customers that you can say and or pray over your business.
See, everybody, every of your competitors employ some supernatural means in their business.
You had better believe that.
Don't be fooled.
The people of the world who you are up against as competitors in your business have some places the go and some people they see just so that their businesses will do well and prosper immensely.
Yes, you need to do all you need to do to position your business for success, but after you've done them, there's one more thing to do – employing the supernatural power of God to back you up for success and breakthrough.
This is why you need to learn to pray and fast.
This is why you need to learn the power of declaring and proclaiming God's word over your business so as to release and set in motion the supernatural invisible hand of God in the day to day running of your business.
You have got to learn the secret of talking and saying the word dutifully over your business.
Psalm to attract customers is just about this. 
READ ALSO: Psalm For Business Success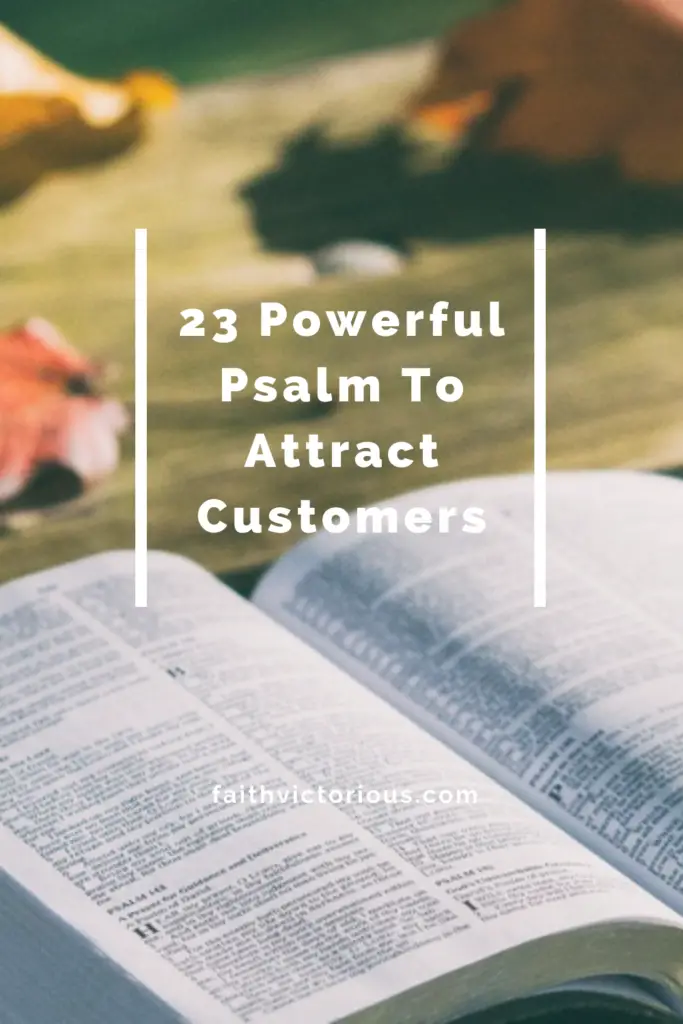 Psalm To Attract Customers
The following is a list of psalm to attract customers that you should actively and dutiful say over your business to bring in customers:
1. Psalm 24:7, KJV:
Lift up your heads, O ye gates; and be ye lift up, ye everlasting doors; and the King of glory shall come in. 
2. Psalm 23:1, KJV:
The LORD is my shepherd; I shall not want. 
3. Psalm 18:43, KJV:
Thou hast delivered me from the strivings of the people; and thou hast made me the head of the heathen: a people whom I have not known shall serve me. 
4. Psalm 17:2, KJV:
Let my sentence come forth from thy presence; let thine eyes behold the things that are equal. 
5. Psalm 14:7, KJV:
Oh that the salvation of Israel were come out of Zion! when the LORD bringeth back the captivity of his people, Jacob shall rejoice, and Israel shall be glad. 
6. Psalm 107:20, KJV:
He sent his word, and healed them, and delivered them from their destructions. 
7. Psalm 147:9, KJV:
He giveth to the beast his food, and to the young ravens which cry. 
8. Psalm 105:40, KJV:
The people asked, and he brought quails, and satisfied them with the bread of heaven. 
9. Psalm 104:7, 14, KJV:
At thy rebuke they fled; at the voice of thy thunder they hasted away. He causeth the grass to grow for the cattle, and herb for the service of man: that he may bring forth food out of the earth.
10. Psalm 67:6, KJV:
Then shall the earth yield her increase; and God, even our own God, shall bless us. 
11. Psalm 85:12, KJV:
Yea, the LORD shall give that which is good; and our land shall yield her increase. 
12. Psalm 115:14, KJV:
The LORD shall increase you more and more, you and your children. 
PEOPLE ALSO READ: Psalms For Financial Breakthrough
13. Psalm 80:1, KJV:
Give ear, O Shepherd of Israel, thou that leadest Joseph like a flock; thou that dwellest between the cherubims, shine forth. 
14. Psalm 104:28, KJV:
That thou givest them they gather: thou openest thine hand, they are filled with good. 
15. Psalm 84:11, KJV:
For the LORD God is a sun and shield: the LORD will give grace and glory: no good thing will he withhold from them that walk uprightly. 
16. Psalm 78:26, KJV:
He caused an east wind to blow in the heaven: and by his power he brought in the south wind. 
17. Psalm 147:8, 18, KJV:
Who covereth the heaven with clouds, who prepareth rain for the earth, who maketh grass to grow upon the mountains. 
18. Psalm 30:5, KJV:
For his anger endureth but a moment; in his favour is life: weeping may endure for a night, but joy cometh in the morning. 
19. Psalm 75:6, KJV:
For promotion cometh neither from the east, nor from the west, nor from the south. 
20. Psalm 90:17, KJV:
And let the beauty of the LORD our God be upon us: and establish thou the work of our hands upon us; yea, the work of our hands establish thou it. 
21. Psalm 92:4, KJV:
For thou, LORD, hast made me glad through thy work: I will triumph in the works of thy hands. 
22. Psalm 65:9, KJV:
Thou visitest the earth, and waterest it: thou greatly enrichest it with the river of God, which is full of water: thou preparest them corn, when thou hast so provided for it. 
23. Psalm 107:35-37, KJV:
He turneth the wilderness into a standing water, and dry ground into watersprings. And there he maketh the hungry to dwell, that they may prepare a city for habitation; And sow the fields, and plant vineyards, which may yield fruits of increase. 
PEOPLE ALSO READ: Powerful Psalms For Business Success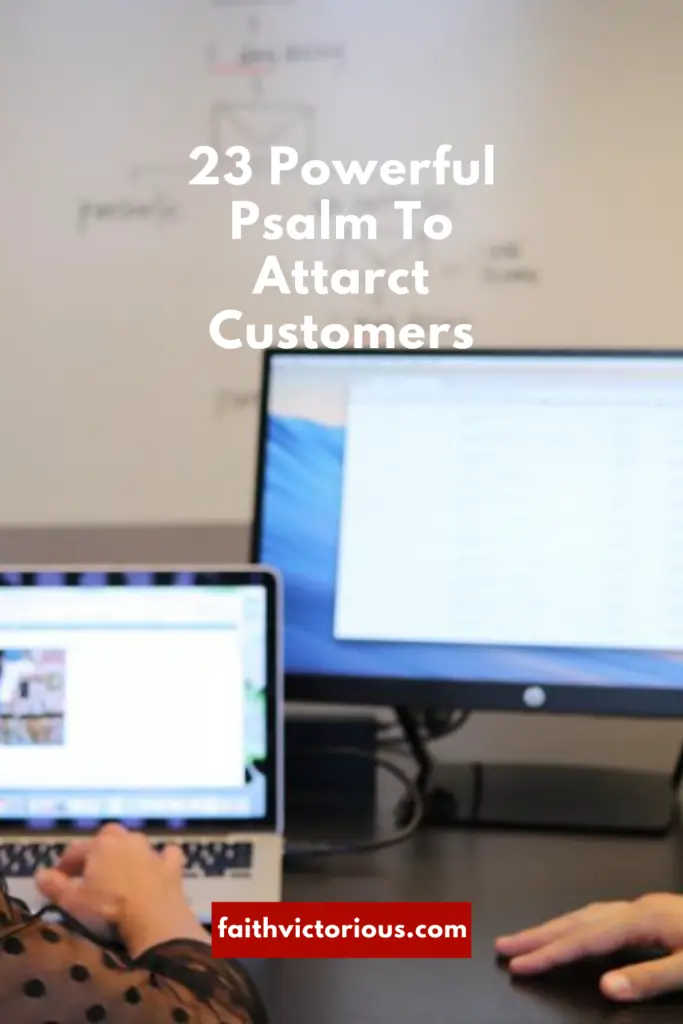 Conclusion
Nonetheless exhaustive, this list of psalm to attract customers will do.
They will deliver the goods when you passionately, persistently, deliberately declare or pray them over your business to attract customers.
Please be intentional in your approach.
God's word when declared or released goes to and from the earth, borne by the Holy Spirit to bring about its fulfilment.
Declare the word in faith, and don't quit after a few weeks.
No, keep praying and saying these psalms until you see results.
Don't forget that when the clouds be full of rain, they empty themselves upon the earth (Ecclesiastes 11:3, KJV)
Induce your atmosphere with the living word of God, saturate your business (its life and consciousness) with faith-filled psalms and you will be dazed at the result you see.
Your words set spiritual forces in motion to work in your behalf for good.
Take charge of your world by your words.
God bless you!
23+ Powerful Psalm To Attract Customers