Here are psalms for favour and breakthrough you can use to get your breakthrough and also to find favor with God and people.
Psalms are powerful tools you can use to activate and release favour and breakthrough in life.
It is God's word and will deliver on the faithfulness, integrity and blessedness of God.
Anytime you pray the psalm, you are bringing God's integrity to bear on the matter and occasion.
That's why you must not joke with the psalms.
Being God's word, it will deliver God's intended result and nothing can stop them.
Are you ready to say and pray these psalms for favour and breakthrough?
Let's go.
READ ALSO: Psalms For Financial Breakthrough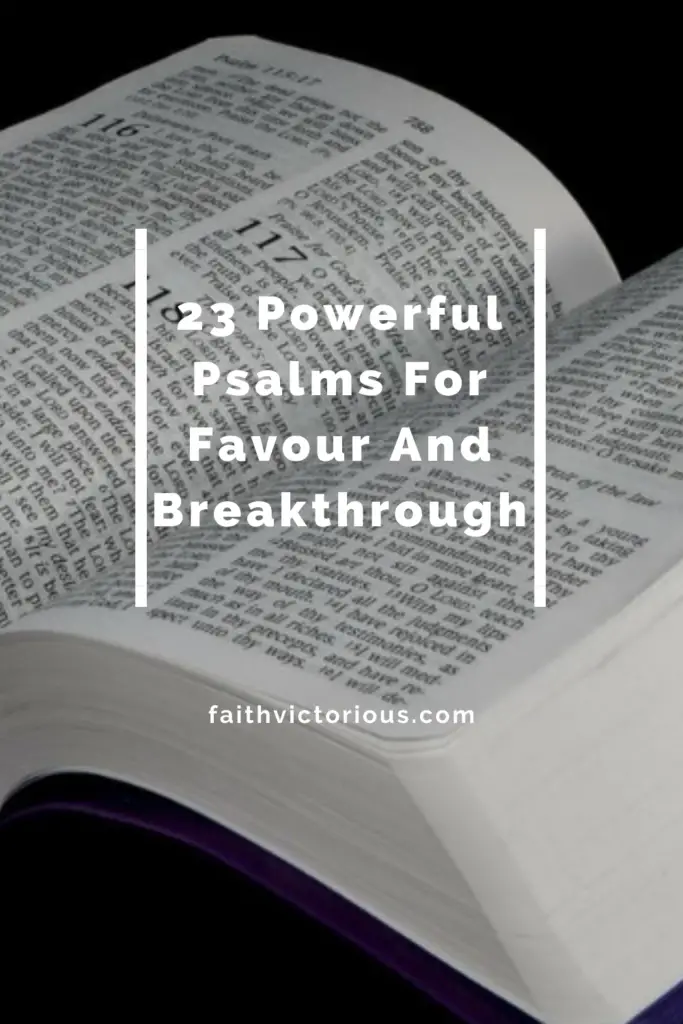 Psalms For favour And Breakthrough
The following are psalms for favour and breakthrough you can say and pray to activate and bring on God's favour and breakthrough into your life:
1. Psalm 102:13, KJV:
Thou shalt arise, and have mercy upon Zion: for the time to favour her, yea, the set time, is come. 
2. Psalm 5:12, KJV:
For thou, LORD, wilt bless the righteous; with favour wilt thou compass him as with a shield. 
3. Psalm 27:1-2, KJV:
The LORD is my light and my salvation; whom shall I fear? the LORD is the strength of my life; of whom shall I be afraid? When the wicked, even mine enemies and my foes, came upon me to eat up my flesh, they stumbled and fell. 
4. Psalm 23:1-2a, KJV:
The LORD is my shepherd; I shall not want. He maketh me to lie down in green pastures…
5. Psalm 119: 133, KJV:
Order my steps in thy word: and let not any iniquity have dominion over me. 
6. Psalm 84:11, KJV:
For the LORD God is a sun and shield: the LORD will give grace and glory: no good thing will he withhold from them that walk uprightly. 
7. Psalm 16:5-6, KJV:
The LORD is the portion of mine inheritance and of my cup: thou maintainest my lot. The lines are fallen unto me in pleasant places; yea, I have a goodly heritage. 
8. Psalm 37:21, 23, KJV:
The wicked borroweth, and payeth not again: but the righteous sheweth mercy, and giveth… The steps of a good man are ordered by the LORD: and he delighteth in his way.
9. Psalm 43:3, KJV:
O send out thy light and thy truth: let them lead me; let them bring me unto thy holy hill, and to thy tabernacles. 
10. Psalm 5:8, KJV:
Lead me, O LORD, in thy righteousness because of mine enemies; make thy way straight before my face. 
11. Psalm 32:8, KJV:
I will instruct thee and teach thee in the way which thou shalt go: I will guide thee with mine eye. 
12. Psalm 18:28-29, KJV:
For thou wilt light my candle: the LORD my God will enlighten my darkness. For by thee I have run through a troop; and by my God have I leaped over a wall. 
PEOPLE ALSO READ: Powerful Psalms For Business Success
13. Psalm 36:7-9, KJV:
How excellent is thy lovingkindness, O God! therefore the children of men put their trust under the shadow of thy wings. They shall be abundantly satisfied with the fatness of thy house; and thou shalt make them drink of the river of thy pleasures. For with thee is the fountain of life: in thy light shall we see light. 
14. Psalm 44:3, KJV:
For they got not the land in possession by their own sword, neither did their own arm save them: but thy right hand, and thine arm, and the light of thy countenance, because thou hadst a favour unto them. 
15. Psalm 97:11, KJV:
Light is sown for the righteous, and gladness for the upright in heart.
16. Psalm 119:105, KJV:
Thy word is a lamp unto my feet, and a light unto my path. 
17. Psalm 119:130, KJV:
The entrance of thy words giveth light; it giveth understanding unto the simple. 
18. Psalm 119:165, KJV:
Great peace have they which love thy law: and nothing shall offend them. 
19. Psalm 119:18, KJV:
Open thou mine eyes, that I may behold wondrous things out of thy law. 
20. Psalm 19:7, KJV:
The law of the LORD is perfect, converting the soul: the testimony of the LORD is sure, making wise the simple. 
21. Psalm 118:25, KJV:
Save now, I beseech thee, O LORD: O LORD, I beseech thee, send now prosperity.
22. Psalm 34:4-5, KJV:
I sought the LORD, and he heard me, and delivered me from all my fears. They looked unto him, and were lightened: and their faces were not ashamed. 
23. Psalm 24:7, KJV:
Lift up your heads, O ye gates; and be ye lift up, ye everlasting doors; and the King of glory shall come in. 
PEOPLE ALSO READ: Powerful Psalms For Midnight Prayers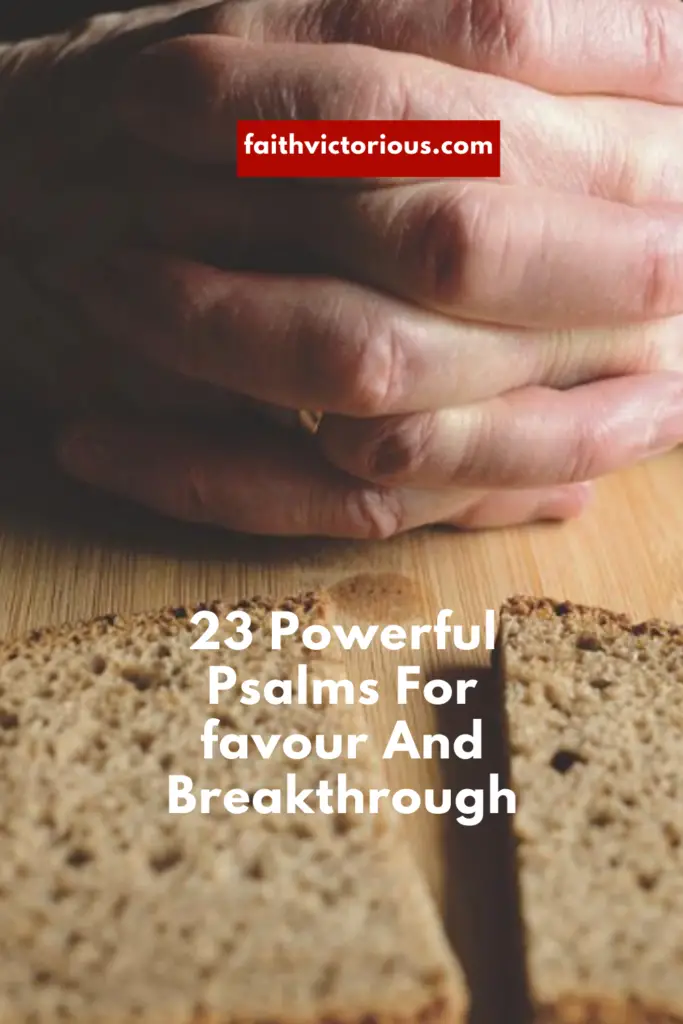 Conclusion
Nonetheless exhaustive these psalms for favour and breakthrough are intended to help chart your course and set you on the path of favour and breakthrough.
You are to declare them day and night over your life, family, business, work and even ministry.
And because they are scriptures from God's holy word, nothing can stop them from coming to pass, nothing can stop them from securing God's favour and breakthrough for you.
You must never underestimate the power of God's word spoken or declared in faith. (See Psalm 33:9, Mark 11:23 and Romans 10:10)
Now, here's one thing you must not do; don't quit saying or praying these psalms until you start seeing favor and breakthrough.
Remember that God's word, being seed, requires time to grow when planted.
So after you have planted the word by declaring them, you still need to keep declaring them (watering them) until the fruit becomes matured for harvest.
Don't quilt too early and don't be in a hurry to get the results you want, for as surely as the Lord lives, if you quit not, favour and breakthrough will overtake you in no time. (Hebrews 10:23, NLT)
All the best.
23+ Psalms For Favour And Breakthrough