Here are powerful psalms for midnight prayers that you can use to pray.
You see, praying the psalms is one sure way to win the battles over your life.
Do you know why that is?
It is because the Psalm is God's word.
Every passage and verse in the psalm is God's word just like every other part of the Scripture.
And you know what, God's word prayed directly to God is the surest way to having Him grant you your desires.
This is because God is under obligation to do His word.
So when you take His word (the psalms in this case) back to Him in prayer, He will sure honor His word.
And the result for you will be resounding testimonies in answer to prayer.
That's what these powerful psalms for midnight will help get you.
Ready to check them out?
Let's go.
READ ALSO: Psalms For Fasting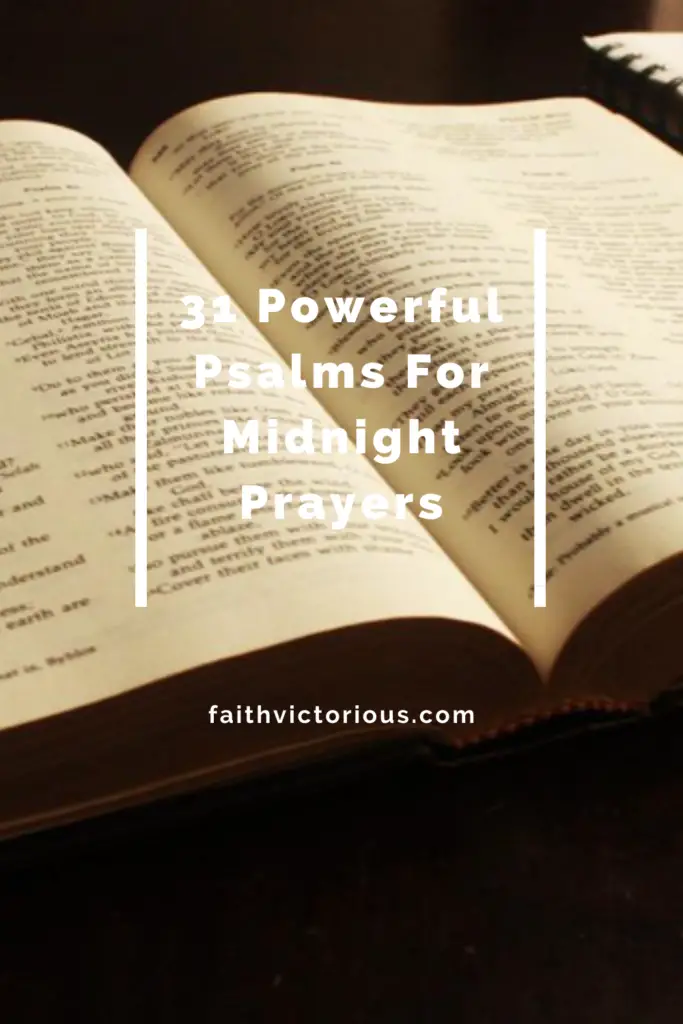 Powerful Psalms For Midnight Prayers
The following are powerful psalms for midnight prayers that will help you get the results you seek in life through prayer:
1. Psalm 10:15, KJV:
Break thou the arm of the wicked and the evil man: seek out his wickedness till thou find none. 
2. Psalm 24:7, KJV:
Lift up your heads, O ye gates; and be ye lift up, ye everlasting doors; and the King of glory shall come in. 
3. Psalm 7:6, KJV:
Arise, O LORD, in thine anger, lift up thyself because of the rage of mine enemies: and awake for me to the judgment that thou hast commanded. 
4. Psalm 17:13-14, KJV:
Arise, O LORD, disappoint him, cast him down: deliver my soul from the wicked, which is thy sword: From men which are thy hand, O LORD, from men of the world, which have their portion in this life, and whose belly thou fillest with thy hid treasure: they are full of children, and leave the rest of their substance to their babes. 
5. Psalm 74:22, KJV:
Arise, O God, plead thine own cause: remember how the foolish man reproacheth thee daily.
6. Psalm 82:8, KJV:
Arise, O God, judge the earth: for thou shalt inherit all nations. 
7. Psalm 102:13, KJV:
Thou shalt arise, and have mercy upon Zion: for the time to favour her, yea, the set time, is come. 
8. Psalm 109:28, KJV:
Let them curse, but bless thou: when they arise, let them be ashamed; but let thy servant rejoice.
9. Psalm 9:19-20, KJV:
Arise, O LORD; let not man prevail: let the heathen be judged in thy sight. Put them in fear, O LORD: that the nations may know themselves to be but men.
10. Psalm 6:4, KJV:
Return, O LORD, deliver my soul: oh save me for thy mercies' sake. 
11. Psalm 18:27, KJV:
For thou wilt save the afflicted people; but wilt bring down high looks. 
12. Psalm 18: 35-36, KJV:
Thou hast also given me the shield of thy salvation: and thy right hand hath holden me up, and thy gentleness hath made me great. Thou hast enlarged my steps under me, that my feet did not slip. 
13. Psalm 59:2, KJV:
Deliver me from the workers of iniquity, and save me from bloody men. 
14. Psalm 86:2, KJV:
Preserve my soul; for I am holy: O thou my God, save thy servant that trusteth in thee. 
15. Psalm 109:26-27, KJV:
Help me, O LORD my God: O save me according to thy mercy: That they may know that this is thy hand; that thou, LORD, hast done it. 
PEOPLE ALSO READ: Psalms For Favour And Breakthrough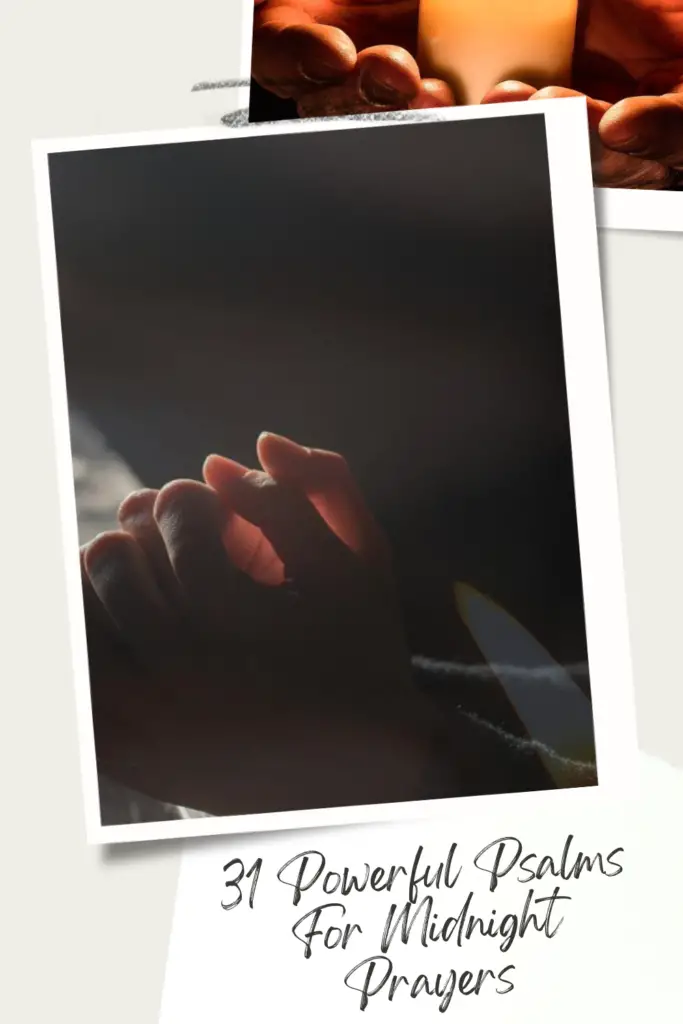 16. Psalm 118:25, KJV:
Save now, I beseech thee, O LORD: O LORD, I beseech thee, send now prosperity. 
17. Psalm 35:23, NIV:
Awake, and rise to my defense! Contend for me, my God and Lord.
18: Psalm 37:14-15, KJV:
The wicked have drawn out the sword, and have bent their bow, to cast down the poor and needy, and to slay such as be of upright conversation. Their sword shall enter into their own heart, and their bows shall be broken. 
19. Psalm 7:9, KJV:
Oh let the wickedness of the wicked come to an end; but establish the just: for the righteous God trieth the hearts and reins. 
20. Psalm 3:7-8, KJV:
Arise, O LORD; save me, O my God: for thou hast smitten all mine enemies upon the cheek bone; thou hast broken the teeth of the ungodly. Salvation belongeth unto the LORD: thy blessing is upon thy people.
21. Psalm 28:4, KJV:
Give them according to their deeds, and according to the wickedness of their endeavours: give them after the work of their hands; render to them their desert. 
22. Psalm 55:15, KJV:
Let death seize upon them, and let them go down quick into hell: for wickedness is in their dwellings, and among them. 
23. Psalm 89:22-23, KJV:
The enemy shall not exact upon him; nor the son of wickedness afflict him. And I will beat down his foes before his face, and plague them that hate him. 
24. Psalm 11:1-2, KJV:
In the LORD put I my trust: how say ye to my soul, Flee as a bird to your mountain? For, lo, the wicked bend their bow, they make ready their arrow upon the string, that they may privily shoot at the upright in heart. 
25. Psalm 119:116-117, KJV:
Uphold me according unto thy word, that I may live: and let me not be ashamed of my hope. Hold thou me up, and I shall be safe: and I will have respect unto thy statutes continually. 
26. Psalm 25:2-3, KJV:
O my God, I trust in thee: let me not be ashamed, let not mine enemies triumph over me. Yea, let none that wait on thee be ashamed: let them be ashamed which transgress without cause. 
27. Psalm 31:17, KJV:
Let me not be ashamed, O LORD; for I have called upon thee: let the wicked be ashamed, and let them be silent in the grave. 
28. Psalm 32:7, KJV:
Thou art my hiding place; thou shalt preserve me from trouble; thou shalt compass me about with songs of deliverance.
29. Psalm 22:20-21, KJV:
Deliver my soul from the sword; my darling from the power of the dog. Save me from the lion's mouth: for thou hast heard me from the horns of the unicorns. 
30. Psalm 31:15, KJV:
My times are in thy hand: deliver me from the hand of mine enemies, and from them that persecute me. 
31. Psalm 31:2, KJV:
Bow down thine ear to me; deliver me speedily: be thou my strong rock, for an house of defence to save me. 
PEOPLE ALSO READ: Mercy Scriptures In Psalms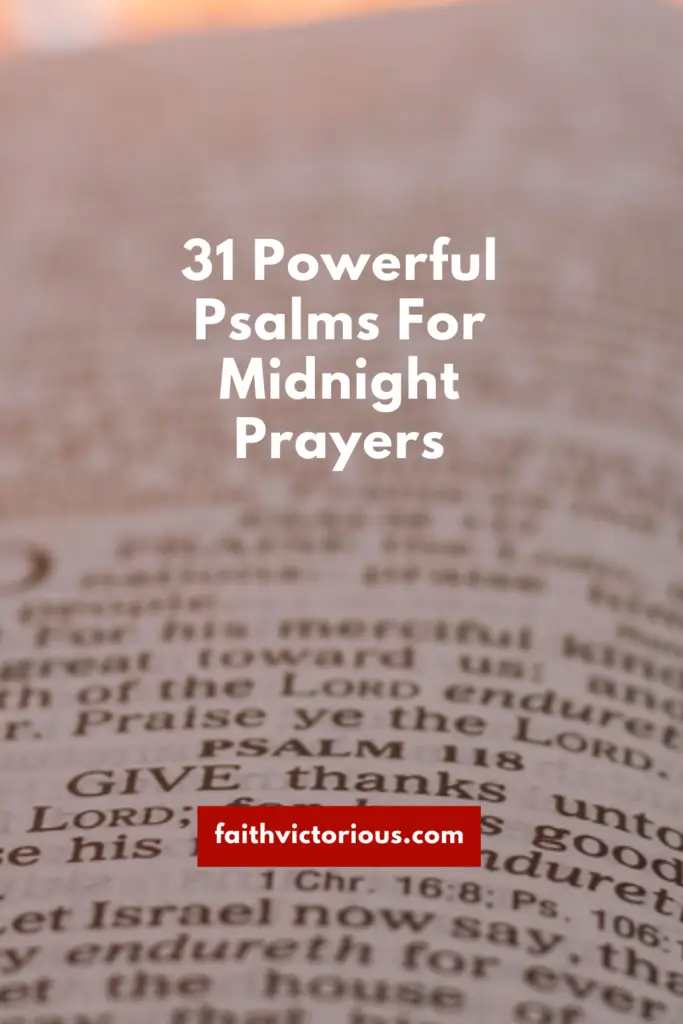 Conclusion
Nonetheless exhaustive, these powerful psalms for midnight prayers are to help you with scriptural bullets that you can employ in your prayer time.
These bullets are God's word that have never known to fail.
So, arm yourself with every one of them and then shoot correctly at the adversary in your prayer and you will soon see your desire upon your enemy come to pass.
These psalms have the power to lift you from being a victim to being a perpetual, celebrated victor in the battles of life.
See you at the top.
God bless you!
31+ Powerful Psalms For Midnight Prayers