Here are powerful psalms for breakthrough you can say and or pray over your life and over all of your endeavors.
Psalms are powerful, they work wonders, because they are a vital part of the word of God.
When declared over a situation, the power of God is released into that situation.
And when God's power is released into a situation, you can be sure that change will come, your desired result, breakthrough, victory will come.
That's why you must joke with the psalms (a vital part of the holy writ, God's word).
Did you even realized that even unbelievers use and quote the psalms, even people in the negative satanic spirit realm use it.
That's because they know the power in it.
If they get results using the psalms, how much more you that are a Christian, anointed of God by the Holy Spirit.
Ready to deploy these powerful psalms for breakthrough into your life and circumstances?
Let's go.
READ ALSO: Psalms For Favour And Breakthrough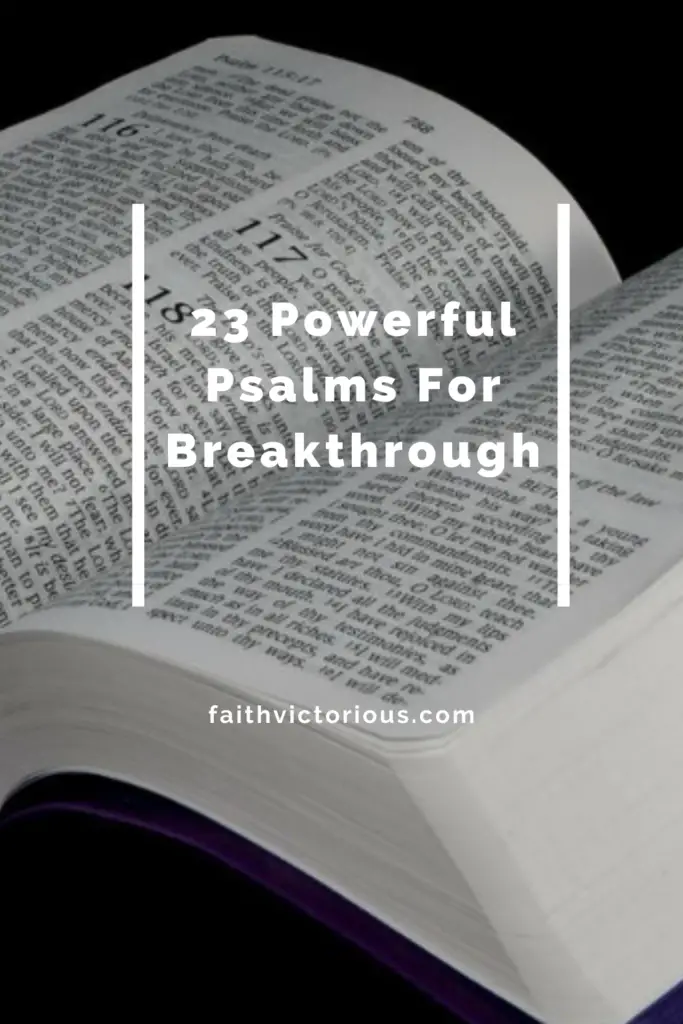 Powerful Psalms For Breakthrough
The following is a list and collection of powerful psalms for breakthrough you can say or pray over your life, family, business, ministry and any other of your endeavors:
1. Psalm 24:7, KJV:
Lift up your heads, O ye gates; and be ye lift up, ye everlasting doors; and the King of glory shall come in. 
2. Psalm 30:7, KJV:
LORD, by thy favour thou hast made my mountain to stand strong: thou didst hide thy face, and I was troubled. 
3. Psalm 16:6, KJV:
The lines are fallen unto me in pleasant places; yea, I have a goodly heritage. 
4. Psalm 18:28-29, KJV:
For thou wilt light my candle: the LORD my God will enlighten my darkness. For by thee I have run through a troop; and by my God have I leaped over a wall. 
5. Psalm 23:1-2a, KJV:
The LORD is my shepherd; I shall not want. He maketh me to lie down in green pastures…
6. Psalm 27:1, KJV:
The LORD is my light and my salvation; whom shall I fear? the LORD is the strength of my life; of whom shall I be afraid? 
7. Psalm 16:5, KJV:
The LORD is the portion of mine inheritance and of my cup: thou maintainest my lot. 
8. Psalm 32:8, KJV:
I will instruct thee and teach thee in the way which thou shalt go: I will guide thee with mine eye. 
9. Psalm 40:1-3, KJV:
I waited patiently for the LORD; and he inclined unto me, and heard my cry. He brought me up also out of an horrible pit, out of the miry clay, and set my feet upon a rock, and established my goings. And he hath put a new song in my mouth, even praise unto our God: many shall see it, and fear, and shall trust in the LORD.
10. Psalm 118:14-15, KJV:
The LORD is my strength and song, and is become my salvation. The voice of rejoicing and salvation is in the tabernacles of the righteous: the right hand of the LORD doeth valiantly. 
11. Psalm 84:11, KJV:
For the LORD God is a sun and shield: the LORD will give grace and glory: no good thing will he withhold from them that walk uprightly. 
12. Psalm 102:13, KJV:
Thou shalt arise, and have mercy upon Zion: for the time to favour her, yea, the set time, is come. 
PEOPLE ALSO READ: Psalms For Financial Breakthrough
14. Psalm 89:20-21, KJV:
I have found David my servant; with my holy oil have I anointed him: With whom my hand shall be established: mine arm also shall strengthen him. 
15. Psalm 18:32-36, KJV:
It is God that girdeth me with strength, and maketh my way perfect. He maketh my feet like hinds' feet, and setteth me upon my high places. He teacheth my hands to war, so that a bow of steel is broken by mine arms. Thou hast also given me the shield of thy salvation: and thy right hand hath holden me up, and thy gentleness hath made me great. Thou hast enlarged my steps under me, that my feet did not slip. 
16. Psalm 103:2-5, KJV:
Bless the LORD, O my soul, and forget not all his benefits: Who forgiveth all thine iniquities; who healeth all thy diseases; Who redeemeth thy life from destruction; who crowneth thee with lovingkindness and tender mercies; Who satisfieth thy mouth with good things; so that thy youth is renewed like the eagle's. 
17. Psalm 104:27-28, KJV:
These wait all upon thee; that thou mayest give them their meat in due season. That thou givest them they gather: thou openest thine hand, they are filled with good. 
18. Psalm 5:12, KJV:
For thou, LORD, wilt bless the righteous; with favour wilt thou compass him as with a shield. 
19. Psalm 118:5, KJV:
I called upon the LORD in distress: the LORD answered me, and set me in a large place. 
20. Psalm 67:1, KJV:
God be merciful unto us, and bless us; and cause his face to shine upon us; Selah. 
21. Psalm 119:175, KJV:
Let my soul live, and it shall praise thee; and let thy judgments help me. 
22. Psalm 34:10, KJV:
The young lions do lack, and suffer hunger: but they that seek the LORD shall not want any good thing. 
23. Psalm 86:17, KJV:
Shew me a token for good; that they which hate me may see it, and be ashamed: because thou, LORD, hast holpen me, and comforted me. 
PEOPLE ALSO READ: Powerful Psalms For Business Success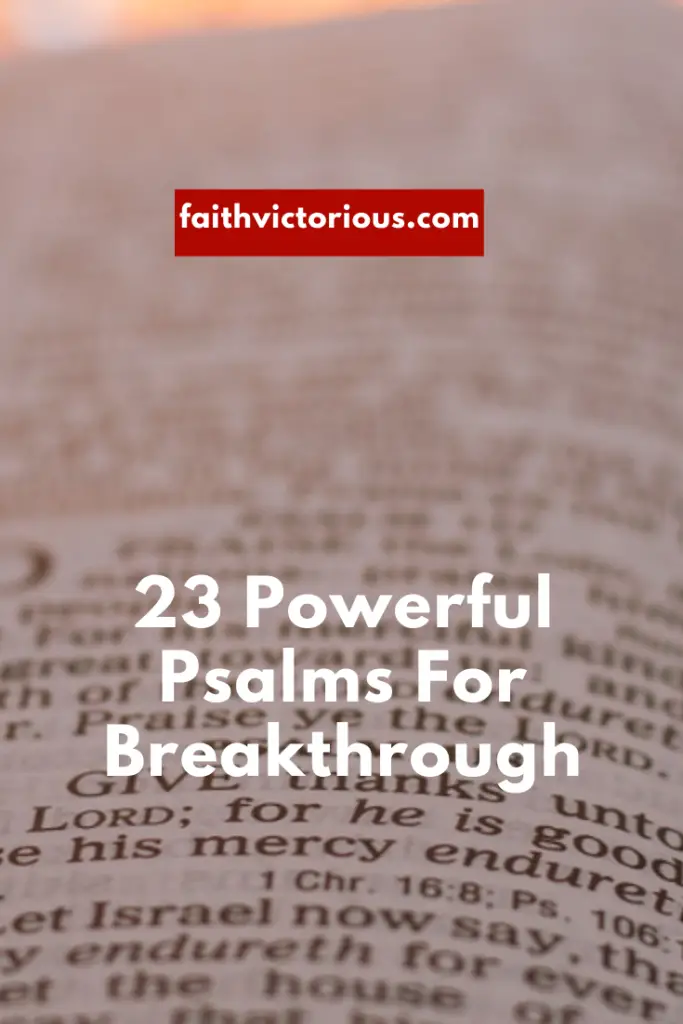 Conclusion
Nonetheless exhaustive, these powerful psalms for breakthrough will suffice you on your journey to breakthrough.
Say them, pray them, sing them and talk them on the go.
That way, you will saturate your atmosphere with the good seeds of the word of God and in no time, you will reap the harvest of your words.
God's word declared (proclaimed) is the power of God unto salvation (breakthrough, deliverance, healing, etc.) to everyone who believes. (Romans 1:16, KJV)
And it is the same today as it was in Bible days.
believe it.
Say it.
And you will eat the fruit of it – you will see what (God's word) you say comes to pass in your very life and circumstances.
A man's belly shall be satisfied with the fruit of his mouth; and with the increase of his lips shall he be filled. (Proverbs 18:20, KJV) 
All the best!
23+ Powerful Psalms For Breakthrough