Today, we are going to be looking at some give it to God scriptures, bible verses that encourage you to give it to God.
So many a time, we worry ourselves over things that we do not have control over.
You see people, and even Christians coming down with heart attacks and other health related issues all because of anxiety.
Now, going by what is happening in our age today: pandemic, loss of jobs, incurable diseases, foreclosures, insecurity, gruesome killing and murder, natural disaster, unstable economies and political upheaval and more, you certainly have more than enough reasons to worry.
But God's word instructs us to not worry.
So whose report will you believe?
God's or the situation; economic and political situations around us!
God's, of course!
Plus, why would you even have to worry yourself to the detriment of your health!
It is not worth it.
You have to stay alive to see your change come.
To this end, we have put together, some bible verses – give it to God scriptures, to help reassure your heart of God's loving kindness, favor and disposition towards you.
These give it to God scriptures will give you a scriptural formidable foundation to overcome anxiety and to stay in the place of rest all the time, no matter what.
Happy reading!    
READ ALSO: 31 Scriptural Reasons To Let Go And Trust God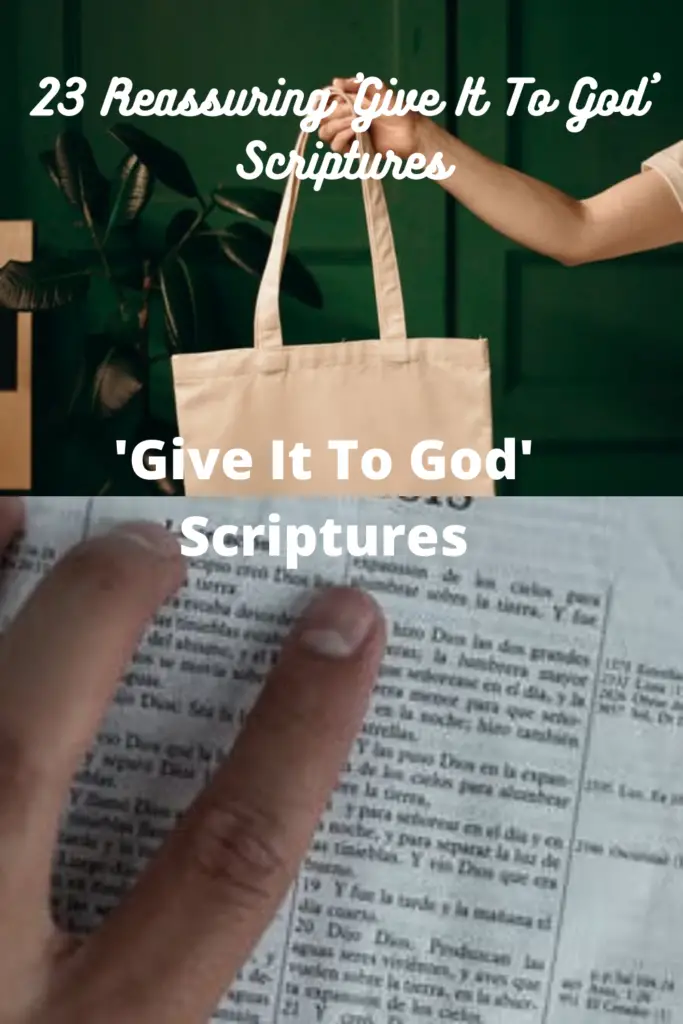 Give It To God Scriptures
"Do not be anxious about anything, but in every situation, by prayer and petition, with thanksgiving, present your requests to God. And the peace of God, which transcends all understanding, will guard your hearts and your minds in Christ Jesus."
2. 1 Peter 5:7
"Casting all your care upon him; for he careth for you." 
3. Psalm 55:22
"Cast thy burden upon the LORD, and he shall sustain thee: he shall never suffer the righteous to be moved."
4. Isaiah 41:10
"Cast thy burden upon the LORD, and he shall sustain thee: he shall never suffer the righteous to be moved."
5. Luke 12:6-7
"Are not five sparrows sold for two farthings, and not one of them is forgotten before God? But even the very hairs of your head are all numbered. Fear not therefore: ye are of more value than many sparrows."
6. Isaiah 32:17
"And the work of righteousness shall be peace; and the effect of righteousness quietness and assurance for ever."
7. 1 Corinthians 10:13
"There hath no temptation taken you but such as is common to man: but God is faithful, who will not suffer you to be tempted above that ye are able; but will with the temptation also make a way to escape, that ye may be able to bear it."
8. Matthew 11:29-30
"Take my yoke upon you, and learn of me; for I am meek and lowly in heart: and ye shall find rest unto your souls. For my yoke is easy, and my burden is light."
9. 1 John 1:9
"If we confess our sins, he is faithful and just to forgive us our sins, and to cleanse us from all unrighteousness."
10. James 1:17
"Every good gift and every perfect gift is from above, and cometh down from the Father of lights, with whom is no variableness, neither shadow of turning."
PEOPLE ALSO READ: 13 Reasons Why You Should Give It All To God
11. 1 Thessalonians 5:16-18
Rejoice evermore. "Pray without ceasing. In every thing give thanks: for this is the will of God in Christ Jesus concerning you."
12. Philippians 1:6
"Being confident of this very thing, that he which hath begun a good work in you will perform it until the day of Jesus Christ."
13. Joshua 1:9
"Have not I commanded thee? Be strong and of a good courage; be not afraid, neither be thou dismayed: for the LORD thy God is with thee whithersoever thou goest."
14. 2 Chronicles 20:15
"And he said, Hearken ye, all Judah, and ye inhabitants of Jerusalem, and thou king Jehoshaphat, Thus saith the LORD unto you, Be not afraid nor dismayed by reason of this great multitude; for the battle is not yours, but God's."
15. Matthew 6:33-34
"But seek ye first the kingdom of God, and his righteousness; and all these things shall be added unto you. Take therefore no thought for the morrow: for the morrow shall take thought for the things of itself. Sufficient unto the day is the evil thereof."
16. Proverbs 3:5-6
"Trust in the LORD with all thine heart; and lean not unto thine own understanding. In all thy ways acknowledge him, and he shall direct thy paths."
17. John 14:1
"Let not your heart be troubled: ye believe in God, believe also in me."
18. Isaiah 40:29-31
"He giveth power to the faint; and to them that have no might he increaseth strength. Even the youths shall faint and be weary, and the young men shall utterly fall: But they that wait upon the LORD shall renew their strength; they shall mount up with wings as eagles; they shall run, and not be weary; and they shall walk, and not faint."
19. Psalm 34:7
"The angel of the LORD encampeth round about them that fear him, and delivereth them."
20. 1saiah 26:3-4
"Thou wilt keep him in perfect peace, whose mind is stayed on thee: because he trusteth in thee. Trust ye in the LORD for ever: for in the LORD JEHOVAH is everlasting strength."
21. Isaiah 35:3-4
"Strengthen ye the weak hands, and confirm the feeble knees. Say to them that are of a fearful heart, Be strong, fear not: behold, your God will come with vengeance, even God with a recompence; he will come and save you." 
22. Zephaniah 3:17
"The LORD thy God in the midst of thee is mighty; he will save, he will rejoice over thee with joy; he will rest in his love, he will joy over thee with singing."
23. 1 John 4:17-18
"Herein is our love made perfect, that we may have boldness in the day of judgment: because as he is, so are we in this world. There is no fear in love; but perfect love casteth out fear: because fear hath torment. He that feareth is not made perfect in love." 
PEOPLE ALSO READ: 11 Bible Reasons Why You Should Let God Take Control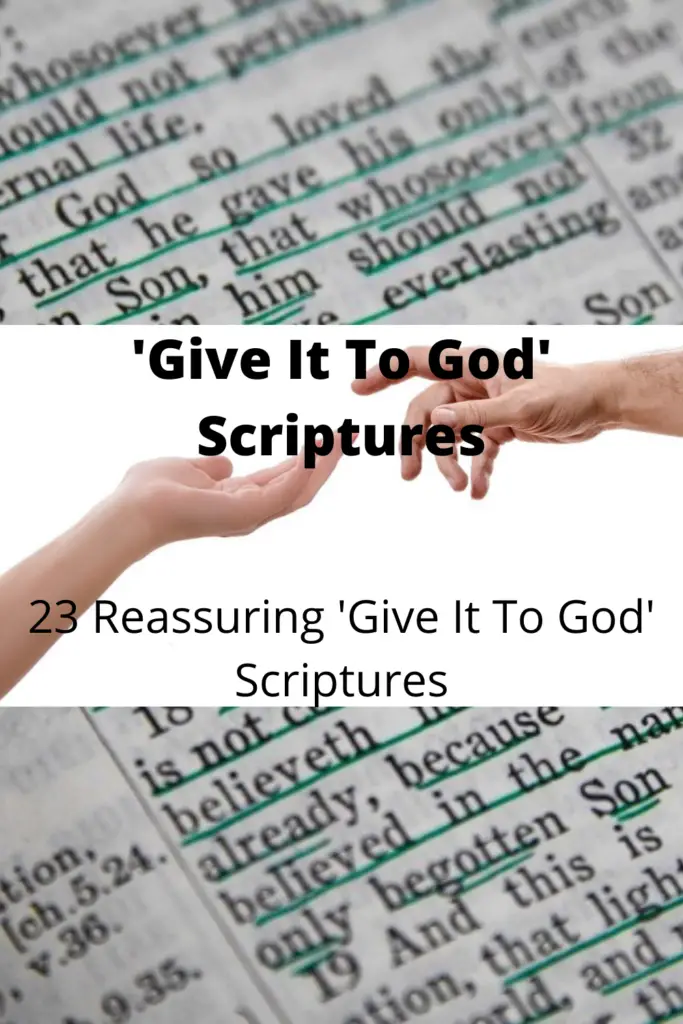 How To Give It To God
Did you ever hear this cliché among Christians: 'Why worry when you can pray!'
And have you ever sang the words of this song: 'Take your burden to the Lord and leave it there!'
How do you give your burden and all to the Lord: It is through prayer and by faith rest!
Give it to God in prayer and then be rest assured in faith that God has taken your burden and will work things out in your favor.  
If after you have prayed and are still worried, then that means there's no rest of faith and that will mean, you still have not given it to the Lord.
Though not always easy, you will do yourself the greatest good; body, soul and spirit if you decide to take side with God by giving up on worry.
Take your burden to the Lord in prayer and leave it there…it is His job to work on the problem.
Conclusion
God has already proffer solution to all human problems – Jesus is the solution.
In Him is rest, quietness and assurance forever.
These give it to God scriptures are the on-hand life application solution that God offers you in Christ today to the problem of anxiety.
So take them for yourself as God's medicine prescribed by the Holy Spirit for your healing, deliverance and victory for all time over fear, worry and anxiety.
We trust that you find theses scriptures refreshing, they are supposed to restore your soul.
Within these seed scripture – give it to God scriptures lies your victory, success, rest and assurance.
Interact with these scriptures as though your very life depends on them.
That way, you see the transforming power of God's word as it is activated and released into your life by faith and believing.
Take your burden to the Lord and leave it there!
He's working on it!
23 Reassuring 'Give It To God' Scriptures (Bible Verses)