Are you finding it very difficult to let go and trust God with your life and all?
This post is for you.
Le's face it; it may be that all you need do to free and release yourself from all that's holding you down is to just simply let go and trust God?
You know it and you have even been told by concerned friends and loved ones to let go and trust God but you are wondering why on earth should you let go and trust God after all the hurt, mishaps, misunderstanding and defamation and all evil you have suffered?
Hm!!!
It is not always easy to let go and trust God if you have had to suffered a great deal falsely, or if you been misunderstood and mistreated.
Agreed!
But point is, God's word demands that you do that.
You cannot keep carrying the load of the past or present in your mind if you want God to come through for you.
You cannot keep keeping those tons of burdens, issues, un-forgiveness in your mind if you want the ray of God's sunshine and glory to beam on your path.
Spiritual excess luggage will slow you down, and that's if it does not take your life prematurely.
Understand that Satan is always looking for loopholes in your life and walk with the Lord to explore and exploit.
Never give place (foothold, or room) for the devil to make the word of God of non-effect in your life.
So, it is enlightened self-interest to let go and trust God.  
That said, let's quickly look at some scriptural reasons why you should let god and trust God now.
Read also: 'Give It To God' Scriptures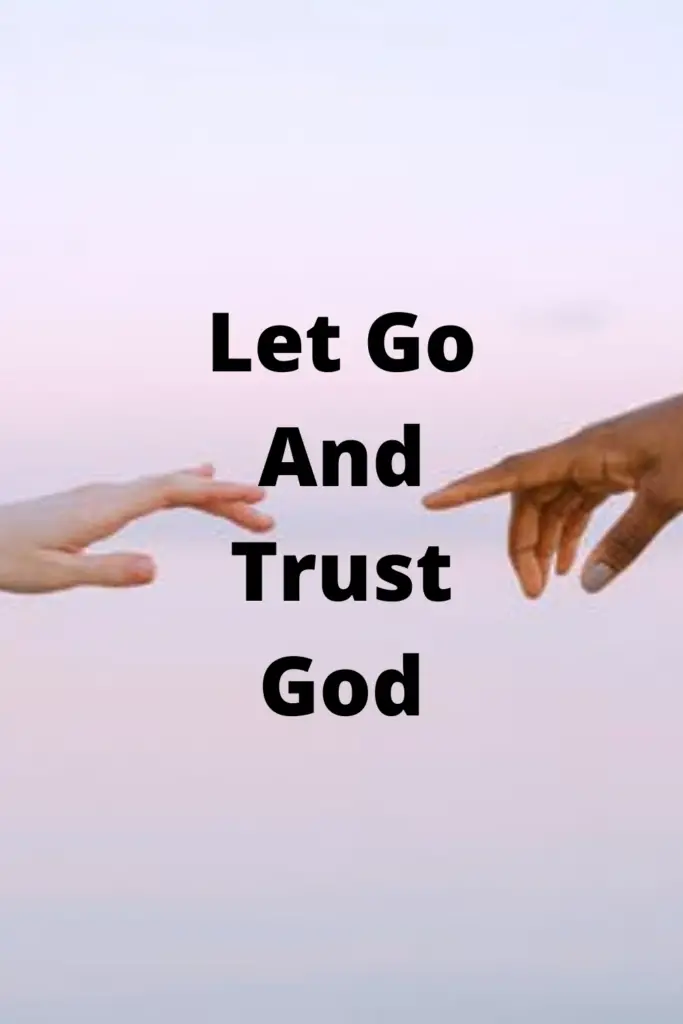 31 Scriptural Reasons Why You Should Let Go And Trust God
Nonetheless exhaustive, the following reasons are why you should let go and trust God.
1. When you hold on to the past (whatever it is), you stop yourself from moving forward towards a new future. (See Genesis 13:14)
2. What you don't let go, may eventually kill you. (See Luke 17:32)
3. God's has a plan for you that is better than where you are at right now, better that what you have experienced so far. (See Jeremiah 29:11, NIV)
4. God has made all the needed adjusted for your mistakes and is ready to handle your today and tomorrow. (See Isaiah 1:18)
5. Your times are in God's hands, He can redeem the time for you. (See Psalm 31:15)
6. He is able to restore you and all. (See Joel 2:25)
7. Letting go and trusting God shows your utter dependence on God and God rewards those who trust Him fully. (Proverbs 3:3-5)
8. You have to forget things that are behind and look forward to things that are ahead if you must move from point A to point B – making spiritual, physical and mental progress. (See Philippians 3:13)
9. You want to obey God and be in His will. (See 1 Peter 1:14)
10. God's not through with you yet. (See Genesis 28:15)
11. God knows your name and has a beautiful future for and ahead of you. (See Jeremiah 1:5, Exodus 33:17)
12. Trusting God is a show of your faith in the integrity of God's word. And He rewards such faith. (See Hebrews 11:6)
13. Letting go and trusting God, gives God the opportunity to avenge you of your oppressors and accusers. (See Romans 12:9)
14. Letting go and trusting God means you have forgiven and ready to move forward. (See Luke 637)
15. When you don't let go and trust God, you are stopping God from fighting for you, from undertaking for you. (2 Chronicles 20:15)
Read also: 11 Reasons Why You Should Let God Take Control
16. If you don't let go and trust God, then Satan has a foothold or room in your life to accuse you to you and to God. (See Ephesians 4:27)
17. If you don't let go and trust God, Satan can stand and hinder your prayers – that is, you may continue to suffer from unanswered prayers. (See 1 Peter 3:7)
18. God can bless you so far, but He cannot bless you that far until you let go and trust Him completely.
19. You may be holding down your blessing and lifting in life if you don't let go and trust God
20. You open yourself up for satanic affliction – sicknesses, diseases, premature death and torments by evil spirits if you don't let go and trust God. (See Psalm 107:17)
21. Unless you let go and then trust God, you are actually saying by your attitude that God is not good enough and cannot be trusted.
22. Not letting go and trusting God may make you end up in hell fire – you don't want to end that way.
23. You stifle the Spirit when you don't let go and trust God. That means the Holy Spirit cannot readily work in you bringing you into all the beauties and glories that God has for you on earth. (See Acts 7:51)
24. You may not fulfil your destiny on earth if you don't let go and start trusting God.
25.  You will be stopping the power of God from moving in your behalf.
26. You may be delaying God's blessing in your life.
27. You may not actualize your dream and ministry
28. You may be hindering the prayer of other believers in your circle. (See Joshua 7:1)
29. You are walking in disobedience if you hang on to the past, hurts and mishaps.
30. God will ultimately be glorified in your life letting go and trusting Him.
31. You become God's channel to heal and to cure many people who may have similar experience, hurts and pains like you.
Read also: 13 Reasons Why You Should Give It All To God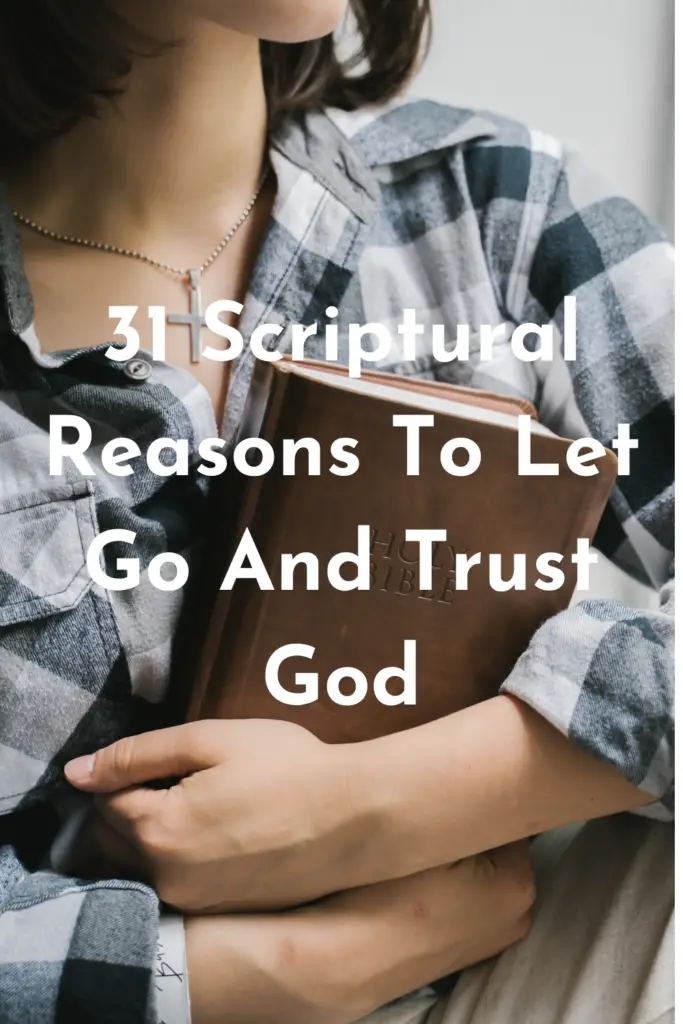 How To Let Go And Trust God
The way to letting go and trusting God is simple; it is by prayer, faith and patience.
You will have to come to God in prayer, you may have to separate yourself and go to secluded places where you are alone with God so you can deal with it once and for all.
You may have to cry if you need to, and you may even have to call someone and tell them that you have forgiven them.
Whatever, just get yourself to a place in your mind where you can hear the Holy Spirit speak to you, instructing you on what to do and how to do it.
 And then afterwards, rise up in faith believing that God has heard you.
Believe that God has taken over your concerns, has borne your burdens and is set to working out His plan for your life from that moment onwards.
Then wait in patience until you see the hand of God on your life in answer to prayers, turnaround and complete restoration and even relocation if need be.
Final Word
God wants to bless you, but He can only do so to the extent that you allow Him.
Satan wants to destroy you also, yet he can only do so to the extent that you allow him too.
When you hang on to the past, you will be stopping God from coming down on you with the rain of blessing.
On the converse, you will be permitting the evil to afflict you with all kinds of evils –setback, stagnation, frustration, disappointments, and even with sicknesses and diseases.
But that's not the way your life should go.
God wants the best for you, but you can stop the best from coming if you keep hanging on to the good or bad of the past and the present.
So what!
Be wise, be spiritually smart!
Receive grace to let go and to start trusting God from today onwards, in Jesus name.
Amen!
31 Scriptural Reasons To Let Go And Trust God