Let's take a look at some scriptural reasons why you should let God take control of your life and your all, today.
In a world where everything is about self; self-made millionaires, self-made business men and women and all the many other self-acclaimed made people and things, do you still think anything should be left to God!
After all, you can do it yourself, have it made your way, so why should you let God take control!
'An eye for an eye and a tooth for a tooth;' so why should you let God take control when you know you can get vengeance for yourself, deal with the situation yourself and your way.
Plus, God gave you a mind, your hands and all other physical abilities so you can get things done yourself and have it made yourself, so why should leave it up to God, letting Him take control.
A lot my friend!
First off, no matter how good you are, there's still so much you cannot see, do and understand.
Plus, there are even situations that God's word out rightly demands that you leave it up to Him entirely.
You have just got to do what the word says.
That said, let's now see a few scriptural reasons why you should let God take control no matter what.   
READ ALSO: Let Go And Trust God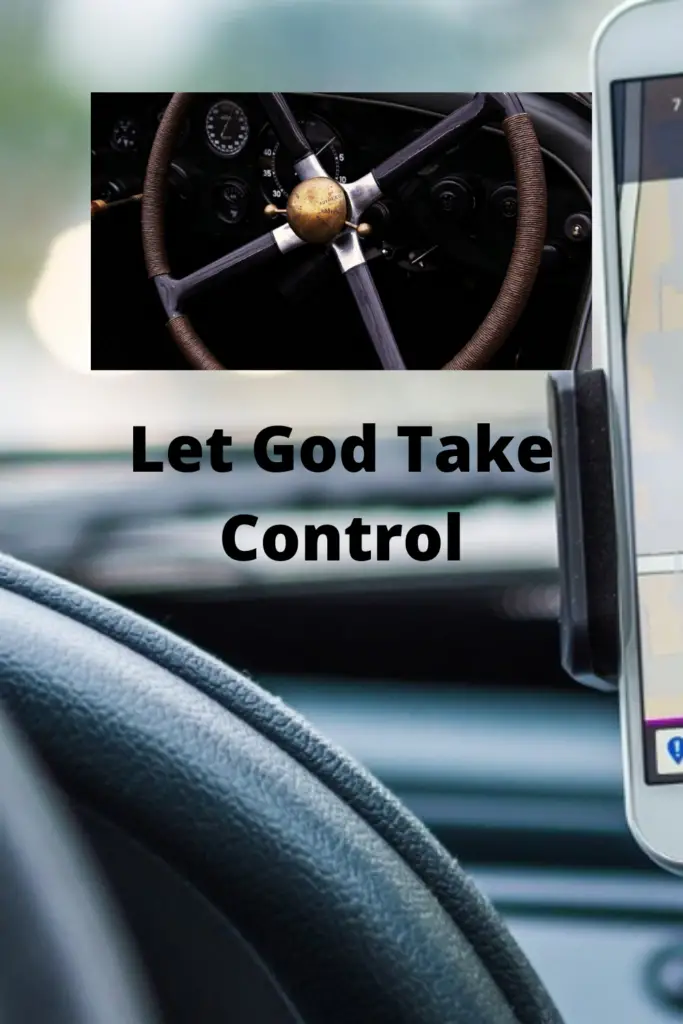 11 Reasons Why You Should Let God take Control
1. You Cannot Always Help Yourself Anyway
King David, the great king of Israel anointed of God to do battles for the Lord, a man who never lost any battle was confronted with a situation in his life that was beyond him at the time.
His son, Absalom had just being killed by Joab, one of David's top generals (against the king's wish and command that Absalom should not be killed).
The king could not hold himself when he heard of the death of his son.
In the midst of the king's anguish and sorrow, Joab shut him down and even threatened to take his life if he does not co-operate and stop being sober for the death of his son Absalom.
David was helpless.
He couldn't do nothing to help himself at the time.
He quickly braced up and start acting as though everything was fine, that way, letting God take control. (See 2 Samuel 18:1-19:1-7)
There are situations where you cannot help yourself, all that you need do at such time is to let God take control.
Sure enough, He will show up for you in the long if you keep your faith.
2. It Is Safe To Do So
Did you ever read in the scripture where it says; 'The horse is prepared against the day of battle, but safety is of the Lord?' (Proverbs 21:31)
Letting God take control no matter your strength and abilities is a safe thing to do.
You can be sure that when God takes and gets control of a life and situation, it will end in praise and glory.
So dear, it is the safest and surest thing in the world to let God take control.    
3. He Knows About Your Today And Will Work Out Your Tomorrow
Another reason why letting God take control is in your best interest is because He knows about your present state and is able to work out your tomorrow.
'The LORD will work out his plans for my life— for your faithful love, O LORD, endures forever. Don't abandon me, for you made me.' (Psalm 138:8, NLT)
But only if you let Him take control.
4. He Is Able To Avenge You
A lot of the time, we are confronted with situations of abuse, misunderstanding and injustices.
Perhaps the person you are up against may be stronger than you are, richer, has more influence and connection than you are, and you know you never can get at the person no matter what you do and how you try.
In such situation, it is best to turn it over to the Lord, letting Him take control.
Sure enough, He will avenge you in good time.  
5. He Said To Do So
Another beautiful reason to let God take control is because He said for you to do so.
'Commit thy way unto the LORD; trust also in him; and he shall bring it to pass.' (Psalm 37:5)
God has called you and me to a life of trust, trusting Him with our today and tomorrow and He promises to work things out.
God's word that says for you to let God take the control is good enough reason to do so.
'He watches over His word to make it good.'  (See Jeremiah 1:12, KJV)
Read also: Give It To God Scriptures
6. He Knows The Best Way For You
When you're confronted with uncertainties and at crossroads in your life, what are you supposed to do?
Worry yourself until you become a nervous wreck or just rest and trust Him who knows the best way for you!
It would be rather better to rest and let God have the control because He knows the way in and the way out, than to worry yourself to death.
Jesus knows the way; He is the WAY!
So let Him take absolute control. (See Psalm 32:8, KJV)
7. He Has The Best For You
Now. God not only knows the best way for you to go in life, He actually has the best for you in life.
He has every good and perfect gift for you. (See James 1:17, KJV)
He knows what's best for you and will withhold it from you. (See Psalm 84:11, KJV)
So you can trust in God's benevolence and generosity as far your life is concerned. (James 1:1-5)
He gave Jesus – His very best for your redemption, He gave the Holy Spirit – His best too, to walk you through life, He gave His Word, also His best to guide you through life, will He will not all the more give you the best today? (See Romans 8: 32, KJV)
God always gives His best, trust Him!  
8. He Thoughts Toward You Are For Good After All
If there was ever any person who all the time thinks good about you, it is the Lord.
Now, if you knew that someone has the best at heart for you, and that he is always there to represent you and pursue your interest, will you hesitate one bit to let him do whatever he wants with you?
No!
That's God for you, my dear.
Good enough reason to let him take control huh!
9. He Keeps That Which Is Committed To Him
More to be confident about above all things is the faithfulness of God.
God keeps that which is committed to Him, He accounts for it.
So if you let Him take control of your life and all, you can be sure that He will keep you to the end.
He will jealously guide and watch over you because He doesn't fail in His duty.
Have you ever seen God failed with things that are entrusted and dedicated to Him?
It may be rough, yet it will turn out that He does not fail at that which is committed to His trust.
Ask Prophet Samuel and Samson.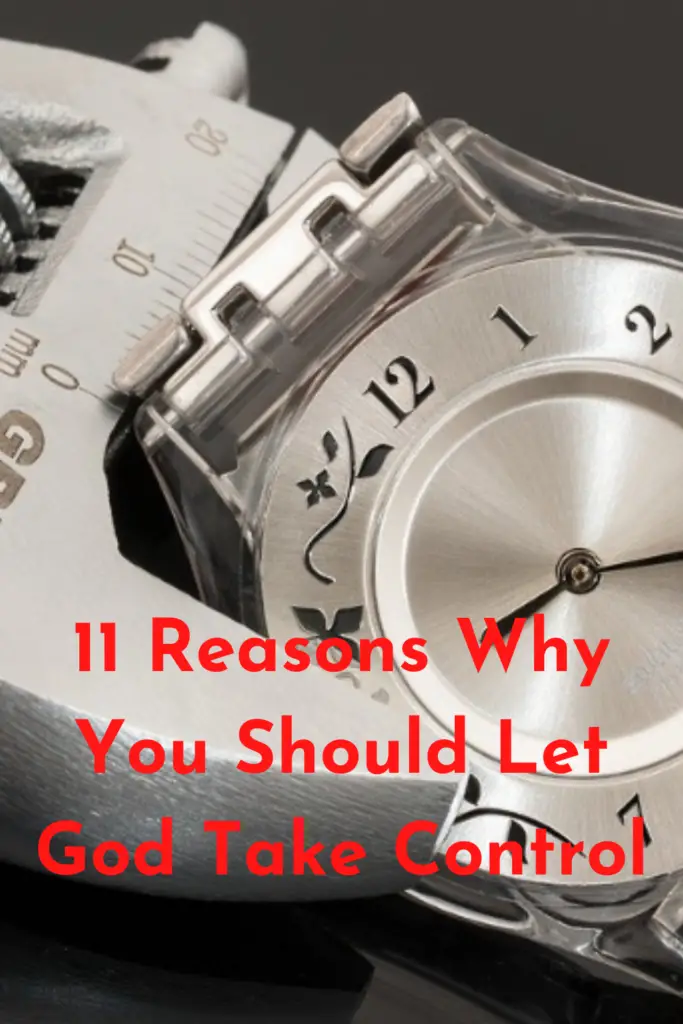 10. Because He Is A Good God
Goodness is one of the strongest character of God.
He said to Moses, 'I will cause my goodness to pass before you…' (Exodus 33:19, KJV)
His goodness and mercy abide forever. (See Psalm 107:1, KJV)
Trust Him, let Him take control and you will see His goodness in your life.
11. God Knows How To Turn Things Around
God is a master planner, an extraordinary strategist, He's good at what He does.
Yes, it may take time, but if you trust God with that situation, He sure knows how to turn it around for your good and for His glory.
He will so turn things around that every knee will bow, every proud heart will be humbled.
He will so do it that everyone will know that this must be God and God alone.
He will so do it that there will be no trace of human wisdom in it, so there will be no place for argument whatsoever in it.
Beyond man, beyond reason, God does clean and neat job – He's master at it.
Trust Him!
(See 1 Corinthians. 2:9, KJV and Daniel 4:28-37, KJV).
Read Also: 13 Reasons Why You Should Give It All To God
Conclusion
Yea, you can readily see why you should let God take the control of your life, situations and all.
Trusting God is your way of showing your utter dependence on Him.
He created us to depend on Him, so when we trust Him completely, we demonstrate that dependence…, He loves and will always reward such dependency.  
More than any other thing, trusting God is a safe place to be.
It eliminates all anxiety and heart attack.
It keeps you in good health and prolong your life.
It eliminates all the guess work, giving Him the entire control from start to finish.
He's a good Captain, the chief Shepherd of our souls.  
A faithful one at that!
'Casting all your care upon Him, for He cares for you.' (1 Peter 5:7, NKJV)
11 Bible Reasons Why You Should Let God Take Control