Here are encouraging psalms for hard times to inspire faith and to assure your heart of God's love, faithfulness and integrity.
Hard and tough times come to us all.
It's just that your tough time may be different from mine.
After all, challenges that come to you are peculiar to you and you alone.
But in all, God is always with you and me when we face hard and difficult times.
Has he not said in His word that: "When you pass through the waters, I will be with you; and when you pass through the rivers, they will not sweep over you. When you walk through the fire, you will not be burned; the flames will not set you ablaze. (Isaiah 43:2, NIV)
That's how much God stands and stays with you when you go through challenges.
'He will be with you,' is the reassuring word.
His presence is all you need to go through tough and hard times.
'God with you' most certainly will not take away the challenges, but it will make you go through it without necessarily feeling the pains and the heat of the time.
Now, these encouraging psalms for hard times will be a great recourse for you if you are going through tough time right now.
They are God's assuring and reassuring word to you at this season and time of your life.
So, sit back, see and read them for yourself.
READ ALSO: Psalms For Encouragement And Healing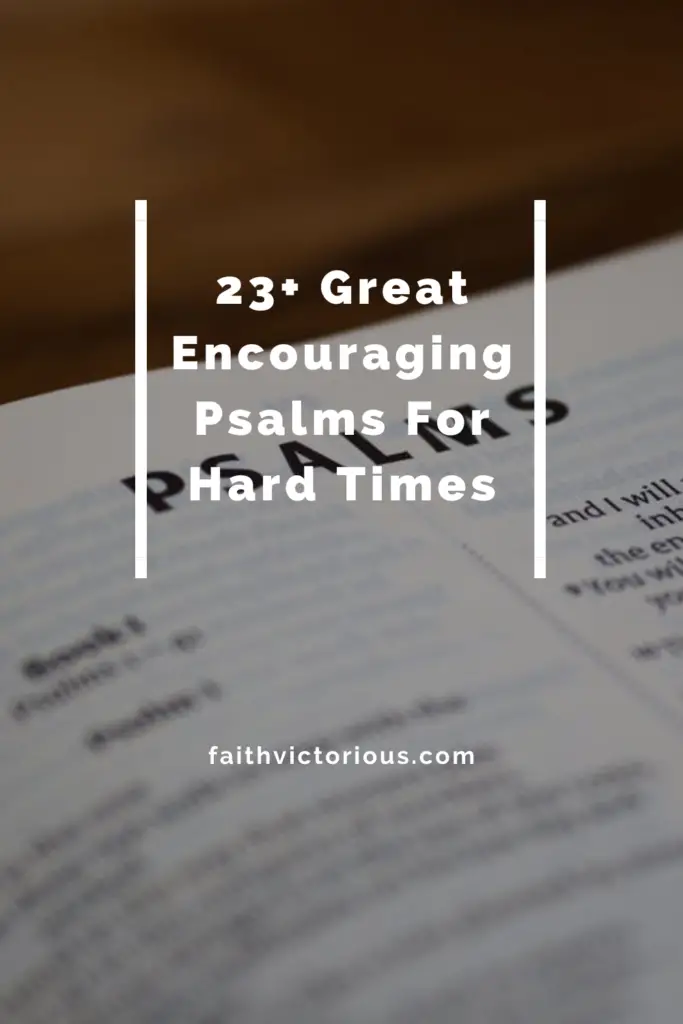 Encouraging Psalms For Hard Times
The following are encouraging psalms for hard time to inspire hope and faith in your heart while going through tough and difficult times:
1. Psalm 23:4, KJV:
Yea, though I walk through the valley of the shadow of death, I will fear no evil: for thou art with me; thy rod and thy staff they comfort me. 
2. Psalm 61:2, KJV:
From the end of the earth will I cry unto thee, when my heart is overwhelmed: lead me to the rock that is higher than I. 
3. Psalm 5:3, KJV:
My voice shalt thou hear in the morning, O LORD; in the morning will I direct my prayer unto thee, and will look up. 
4. Psalm 27:14, KJV:
Wait on the LORD: be of good courage, and he shall strengthen thine heart: wait, I say, on the LORD. 
5. Psalm 37:7, KJV:
Rest in the LORD, and wait patiently for him: fret not thyself because of him who prospereth in his way, because of the man who bringeth wicked devices to pass. 
6. Psalm 25:3, KJV:
Yea, let none that wait on thee be ashamed: let them be ashamed which transgress without cause. 
7. Psalm 123:2, KJV:
Behold, as the eyes of servants look unto the hand of their masters, and as the eyes of a maiden unto the hand of her mistress; so our eyes wait upon the LORD our God, until that he have mercy upon us. 
8. Psalm 130:5, KJV:
I wait for the LORD, my soul doth wait, and in his word do I hope. 
9. Psalm 145:15, KJV:
The eyes of all wait upon thee; and thou givest them their meat in due season. 
10. Psalm 62:5, KJV:
My soul, wait thou only upon God; for my expectation is from him. 
11. Psalm 59:7-10, KJV:
Behold, they belch out with their mouth: swords are in their lips: for who, say they, doth hear? But thou, O LORD, shalt laugh at them; thou shalt have all the heathen in derision. Because of his strength will I wait upon thee: for God is my defence. The God of my mercy shall prevent me: God shall let me see my desire upon mine enemies. 
12. Psalm 34:4-6, KJV:
I sought the LORD, and he heard me, and delivered me from all my fears. They looked unto him, and were lightened: and their faces were not ashamed. This poor man cried, and the LORD heard him, and saved him out of all his troubles. 
PEOPLE ALSO READ: Most Powerful Against Enemies
13. Psalm 16:10, KJV:
For thou wilt not leave my soul in hell; neither wilt thou suffer thine Holy One to see corruption. 
14. Psalm 42:11, KJV:
Why art thou cast down, O my soul? and why art thou disquieted within me? hope thou in God: for I shall yet praise him, who is the health of my countenance, and my God. 
15. Psalm 49:15, KJV:
But God will redeem my soul from the power of the grave: for he shall receive me. Selah. 
16. Psalm 56:13, KJV:
For thou hast delivered my soul from death: wilt not thou deliver my feet from falling, that I may walk before God in the light of the living? 
17. Psalm 57:3-6, KJV:
He shall send from heaven, and save me from the reproach of him that would swallow me up. Selah. God shall send forth his mercy and his truth. My soul is among lions: and I lie even among them that are set on fire, even the sons of men, whose teeth are spears and arrows, and their tongue a sharp sword. Be thou exalted, O God, above the heavens; let thy glory be above all the earth. They have prepared a net for my steps; my soul is bowed down: they have digged a pit before me, into the midst whereof they are fallen themselves.
18. Psalm 143:8, KJV:
Cause me to hear thy lovingkindness in the morning; for in thee do I trust: cause me to know the way wherein I should walk; for I lift up my soul unto thee. 
19. Psalm 32:7, KJV:
Thou art my hiding place; thou shalt preserve me from trouble; thou shalt compass me about with songs of deliverance. Selah. 
20. Psalm 119:114, KJV:
Thou art my hiding place and my shield: I hope in thy word. 
21. Psalm 18:16-19, KJV:
He sent from above, he took me, he drew me out of many waters. He delivered me from my strong enemy, and from them which hated me: for they were too strong for me. They prevented me in the day of my calamity: but the LORD was my stay. He brought me forth also into a large place; he delivered me, because he delighted in me.
22. Psalm 3:2-3, KJV:
Many there be which say of my soul, There is no help for him in God. Selah. But thou, O LORD, art a shield for me; my glory, and the lifter up of mine head. 
23. Psalm 86:17, KJV:
Shew me a token for good; that they which hate me may see it, and be ashamed: because thou, LORD, hast holpen me, and comforted me. 
PEOPLE ALSO READ: Powerful Psalms For Victory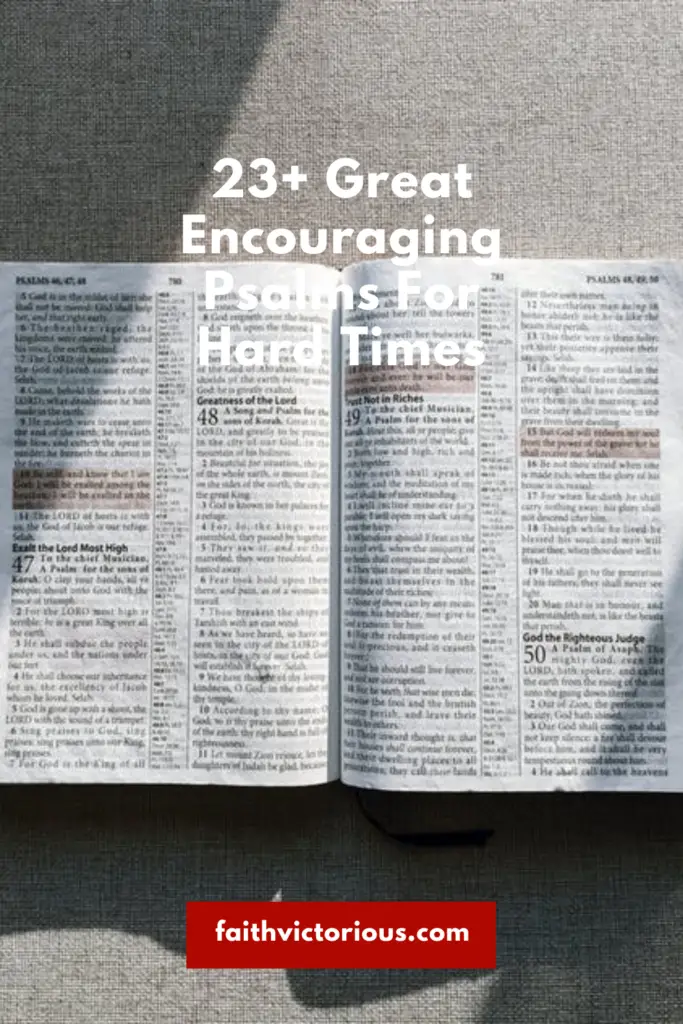 Conclusion
Nonetheless exhaustive, these encouraging psalms for hard times will give you something to live for and to keep going until your change comes.
You are not just supposed to see these psalms as a one-time read, but a daily and continuous read, until your change comes.
Surely, there will come an end to the hard time no matter what. (Proverbs 23:18, KJV)
Your morning, celebration and testimony time will certainly come; for weeping may endure for a night but joy comes in the morning. (Psalm 30:5, NKJV)  
Your joy is coming if you do not quit.
Your morning will come; after all, it is natural for the night to follow the day and the day the night.
But your attitude and mental disposition at this time of difficulties will determine how you welcome your morning when it comes.
So do not let darkness overtake you.
Do not let the challenge overwhelm you.
Do not let it steal your joy (Nehemiah 8:10, KJV).
Do not let it take God's word from your heart and your mouth.
And having done all to stand, stand still until your determined (settled and guaranteed) change comes. (Job 14:14, KJV)
God bless you.
All the best!
23+ Great Encouraging Psalms For Hard Times