Here are powerful psalms for victory you can affirm, pray, confess and stand on.
You can stand on these psalms, holding on to them in prayer and in faith-affirmation until you come through to victory in whatever circumstances and trouble you are in right now.
See, the devil will throw things at you anytime whether you are prepared or not.
It can be health challenge, he can throw you off balance with a serious challenge in the family that requires large amount of money to tackle.
And you may be disturbed and almost fall for worry when it happens, because you may not even have a penny at the time.
No matter what the devil comes to you with, no matter what he throws at you (financial lack and loss, health challenge, joblessness and unemployment, death of a dear and loved one, you can always hold-on the rope of God's word onto victory.
Now, these powerful psalms for victory will be of great help, a recourse to you and a place to begin to look, for scriptures that will help hold your head up in the middle of the high and rough water.
So, hold still and read to the end, seeing you never may know which of the psalms will be best address your need and encourage your heart.
Are you ready?
READ ALSO: Psalms For Encouragement And Healing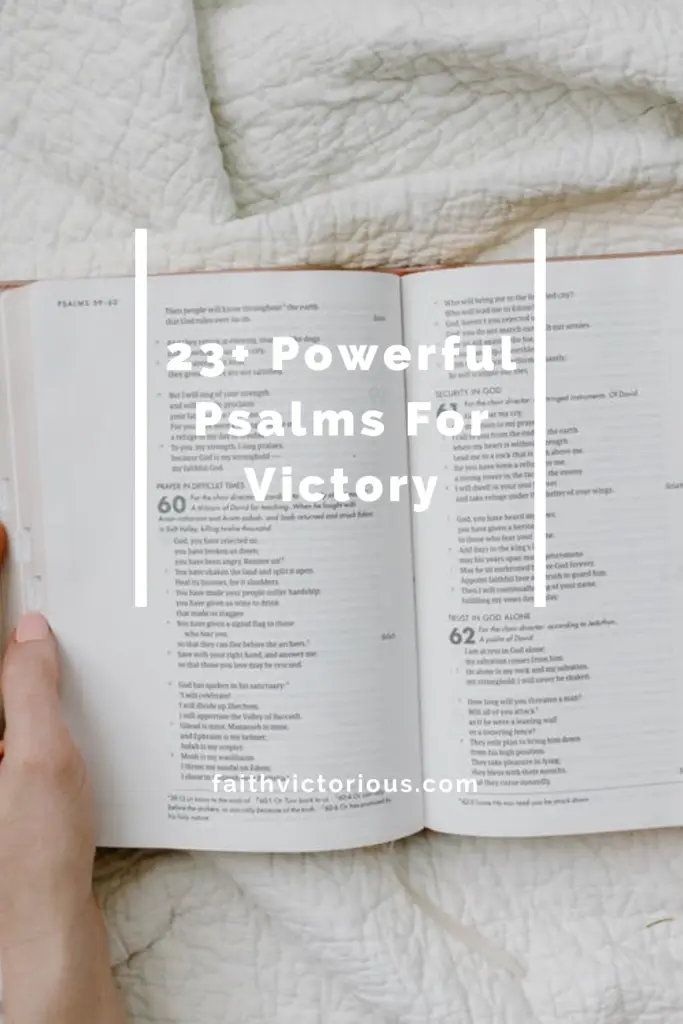 Powerful Psalms For Victory
The following are powerful psalms for victory you can recall and hold onto in the midst of trouble and turbulence that Satan may unnerve you with …until your victory is established:
1. Psalm 27:1-3, KJV:
The LORD is my light and my salvation; whom shall I fear? the LORD is the strength of my life; of whom shall I be afraid? When the wicked, even mine enemies and my foes, came upon me to eat up my flesh, they stumbled and fell. Though an host should encamp against me, my heart shall not fear: though war should rise against me, in this will I be confident. 
2. Psalm 62:5, KJV:
My soul, wait thou only upon God; for my expectation is from him. 
3. Psalm 52:9, KJV:
I will praise thee for ever, because thou hast done it: and I will wait on thy name; for it is good before thy saints. 
4. Psalm 142:7, KJV:
Bring my soul out of prison, that I may praise thy name: the righteous shall compass me about; for thou shalt deal bountifully with me. 
5. Psalm 86:2, KJV:
Preserve my soul; for I am holy: O thou my God, save thy servant that trusteth in thee. 
6. Psalm 112:4, KJV:
Unto the upright there ariseth light in the darkness: he is gracious, and full of compassion, and righteous. 
7. Psalm 56:13, KJV:
For thou hast delivered my soul from death: wilt not thou deliver my feet from falling, that I may walk before God in the light of the living? 
8. Psalm 43:3, KJV:
O send out thy light and thy truth: let them lead me; let them bring me unto thy holy hill, and to thy tabernacles. 
9. Psalm 4:6, KJV:
There be many that say, Who will shew us any good? LORD, lift thou up the light of thy countenance upon us. 
10. Psalm 121:1, KJV:
I will lift up mine eyes unto the hills, from whence cometh my help. My help cometh from the LORD, which made heaven and earth. 
11. Psalm 3:3, KJV:
But thou, O LORD, art a shield for me; my glory, and the lifter up of mine head. 
PEOPLE ALSO READ: Praying The Psalms For Spiritual Warfare
12. Psalm 18:43, KJV:
Thou hast delivered me from the strivings of the people; and thou hast made me the head of the heathen: a people whom I have not known shall serve me. 
13. Psalm 143:9-12, KJV:
Deliver me, O LORD, from mine enemies: I flee unto thee to hide me. Teach me to do thy will; for thou art my God: thy spirit is good; lead me into the land of uprightness. Quicken me, O LORD, for thy name's sake: for thy righteousness' sake bring my soul out of trouble. And of thy mercy cut off mine enemies, and destroy all them that afflict my soul: for I am thy servant. 
14. Psalm 144:7, 11, KJV:
Send thine hand from above; rid me, and deliver me out of great waters, from the hand of strange children;… Rid me, and deliver me from the hand of strange children, whose mouth speaketh vanity, and their right hand is a right hand of falsehood: 
15. Psalm 31:15, KJV:
My times are in thy hand: deliver me from the hand of mine enemies, and from them that persecute me. 
16. Psalm 91:3, KJV:
Surely he shall deliver thee from the snare of the fowler, and from the noisome pestilence. 
17. Psalm 7:6, KJV:
Arise, O LORD, in thine anger, lift up thyself because of the rage of mine enemies: and awake for me to the judgment that thou hast commanded. 
18. Psalm 10:12, KJV:
Arise, O LORD; O God, lift up thine hand: forget not the humble. 
19. Psalm 28:9, KJV:
Save thy people, and bless thine inheritance: feed them also, and lift them up for ever. 
20. Psalm 94:2, KJV:
Lift up thyself, thou judge of the earth: render a reward to the proud. 
21. Psalm 17:5, KJV:
Hold up my goings in thy paths, that my footsteps slip not. 
22. Psalm 119:116-117, KJV:
Uphold me according unto thy word, that I may live: and let me not be ashamed of my hope. Hold thou me up, and I shall be safe: and I will have respect unto thy statutes continually. 
23. Psalm 61:2, KJV:
From the end of the earth will I cry unto thee, when my heart is overwhelmed: lead me to the rock that is higher than I. 
PEOPLE ALSO READ: Encouraging Psalms For hard Times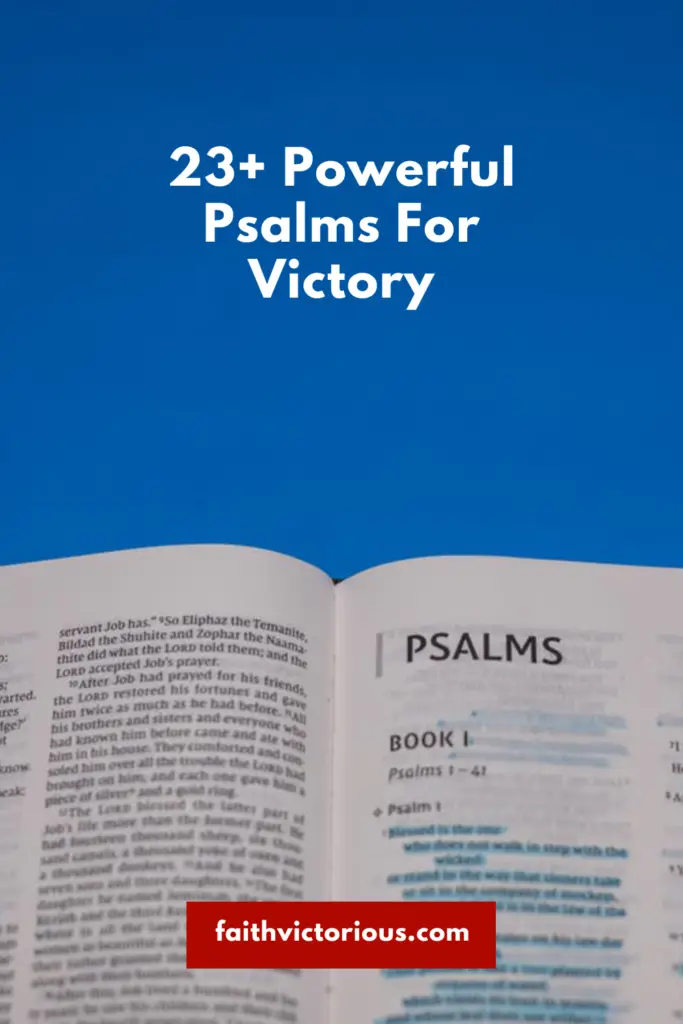 Conclusion
Nonetheless exhaustive, these powerful psalms for victory are meant to help you hold-on the rope of hope when the going is rough and Satan seems to be having his field day around you. 
Yes, it may be tough and may seem like you are losing out.
But not true.
All you need at such times is God's word, scriptures to reassure your heart of God's love and faithfulness towards you.
Yes, you need to know that God is with you at this time and that though you walk through the valley of the shadow of death, you will need not fear. (Psalm 23:4)
You need to be reassured that God will deliver you from the snare of the fowler and from the noisome pestilence, yes He will. He will cover you with His feathers and under His wings, you shall trust. (Psalm 91:3-4)
Yes, rest assure that God is with you in the fire and the water, such that the fire will not burn you and the water will not drown you. (Isaiah 43:2, KJV)
This is true, you need to know.
Yes, your change will come if you do not give in to the trouble.
Your change will come if you do not allow the trouble to make you to start to complain and to question the faithfulness and the goodness of God.
God is faithful, His word is true and good and you will come out of the trouble in good time if you faint not.
Hold on and hold still to the word of the Lord until your change come (Job 14:14, KJV).
God bless you.
23+ Powerful Psalms For Victory