Here are psalms for encouragement and healing that you can say or even pray.
The psalm is a great repertoire of some of the greatest verses for encouragement and healing in the entire Scripture.
It is the main repository of scriptures on encouragement in the entire bible from Old to New.
If you are overwhelmed right now and are feeling discouraged, these psalms for encouragement and healing is for you.
What if you are sick mentally, emotionally, bodily and otherwise, still, these psalms will meet your need.
Whatever you state of mind and health, we have particularly handpicked these psalms for encouragement and healing specifically and specially for you.
Rest assured, you will certainly find healing, encouragement and succor in God's word, and these psalms are just that – a vital part of God's holy word.
Are you ready for your deliverance from hopelessness and affliction?
Then give attention to these psalms.
READ ALSO: Encouraging Psalms For Hard Times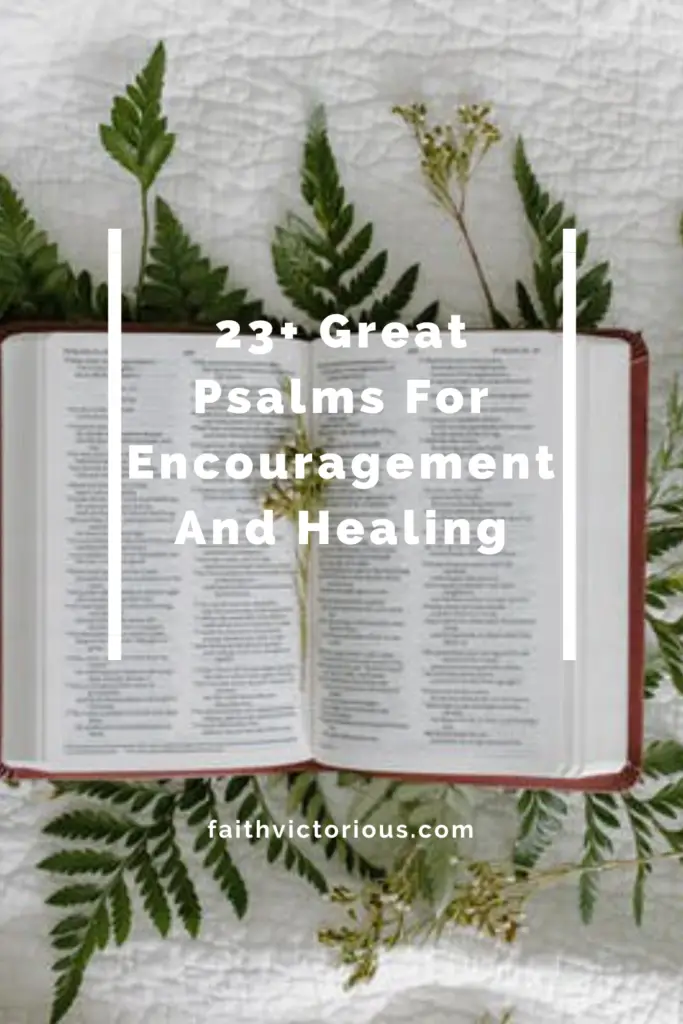 Psalms For Encouragement And Healing
The following are psalms for encouragement and healing you can say, pray and stand on in faith to receive your freedom from hopelessness, helplessness, affliction, sicknesses and diseases:
1. Psalm 34:4-6, 8, KJV:
I sought the LORD, and he heard me, and delivered me from all my fears. They looked unto him, and were lightened: and their faces were not ashamed. This poor man cried, and the LORD heard him, and saved him out of all his troubles… O taste and see that the LORD is good: blessed is the man that trusteth in him.
2. Psalm 38:6-9, KJV:
I am troubled; I am bowed down greatly; I go mourning all the day long. For my loins are filled with a loathsome disease: and there is no soundness in my flesh. I am feeble and sore broken: I have roared by reason of the disquietness of my heart. Lord, all my desire is before thee; and my groaning is not hid from thee.
3. Psalm 51:7, KJV:
Purge me with hyssop, and I shall be clean: wash me, and I shall be whiter than snow.
4. Psalm 147:3, KJV:
He healeth the broken in heart, and bindeth up their wounds.
5. Psalm 3:1-3, KJV:
LORD, how are they increased that trouble me! many are they that rise up against me. Many there be which say of my soul, There is no help for him in God. Selah. But thou, O LORD, art a shield for me; my glory, and the lifter up of mine head.
6. Psalm 86:16-17, KJV:
O turn unto me, and have mercy upon me; give thy strength unto thy servant, and save the son of thine handmaid. Shew me a token for good; that they which hate me may see it, and be ashamed: because thou, LORD, hast holpen me, and comforted me.
7. Psalm 42:6-8, KJV:
O my God, my soul is cast down within me: therefore will I remember thee from the land of Jordan, and of the Hermonites, from the hill Mizar. Deep calleth unto deep at the noise of thy waterspouts: all thy waves and thy billows are gone over me. Yet the LORD will command his lovingkindness in the daytime, and in the night his song shall be with me, and my prayer unto the God of my life.
8. Psalm 71:12-14, KJV:
O God, be not far from me: O my God, make haste for my help. Let them be confounded and consumed that are adversaries to my soul; let them be covered with reproach and dishonour that seek my hurt. But I will hope continually, and will yet praise thee more and more.
9. Psalm 118:10-13, KJV:
All nations compassed me about: but in the name of the LORD will I destroy them. They compassed me about; yea, they compassed me about: but in the name of the LORD I will destroy them. They compassed me about like bees; they are quenched as the fire of thorns: for in the name of the LORD I will destroy them. Thou hast thrust sore at me that I might fall: but the LORD helped me.
10. Psalm 5:3, KJV:
My voice shalt thou hear in the morning, O LORD; in the morning will I direct my prayer unto thee, and will look up.
11. Psalm 107:18-20, KJV:
Their soul abhorreth all manner of meat; and they draw near unto the gates of death. Then they cry unto the LORD in their trouble, and he saveth them out of their distresses. He sent his word, and healed them, and delivered them from their destructions.
12. Psalm 103:2-5, KJV:
Bless the LORD, O my soul, and forget not all his benefits: Who forgiveth all thine iniquities; who healeth all thy diseases; Who redeemeth thy life from destruction; who crowneth thee with lovingkindness and tender mercies; Who satisfieth thy mouth with good things; so that thy youth is renewed like the eagle's.
13. Psalm 105:37, KJV:
He brought them forth also with silver and gold: and there was not one feeble person among their tribes.
14. Psalm 16:8-11, KJV:
I have set the LORD always before me: because he is at my right hand, I shall not be moved. Therefore my heart is glad, and my glory rejoiceth: my flesh also shall rest in hope. For thou wilt not leave my soul in hell; neither wilt thou suffer thine Holy One to see corruption. Thou wilt shew me the path of life: in thy presence is fulness of joy; at thy right hand there are pleasures for evermore.
15. Psalm 31:5, 7, KJV:
Into thine hand I commit my spirit: thou hast redeemed me, O LORD God of truth… I will be glad and rejoice in thy mercy: for thou hast considered my trouble; thou hast known my soul in adversities;
16. Psalm 30:1-3, KJV:
I will extol thee, O LORD; for thou hast lifted me up, and hast not made my foes to rejoice over me. O LORD my God, I cried unto thee, and thou hast healed me. O LORD, thou hast brought up my soul from the grave: thou hast kept me alive, that I should not go down to the pit.
17. Psalm 43:5, KJV:
Why art thou cast down, O my soul? and why art thou disquieted within me? hope in God: for I shall yet praise him, who is the health of my countenance, and my God.
18. Psalm 40:2-3, KJV:
He brought me up also out of an horrible pit, out of the miry clay, and set my feet upon a rock, and established my goings. And he hath put a new song in my mouth, even praise unto our God: many shall see it, and fear, and shall trust in the LORD.
19. Psalm 34:4-6, KJV:
I sought the LORD, and he heard me, and delivered me from all my fears. They looked unto him, and were lightened: and their faces were not ashamed. This poor man cried, and the LORD heard him, and saved him out of all his troubles.
20. Psalm 121:1-2, KJV:
I will lift up mine eyes unto the hills, from whence cometh my help. My help cometh from the LORD, which made heaven and earth.
21. Psalm 61:1-2, KJV:
Hear my cry, O God; attend unto my prayer. From the end of the earth will I cry unto thee, when my heart is overwhelmed: lead me to the rock that is higher than I.
22. Psalm 116:6, KJV:
The LORD preserveth the simple: I was brought low, and he helped me.
23. Psalm 94:17-18, KJV:
Unless the LORD had been my help, my soul had almost dwelt in silence. When I said, My foot slippeth; thy mercy, O LORD, held me up.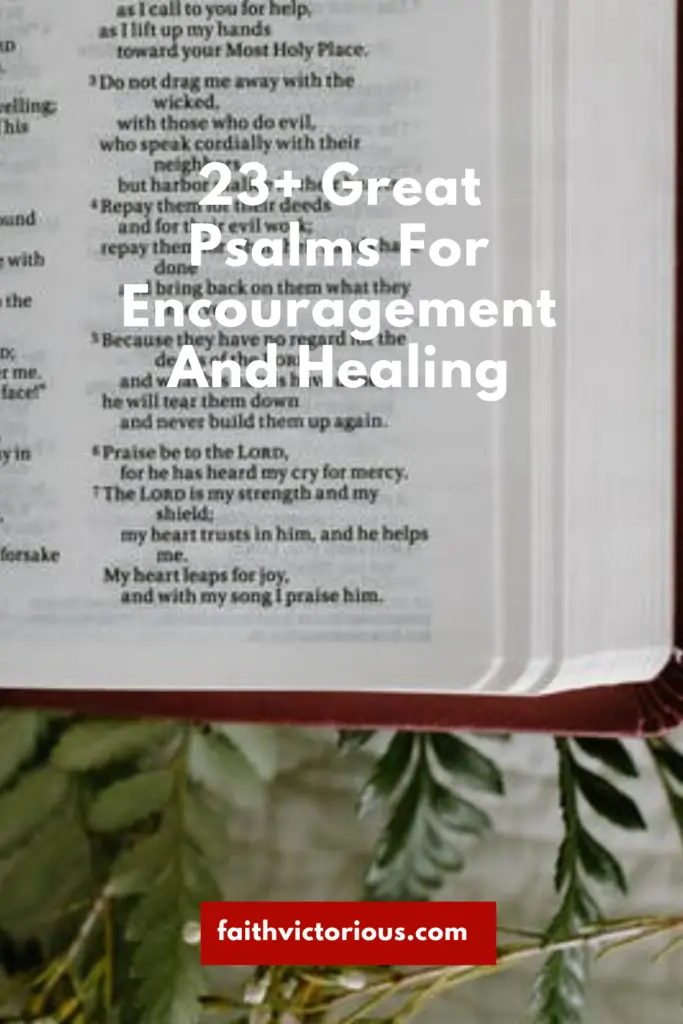 Conclusion
Nonetheless exhaustive, these psalms for encouragement and healing are meant to furnish you with God's word for healing and encouragement.
These psalms can be an anchor for your soul in time of trouble.
At such times, what you are to do is to hang on to the rope of hope, love, grace and healing through these scriptures.
And how do you do that?
Through meditation.
Yes, when the going gets tough and the chicks are down, when the light seem to be deem and the day is far from dawning, give yourself to the reading and saying of these psalms, give yourself all the more to meditating on them.
That way, the word of God will find its place in your heart, will find its grip in your soul and then becomes your stay and soccer.
Instead of discouragement and darkness, you will find yourself holding on, you'll find yourself pushing, believing and hoping.
And if you stay long enough, hoping and believing, then healing, light and life will come.
You will suddenly find yourself fulfilling scriptures, you will find yourself in the very middle of this scripture that says: "…weeping may endure for a night, but joy cometh in the morning." (Psalm 30:5, KJV)
That will be your testimony, in Jesus name.
Keep believing, keep trusting, never let the light completely go out.
God is on His way, He will come and save you. (Isaiah 35:4, KJV)
God bless you.
All the best!
23+ Great Psalms For Encouragement And Healing