Thanking God in hard times is not always convenient, but here are bible verses about thankfulness in hard times that encourage you to do so.
Hard and difficult times come to us all, but how you come out at the end of those times is determined by your attitude.
A thankful attitude will help you stay the course of the time and eventually put you over.
But an attitude of complain, self-pity, doubt and fear will cause to be beaten hands down by the difficulty.
God never promises that you will not experience hard and difficult times, but He did promise to be with you all through those times.
And thanksgiving is one way your express your confidence in God's word at such times and also a way to activating and releasing the divine presence over your life at those hard times.
This is why bible verses about thankfulness in hard times must be a major recourse for you.
READ ALSO: Bible Verses About Being Thankful For The Little Things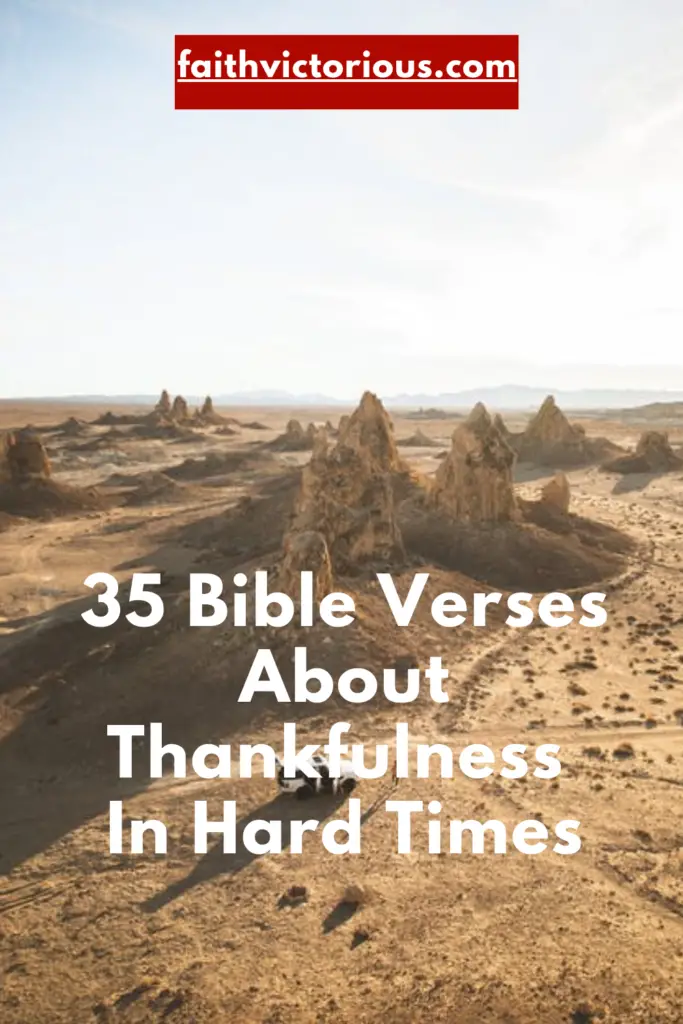 Bible Verses About Thankfulness in Hard Times
The following are Bible verses about thankfulness in hard times that will help stay the course and put you in the position of being a doer of the word of God.
You don't need to feel like thanking God before you do.
Just do in obedience to God's word.
1. Romans 4:19-21:
"And being not weak in faith, he considered not his own body now dead, when he was about an hundred years old, neither yet the deadness of Sara's womb: He staggered not at the promise of God through unbelief; but was strong in faith, giving glory to God; And being fully persuaded that, what he had promised, he was able also to perform."
2. Job 14:14:
"If a man die, shall he live again? all the days of my appointed time will I wait, till my change come."
3. Habakkuk 3:17-18:
"Although the fig tree shall not blossom, neither shall fruit be in the vines; the labour of the olive shall fail, and the fields shall yield no meat; the flock shall be cut off from the fold, and there shall be no herd in the stalls: Yet I will rejoice in the LORD, I will joy in the God of my salvation." 
4. 1 Thessalonians 5:16-18, NIV:
"Rejoice always, pray continually, give thanks in all circumstances; for this is God's will for you in Christ Jesus."
5. Joel 1:12: 
"The vine is dried up, and the fig tree languisheth; the pomegranate tree, the palm tree also, and the apple tree, even all the trees of the field, are withered: because joy is withered away from the sons of men."
6. Colossians 3:15:
"And let the peace of God rule in your hearts, to the which also ye are called in one body; and be ye thankful."
7. Colossians 3:17:
"And whatsoever ye do in word or deed, do all in the name of the Lord Jesus, giving thanks to God and the Father by him." 
8. Ephesians 5:18-20:
"And be not drunk with wine, wherein is excess; but be filled with the Spirit; Speaking to yourselves in psalms and hymns and spiritual songs, singing and making melody in your heart to the Lord; Giving thanks always for all things unto God and the Father in the name of our Lord Jesus Christ;"
9. Proverbs 4:18: 
"But the path of the just is as the shining light, that shineth more and more unto the perfect day."
10. James 1:17:
"Every good gift and every perfect gift is from above, and cometh down from the Father of lights, with whom is no variableness, neither shadow of turning."
11. Job 13:15: 
"Though he slay me, yet will I trust in him: but I will maintain mine own ways before him." 
12. Colossians 4:2:
"Continue in prayer, and watch in the same with thanksgiving;"
13. 1 Chronicles 16:34:
"O give thanks unto the LORD; for he is good; for his mercy endureth for ever". 
14. Job 13:18: 
"Behold now, I have ordered my cause; I know that I shall be justified." 
15. Job 19:25-27:
"For I know that my redeemer liveth, and that he shall stand at the latter day upon the earth: And though after my skin worms destroy this body, yet in my flesh shall I see God: Whom I shall see for myself, and mine eyes shall behold, and not another; though my reins be consumed within me." 
16. Job 23:10: 
"But he knoweth the way that I take: when he hath tried me, I shall come forth as gold."
17. Psalm 23:4: 
"Yea, though I walk through the valley of the shadow of death, I will fear no evil: for thou art with me; thy rod and thy staff they comfort me." 
READ ALSO: Bible Verses For Strength In Hard Times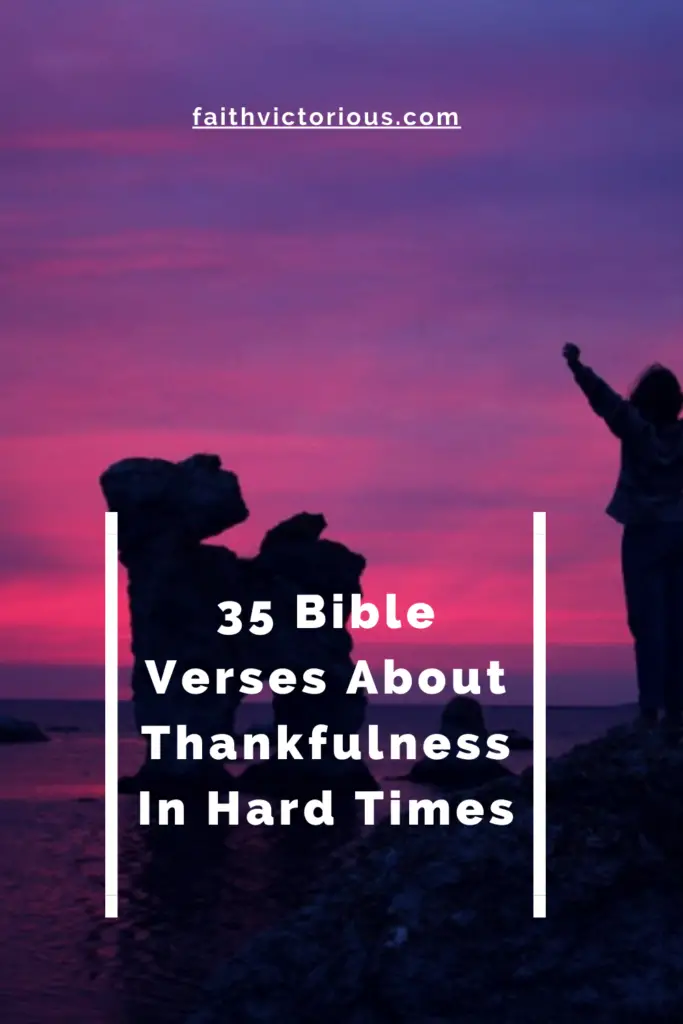 18. John 14:1:
"Let not your heart be troubled: ye believe in God, believe also in me." 
19. Philippians 4:6:
"Be careful for nothing; but in every thing by prayer and supplication with thanksgiving let your requests be made known unto God."
20. Psalm 20:5:
"We will rejoice in thy salvation, and in the name of our God we will set up our banners: the LORD fulfil all thy petitions."
READ ALSO: Bible Verses For Overcoming Anxiety
21. Philippians 4:4:
"Rejoice in the Lord alway: and again I say, Rejoice."
22. Psalm 46:3: 
"Though the waters thereof roar and be troubled, though the mountains shake with the swelling thereof. Selah. There is a river, the streams whereof shall make glad the city of God, the holy place of the tabernacles of the most High. God is in the midst of her; she shall not be moved: God shall help her, and that right early."
23. Psalm 28:7:
"The LORD is my strength and my shield; my heart trusted in him, and I am helped: therefore my heart greatly rejoiceth; and with my song will I praise him." 
24. Psalms 34:1:
"I will bless the LORD at all times: his praise shall continually be in my mouth."
25. Psalm 100:4:
"Enter into his gates with thanksgiving, and into his courts with praise: be thankful unto him, and bless his name."
26. Job 14:7-9: 
"For there is hope of a tree, if it be cut down, that it will sprout again, and that the tender branch thereof will not cease. Though the root thereof wax old in the earth, and the stock thereof die in the ground; Yet through the scent of water it will bud, and bring forth boughs like a plant." 
27. Hebrews 12:28-29:
"Wherefore we receiving a kingdom which cannot be moved, let us have grace, whereby we may serve God acceptably with reverence and godly fear: For our God is a consuming fire."
28. 2 Corinthians 4:15-18:
"For all things are for your sakes, that the abundant grace might through the thanksgiving of many redound to the glory of God. For which cause we faint not; but though our outward man perish, yet the inward man is renewed day by day. For our light affliction, which is but for a moment, worketh for us a far more exceeding and eternal weight of glory; While we look not at the things which are seen, but at the things which are not seen: for the things which are seen are temporal; but the things which are not seen are eternal." 
29. Psalm 118:6-7:
"The LORD is on my side; I will not fear: what can man do unto me? The LORD taketh my part with them that help me: therefore shall I see my desire upon them that hate me." 
30. Psalm 37:23-24:
"The steps of a good man are ordered by the LORD: and he delighteth in his way. Though he fall, he shall not be utterly cast down: for the LORD upholdeth him with his hand." 
31. Psalm 138:7-8:
"Though I walk in the midst of trouble, thou wilt revive me: thou shalt stretch forth thine hand against the wrath of mine enemies, and thy right hand shall save me. The LORD will perfect that which concerneth me: thy mercy, O LORD, endureth for ever: forsake not the works of thine own hands."
32. Psalm 145:14:
"The LORD upholdeth all that fall, and raiseth up all those that be bowed down."  
33. Psalm 34:19: 
"Many are the afflictions of the righteous: but the LORD delivereth him out of them all. He keepeth all his bones: not one of them is broken."
34. Psalm 94:18-19: 
"When I said, My foot slippeth; thy mercy, O LORD, held me up. In the multitude of my thoughts within me thy comforts delight my soul." 
35. Psalm 40:1-3: 
"I waited patiently for the LORD; and he inclined unto me, and heard my cry. He brought me up also out of an horrible pit, out of the miry clay, and set my feet upon a rock, and established my goings. And he hath put a new song in my mouth, even praise unto our God: many shall see it, and fear, and shall trust in the LORD." 
READ ALSO: Prayer Points For Strength During Difficult Times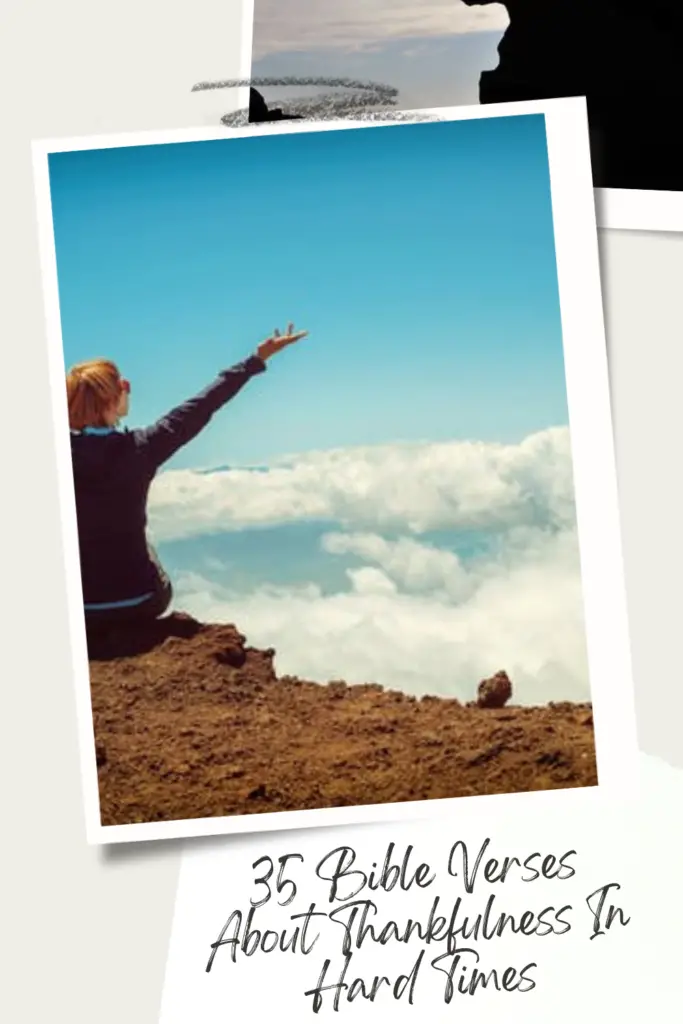 Final word
No doubt any or all of these bible verses about thankfulness in hard times have been a true source of assurance of the power of God's promises for you.
But you need not just know about these verses, you have to commit them to heart and also do them.
So how do you do these bible verses about thankfulness in hard times?
First, pray them often.
Two, confess them as often.
Third, go ahead and actually have thanksgiving sessions as you would a physical therapy session.
Set aside time to just thank God.
Make sure you don't pray asking God for things this time, only thank God even if you don't feel like thanking Him.
Just do it because the word of God says to do so, and not whether you feel like doing it or not.
After all, there's nothing in difficult times to be thankful for, but you are being thankful because the word of God says to do so.   
This way, you will be releasing the power of God into your situation.
The divine presence will envelop you with grace to endure the tough times until your change come.  
Be a doer of the word and not just a hearer of it.
READ ALSO: Prayer Points For Success
35 Bible Verses About Thankfulness in Hard Times