If you are surfing the net for bible verses for strength in hard times, then you are on the right page.
Hard and difficult times (time of trouble) come to us all, but God's word has made abundant provision for us at such times.
God promises never to leave you alone nor forsake you at such times
If there's anything you need in hard and difficult times, it is strength to hold through, strength to hold until your change comes.
And God knowing what you need most in hard times has made His word available for it.
Dotted all through God's holy word are bible verses for strength in hard times; with these bible verses you can be sure that God is behind you all the way.
Of course is that God is in His word and when you get God's word for a thing, that means you have God with you in that situation.
And thanks be to God that He has made abundant provision in His word for you – bible verses for strength in hard times – with these bible verses you are sure of God's grace and strength all the way no matter the situation.
So sit back and go through these bible verses for strength in hard times and let the Holy Spirit minister strength to you through them.
READ ALSO: What Does The Holy Spirit Do?
31 Bible Verses For Strength In Hard Times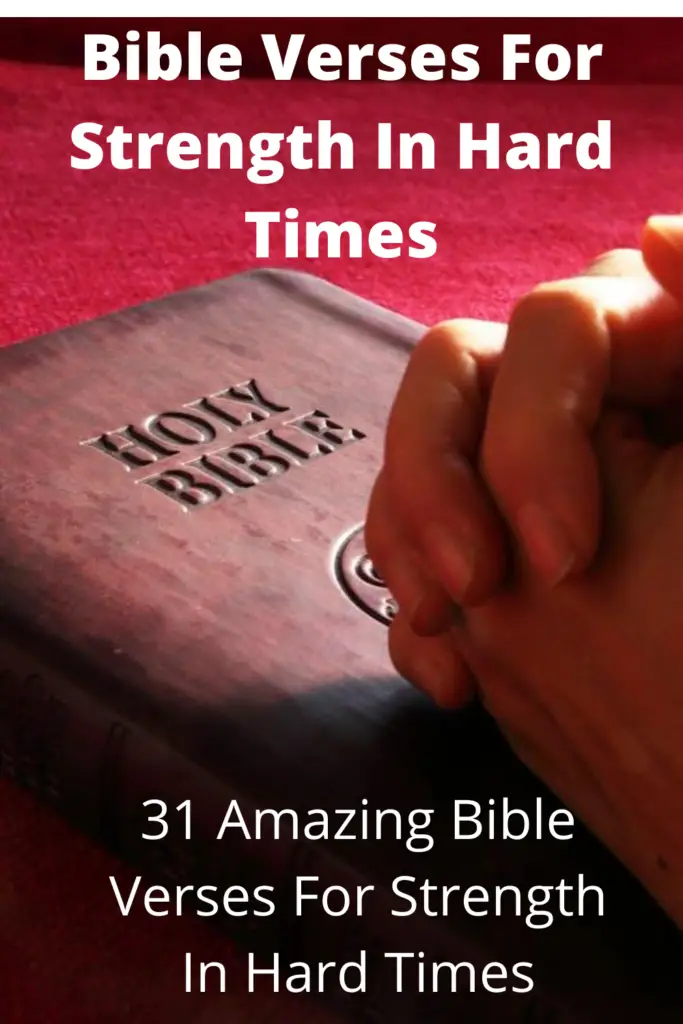 1. Isaiah 43: 2:
"When thou passest through the waters, I will be with thee; and through the rivers, they shall not overflow thee: when thou walkest through the fire, thou shalt not be burned; neither shall the flame kindle upon thee."
2. Isaiah 26:3-4:
"Thou wilt keep him in perfect peace, whose mind is stayed on thee: because he trusteth in thee. Trust ye in the LORD for ever: for in the LORD JEHOVAH is everlasting strength:" 
3. Psalm 91:1-4, 15:
"He that dwelleth in the secret place of the most High shall abide under the shadow of the Almighty. I will say of the LORD, He is my refuge and my fortress: my God; in him will I trust. Surely he shall deliver thee from the snare of the fowler, and from the noisome pestilence. He shall cover thee with his feathers, and under his wings shalt thou trust: his truth shall be thy shield and buckler…. He shall call upon me, and I will answer him: I will be with him in trouble; I will deliver him, and honour him."
4. 2 Corinthians 4:8-10 (NIV):
"We are hard pressed on every side, but not crushed; perplexed, but not in despair; persecuted, but not abandoned; struck down, but not destroyed. We always carry around in our body the death of Jesus, so that the life of Jesus may also be revealed in our body."
5. 1 Peter 5:7:
"Casting all your care upon him; for he careth for you."
6. 1 John 5:4:
"For whatsoever is born of God overcometh the world: and this is the victory that overcometh the world, even our faith."
7. Isaiah 41:10:
"Fear thou not; for I am with thee: be not dismayed; for I am thy God: I will strengthen thee; yea, I will help thee; yea, I will uphold thee with the right hand of my righteousness."
8. 2 Corinthians 12:9:-10 (NIV):
"But he said to me, "My grace is sufficient for you, for my power is made perfect in weakness." Therefore I will boast all the more gladly about my weaknesses, so that Christ's power may rest on me. That is why, for Christ's sake, I delight in weaknesses, in insults, in hardships, in persecutions, in difficulties. For when I am weak, then I am strong."
READ ALSO: Prayer For Strength During Difficult Times
9. Psalm 46:1-3:
"God is our refuge and strength, a very present help in trouble. Therefore will not we fear, though the earth be removed, and though the mountains be carried into the midst of the sea; Though the waters thereof roar and be troubled, though the mountains shake with the swelling thereof."
10. Psalm 9:9-10:
"The LORD also will be a refuge for the oppressed, a refuge in times of trouble. And they that know thy name will put their trust in thee: for thou, LORD, hast not forsaken them that seek thee."
11. Psalm 18:16,19:
"He sent from above, he took me, he drew me out of many waters. … He brought me forth also into a large place; he delivered me, because he delighted in me."
12. Nehemiah 8:10:
"Then he said unto them, Go your way, eat the fat, and drink the sweet, and send portions unto them for whom nothing is prepared: for this day is holy unto our Lord: neither be ye sorry; for the joy of the LORD is your strength."
13. Exodus 15:2-3:
"The LORD is my strength and song, and he is become my salvation: he is my God, and I will prepare him an habitation; my father's God, and I will exalt him. The LORD is a man of war: the LORD is his name."
14. Psalm 50:14-15:
"Offer unto God thanksgiving; and pay thy vows unto the most High: And call upon me in the day of trouble: I will deliver thee, and thou shalt glorify me." 
15. Psalm 31:9:
"Have mercy upon me, O LORD, for I am in trouble: mine eye is consumed with grief, yea, my soul and my belly."
16. Psalm 32:7-8:
"Thou art my hiding place; thou shalt preserve me from trouble; thou shalt compass me about with songs of deliverance."
17. Isaiah 40:29-31:
"He giveth power to the faint; and to them that have no might he increaseth strength. Even the youths shall faint and be weary, and the young men shall utterly fall: But they that wait upon the LORD shall renew their strength; they shall mount up with wings as eagles; they shall run, and not be weary; and they shall walk, and not faint."
18. Deuteronomy 33:27:
"The eternal God is thy refuge, and underneath are the everlasting arms: and he shall thrust out the enemy from before thee; and shall say, Destroy them."
READ ALSO: A Prayer For Strength For A Friend
19. Psalm 20:1-2:
"The LORD hear thee in the day of trouble; the name of the God of Jacob defend thee; Send thee help from the sanctuary, and strengthen thee out of Zion;"
20. Psalm 27:5:
"For in the time of trouble he shall hide me in his pavilion: in the secret of his tabernacle shall he hide me; he shall set me up upon a rock."
21. 2 Thessalonians 3:16:
"Now the Lord of peace himself give you peace always by all means. The Lord be with you all."
22. Psalm 22:19:
"But be not thou far from me, O LORD: O my strength, haste thee to help me."
23. Romans 8:28:
"And we know that all things work together for good to them that love God, to them who are the called according to his purpose." 
24. Ephesians 3:16:
"That he would grant you, according to the riches of his glory, to be strengthened with might by his Spirit in the inner man;"
25. John 16:33:
"These things I have spoken unto you, that in me ye might have peace. In the world ye shall have tribulation: but be of good cheer; I have overcome the world."
26. Hebrews 13:5-6:
"Let your conversation be without covetousness; and be content with such things as ye have: for he hath said, I will never leave thee, nor forsake thee. So that we may boldly say, The Lord is my helper, and I will not fear what man shall do unto me."
27. Romans 8:35-39:
"Who shall separate us from the love of Christ? shall tribulation, or distress, or persecution, or famine, or nakedness, or peril, or sword? As it is written, For thy sake we are killed all the day long; we are accounted as sheep for the slaughter. Nay, in all these things we are more than conquerors through him that loved us. For I am persuaded, that neither death, nor life, nor angels, nor principalities, nor powers, nor things present, nor things to come, Nor height, nor depth, nor any other creature, shall be able to separate us from the love of God, which is in Christ Jesus our Lord."
28. Genesis 49:24:
"But his bow abode in strength, and the arms of his hands were made strong by the hands of the mighty God of Jacob; (from thence is the shepherd, the stone of Israel:)" 
29. Psalm 60:11:
"Give us help from trouble: for vain is the help of man." 
30. Psalm 61:1-2:
"Hear my cry, O God; attend unto my prayer. From the end of the earth will I cry unto thee, when my heart is overwhelmed: lead me to the rock that is higher than I." 
31. Romans 16:20:
"And the God of peace shall bruise Satan under your feet shortly. The grace of our Lord Jesus Christ be with you. Amen."
READ ALSO: A Prayer For Peace Of Mind
PS: Unless otherwise stated all scriptural quotations in this post are taken from the Authorised King James Version. And all scriptural quotations tagged NIV are taken online from the New International Version 2011, published by Biblica.
How To Use Bible Verses For Strength In Hard Time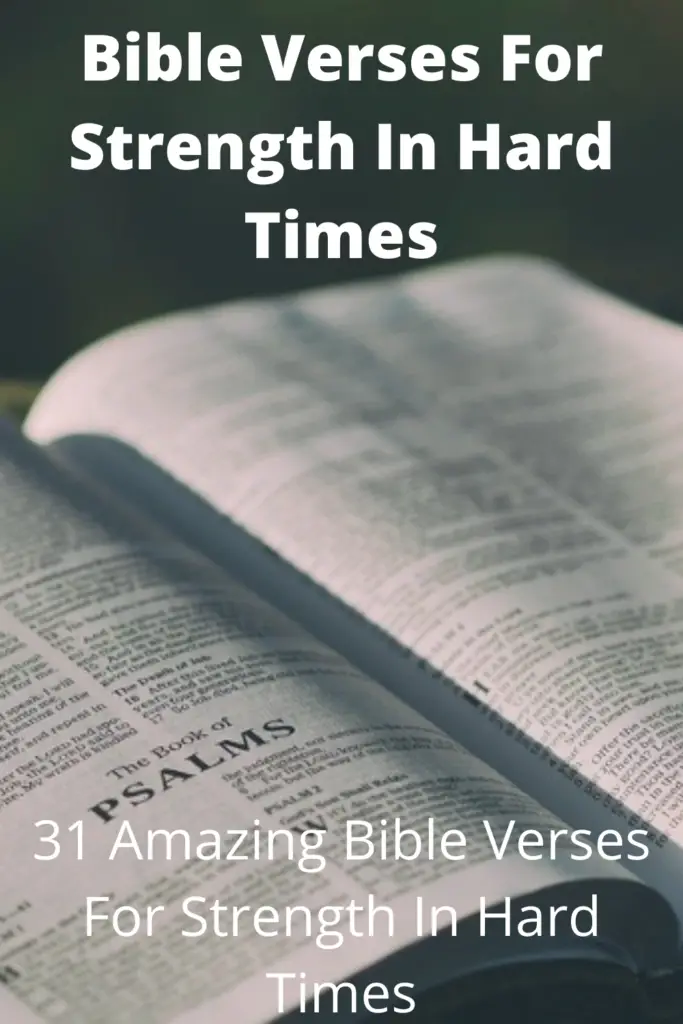 Now that you have a handful of bible verses for strength in hard times at easy reach, you may want to know how to use these bible verses so as to make the most out of them.
First, you have got to believe these scriptures; believe that God is personally talking to you through these scripture.
And that these scriptures are exactly what God says they are.
Secondly, you have to pray these scriptures; take back the scriptures to God in prayers. And you know what; you can never pray God's word and pray amiss.
Plus, God will always honor his word, so that is a guarantee that your prayers are heard of God and that the answers are on the way.
Thirdly, affirm these scriptures, talk them to yourself even more than you pray them. Note something: as a believer, your mouth is your greatest weapon in the kingdom.
It is with it you do battles and win.
You also lose your battles when you shut your mouth and when you complain instead of praise, thanks and scriptural talk.
Lastly, you need to be patient; it is takes faith and patience to obtain God's promises.
If do the aforesaid with these bible verses for strength in hard times, you victory will be as sure as the throne of God.
READ ALSO: A Prayer In The Morning
Final word
We empathize with you for hard and difficult times, it happens to all of us, but with God's word – bible verses for strength in hard times – at your disposal, you will win in the end.
Never forget this: 'all things (including trouble and difficult times) work together for good to them (you) that love God, to those (you) who are the called according to His purpose.'
God bless you!
Please share if you find this post helpful!
31 Bible Verses For Strength In Hard Times