Troubled and in need of peace!
Here's a prayer for peace of mind that will help restore and established the peace of God in your heart.
A lot of things will not work well in a troubled atmosphere, in a mind where there's no peace.
Relationships, work and life will be out of order, anxiety and stress will be the order of the day when there's no peace of mind
And we all do have troubled minds every now and then.
So when peace seems gone, what should you do?
Pray, of course.
So here's a prayer for peace of mind to pray when troubled and peace seems gone.
READ ALSO: A Prayer In The Morning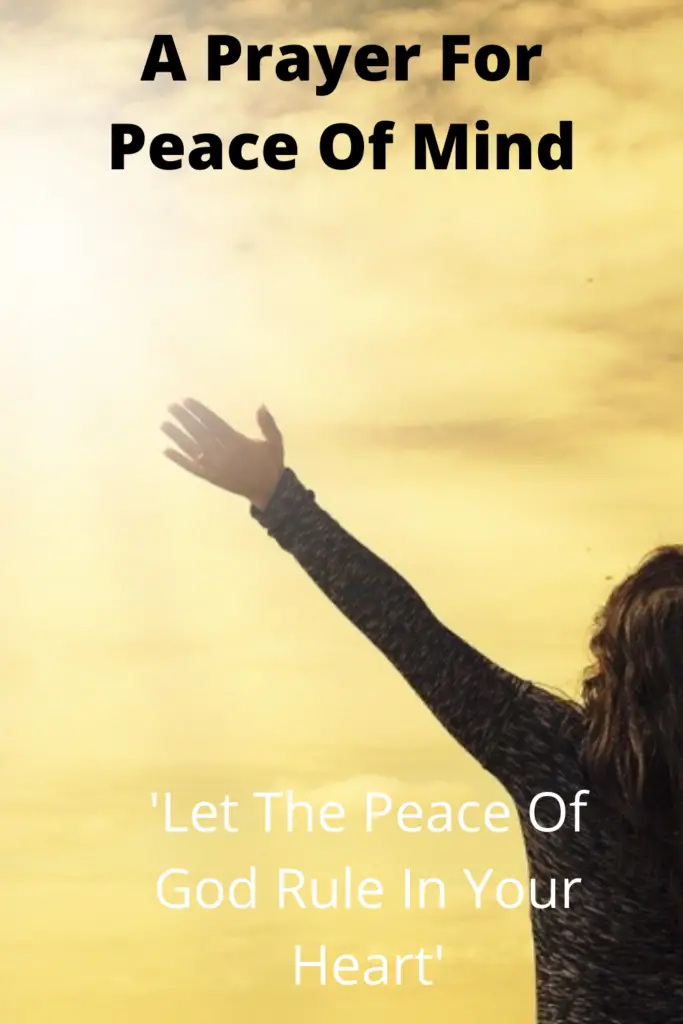 A Prayer For Peace Of Mind
Lord, I know that I'm troubled right now, but I thank you for peace that you made available in Christ Jesus for me – peace bought and paid for by the blood of Christ.
Now Lord, I accept the peace of Christ; I receive the gift of peace that Jesus offers. I therefore declare that my heart is no longer troubled in Jesus name
Lord, I pray that your peace floods and rules my mind right now in the name of Jesus Christ. Peace be multiplied unto me now in the name of Jesus.
Lord, as I redirect my thoughts to you, I ask that you keep my mind in perfect peace in Jesus name.
'Peace, be still,' in the name of Jesus.
My mind, be still, be quiet and be at rest now, in Jesus mighty name.
Amen!
READ ALSO: A Prayer For Strength For A Friend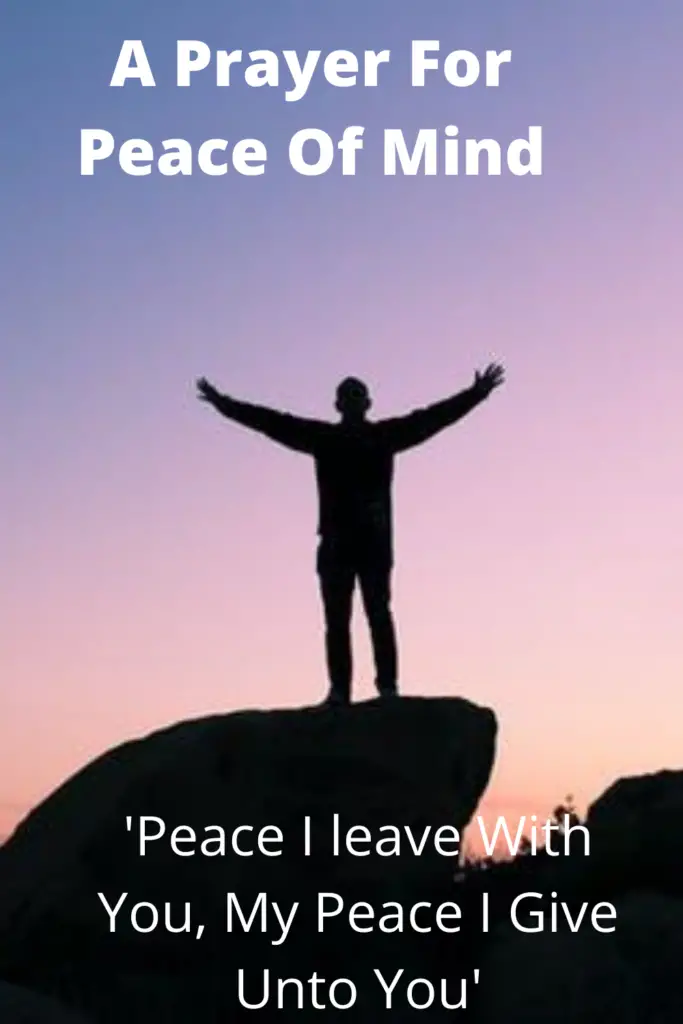 19 Bible Verses For Prayer For Peace Of Mind
"Do not be anxious about anything, but in every situation, by prayer and petition, with thanksgiving, present your requests to God. And the peace of God, which transcends all understanding, will guard your hearts and your minds in Christ Jesus."
2. Isaiah 26:3-4:
"Thou wilt keep him in perfect peace, whose mind is stayed on thee: because he trusteth in thee. Trust ye in the LORD for ever: for in the LORD JEHOVAH is everlasting strength:" 
3. Mark 4:39:
"And he arose, and rebuked the wind, and said unto the sea, Peace, be still. And the wind ceased, and there was a great calm."
4. Psalm 46:10:
"Be still, and know that I am God: I will be exalted among the heathen, I will be exalted in the earth."
5. 1 Peter 5:7:
"Casting all your care upon him; for he careth for you."
6. Psalm 61:2:
"From the end of the earth will I cry unto thee, when my heart is overwhelmed: lead me to the rock that is higher than I." 
READ ALSO: Prayer Points For Grace
7. 2 Thessalonians 3:16:
"Now the Lord of peace himself give you peace always by all means. The Lord be with you all."
8. 2 Peter 1:2:
"Grace and peace be multiplied unto you through the knowledge of God, and of Jesus our Lord,"
9. 1 Thessalonians 5:18:
"In every thing give thanks: for this is the will of God in Christ Jesus concerning you."
10. Romans 16: 20:
"And the God of peace shall bruise Satan under your feet shortly. The grace of our Lord Jesus Christ be with you. Amen."
"I will listen to what God the Lord says; he promises peace to his people, his faithful servants— but let them not turn to folly."
12. Psalm 29:11:
"The LORD will give strength unto his people; the LORD will bless his people with peace."
READ ALSO: Prayer For Strength During Difficult Times
13. Psalm 147:14:
"He maketh peace in thy borders, and filleth thee with the finest of the wheat." 
14. Isaiah 54:13:
"And all thy children shall be taught of the LORD; and great shall be the peace of thy children." 
15. Luke 2:14:
"Glory to God in the highest, and on earth peace, good will toward men."
16. John 14:27:
"Peace I leave with you, my peace I give unto you: not as the world giveth, give I unto you. Let not your heart be troubled, neither let it be afraid."
17. John 16:33:
"These things I have spoken unto you, that in me ye might have peace. In the world ye shall have tribulation: but be of good cheer; I have overcome the world."
18. Romans 15:13:
"Now the God of hope fill you with all joy and peace in believing, that ye may abound in hope, through the power of the Holy Ghost." 
19. Colossians 3:15:
"And let the peace of God rule in your hearts, to the which also ye are called in one body; and be ye thankful." 
READ ALSO: Bible Verses For Strength In Hard Times
PS: Unless otherwise stated all scriptural quotations in this post are taken from the Authorised King James Version. And all scriptural quotations tagged NIV are taken online from the New International Version 2011, published by Biblica.
How To Pray Prayer For Peace Of Mind
To make the most out of a prayer for peace of mind, you need to pray this prayer often.
Pray it in the morning, afternoon, evening and night.
And when you're not praying it, you should be saying it.
Plus, you should continue to declare all or any of those bible verses for payer of peace of mind.
By declaring God's word, you are releasing the power of the Holy Spirit to restore peace to your mind.
Conclusion
A prayer for peace of mind!
Just straight to the point; pray that prayer for yourself and for loved ones who are almost given in to worry, anxiety and nervousness.
And don't forget to also declare the scriptures.
And you will find that peace will be restored and God will be glorified.  
Shalom!
Please share if you find the post helpful!
A Prayer For Peace Of Mind (With Bible Verses)