Here are scriptures to cancel bad dreams you can stand on to pray.
Everything in the universe answers to the word of God.
With God's word, He made the heavens and the earth, with the same word He's restoring and recreating the universe even today. (See Hebrews 11:3, NIV)
With His word, He rules the visible and the invisible world.
And seeing you are joint heir with Christ and that He has vested you with the power, authority and prerogative to act in His stead through His name, you too now have the ability through His word to influence the visible and the invisible world.
You can order things around in your world; you can change things as far as it concerns you and the happening of your world.
You can call things to being and they will.
You can forbid things from being and they will not happen.
How?
By the same word with which He created all things in the first place; that same word that is your mouth right now. (See 2 Peter 3:7, NIV)
Yes you can cancel bad dreams; all you need do is to find scriptures to cancel bad dreams and then go do it by declaring aloud those scriptures in the name of Jesus.
Are you ready to cancel bad dreams?
These scriptures to cancel bad dreams will help you get the job done.
Let's get to it.
READ ALSO: Prayer Against Bad Dreams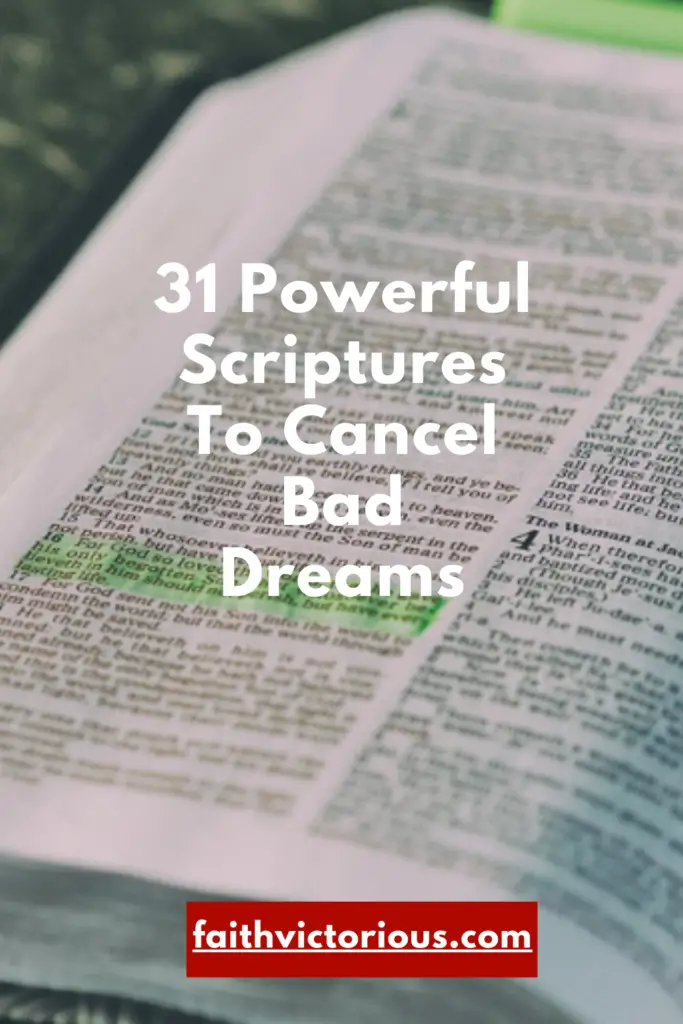 Scriptures To Cancel bad Dreams
The following are scriptures to cancel bad dreams you can stand on to pray:
1. Isaiah 54:17, KJV:
No weapon that is formed against thee shall prosper; and every tongue that shall rise against thee in judgment thou shalt condemn. This is the heritage of the servants of the LORD, and their righteousness is of me, saith the LORD. 
2. Isaiah 54:15, KJV:
Behold, they shall surely gather together, but not by me: whosoever shall gather together against thee shall fall for thy sake.
3. Isaiah 8:10, KJV:
Take counsel together, and it shall come to nought; speak the word, and it shall not stand: for God is with us.
4. Matthew 15:13, KJV:
But he answered and said, Every plant, which my heavenly Father hath not planted, shall be rooted up.
5. Numbers 23:23, KJV:
Surely there is no enchantment against Jacob, neither is there any divination against Israel: according to this time it shall be said of Jacob and of Israel, What hath God wrought!
6. Matthew 18:18, KJV:
Verily I say unto you, Whatsoever ye shall bind on earth shall be bound in heaven: and whatsoever ye shall loose on earth shall be loosed in heaven.
7. Psalm 37:14-15, KJV:
The wicked have drawn out the sword, and have bent their bow, to cast down the poor and needy, and to slay such as be of upright conversation. Their sword shall enter into their own heart, and their bows shall be broken.
8. Proverbs 21:30, KJV:
There is no wisdom nor understanding nor counsel against the LORD.
9. John 8:44, KJV:
Ye are of your father the devil, and the lusts of your father ye will do. He was a murderer from the beginning, and abode not in the truth, because there is no truth in him. When he speaketh a lie, he speaketh of his own: for he is a liar, and the father of it.
10. 1 John 3:8, KJV:
He that committeth sin is of the devil; for the devil sinneth from the beginning. For this purpose the Son of God was manifested, that he might destroy the works of the devil.
READ ALSO: Prayers For Good Dreams To Manifest
11. Colossians 2:15, KJV:
And having spoiled principalities and powers, he made a shew of them openly, triumphing over them in it. 
12. Ephesians 2:5-6, KJV:
Even when we were dead in sins, hath quickened us together with Christ, (by grace ye are saved;) And hath raised us up together, and made us sit together in heavenly places in Christ Jesus.
13. Colossian 2:9, KJV:
And ye are complete in him, which is the head of all principality and power.
14. Exodus 14:13, KJV:
And Moses said unto the people, Fear ye not, stand still, and see the salvation of the LORD, which he will shew to you to day: for the Egyptians whom ye have seen to day, ye shall see them again no more for ever.
15. Isaiah 8:12, KJV:
Say ye not, A confederacy, to all them to whom this people shall say, A confederacy; neither fear ye their fear, nor be afraid. 
16. Joshua 1:5, KJV:
There shall not any man be able to stand before thee all the days of thy life: as I was with Moses, so I will be with thee: I will not fail thee, nor forsake thee. 
READ ALSO: Prayer Points For Open Doors With Scriptures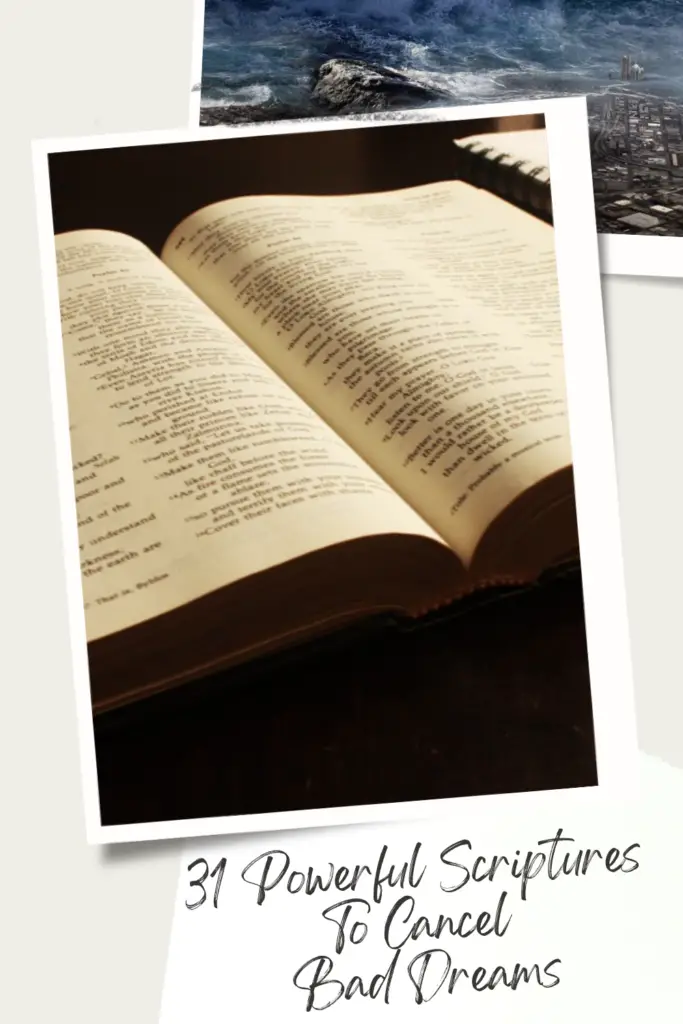 17.  Isaiah 54:14, KJV:
In righteousness shalt thou be established: thou shalt be far from oppression; for thou shalt not fear: and from terror; for it shall not come near thee. 
18. Psalm 91:3-8, KJV:
Surely he shall deliver thee from the snare of the fowler, and from the noisome pestilence. He shall cover thee with his feathers, and under his wings shalt thou trust: his truth shall be thy shield and buckler. Thou shalt not be afraid for the terror by night; nor for the arrow that flieth by day; Nor for the pestilence that walketh in darkness; nor for the destruction that wasteth at noonday. A thousand shall fall at thy side, and ten thousand at thy right hand; but it shall not come nigh thee. Only with thine eyes shalt thou behold and see the reward of the wicked.
19. Ezekiel 3:8-9, KJV:
Behold, I have made thy face strong against their faces, and thy forehead strong against their foreheads. As an adamant harder than flint have I made thy forehead: fear them not, neither be dismayed at their looks, though they be a rebellious house. 
20. Deuteronomy 28:7, KJV:
The LORD shall cause thine enemies that rise up against thee to be smitten before thy face: they shall come out against thee one way, and flee before thee seven ways.
READ ALSO: Prayer Points For Unity In The Church
21. Proverbs 11:5-6, KJV:
The righteousness of the perfect shall direct his way: but the wicked shall fall by his own wickedness. The righteousness of the upright shall deliver them: but transgressors shall be taken in their own naughtiness. 
22. Psalm 7:9-10, KJV
Oh let the wickedness of the wicked come to an end; but establish the just: for the righteous God trieth the hearts and reins. My defence is of God, which saveth the upright in heart. 
23. Psalm 10:15, KJV:
Break thou the arm of the wicked and the evil man: seek out his wickedness till thou find none. 
24. Psalm 17:13, KJV:
Arise, O LORD, disappoint him, cast him down: deliver my soul from the wicked, which is thy sword: 
25. Psalm 34:21, KJV:
Evil shall slay the wicked: and they that hate the righteous shall be desolate. 
26.  Job 5:12, KJV:
He disappointeth the devices of the crafty, so that their hands cannot perform their enterprise. 
27. Lamentations 3:37, KJV:
Who is he that saith, and it cometh to pass, when the Lord commandeth it not? 
28. Isaiah 49:24-25, KJV:
Shall the prey be taken from the mighty, or the lawful captive delivered? But thus saith the LORD, Even the captives of the mighty shall be taken away, and the prey of the terrible shall be delivered: for I will contend with him that contendeth with thee, and I will save thy children. 
29. Colossians 1:13, KJV:
Who hath delivered us from the power of darkness, and hath translated us into the kingdom of his dear Son.
30. Psalm 124:7, KJV:
Our soul is escaped as a bird out of the snare of the fowlers: the snare is broken, and we are escaped.
31. Psalm 18:50, KJV:
Great deliverance giveth he to his king; and sheweth mercy to his anointed, to David, and to his seed for evermore.
READ ALSO: Prayer Points For Peace In The Family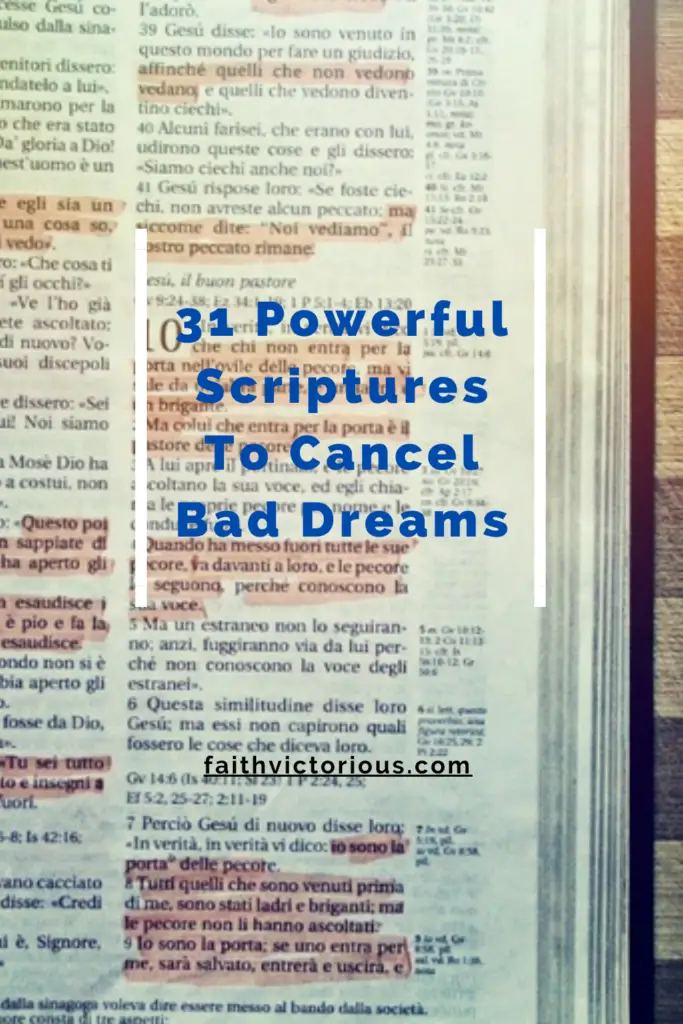 How To Use Scriptures To Cancel Bad Dreams
Now, to use scriptures to cancel bad dreams is as simple as just talking.
You take any of the scriptures above that particularly fits your case and that the Holy Spirit has inspired in your spirit to use, and then begin to declare it over and against the dream.
For instance, if you had a dream that you miscarry, you are supposed to take God's word in Exodus 23:26 and begin to declare that you will not and shall not miscarry or be barren according to God's word, in Jesus.
And that you will live out your full life in health and in wealth.
Then say it until, you saturate your atmosphere with your confession.
Say it until you start to see it in your spirit and even in your dreams that you cannot be barren, miscarry nor die young.
That way, the word will take on flesh and in no time, your baby will be born, in Jesus name.   
Conclusion
These are not all there is to scriptures to cancel bad dreams, but we believe these ones are good enough to help get you started.
Make sure to check up these Scriptures in different translations of the bible so you can arm yourself with good scriptural phrasal bullets to shoot at the devil.
The word of God is the bullet of the spirit, you mouth is the gun that fires the bullet shooting the gun at the target.
Use your mouth.
All the best!  
31 Powerful Scriptures To Cancel Bad Dreams