Here are prayer points for peace in the family you can use to pray.
The devil knows that one way to get you disorganized is to take peace away from you and your family.
When there's no peace in your home, there will be no peace in your life as well.
But God wants you and your family to enjoy divine peace and prosperity.
Peace is a gift from God in Christ to everyone that believes; and by extension to every family that believes.
But unfortunately, not everybody knows real peace, not every family truly enjoys peace from God.
But thank God that in Christ, you have a blood bought right to peace which can be activated through prayer.
So if your family is seeing too much of trouble and you really want to bring peace to the home; then these prayer points for peace in the family will help you headed the right direction.
Ready to pray!.
READ ALSO: Prayer Points For Family Breakthrough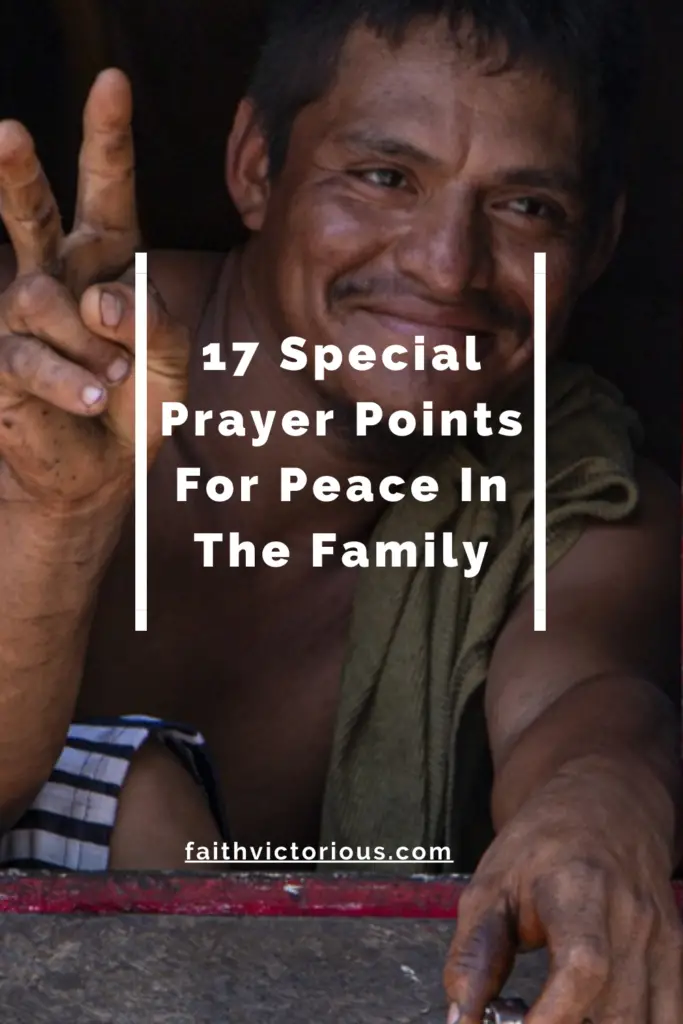 Prayer Points For Peace In The Family
The following are prayer points for peace in the family you can pray promptly and seriously:
1. Pray and thank God for the gift of peace, He has given to the believer in Christ Jesus, declare that you are living in the reality of it, in Jesus name.
Peace I leave with you, my peace I give unto you: not as the world giveth, give I unto you. Let not your heart be troubled, neither let it be afraid. (John 14:27, KJV)
2. Pray and invite the Prince of peace into your home to be the Lord of the home, in Jesus name.
For unto us a child is born, unto us a son is given: and the government shall be upon his shoulder: and his name shall be called Wonderful, Counsellor, The mighty God, The everlasting Father, The Prince of Peace. (Isaiah 9:6, KJV)
3. Pray and ask the Lord to give peace in your family by all means, in Jesus name.
Now the Lord of peace himself give you peace always by all means. The Lord be with you all. (2 Thessalonians 3:16, KJV)
4. Pray and ask the God of Peace to crush Satan and all His schemes at bringing pressure and confusion in your family, in Jesus name.
And the God of peace shall bruise Satan under your feet shortly. The grace of our Lord Jesus Christ be with you. Amen. (Romans 16:20, KJV)
5. Pray and ask the Lord to establish for you and your family the covenant of peace, in Jesus name.
Phinehas, the son of Eleazar, the son of Aaron the priest, hath turned my wrath away from the children of Israel, while he was zealous for my sake among them, that I consumed not the children of Israel in my jealousy. Wherefore say, Behold, I give unto him my covenant of peace: And he shall have it, and his seed after him, even the covenant of an everlasting priesthood; because he was zealous for his God, and made an atonement for the children of Israel. (Numbers 25:11-13, KJV)
6. Pray and declare that the peace that passes all understanding is reining and ruling in your family, in Jesus name.
7. Pray and ask the Lord to send the angel of peace to your family to bring peace that passes understanding to the members of the family in Jesus name.
And the peace of God, which passeth all understanding, shall keep your hearts and minds through Christ Jesus. (Philippians 4:7, KJV)
8. Pray and ask the Lord to flood the hearts of every member of the family with peace in their innermost beings, in Jesus name.
9. Pray and ask for increased grace and multiplied grace to foster great peace in the family, in Jesus name.
Grace be to you and peace from God our Father, and from the Lord Jesus Christ. (2 Corinthians 1:2, KJV)
10 Pray and declare that your family is enjoying peace round about, peace of mind, soul and body, in Jesus name.
Behold, a son shall be born to thee, who shall be a man of rest; and I will give him rest from all his enemies round about: for his name shall be Solomon, and I will give peace and quietness unto Israel in his days. (1 Chronicles 22:9, KJV)
READ ALSO: Prayer Points For Unity In The Church
11. Pray and ask the Lord to open His River of peace into the hearts of every member of the family to foster peace in their spirit, in Jesus name.
For thus saith the LORD, Behold, I will extend peace to her like a river, and the glory of the Gentiles like a flowing stream: then shall ye suck, ye shall be borne upon her sides, and be dandled upon her knees. (Isaiah 66:12, KJV)
12. Pray and arrest every pressure from hell that Satan is bringing on your family through quarrels, lack of money and even religion, in Jesus name.
13. Pray and declare that every member of your family is of one mind, one voice and that they speak the same thing in all things, in Jesus name.
Now I beseech you, brethren, by the name of our Lord Jesus Christ, that ye all speak the same thing, and that there be no divisions among you; but that ye be perfectly joined together in the same mind and in the same judgment. (1 Corinthians 1:10, KJV)
14. Pray and put up resistance to the kingdom of darkness, stopping them from stealing, killing and destroying the peace and unity of your family, in Jesus name.
Verily I say unto you, Whatsoever ye shall bind on earth shall be bound in heaven: and whatsoever ye shall loose on earth shall be loosed in heaven. (Matthew 18:18, KJV)
15. Pray and ask God for perfect peace for the entire family, in Jesus name.
16. Pray and ask the Lord for peace and prosperity in every aspect of the family life and relationship, in Jesus name.
Thou wilt keep him in perfect peace, whose mind is stayed on thee: because he trusteth in thee. (Isaiah 26:3, KJV)
17. Pray and declare that you will dwell in peace always; your family will enjoy peace – spirit, soul and body to the fullest and to the end, in Jesus name.
And I will make with them a covenant of peace, and will cause the evil beasts to cease out of the land: and they shall dwell safely in the wilderness, and sleep in the woods. (Ezekiel 34:25, KJV)
Now, go ahead and begin to thank God for answer to prayers, in Jesus name.
READ ALSO: Scriptures To Cancel Bad Dreams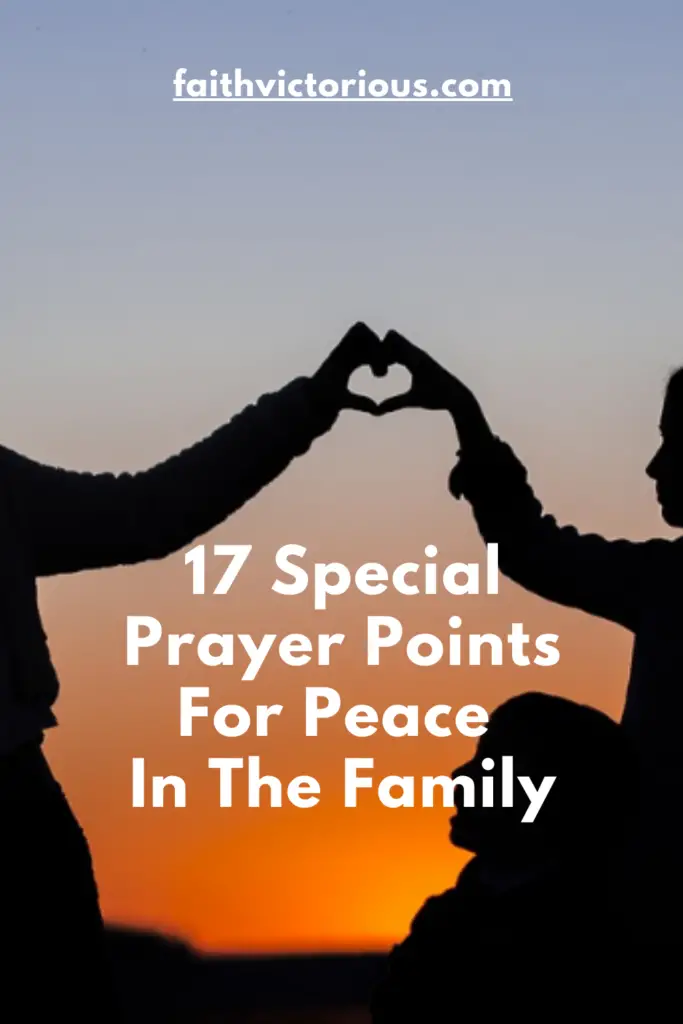 Conclusion
Nonetheless exhaustive, these prayer points for peace in the family are met to help get your started as you pray.
Hey, the devil will throw everything at you to make sure you and your family does not have and enjoy peace not even for a day.
He will mount up pressure all around you just so you will give in and let off your guard for anxiety and fear to dominate you.
But you don't have to be ignorant of the devil and His schemes; you can always stop him,
You can stop him through prayer, you can stop him through the word of God declared.
The Bible is clear that God wants you to have and enjoy peace with Him, peace with yourself and peace with your world and environment.
All these are available in Christ, through His death and resurrection from the dead.
And through prayer and word declaration, you can actually have the peace of God rule not only your hearts but also your family.
This is what this post on prayer points for peace in the family is for.
You have a blood bough right to peace and prosperity, take it by force; take it by mercy and take it by faith.
It's all yours.
You may even want to take and appropriate it also through praying in the spirit.
That my friend; is even a more excellent, surer and better way to pray and activate the force of peace, and the person of peace in your family.
And pray in the Spirit on all occasions with all kinds of prayers and requests (Ephesians 6:18a, NIV)
All the best!  
17 Special Prayer Points For Peace In The Family