Here are prayer points for spiritual empowerment that you can use to pray.
What Christian is it that doesn't want to be spiritually empowered; I do not know of any.
So if spiritual empowerment is the cry of your heart right now, then you can be rest assured that God will answer that cry.
God wants you filled with power, He sent Jesus to die and put away your sins, so He can have a legal ground to fill you up with power without any satanic opposition.
So if you have made Jesus the Lord of your life, then you just right in line for spiritual empowerment.
But just like every provision of the cross of Christ, you need prayer and faith to appropriate spiritual power.
Now, to get you headed the right direction; we, therefore, have taken it upon ourselves to help you with some prayer points for spiritual empowerment to help get you started.
These prayer points prayed in faith will deliver the good, I bet you.
So let's get going.
READ ALSO: Prayer Points For The Manifestation Of God's Power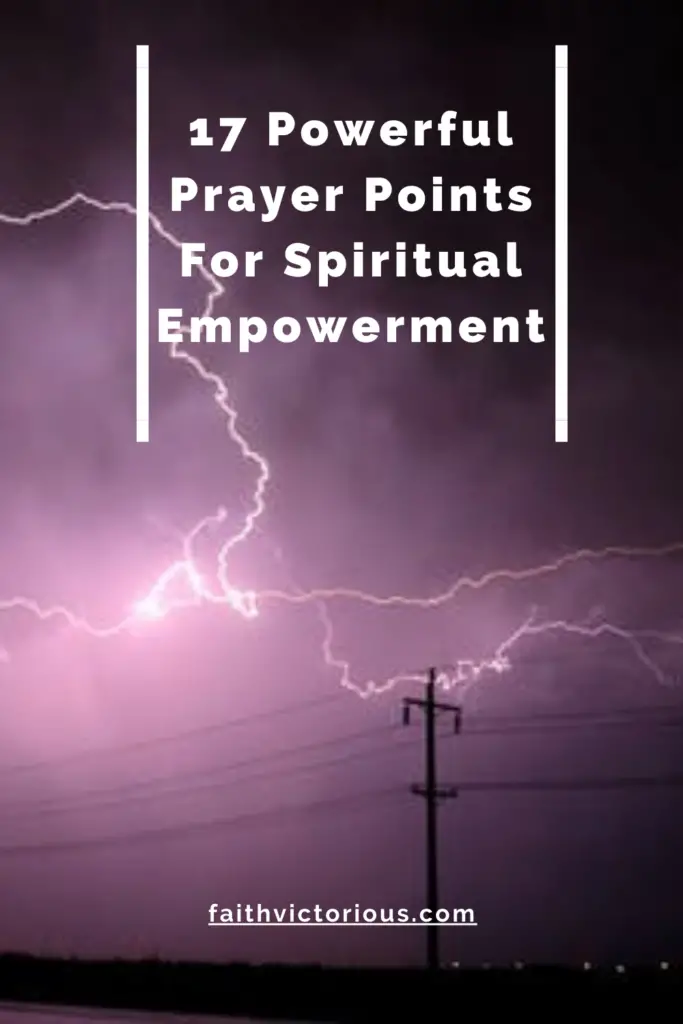 Prayer Points For Spiritual Empowerment
The following are prayer points for spiritual empowerment.
1. Oh Lord my Father, thank you for making it possible through the death and resurrection of your Son Jesus Christ to be filled with power. I do not take this for granted.
"O the depth of the riches both of the wisdom and knowledge of God! how unsearchable are his judgments, and his ways past finding out!" (Romans 11:33)
2. Lord, I know that your Spirit is your power, so now; I pray that you fill me afresh with your Holy Spirit in power, in Holiness and praise, in Jesus name.
"And declared to be the Son of God with power, according to the spirit of holiness, by the resurrection from the dead." (Romans 1:4)
3. Oh Lord, fill me with resurrection power, the power that raised Jesus from the dead, in Jesus name.
"And what is the exceeding greatness of his power to us-ward who believe, according to the working of his mighty power" (Ephesians 1:19)    
4. Father, I also pray that you fill me with love power (for love is the greatest of your power), so that I may be able to love like you do and touch like you do, in Jesus name.
"And hope does not put us to shame, because God's love has been poured out into our hearts through the Holy Spirit, who has been given to us." (Romans 5:5, NIV)
5. Father, I pray that you fill me with the Seven Spirits of God in power, might, counsel, understanding and all, in Jesus name.
"The Spirit of the Lord will rest on him—the Spirit of wisdom and of understanding, the Spirit of counsel and of might, the Spirit of the knowledge and fear of the Lord— (Isaiah 11:2, NIV)
6. Father, you filled Joshua with the Spirit of wisdom when Moses your servant laid his hands on Him, I pray now Lord that you fill me afresh with the Spirit of wisdom, wisdom that confounds the wise and shut the mouths of critics, in Jesus name.
"And Joshua the son of Nun was full of the spirit of wisdom; for Moses had laid his hands upon him: and the children of Israel hearkened unto him, and did as the LORD commanded Moses." (Deuteronomy 34:9)
7. Oh Lord, fill me with your Spirit to teach, guide and to lead me into all truth, in Jesus name.
"Howbeit when he, the Spirit of truth, is come, he will guide you into all truth: for he shall not speak of himself; but whatsoever he shall hear, that shall he speak: and he will shew you things to come." (John 16:13)
8. Father, fill me with the Spirit of wisdom and revelation in the knowledge of Christ, so I may know the hope you have called me to and also your inheritance in me in Christ, in Jesus name. Open the eyes of my heart to see you and to understand the Scripture, in Jesus name.
"That the God of our Lord Jesus Christ, the Father of glory, may give unto you the spirit of wisdom and revelation in the knowledge of him: The eyes of your understanding being enlightened; that ye may know what is the hope of his calling, and what the riches of the glory of his inheritance in the saints." (Ephesians 1:17-18)
9. Oh Lord my Father, baptize me with the Spirit of God in all boldness, that I may be bold always to declare your counsel anywhere and any day, in Jesus name.
"And now, Lord, behold their threatenings: and grant unto thy servants, that with all boldness they may speak thy word, By stretching forth thine hand to heal; and that signs and wonders may be done by the name of thy holy child Jesus. And when they had prayed, the place was shaken where they were assembled together; and they were all filled with the Holy Ghost, and they spake the word of God with boldness." (Acts 4:29-32)
READ ALSO: Prayer Points For A New Beginning
10. Oh Lord, breathe on me fresh breathe from heaven to quicken me and make me every whit whole and fit to represent you always in all circumstances, in Jesus name.
"Then said he unto me, Prophesy unto the wind, prophesy, son of man, and say to the wind, Thus saith the Lord GOD; Come from the four winds, O breath, and breathe upon these slain, that they may live. So I prophesied as he commanded me, and the breath came into them, and they lived, and stood up upon their feet, an exceeding great army. (Ezekiel 37:9-10)
11. Oh Lord, fill my life with your Spirit and power to heal the sick, cast out devils and to boldly make known the mysteries of the gospel of Christ always, in Jesus name.
"And he said unto them, Go ye into all the world, and preach the gospel to every creature. He that believeth and is baptized shall be saved; but he that believeth not shall be damned. And these signs shall follow them that believe; In my name shall they cast out devils; they shall speak with new tongues; They shall take up serpents; and if they drink any deadly thing, it shall not hurt them; they shall lay hands on the sick, and they shall recover." (Mark 16:15-17)
12. Father, I also pray that you strengthen and fortify me with strength in my inner man, so I will be able to stay strong manifesting your power and glory always, in Jesus name.
"For this cause I bow my knees unto the Father of our Lord Jesus Christ, Of whom the whole family in heaven and earth is named, That he would grant you, according to the riches of his glory, to be strengthened with might by his Spirit in the inner man." (Ephesians 3: 14-16)
13. Oh Lord my Father, cause me to have a revelation of the power of the name of Jesus and how to use it for your glory, in Jesus name.
"Let this mind be in you, which was also in Christ Jesus: Who, being in the form of God, thought it not robbery to be equal with God: But made himself of no reputation, and took upon him the form of a servant, and was made in the likeness of men: And being found in fashion as a man, he humbled himself, and became obedient unto death, even the death of the cross. Wherefore God also hath highly exalted him, and given him a name which is above every name: That at the name of Jesus every knee should bow, of things in heaven, and things in earth, and things under the earth; And that every tongue should confess that Jesus Christ is Lord, to the glory of God the Father." (Philippians 2:5-11)
14. Father, consume in me everything that may hinder the flow of your power in me, in Jesus name.
"And he shall sit as a refiner and purifier of silver: and he shall purify the sons of Levi, and purge them as gold and silver, that they may offer unto the LORD an offering in righteousness." (Malachi 3:3)
15. Oh Lord, cause me to be creative with the mind of Christ, in Jesus name.
"For who hath known the mind of the Lord, that he may instruct him? But we have the mind of Christ." (1 Corinthians 2:16)
16. Father, I pray and I receive the Spirit of excellence that make for beauty and glory in all I do, in Jesus name.
"I have even heard of thee, that the spirit of the gods is in thee, and that light and understanding and excellent wisdom is found in thee." (Daniel 5:14)
17. Oh Lord, as I begin to exercise spiritual authority, I pray that you will protect me from every counter attack from hell. I also pray that you take pride and every other weakness away from me so that I may not use my own hands to destroy myself and fall, in Jesus name.
"Now unto him that is able to keep you from falling, and to present you faultless before the presence of his glory with exceeding joy." (Jude 1:24)
Amen!
READ ALSO: Prayer Points For Manifestation of God's Glory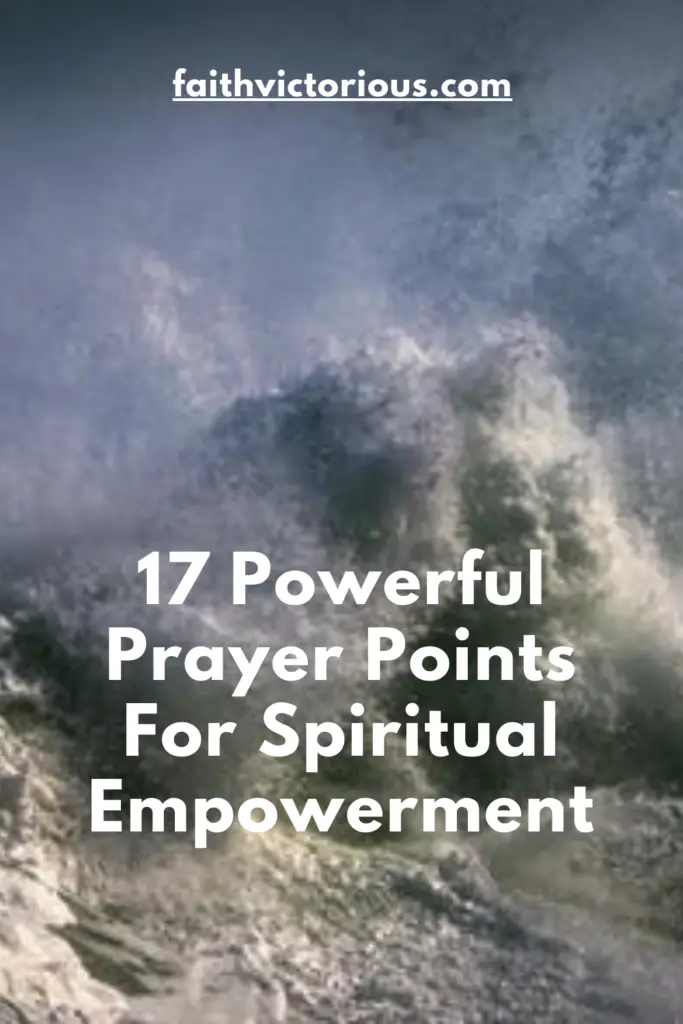 Conclusion
These prayer points for spiritual empowerment are not all there is really to prayer points for spiritual empowerment but are good enough to give you a head start.
These prayers points are scriptural and therefore must receive the attention of heaven.
So all you need is to pray them in faith, believing, and then watch as your life begins to manifest the answers to these prayers when you begin to walk and demonstrate spiritual power seamlessly by the Spirit of God.
To add, we are confident that there's a certain way to pray, if you really want to pray well.
That way is known and called; praying with the spirit.
So, we recommend that you not pray these prayer points for spiritual empowerment in understanding only; you should also pray them in the spirit as well, if not more.
That way, you will be able to pray these prayer points well, with great assurance that God has heard you; and that the answers are on the way.
All the best! 
17 Powerful Prayer Points For Spiritual Empowerment