Here are prayer points for a new beginning that you can use to pray for self, family, friends, business and even church and ministry.
It is so amazing how much God loves us, giving us new beginnings all the time.
Every waking morning is a new beginning.
A baby born today; is a new beginning.
When you sin and you confess your sins and receive forgiveness from the Lord for the sin; that again is a new beginning.
So you are so blessed by God with new beginnings and fresh start.
Isn't that gracious and beautiful of our God!
Now, to get the most out of every new beginning, it is important that you pray. And it is even more important that you pray rightly, that you pray prayer based on God's word. This is even more so because it is only prayers based on God's word that God answers.
So to help you get it right from start and to eliminate trial and error-hit and miss kind of prayer, we have offered to help you with some prayer points for a new beginning to get started.
Here's it.
READ ALSO: Prayer Points For Beginning Of A New Month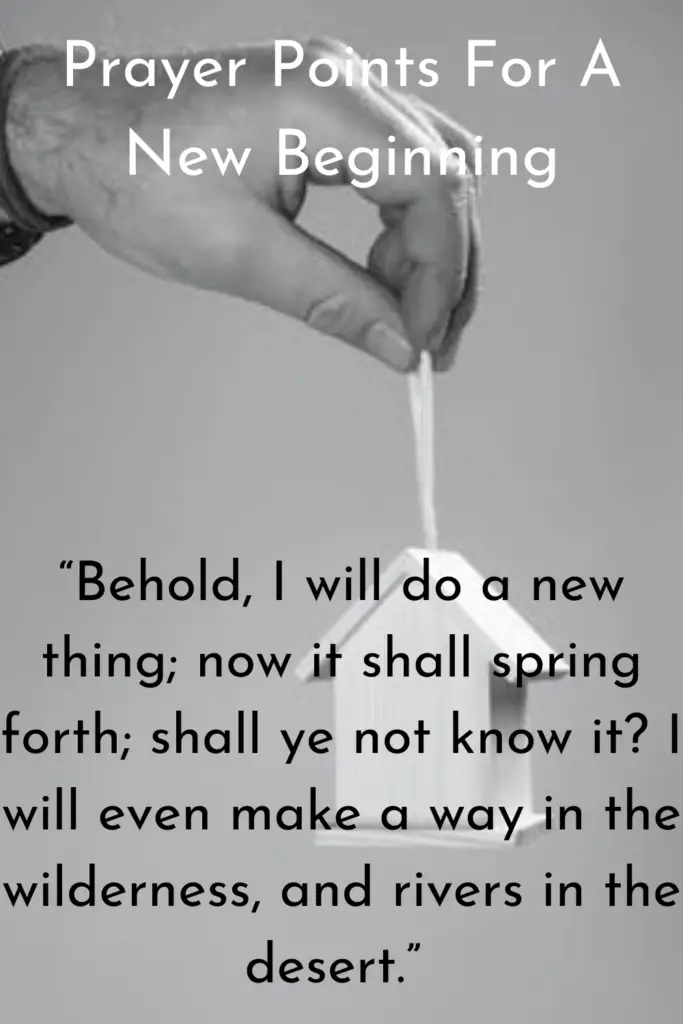 Prayer Points For A New Beginning   
The following are prayer points for a new beginning to help get you started:
1. Father, your word declares that your steadfast love never ceases and that your mercies are new every morning, so Lord I pray for a new beginning today, I ask for fresh mercy, fresh grace upon my life, in Jesus name.
"It is of the LORD'S mercies that we are not consumed, because his compassions fail not. They are new every morning: great is thy faithfulness." (Lamentation 3:22-23)
2. Lord, I want to thank you for bringing to pass the former things you have spoken about me, now Lord, I pray and declare a new start for me again, in Jesus name.
"Behold, the former things are come to pass, and new things do I declare: before they spring forth I tell you of them." (Isaiah 42:9)
3. Lord, you said you will do a new thing; that you will even make a way in the wilderness and rivers in the desert, Oh Lord, do it in my life and give me a new beginning, in Jesus name.
"Behold, I will do a new thing; now it shall spring forth; shall ye not know it? I will even make a way in the wilderness, and rivers in the desert." (Isaiah 43:19)
4. Lord, your word declares that you will create new heaven and new earth; in my life now Lord, create for me a new heaven and a new earth even today, in Jesus name.
"For, behold, I create new heavens and a new earth: and the former shall not be remembered, nor come into mind." (Isaiah 65:17)
READ ALSO: Prayer Points For manifestation Of God's Glory
5. Oh Lord, inspire in me new ideas, new thought, new insights that make for accomplishments in Jesus name.
"I will give you a new heart and put a new spirit in you; I will remove from you your heart of stone and give you a heart of flesh. And I will put my Spirit in you and move you to follow my decrees and be careful to keep my laws. (Ezekiel 36:26-27, NIV)
6. Father, I ask that you help me begin anew in my marriage, family and ministry by divine wisdom, in Jesus name.
"Wisdom is good with an inheritance: and by it there is profit to them that see the sun." (Ecclesiastes 7:11)
7. Lord as I look forward to my appointment, help me to begin well and also to begin in wisdom and to bring about the necessary changes that my organization requires to get better, in Jesus name.
"If the iron be blunt, and he do not whet the edge, then must he put to more strength: but wisdom is profitable to direct." (Ecclesiastes 10:10)
8. Father, I thank you for the opportunity for relocation. I pray that as I settle into my new home and community, help me to integrate well. And also bless me with new opportunities there, in Jesus name.
"The earth is the LORD'S, and the fulness thereof; the world, and they that dwell therein." (Psalm 24:1)
"And they told him, and said, We came unto the land whither thou sentest us, and surely it floweth with milk and honey; and this is the fruit of it." (Numbers 13:27)
9. Father, I want to thank you for the spirit of revelation and knowledge, I pray that you fill me mind with fresh new revelation and insights into your word, in Jesus name.  
"That the God of our Lord Jesus Christ, the Father of glory, may give unto you the spirit of wisdom and revelation in the knowledge of him: The eyes of your understanding being enlightened; that ye may know what is the hope of his calling, and what the riches of the glory of his inheritance in the saints" (Ephesians 1:17-18)
10. Oh Lord, restore my life, restore my health, and restore my finances. Give me a brand new beginning in all areas of my life in Jesus name.
"And I will restore to you the years that the locust hath eaten, the cankerworm, and the caterpiller, and the palmerworm, my great army which I sent among you. And ye shall eat in plenty, and be satisfied, and praise the name of the LORD your God, that hath dealt wondrously with you: and my people shall never be ashamed." (Joel 2:25-26) 
11. Lord, I pray and ask for wisdom to navigate my way to success in this my new beginning, in Jesus name. Amen.
"Through wisdom is an house builded; and by understanding it is established: And by knowledge shall the chambers be filled with all precious and pleasant riches." (Proverbs 24:3-4) 
"For the LORD giveth wisdom: out of his mouth cometh knowledge and understanding. He layeth up sound wisdom for the righteous: he is a buckler to them that walk uprightly." (Proverbs 2:6-7)
"If any of you lack wisdom, let him ask of God, that giveth to all men liberally, and upbraideth not; and it shall be given him." (James 1:5
READ ALSO: Prayer Points For The Manifestation Of God's Power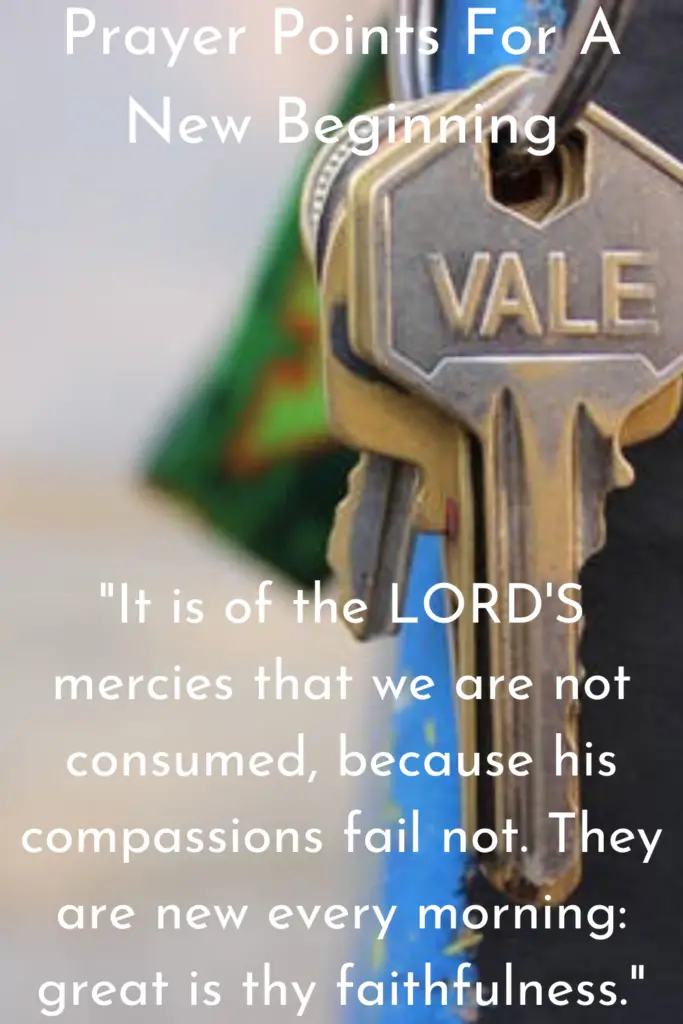 Conclusion
We trust that these prayer points for a new beginning meet your need, speak to your heart and really help you to communicate your desires to the Lord.
Better still, we trust that they at least help get your started praying for new beginnings.
These prayer points are bible based and Spirit inspired. Therefore if you pray them in faith, you can be sure that heaven will respond to you and the answers to prayers will be amazing testimonies of God's faithfulness.
And like Hannah you would say; 'for this I have prayed and the Lord has given me my petition which I asked of him.' (See 1 Samuel 1:27)
To add, please don't forget to pray these prayer points for a new beginning in the spirit if you really want to pray the prayers well and satisfactory.
Praying in the spirit help you perfect your prayers, it takes your prayers beyond what you can think, imagine and say to what the Spirit alone can communicate.
So take advantage of praying with the spirit when you pray.
All the best!  
11 Important Prayer Points For A New Beginning