Here are prayer points for evangelism you can use to pray.
The Christian number one mission on earth is the evangelization of the world, but to be successful at his task, he has to be strategic.
Yes, he is to be zealous for the Lord but also very strategic about how he goes about carrying out the order of the Master.
If you don't know, there's what is called 'Holy Spirit Evangelism'; where the Holy Spirit is the one leading you on to harvest fields and mission for soul winning.
In that case, you will have to be led by Him – the Spirit and not just by zeal.
You can remember how that two times in the Acts of the Apostles, the Holy Spirit constraint and forbade the Apostle Paul and his team from preaching in certain regions. (See Acts 16:6-7, NIV)
You would have thought that since Paul was about God's mission with zeal, he could just go anywhere and preach, no!
The Lord of the Harvest, the Holy Spirit had to guide and lead him in spite of zeal.
The rest is history, the results the apostle Paul had in missions and Evangelism is what the Church is still building on today.
Now to get it right and straight, you have got to pray.
That's where prayer points for evangelism come in.
READ ALSO: Healing And Deliverance Prayer Points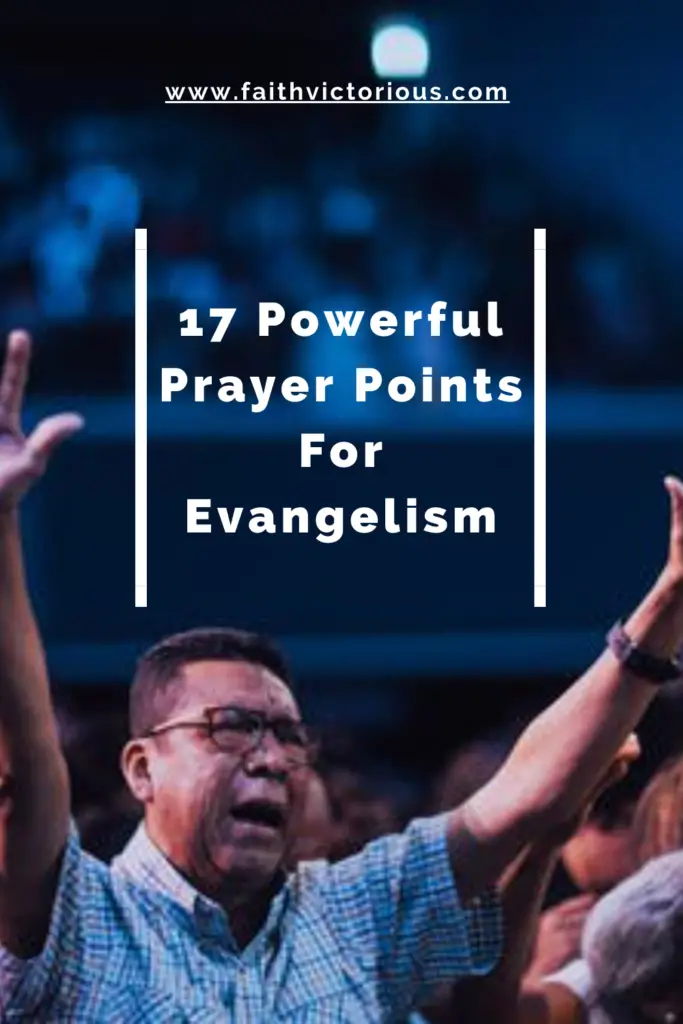 Prayer Points For Evangelism
The following are prayer points for evangelism you can pray:
1. Pray and thank the Lord for counting you worthy putting you into the ministry, in Jesus name.
And I thank Christ Jesus our Lord, who hath enabled me, for that he counted me faithful, putting me into the ministry. (1 Timothy 1:12, KJV)
2. Pray and ask the Lord to fill you with zeal for His work, in Jesus name.
For out of Jerusalem shall go forth a remnant, and they that escape out of mount Zion: the zeal of the LORD of hosts shall do this. (Isaiah 37:32, KJV) 
3. Pray and ask the Lord to give you wisdom and strategy for evangelism, in Jesus name.
Wisdom is the principal thing; therefore get wisdom: and with all thy getting get understanding. (Proverbs 4:7, KJV)
4. Pray and ask the Holy Spirit to take over the leadership of your life and team as far as evangelism is concerned, in Jesus name.
5. Pray and ask the Holy Spirit to show the way and lead the way in evangelism and soul winning, in Jesus name.
So they, being sent forth by the Holy Ghost, departed unto Seleucia; and from thence they sailed to Cyprus. (Acts 13:4, KJV)
6. Pray and ask Him to lead you on to lands and places that the need is greatest, where the harvest is truly ripe, in Jesus.
And he led them forth by the right way, that they might go to a city of habitation. (Psalm 107:7, KJV)
7. Pray and ask Him to deliver you and your team from unreasonable wicked people in your quest for souls, in Jesus name.
And that we may be delivered from unreasonable and wicked men: for all men have not faith. (2 Thessalonians 3:2, KJV)
8. Pray and ask the Lord to give you supply, financial and material, that makes for effectiveness and productiveness in evangelism, in Jesus name.
And they thirsted not when he led them through the deserts: he caused the waters to flow out of the rock for them: he clave the rock also, and the waters gushed out. (Isaiah 48:21, KJV)
READ ALSO: Prayer Points For Mission And Evangelism
9. Pray and ask the Lord to confirm His word with mighty signs, wonders and miracles as you go, in Jesus name.
By stretching forth thine hand to heal; and that signs and wonders may be done by the name of thy holy child Jesus. (Acts 4:30, KJV)
10. Pray and ask the Lord to put His word in your mouth and then cause people to come hear it, in Jesus name.
And they said, Cornelius the centurion, a just man, and one that feareth God, and of good report among all the nation of the Jews, was warned from God by an holy angel to send for thee into his house, and to hear words of thee. (Acts 10:22, KJV)
11. Pray and ask the Lord to cause His word in your mouth to be like fire that burns and like hammer that breaks the rock into pieces such that people will hear and tremble at the word of the Lord, in Jesus name.
Is not my word like as a fire? saith the LORD; and like a hammer that breaketh the rock in pieces? (Jeremiah 23:29, KJV) 
12. Pray and ask the Lord to confirm you and His word with strange miracles and acts to make the people obedient to the word and to the faith, in Jesus name.
For I will not dare to speak of any of those things which Christ hath not wrought by me, to make the Gentiles obedient, by word and deed, Through mighty signs and wonders, by the power of the Spirit of God; so that from Jerusalem, and round about unto Illyricum, I have fully preached the gospel of Christ. (Romans 15:18, KJV)
13. Pray and ask the Lord to glorify the name of Jesus Christ among you and in all your mission fields and evangelism frontiers, in Jesus name.
Father, glorify thy name. Then came there a voice from heaven, saying, I have both glorified it, and will glorify it again. (John 12:28, KJV)
And this was known to all the Jews and Greeks also dwelling at Ephesus; and fear fell on them all, and the name of the Lord Jesus was magnified. (Acts 19:17, KJV)
14. Pray and ask the Lord to mightily magnify the Word of the Lord and cause it to prevail by all means in every way, in the lives of the people, over the lands, villages and cities, in the name of Jesus Christ.
So mightily grew the word of God and prevailed. (Acts 19:20, KJV)
15. Pray and ask the Lord to anoint you with the Spirit of boldness, so you can boldly make gospel claims even in the midst of apparent contradictions, misunderstanding and even at the face of opposition and death threats, in Jesus name.
And now, Lord, behold their threatenings: and grant unto thy servants, that with all boldness they may speak thy word. (Acts 4:29, KJV)
16. Pray and ask the Lord to give you real souls, to turn the heart of many after Him, both great and small so they may come to the knowledge of the truth and receive eternal life, in Jesus name.
And when the Gentiles heard this, they were glad, and glorified the word of the Lord: and as many as were ordained to eternal life believed. And the word of the Lord was published throughout all the region. (Acts 13:48-49, KJV)
17. Pray and ask the Lord to lead you to individuals in the field, renowned and strong, who will be the first to receive the gospel and Life, who will then become your contact point and pioneers to reaching others in the field, in Jesus name.
Therefore many of them believed; also of honourable women which were Greeks, and of men, not a few. (Acts 17:12, KJV) 
Now, go ahead and thank God for answer to prayers prayed in the name of the Lord, in Jesus name.
READ ALSO: Morning Prayer Points For Family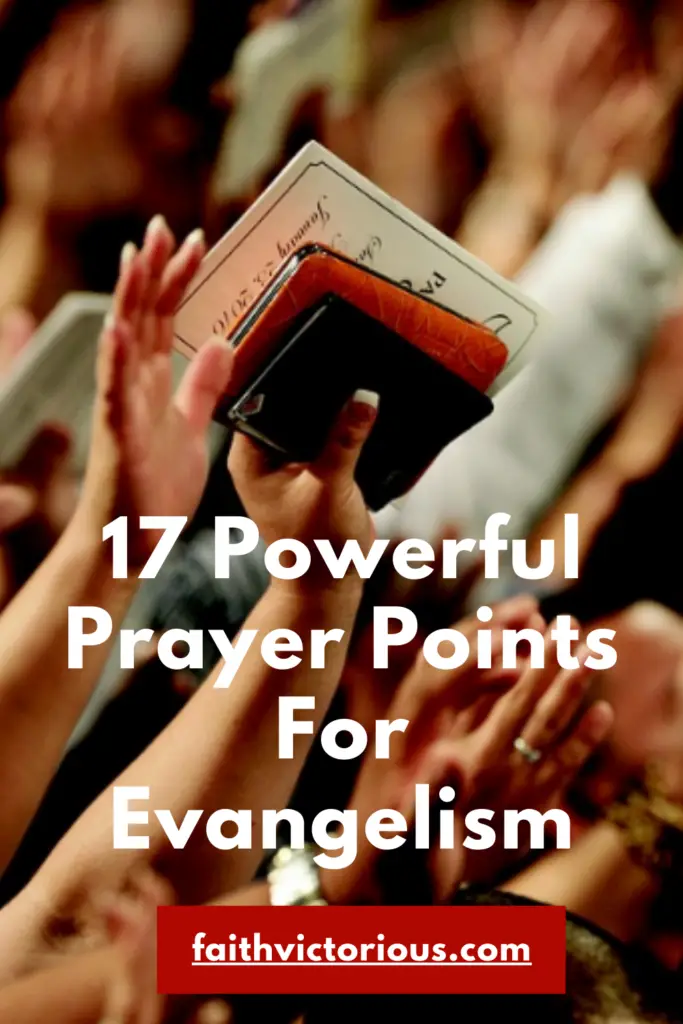 Conclusion
Nonetheless exhaustive, these prayers points for evangelism are met to give you a head start as you pray..
And as you continue in obedience and in prayer, the Holy Spirit will lead you on to other things you are to pray on and for as far as evangelism is concerned.
The prayer points are Holy Spirit inspired; bible based and will be greeted with answers from the Lord.
To add, we would ask that you pray these prayer points for evangelism actively in the spirit, that way, you will be able to touch very many other areas that you will not be able to touch if you stop at just praying in your understanding.
Hey, the difference between praying in your understanding and praying in the spirit is like the difference between the day and night, they are two poles apart.
And the results are un-parallel.
Praying in the spirit helps you get the job done, and fast.
In all, when you pray in the spirit, you pray well, you pray exhaustively and you pray satisfactorily.
And pray in the Spirit on all occasions with all kinds of prayers and requests. (Ephesians 6:18a, NIV)
God bless you!
17 Powerful Prayer Points For Evangelism