Here are prayer points for choir growth you can use to pray.
Did you know that next to the pastor(s), the group in your church that Satan usually destroys with sin, particularly the sin of fornication and adultery is the choir group?
That should tell you something about the place and power of a choir group in the body of Christ.
When the members of the group are serving God in true holiness, walking in righteousness and integrity of heart, then they can literally sing down the glory and power of God in every of your service.
Yes, they can help set the flow and pace a meeting will go, if they know how to yield to the Spirit… and that will just make the work, preaching, teaching and ministering easy for the pastor.
But trust the devil; he will not ordinarily want that.
That's why he goes after the group to destroy them, infest them with sin, weaken their spiritual fortification and bring down their guard.
So what's Satan after? To make the group powerless and almost of no spiritual use, at best a social gathering.
That's why you have got to take the responsibility of praying for your choir group seriously.
Did you know that a lot of people will come to your church because of your choir group?
Music has a great pull on people, young people most especially, and your choir is the group that makes music happen in your church.
Now, you can see why praying for the growth of the choir group is one key factor to church growth that you may have neglected a long time.
Ready to pray for your choir group; for growth, holiness and power?
Let's get to it.
READ ALSO: Prayer Points For Ushering Department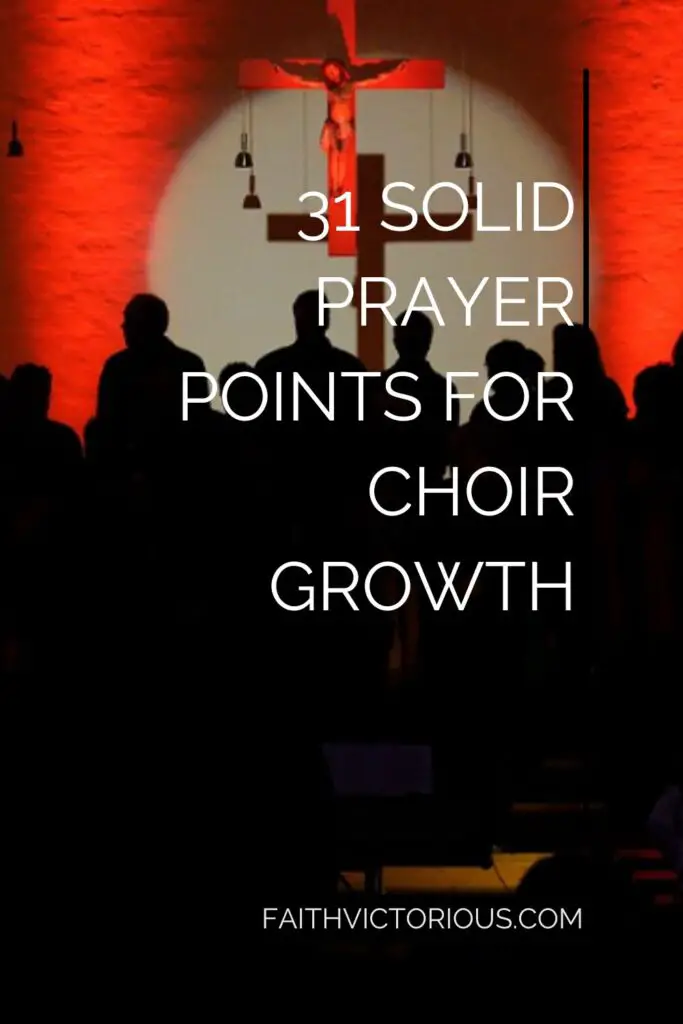 Prayer Points For Choir Growth
The following are prayer points for choir growth that you can use in your personal and corporate meetings to pray:
Prayers For Spiritual Growth
1. Father, I bring the choir group in church before your throne room in heaven right now, I pray that you look upon every member of the group in your mercy and breathe upon them your power, grace and glory, in Jesus name.
2. Oh Lord, I pray that you strengthen the individual members of the group with might and power in their spirits for effective service in your house, in Jesus name.
That he would grant you, according to the riches of his glory, to be strengthened with might by his Spirit in the inner man. (Ephesians 3:16, KJV)
3. Lord, I pray that you stir up a revival in the midst of the group, fill them with power and fire for prayer, praise and worship, in Jesus name.
5. Father, let every member of the group be filled with your Spirit in its fullness, so they can sing and worship you in spirit and truth, in Jesus name.
And to know the love of Christ, which passeth knowledge, that ye might be filled with all the fulness of God. (Ephesians 3:19, KJV)
4. Oh Lord, grant that every member of the group will have a personal encounter with the Lord Jesus, so they can know you in truth and in reality, in Jesus name.
6. Oh Lord, make yourself and your glory known among the choir group, let your presence be mighty upon them with proofs and evidences as they minister, in Jesus name.
And with great power gave the apostles witness of the resurrection of the Lord Jesus: and great grace was upon them all. (Acts 4:33, KJV)
7. Oh that they all may know and love you Lord in a deep and personal way, in the name of Jesus Christ.
8. Oh Lord, anoint their tongue with fire and power to sing down your glory in every meeting and service, in Jesus name. 
9. Father, I pray that you grant them physical and mental strength to stand and minister before you Lord, any time, any day, in Jesus name.
10. Lord, I pray that they may be one in love; bind them together Lord, in love and faith, in Jesus name.
11. Let oneness, togetherness and unity be at the center of their service to you, Lord, in Jesus name.
Till we all come in the unity of the faith, and of the knowledge of the Son of God, unto a perfect man, unto the measure of the stature of the fulness of Christ. (Ephesians 4:13, KJV)
Prayers For For The Fear Of The Lord
12. Father, please teach this group the Fear of the Lord, in Jesus name.
13. Teach them to love righteousness and hate iniquity, in the name of the Lord Jesus.
Come, ye children, hearken unto me: I will teach you the fear of the LORD. (Psalm 34:11, KJV)
14. Father, purify them with fire, so they can offer acceptable sacrifice in praise, worship and in songs to you Lord, in Jesus name.
And he shall sit as a refiner and purifier of silver: and he shall purify the sons of Levi, and purge them as gold and silver, that they may offer unto the LORD an offering in righteousness. (Malachi 3:3, KJV)
15. Oh Lord, let the plan of the enemy to destroy and infest the group with sin not prosper in any way, in the name of Jesus Christ.
He disappointeth the devices of the crafty, so that their hands cannot perform their enterprise. (Job 5:12, KJV)
PEOPLE ALSO READ: Prayer Points For Victory In Spiritual Warfare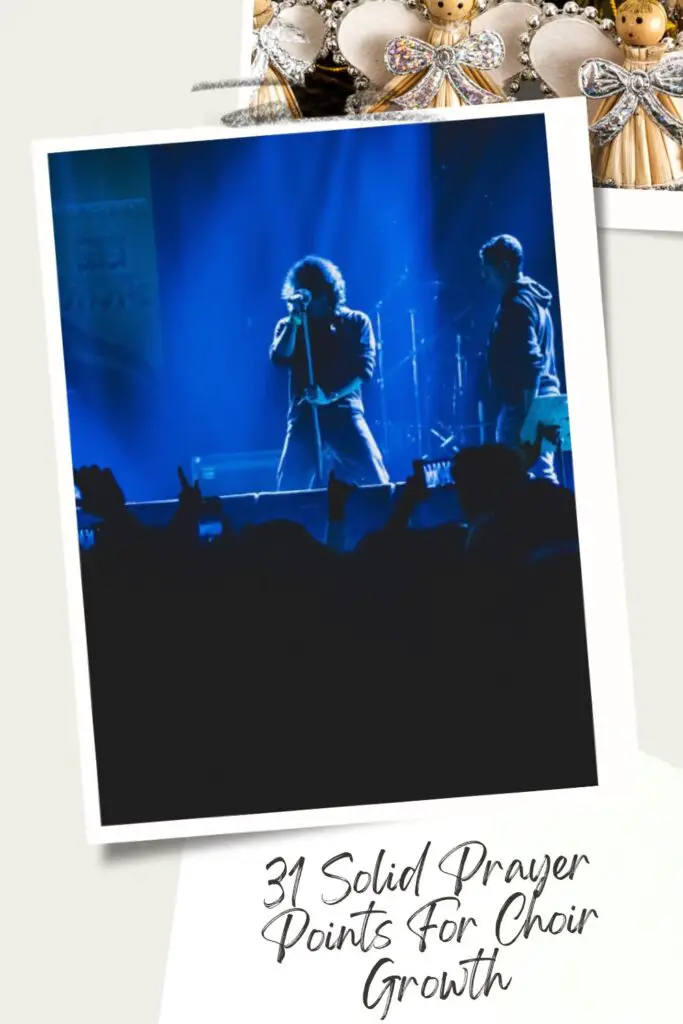 16. Father, I pray that not any one of them will fall for Satan's deception and be taken advantage of by discerning men and women Satan may have sent among them to carry out his wicked plan, in Jesus name.
And that we may be delivered from unreasonable and wicked men: for all men have not faith. (2 Thessalonians 3:2, KJV)
17. Father, let only your name be the rallying point and call for this group, in Jesus name.
The sceptre shall not depart from Judah, nor a lawgiver from between his feet, until Shiloh come; and unto him shall the gathering of the people be. (Genesis 49:10, KJV)
18. Dear Jesus, please breathe on the choir group your Spirit of Holiness, I pray.
But upon mount Zion shall be deliverance, and there shall be holiness; and the house of Jacob shall possess their possessions. (Obadiah 1:17, KJV)
19. Lord, inspire in their hearts love for you and you alone, in Jesus name.
And thou shalt love the LORD thy God with all thine heart, and with all thy soul, and with all thy might. (Deuteronomy 6:5, KJV)
Prayers For Protection
20. Holy Father, I pray that you keep the choir group from evil and keep the evil one away from their midst, in Jesus name.
21. Let your mighty hand of protection be upon them in the day and in the night to keep them from death, sickness and corruption, in Jesus name.
For he shall give his angels charge over thee, to keep thee in all thy ways. (Psalm 91:11, KJV)
22. Father, defend the choir group and their course with the divine presence, in Jesus name.
23. Oh Lord, let not the devil have his way with them to corrupt them and make them loose power with you and with people, in Jesus name.
24. Oh Lord, cause your favor to rest upon them and to guide them in their going out and coming in, in Jesus name.
For thou, LORD, wilt bless the righteous; with favour wilt thou compass him as with a shield. (Psalm 5:12, KJV)
25. Father, look upon the work of their hands, (work, business, career) and grant them success in every way, in Jesus name.
26. Father, look also upon their families (husbands, wives, spouses, children) in your mercy and grant them peace, progress and prosperity for their service to you, Lord, in Jesus name.  
For the LORD God is a sun and shield: the LORD will give grace and glory: no good thing will he withhold from them that walk uprightly. (Psalm 84:11, KJV)
Prayers For The Leader
27. Father, fill the leader of the choir group with the spirit of excellence, wisdom and understanding to lead the group to higher heights in Christ, in Jesus name.
Then this Daniel was preferred above the presidents and princes, because an excellent spirit was in him; and the king thought to set him over the whole realm. (Daniel 6:3, KJV)
28. Fill him/her with grace Lord to be able to take the spiritual oversight over the group without any reservation or sentiments, in Jesus name.
29. Let him/her not be given to gain nor reward in his service to you, Lord, in Jesus name.
30. Father, keep the leader stable, strong, focused and filled with the Spirit in all fullness and always, in Jesus name.
31. Lord, grant that the leader be spiritually innovative so he can drive growth and progress in the group, in the name of the Lord Jesus Christ.
As for these four children, God gave them knowledge and skill in all learning and wisdom: and Daniel had understanding in all visions and dreams. (Daniel 1:17, KJV)
Amen.
Now, go ahead and thank God for answer to prayers, in Jesus name.
PEOPLE ALSO READ: Prayer Points For My Future Husband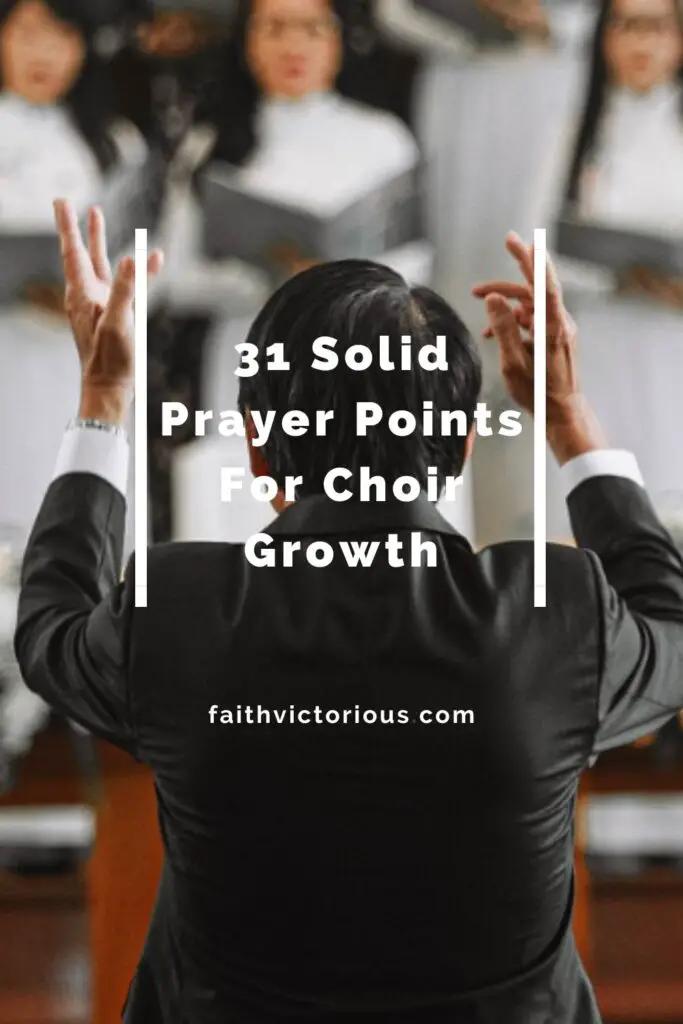 Conclusion
Nonetheless exhaustive, these prayer points for choir growth are meant to give you a head start in prayer.
But as you continue in prayer and to yield, the Holy Spirit will certainly give and inspire you with prayer points that are specific and custom-made to fit the need of your choir group.
Just begin by praying for the group and you will be shocked and excited in the end with what the Holy Spirit will have you cover in prayers – things that are direct and personal to the very need of the group and even the individuals in the group.
That's how much the Holy Spirit will go with you if you make the choice to partner with Him in the ministry of prayer – particularly prayers that centered on the need of other people.
Now, one last thing: it will be better if you pray these prayer points for choir growth in the spirit.
That way, you will be able to pray the very will and mind of God for the group, way beyond your natural mind can comprehend. (See Romans 8:26-27, NIV)
You don't want to miss out on that.
God bless you.
All the best!
31 Solid Prayer Points For Choir Growth