Here are powerful prayer points for breakthrough you can use to pray.
Hey, some walls and barriers in the realm of the spirit have to be pushed down if you must have your way with life.
Believe it or leave it.
You will have to mount spiritual pressure on these barriers until they come crumbling down.
That's what is called breakthrough.
Well, prayer is one way to doing this.
Another, is fasting (and prayer of course).
If you are serious and really want to get through with the barriers that are holding down many areas of your life; money, marriage, progress, prosperity, fruitfulness, family, ministry, you need to pray and pray intelligently with the word.
Now, these word based powerful prayer points for breakthrough will help you get started and headed on this path.
Are you ready to do this?
Ready to really pray until something happens?
Let's get to it.
READ ALSO: Powerful Midnight Prayers For Financial Breakthrough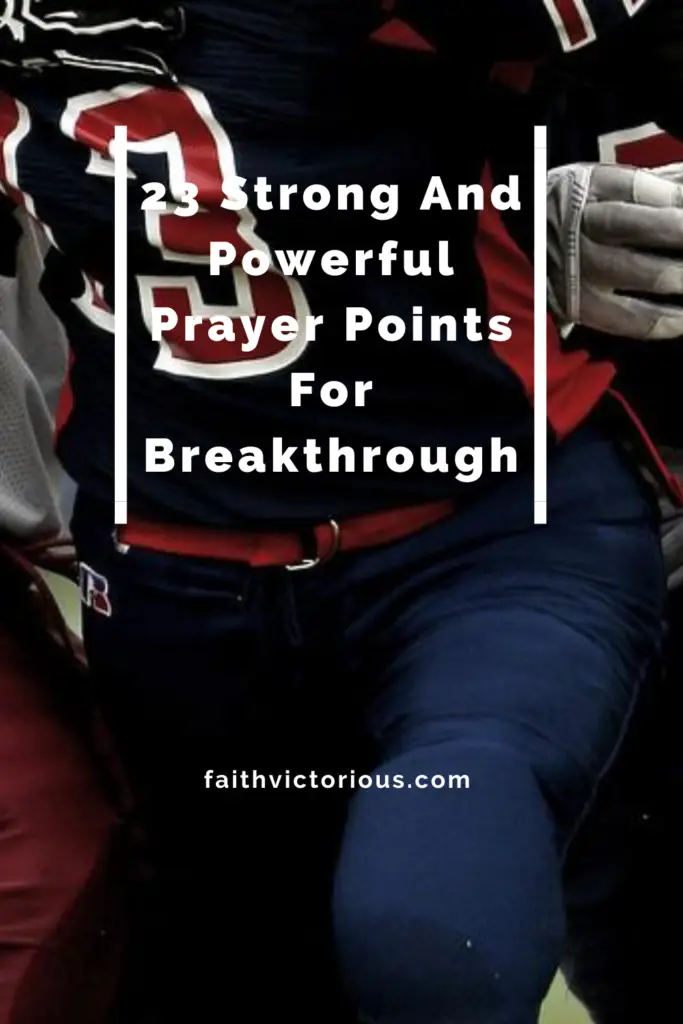 Powerful Prayer Points For Breakthrough
The following are inspired powerful prayer points for breakthrough you can pray to put pressure on invisible barriers in your life that are holding you down to defeat and failure until they come crumbling down:
1. Pray and say; 'Father, I want to thank you first of all for the power in the name of Jesus and the word to pull down barriers and crush principalities in prayer, in Jesus name.
2. Pray and declare saying; 'I pull down every wall of barrier that is stopping me from accessing my glory and greatness in life,' in Jesus name.
See, I have this day set thee over the nations and over the kingdoms, to root out, and to pull down, and to destroy, and to throw down, to build, and to plant. (Jeremiah 1:10, KJV)
3. Pray and say; Lord, by the power of the resurrected Christ, I destroy every barrier, every barricade on my path to spiritual progress, in the name of Jesus Christ.
4. Say, I uproot from its foundation, every wall of limitation that is standing on my way to prosperity and success in life, in Jesus name.
Say thou, Thus saith the Lord GOD; Shall it prosper? shall he not pull up the roots thereof, and cut off the fruit thereof, that it wither? it shall wither in all the leaves of her spring, even without great power or many people to pluck it up by the roots thereof. (Ezekiel 17:9, KJV) 
5. Pray and say; Lord, I reverse every word, every curse, every spell, every omen, and every incantation that is working evil in my life, in Jesus name.
6. I break and dispel every black cloud and shadow that those words, spell, curses and incantation have put and spread over my spiritual atmosphere, in Jesus name.
Surely there is no enchantment against Jacob, neither is there any divination against Israel: according to this time it shall be said of Jacob and of Israel, What hath God wrought! (Numbers 23:23, KJV)
7. I command the light of God, the sunshine of heaven to break through my heaven and in upon me by fire, in the name of Jesus Christ.
8. I decree that my light is breaking forth and my finances is taking on a new dimension, in Jesus name.
For thou shalt break forth on the right hand and on the left; and thy seed shall inherit the Gentiles, and make the desolate cities to be inhabited. (Isaiah 54:3, KJV)
9. I terminate the agenda of Satan to keep me perpetually down in poverty, lack and want, in Jesus name.
10. I demand a release of my destiny from the prison house of limitation and retardation, in the name of Jesus Christ.
11. Pray and say; I bring the blood of Christ against every ruthlessness of Satan against me to torment me with ill-will and ill-favor, in Jesus name.
Verily I say unto you, Whatsoever ye shall bind on earth shall be bound in heaven: and whatsoever ye shall loose on earth shall be loosed in heaven. (Matthew 18:18, KJV)
12. Pray and say; Lord, increase my greatness on every side by your mercy and favor, in Jesus name.
Thou shalt increase my greatness, and comfort me on every side. (Psalm 71:21, KJV)
PEOPLE ALSO READ: Midnight Prayer For Breakthrough
13. I break by the blood of Jesus Christ every ancestral covenant and curses that perpetrates poverty in my life, in the name of Jesus Christ.
14. Pray and say; I plead the blood of Jesus Christ on my foundation to destroy ancestral curses and spells, in Jesus name.
And they overcame him by the blood of the Lamb, and by the word of their testimony; and they loved not their lives unto the death. (Revelation 12:11, KJV)
15. I demand that my star and glory come out of hiding, shine forth and bring forth every good and perfect gift, in Jesus name.
16. Father, I pray that henceforth my legs shall carry me to my place of greatness, favor and beauty, in the name of Jesus Christ.
The steps of a good man are ordered by the LORD: and he delighteth in his way. (Psalm 37:23, KJV)
17. Oh Lord, beautify my life with your grace, favor and glory, that I may live and rejoice in your presence all the days of my life, in Jesus name.       
For the LORD taketh pleasure in his people: he will beautify the meek with salvation. (Psalm 149:4, KJV)
18. Ransom me oh Lord, from the hold of wickedness and evil that have almost wrecked my destiny, in Jesus name.
But he saveth the poor from the sword, from their mouth, and from the hand of the mighty. (Job 5:15, KJV)
19. Lord, let the rain of glory fall on me, let the wind of heaven blow on me with favor that I may be lifted above all my enemies, in Jesus name.
For thou, LORD, wilt bless the righteous; with favour wilt thou compass him as with a shield. (Psalm 5:12, KJV)
20. Father, make a way for me in the desert and road for me in the wilderness, in Jesus name.
21. Make my feet oh Lord strong to walk the path you have caved and earmarked for me in righteousness, in Jesus name.
22. Father, lift me up, push me up, take me up, and support me with your hand of mercy until I reach my goal, in Jesus name.
23. Oh Lord, let my name be named among the righteous who came, who saw and conquered for your kingdom in righteousness, in Jesus name.
He raiseth up the poor out of the dust, and lifteth the needy out of the dunghill; That he may set him with princes, even with the princes of his people. (Psalm 113:7-8, KJV)
No, go ahead and thank God for answer to prayers, prayed in Jesus name.
PEOPLE ALSO READ: Prayer Points For Favour And Open Doors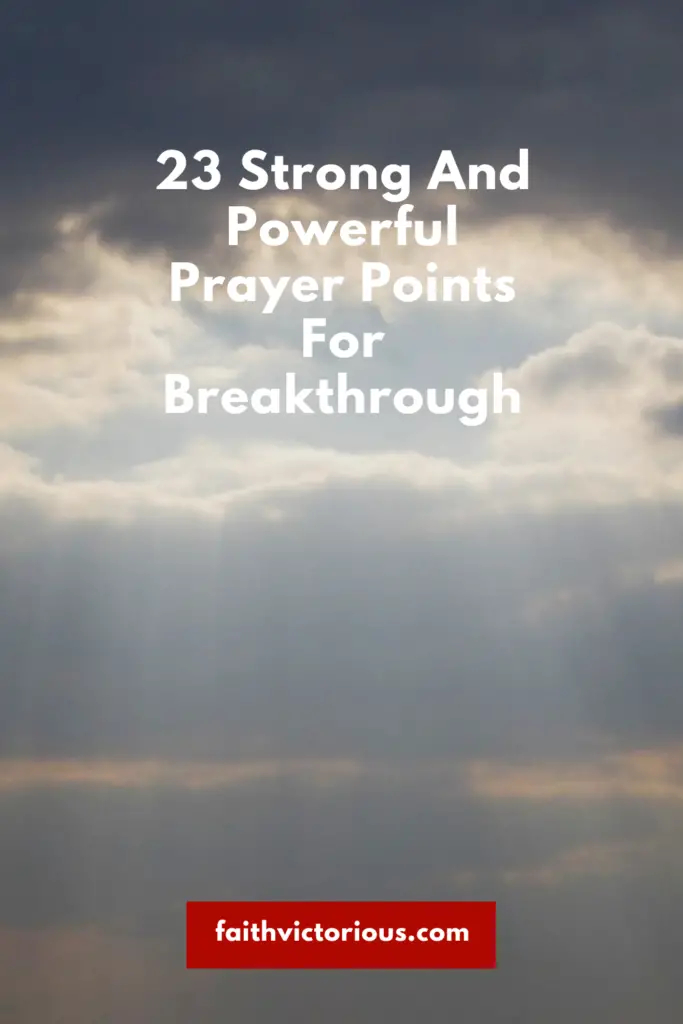 Conclusion
Nonetheless exhaustive, these powerful prayers points for breakthrough is intended to give you a head start in prayer.
They are scriptural and bible based and as such will catch the ear and heart of the Father.
And when the Father hears, then the answer is guaranteed.
Now, you are to give yourself completely to praying these prayer points until you sense that something has broken in the realm of the spirit – pray until something happen.
Sure enough, you will know when something has broken, when your breakthrough has come.
Now to help you push in some more in prayer and push effectively without resistance and spiritual opposition, you will have to learn how to pray in the spirit.
Simply put, you must learn how to push through with these powerful prayer points for breakthrough by praying them in the spirit.
That's one sure way by which you will be able to break through the dark clouds of evil into the glory clouds of God.
Why is this so?
It is because when you pray in the spirit, you pray mysteries, you sideline the devil and get in on a talking level with God that He alone understands, and you (understand) sometimes when you have the interpretation in understanding of what you are praying about.
And plus the very many other benefits of praying in the spirit – you pray well, you pray sufficiently, you pray satisfactorily and exhaust your prayers.
Above all, you pray the very mind of God for the occasion when you pray in the spirit.
So, these, and very many other reasons are why you must not stop or conclude your prayers until you have prayed them actively and vibrantly in the spirit.
Praying always with all prayer and supplication in the Spirit, and watching thereunto with all perseverance and supplication for all saints (Ephesians 6:18, KJV)
God bless you.
All the best.
23 Strong And Powerful Prayer Points For Breakthrough