Here are powerful midnight prayers for financial breakthrough you can use to pray.
It's time you wake up and do something about your finances.
If your desire for financial breakthrough is strong enough to make you sacrifice the hours of the midnight so you can pray, then you are really ready for a mouthwatering breakthrough.
Whatever it is that has taken your sleep is important and God will make it happen for you accordingly.
You may be surprise that God is waiting for you to show Him how serious you are about the change you want in your finances, now that you have resolved to dealing with the issue and changing the situation by night, He will come to your aid.
These powerful midnight prayers for financial breakthrough may be all you need to pray for a positive turn in your finances.
Ready to pray.
Let's get to it.
READ ALSO: Midnight Prayer For Breakthrough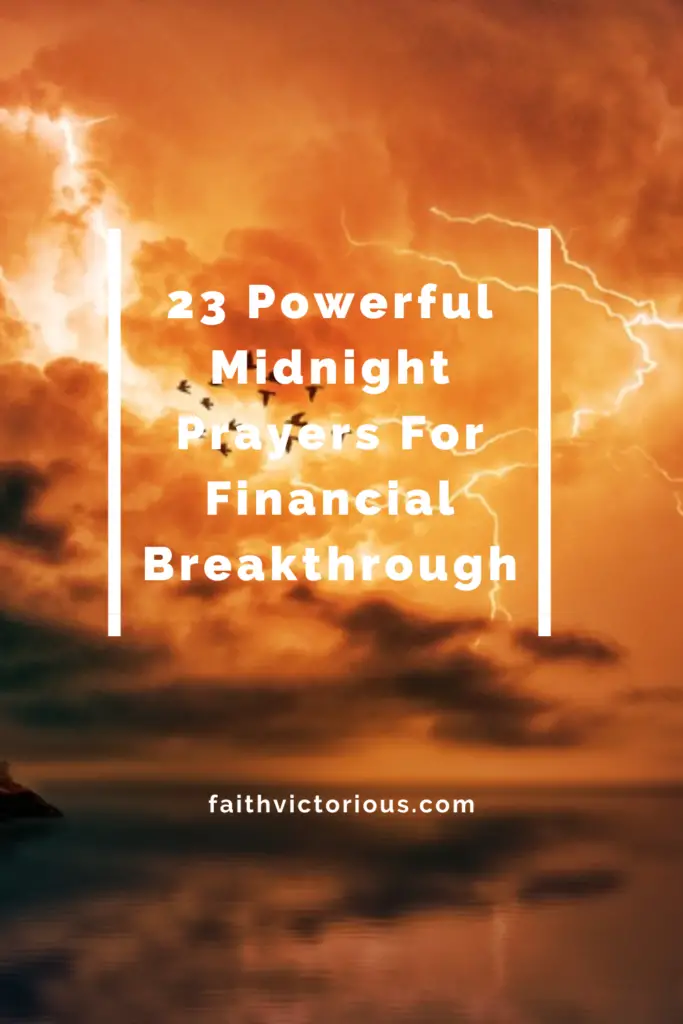 Powerful Midnight Prayers For Financial Breakthrough
The following are powerful midnight prayers for financial breakthrough that you can pray to alter the cause of your finances forever:
1. Pray and thank God for His provision in the death and resurrection of Christ for financial blessings, in Jesus name.
2. Pray and demand an end to financial mishaps and misfortunes that you may have been experiencing these many years, in Jesus name.
3. Pray and bring the blood of Christ against every curse in your life and family that is swallowing up money and financial fortunes on your path of destiny, in Jesus name.
4. Pray and call fire on the strong man of your family, clan and lineage that has held you and your siblings in captivity to poverty and lack, command him to be roasted by fire, in Jesus name.
No man can enter into a strong man's house, and spoil his goods, except he will first bind the strong man; and then he will spoil his house. (Mark 3:27, KJV)
5. Pray and call fire on any alter that is swallowing up your finances, command it to catch fire and burn to ashes in Jesus name.
6. Pray and command the altar to vomit your wealth and riches that it has swallowed up, in Jesus name.
7. Pray and call fire on every marine altar that is sitting on your blessing, plead the blood of Jesus on the altar and command it to vomit all it has swallowed in Jesus name.
He hath swallowed down riches, and he shall vomit them up again: God shall cast them out of his belly. (Job 20:15, KJV)
8. Pray and command fire on territorial and ancestral forces and even witches and wizards that are afflicting you with poverty, let them be ruined and roasted by fire and let their wickedness come to an end today, in Jesus name.
Oh let the wickedness of the wicked come to an end; but establish the just: for the righteous God trieth the hearts and reins. (Psalm 7:9, KJV)
9. Pray and command ancestral forces to give you and all that belongs to you up for good, in Jesus name.
10. Pray and ask the Lord to break the hand of the wicked over your finances and from every other area of your life that they are afflicting you, in Jesus name.
He delivereth the poor in his affliction, and openeth their ears in oppression. (Job 36:15, KJV)
11. Pray and ask the Lord to give his angel 'called Money' charge to visit you for a complete turnaround of financial and material blessings, in Jesus name.
12. Pray and bind mammon, command him to stop afflicting you financially, demand that he desists from his operation over your life, in Jesus name.
Verily I say unto you, Whatsoever ye shall bind on earth shall be bound in heaven: and whatsoever ye shall loose on earth shall be loosed in heaven. (Matthew 18:18, KJV)
PEOPLE ALSO READ: Mid Night Prayers For Financial Breakthrough
13. Pray and ask God to show you a certain way, a way that is peculiar to you, to make money, in Jesus name.
14. Ask God to anoint you with skills and understanding that makes for creativity, in Jesus name.
And he informed me, and talked with me, and said, O Daniel, I am now come forth to give thee skill and understanding. (Daniel 9:22, KJV)
15. Ask the Lord to furnish you with ideas, money spinning ideas that will make you into a millionaire in good time, in Jesus name.
16. Pray and ask the Lord for creative wisdom, wisdom for money making, in the name of Jesus.
17. Declare that excellence and sound wisdom is at work in your mind for financial prodigy, in Jesus name.
18. Ask the Holy Spirit to anoint your mind with understanding so you can translate ideas, wisdom and creativity into the natural realm for profit, in Jesus name.
19. Pray and ask the Lord to breathe on your mind fresh breath of the Spirit, so you will be able to think through ideas and make the most of them for profiting, in Jesus name.
I have even heard of thee, that the spirit of the gods is in thee, and that light and understanding and excellent wisdom is found in thee. (Daniel 5:14, KJV)
20. Declare that your spiritual eyes are open to see opportunities, your spiritual mind is open to recognize opportunities and courage is stirred up in your heart to go for the opportunities, in Jesus name.
21. Pray and ask the Lord to inspire you with active and participatory solutions to needs that exists in the society for real time financial gains, in Jesus name.
22. Pray and declare that you are blessed and empowered to prosper, that from today, you have received the grace to make money, to prosper in anything you set your heart, mind and your hand to do, in Jesus name.
And God is able to make all grace abound toward you; that ye, always having all sufficiency in all things, may abound to every good work… (2 Corinthians 9:8, KJV)
23. Pray and ask the Lord to bless your hands with resurrection power and grace that whatever you touched will multiply and that anything that was dead and dying before now will come back to life with the resurrection life at work in you, working through your hands, in Jesus name.
Now go ahead and thank God for answer to prayers, in Jesus name.
PEOPLE ALSO READ: Midnight Prayers For Protection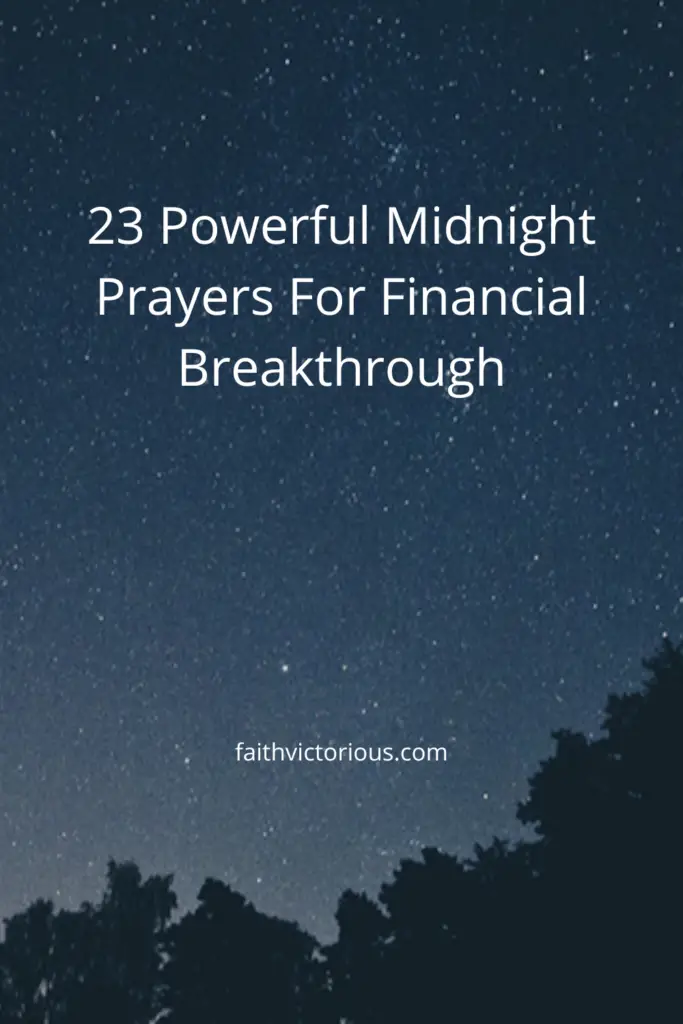 Conclusion
Nonetheless exhaustive, these powerful midnight prayers for financial breakthrough may be a game changer for you in the area and matter of your finances.
Scriptural and bible based, if prayed in faith will open you up to a world of financial blessing and fortunes that hitherto eludes you.
Your spiritual eyes and ears will be opened to see and hear words and ideas that will change the way you do things before now.
Your mind will be opened to receive understanding of God's creative ways and manners like Moses who saw into the prototype of the tabernacle in heaven so he can replicate it on earth. (See Exodus 25:9, KJV)
God has so much to give to the world for life, living, cure, happiness and joy, He has not stopped being creative, His innovations are ongoing.
You may just be the next channel that He will pour through to birth an idea that will change the way the world works and does things heretofore.
With these prayer points, you will be aligning yourself with the Spirit of God to bring solution to the problem of mankind. And in solving problems, you make money.
It's that simple.
Said enough.
Now, it will be well for you to also learn to pray these powerful midnight prayers for financial breakthrough in the spirit.
That's the only way to not only really pray but to also exhaust your prayers.
For when you pray in the spirit, you pray well, you pray satisfactorily, you pray sufficiently and exhaustively.
Isn't that a good place to come to every time you set yourself to pray?
And pray in the Spirit on all occasions with all kinds of prayers and requests. (Ephesians 6:18a, NIV)
God bless you.
All the best.  
23 Powerful Midnight Prayers For Financial Breakthrough