Here are mid night prayers for financial breakthrough you can use to pray.
Night time is a good time to pray.
Midnight is even better.
Why?
It's because the hours of the mid night is Satan's meeting and execution time.
Thus, when you pray at such time, you are disrupting their meeting and frustrating their plans.
Through prayers, you can cause commotion in a coven, and you can practically forestall every evil plan that is set and sent for execution.
You literarily stop demons and even Satan's human agents from executing their detailed, mobilized plan.
And seeing that many evils are done at night, (plus plans to frustrate your finances), you too can also do good and undo evil at those strategic hours.
There's an adage in a certain tribe in Nigeria that says; 'what was tied in the night time must also be loosened in the night as well.'
That's a spiritual fact.
Your finances was forestall by agents of darkness in the night, you also must breakthrough their installations and go for your breakthrough at night.
Did you now see why mid night prayers for financial breakthrough is a must for you?
READ ALSO: Spiritual Warfare Prayers For Financial Breakthrough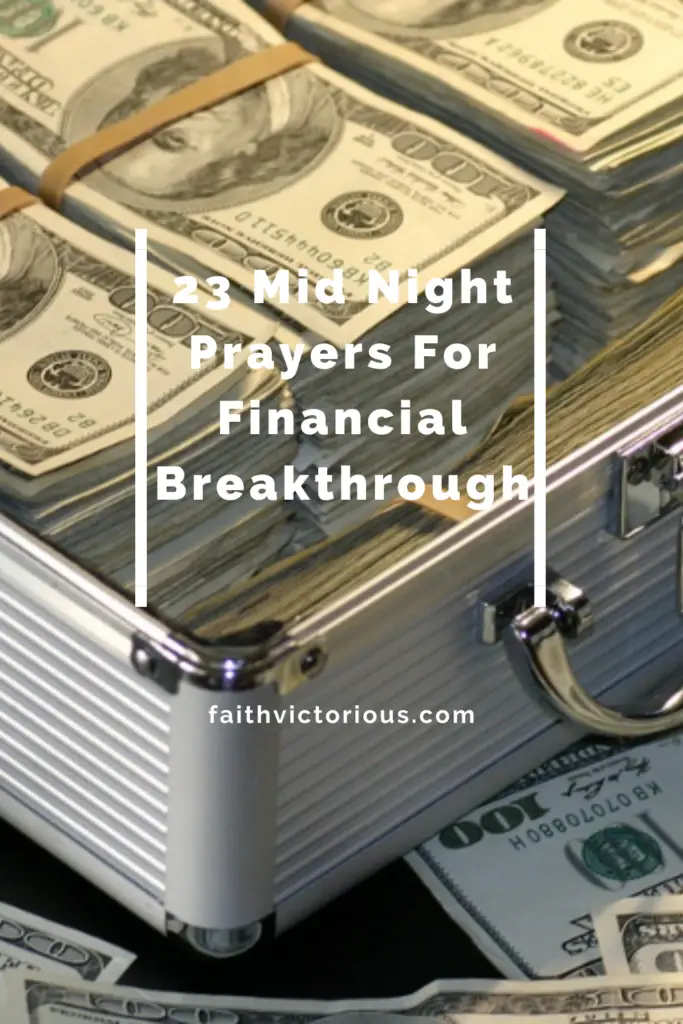 Mid Night Prayer For Financial Breakthrough
The following are mid night prayers for financial breakthrough you can pray to induce a financial breakthrough:
1. Pray first and foremost, thanking God for the provision of deliverance and prosperity He made available in the finished work of Christ, in Jesus name.
For ye know the grace of our Lord Jesus Christ, that, though he was rich, yet for your sakes he became poor, that ye through his poverty might be rich. (2 Corinthians 8:9, KJV)
2. Pray and ask the Lord to release His angels to attend to your prayers tonight, in Jesus name.
3. Pray and ask the Lord to give the charge to the chief angel in charge of the central bank of heaven to honor your check tonight, in Jesus name.
Are they not all ministering spirits, sent forth to minister for them who shall be heirs of salvation? (Hebrews 1:14, KJV)
4. Pray and command every fortification of Satan and his host against your finances to be pull down and destroy by fire, in Jesus name.
Lift up your heads, O ye gates; and be ye lift up, ye everlasting doors; and the King of glory shall come in. (Psalm 24:7, KJV)
5. Call down fire from heave to destroy incantation and spell over your finances, in Jesus name.
Then the LORD rained upon Sodom and upon Gomorrah brimstone and fire from the LORD out of heaven; And he overthrew those cities, and all the plain, and all the inhabitants of the cities, and that which grew upon the ground. (Genesis 19:24, KJV)
6. Pray and come against Mammon, command him to bow before your God now, in Jesus name.
And when they arose early on the morrow morning, behold, Dagon was fallen upon his face to the ground before the ark of the LORD; and the head of Dagon and both the palms of his hands were cut off upon the threshold; only the stump of Dagon was left to him. (1 Samuel 5:4, KJV)
7. Pray and command Mammon to take his hand off your finances, in Jesus name.
8. Command Mammon to stop every of his interference with your finances from today and henceforth, in Jesus name.
That at the name of Jesus every knee should bow, of things in heaven, and things in earth, and things under the earth. (Philippians 2:10, KJV)
10.  Pray and ask God to give His angel 'call money' special and urgent charge to attend to you with business ideas and financial supplies, in Jesus name.
11. Pray and ask the Lord to give his angel 'call money' charge to bring you to places, people and opportunities for financial breakthrough.
Behold, I send an Angel before thee, to keep thee in the way, and to bring thee into the place which I have prepared. (Exodus 23:20, KJV)
12. Declare that whatever you lay your hands to do from now onwards prospers immensely and tremendously, in Jesus name.
And he shall be like a tree planted by the rivers of water, that bringeth forth his fruit in his season; his leaf also shall not wither; and whatsoever he doeth shall prosper. (Psalm 1:3, KJV)
PEOPLE ALSO READ: Warfare Prayers Against Sickness
13. Pray and call down fire on any altar of wickedness where your money is buried now, in Jesus name.
14. Command the altar to open up, vomit and deliver your money back to you, in Jesus name.
He hath swallowed down riches, and he shall vomit them up again: God shall cast them out of his belly. (Job 20:15, KJV)
15. Pray and bring the blood of Jesus Christ against every covenant of poverty and lack that is stopping you from prosperity, in Jesus name.
16. Declare such covenants (family and even individual covenants) broken by the precious blood of the Lamb, in Jesus name.
17. Ask the Lord to train your hands and mind to make money, in Jesus name.
But thou shalt remember the LORD thy God: for it is he that giveth thee power to get wealth, that he may establish his covenant which he sware unto thy fathers, as it is this day. (Deuteronomy 8:18, KJV)
18. Pray and take authority over powers that are on assignment to continually frustrate your finances, bind them, in Jesus name.
Oh let the wickedness of the wicked come to an end; but establish the just: for the righteous God trieth the hearts and reins. (Psalm 7:9, KJV)
19. Declare an end to financial frustrations in your life right now, in Jesus name.
20. Ask the Holy Spirit to breathe fresh breath on your finances, ask Him to breathe life and resurrection into your finances now, in Jesus name.
21. Pray and declare that you have a sound mind and that you have the wisdom of God to create wealth, in Jesus name.
For God hath not given us the spirit of fear; but of power, and of love, and of a sound mind. (2 Timothy 1:7, KJV)
22. Pray and ask the Lord for skill, expertise and understanding in financial matters, in Jesus name.
And he informed me, and talked with me, and said, O Daniel, I am now come forth to give thee skill and understanding. (Daniel 9:22, KJV)
23. Pray and ask heaven to mobilize you with resources, every resource (spiritual, human, material and otherwise) that you need for financial breakthrough this very season of your life, in Jesus name.
But my God shall supply all your need according to his riches in glory by Christ Jesus. (Philippians 4:19, KJV)
Now, go ahead and thank God for answer to prayers, in Jesus name.
PEOPLE ALSO READ: Powerful Psalms For Financial Blessings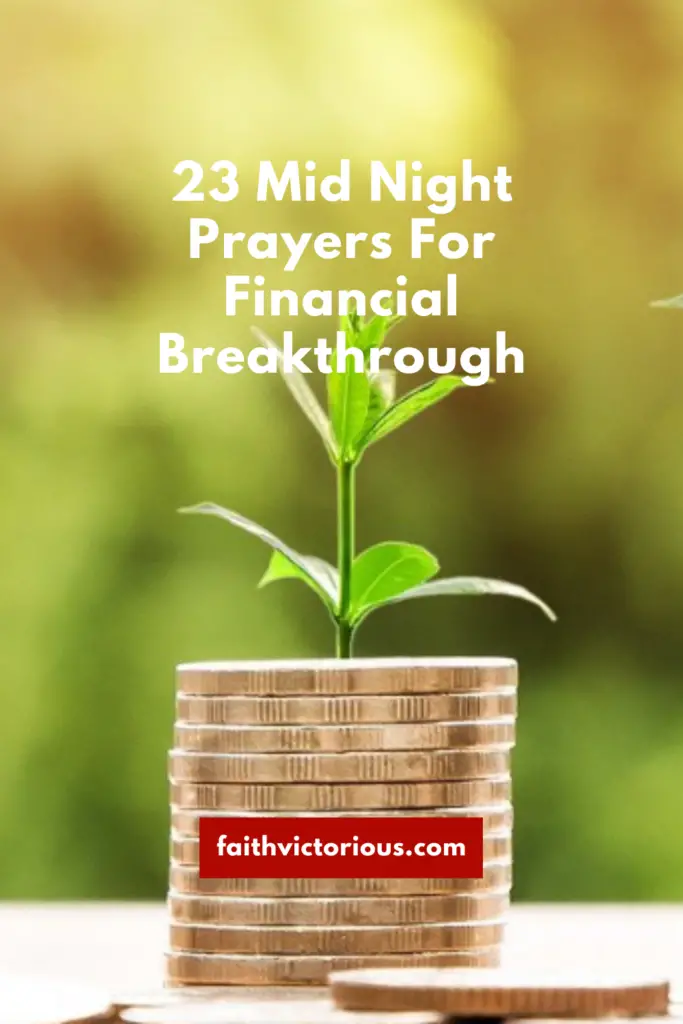 Conclusion
Nonetheless exhaustive, these mid night prayers for financial breakthrough will put you a long way down the road in your bid to secure your breakthrough financially, in Jesus name.
These prayer points are great spiritual resources you need for mid night prayer warfare that relates with your finances.
The kingdom of heaven suffers violence and the violent takes it by force. (Matthew 11:12, KJV)
You must not fold your hands in weakness and ignorance and allow the devil to keep you down in penury.
Fight for your right.
Prosperity is your blood bough right in Christ Jesus name.
Through efforts, spiritual conscious efforts, you will have to take what belongs to you in Christ.
Money matter is spiritual warfare, you know.
So, you have got to approach it militantly.
Now, there's one other type of prayer you need for you to be able to completely rout Satan and take your finances off his hands and control; it is called praying in the Holy Ghost.
When you pray in the spirit, you pray well, you pray sufficiently.
When you pray in tongues, you bombard hell with fire, streaming right from the throne of God.
Actually, in praying in tongues, you pray all manner of prayer in one deal.
And pray in the Spirit on all occasions with all kinds of prayers and requests. (Ephesians 6:18a, NIV)
God bless you.
All the best.
23 Mid Night Prayers For Financial Breakthrough