Today, I want us to briefly look at the difference between prayer and worship.
Why should you even border yourself about any difference between prayer and worship?
If there are differences, does it matter?
And why should you care at all.
Hey, my friend, there are some gap between worship and prayer.
There are some unique characteristics that make worship really different from prayer.
At the same time, they have some things in common.
Now, let's see a few of the differences.
READ ALSO: Worship As A Weapon Of Warfare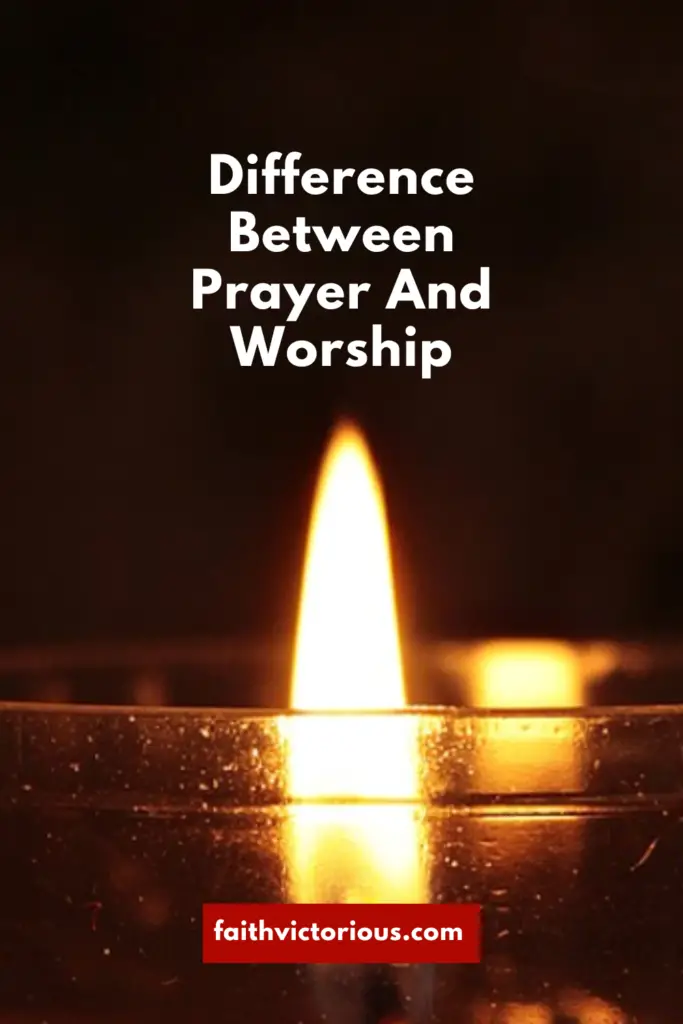 Difference Between Prayer And Worship
The following are some of the main differences between prayer and worship:
1. Prayer Is Your Need Reaching To God, While Worship Is Your Heart Touching God
When you pray, you bring your concerns to God, asking for His help to meet them.
But when you worship, you bring your heart on the scene, asking God to pour His love and life into you.
Prayer is about self, most of the time.
But worship is about God.
In prayer, you focus on yourself and your needs, in worship, you focus on God and His need.
2. Prayer Appeals To God's Power, Worship Appeals To God's Personality
In prayer, you appeal to God's power and omnipotence.
You are asking for His help, you are asking for His intervention in your life and affairs.
You are asking Him to fight for you, and to lift you and prosper you.
It's all about you touching the power of God, drawing from His omnipotence to meet your needs.
But in worship, you don't do that.
Instead, you reach to God's nature, you touch Him, His very heart of love and mercy.
You touch His highest nature, HOLINESS.
In worship, you interact with His nature and in turn, He pours Himself into you bringing about a transformation of your own person too.
His holiness consumes and refines you know.
This is because God's nature of holiness is defined and captured in the English word 'terror.'
The holy nature of God is His Terror. God's Holiness is His terror.
God is a holy God, He is terrible.
(See Deuteronomy 7: 21 and Psalm 99: 3, 9, 68:35, 47:2)
Worship is person (you) reaching to person (God).
Whereas, in prayer, it is needs reaching to power for help.
3. Prayer Is Your Cry Going Out To God, But Worship Is You Delighting God
When you pray, it comes to God as your cry, needing attention, help and intervention.
But when you worship, you cook for God, you bring a smell that arouses His curiosity and quenches His thirst.
God sits down to savor in your worship.
It is the greatest of taste to Him.
You make God His most delicious of meal, when you worship, a meal that gives Him the greatest of pleasure.
You see, worship is a step ahead of prayer.
You are asking for help in prayer, you are asking for God Himself when you worship.
4. Prayer Moves Mountain, Worship Moves God
You have heard it said several times that prayers moves mountain.
That's correct.
Mountains are moved by the power of God in response to your prayer.
But what about God Himself?
Can He be moved?
Yes.
When you praise and worship God, you move Him.
And when God is moved, things happen. (Psalm 68:1)
PEOPLE ALSO READ: Worship As A Fragrance To God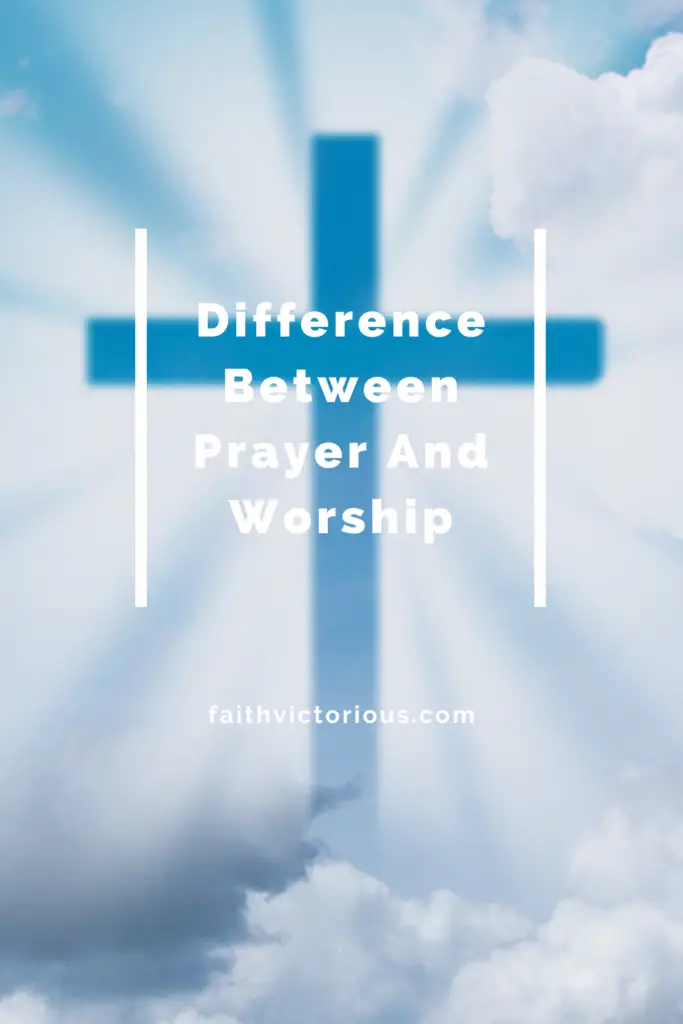 5. Prayer Is Communicated, Worship Is Demonstrated
This is one principal difference between prayer and worship.
Prayer is communicated through words, that why prayer is said (you say prayers).
It involves words, talking, and your mouth in action.
But worship is difference, it is a step ahead of worship.
Worship is an act, it is demonstrated.
It involves your body.
Yes, there's the deposition of your body when it comes to worship.
The lifting up of the hand, the bowing down of the head, kneeling down, full prostration are all forms and ways your body gets involved in worship.
In short, without any of such acts, worship is not complete and real.
You will notice what Satan said to Jesus about worship when He told Jesus to worship Him at the Temptation.
"All these I will give you he said, if you will bow down and worship me.' (Matthew 4:9, NIV) 
'If you will bow down and worship me,' he said.
Bowing down, prostration, these dispositions of the body communicates real worship.
For short, worship is not real and true without bodily disposition.
Worship is communicated through your body.
6. Prayer And Worship Have Their Distinctive Language
Prayer has its own language, worship too has its own language.
You can say prayers the way you want, casually, seriously, light', heavy, just the way you know how best to communicate and God will hear you and answer you.
Of course, is that the best language of prayer is the word of God.
That's why you need to learn how to 'pray the word.'
In the same vein, worship has its unique language and style of communication.
You are not praying when you worship, you are acknowledging God (Deuteronomy 4:39, NIV)
So, the scriptural language that best communicates worship is the language of acknowledgement.
Words that eulogizes God.
'You are the Lord there's none else, there's no God besides you', is a language of worship.
'Salvation belongs to you Lord and unto the Lamb' is a statement of worship.
'To Him who sits on the throne and unto the lamb be glory, honor, power, praise, wisdom…' is worship finding expression in words.
'Who is like unto you oh Lord, among the God's who is like unto you, glorious in Holiness, fearful in praises, doing wonders….' is worship being expressed.
'Hallowed (holy) is your name,' is worship talking.
You must learn the language of worship.
It is dotted all through scriptures.
Search the scriptures and you will find the language of worship.
7. Prayer Changes You, Worship Beautifies God
This is another notable difference between prayer and worship that you must take to heart.
Prayer changes you, it does not affect God.
I even think the reason prayer changes you is because in a sense you are interacting passively (not actively) with His Holiness when you pray.
(And that's a great way for you to change, you know)!
That's because when God's Holiness robs off on you like it did Moses during His 40 days and night visit with HIS HOLINESS, you will changed – becoming more like Him, inside and outside.
But what happens when you worship?
Who gets the most satisfaction in worship?
You or God.
God of course.
You are affected, influence, overcome and transformed by His presence – His Holiness.
But much more, God is delighted above all.
He is full, completely satisfied when you worship Him.
You give Him His choicest food, you arouse His person (ego), you provoke and stir His love, kindness and mercy when you worship.
You actually dressed Him with your worship.
Think of robing God with you worship.
That's what you do when you worship Him.
You pour fragrance on Him in worship, you made Him radiance some more when you worship.
God is elated and elevated through your worship.
What a holy calling!
PEOPLE ALSO READ: The Power Of Praise And Worship In Spiritual Warfare
Conclusion
Nonetheless exhaustive, the seven points given above are just so you may know the difference between worship and prayer.
And much more, so you can take advantage of worship and get the best out of life with it.
Do you want to see the best of God in your life, then worship Him more than you even pray!
Now that you have a knowledge of some of the disposition and language of worship, go ahead and put them to practice, act them.
Worship is an act (what you learn and do), it is more than an art (a theatrical performance).
It is spiritual.
It is one of your most potent weapon of warfare in the school of the Spirit.
Don't joke with prayer, but don't underestimate the power of worship.
In it, you meet God face to face, you interact with His HOLINESS, which is His highest nature.
'Give unto the LORD, O ye mighty, give unto the LORD glory and strength. Give unto the LORD the glory due unto his name; worship the LORD in the beauty of holiness.' (Psalm 29:1-2)
'Exalt the LORD our God, and worship at his holy hill; for the LORD our God is holy.' (Psalm 99:9, KJV)
Difference Between Prayer And Worship: Does It Matter?