Please hold and let me show you some bible verses for warfare prayer points for a quick reference.
But first, let me quickly remind you that to be effective in prayer, spiritual warfare much more, you have to arm yourself with scriptures; bullet, spiritual bullet, which is the word of God.
Jesus did not overcome Satan just by prayer, He overcame Him by quoting what was written – the Word.
So you need the Word much more in your arsenal of spiritual weapons to successfully launch attack and offense on the enemy and his hosts.
God's Word is one of the weapons of our warfare you know, and nothing can take its place. (See Ephesian 6:17, NIV)
You have to be intelligent in it, you have to be skilled at it and you have to be wise at the deployment and use of scriptures at specific occasions and circumstances.
Sure enough, we have put together bible verses for warfare prayer points for this very purpose.
Equip yourself with them, commit them to memory for you never know when you need one.
So, never let your gun run out of bullet.
Ready!
Let's go!
READ ALSO: Powerful Prayer Points For Spiritual Warfare And Protection
Bible Verses For Warfare Prayer Points 
The following are bible verses for warfare prayer points for a quick reference and guide:
1. Isaiah 8:10, KJV:
Take counsel together, and it shall come to nought; speak the word, and it shall not stand: for God is with us.
2. Job 5:13-15, KJV:
He taketh the wise in their own craftiness: and the counsel of the froward is carried headlong. They meet with darkness in the daytime, and grope in the noonday as in the night. But he saveth the poor from the sword, from their mouth, and from the hand of the mighty. 
3. Isaiah 54:14-15, 17, KJV:
In righteousness shalt thou be established: thou shalt be far from oppression; for thou shalt not fear: and from terror; for it shall not come near thee. Behold, they shall surely gather together, but not by me: whosoever shall gather together against thee shall fall for thy sake… No weapon that is formed against thee shall prosper; and every tongue that shall rise against thee in judgment thou shalt condemn. This is the heritage of the servants of the LORD, and their righteousness is of me, saith the LORD. 
4. Psalm 35:4-5, KJV:
Let them be confounded and put to shame that seek after my soul: let them be turned back and brought to confusion that devise my hurt. Let them be as chaff before the wind: and let the angel of the LORD chase them. 
5. Isaiah 49:24-26, KJV:
Shall the prey be taken from the mighty, or the lawful captive delivered? But thus saith the LORD, Even the captives of the mighty shall be taken away, and the prey of the terrible shall be delivered: for I will contend with him that contendeth with thee, and I will save thy children. And I will feed them that oppress thee with their own flesh; and they shall be drunken with their own blood, as with sweet wine: and all flesh shall know that I the LORD am thy Saviour and thy Redeemer, the mighty One of Jacob. 
6. Job 22:28-29, KJV:
Thou shalt also decree a thing, and it shall be established unto thee: and the light shall shine upon thy ways. When men are cast down, then thou shalt say, There is lifting up; and he shall save the humble person. 
7. Jeremiah 22:29, KJV:
O earth, earth, earth, hear the word of the LORD. 
8. Psalm 37:14-15, KJV:
The wicked have drawn out the sword, and have bent their bow, to cast down the poor and needy, and to slay such as be of upright conversation. Their sword shall enter into their own heart, and their bows shall be broken.
9. 1 Samuel 2:9, KJV:
He will keep the feet of his saints, and the wicked shall be silent in darkness; for by strength shall no man prevail. 
10. Job 11:19-20, KJV:
Also thou shalt lie down, and none shall make thee afraid; yea, many shall make suit unto thee. But the eyes of the wicked shall fail, and they shall not escape, and their hope shall be as the giving up of the ghost. 
11. Job 18:5-7, KJV:
Yea, the light of the wicked shall be put out, and the spark of his fire shall not shine. The light shall be dark in his tabernacle, and his candle shall be put out with him. The steps of his strength shall be straitened, and his own counsel shall cast him down. 
12. Job 21:30, KJV:
That the wicked is reserved to the day of destruction? they shall be brought forth to the day of wrath. 
13. Psalm 34:21, KJV:
Evil shall slay the wicked: and they that hate the righteous shall be desolate.
14. Psalm 37:17, 20, KJV:
For the arms of the wicked shall be broken: but the LORD upholdeth the righteous. But the wicked shall perish, and the enemies of the LORD shall be as the fat of lambs: they shall consume; into smoke shall they consume away. 
15. Psalm 27:1-3, KJV:
The LORD is my light and my salvation; whom shall I fear? the LORD is the strength of my life; of whom shall I be afraid? When the wicked, even mine enemies and my foes, came upon me to eat up my flesh, they stumbled and fell. Though an host should encamp against me, my heart shall not fear: though war should rise against me, in this will I be confident. 
16. Psalm 125:3, KJV:
For the rod of the wicked shall not rest upon the lot of the righteous; lest the righteous put forth their hands unto iniquity. 
READ ALSO: Warfare Prayer Points For The Church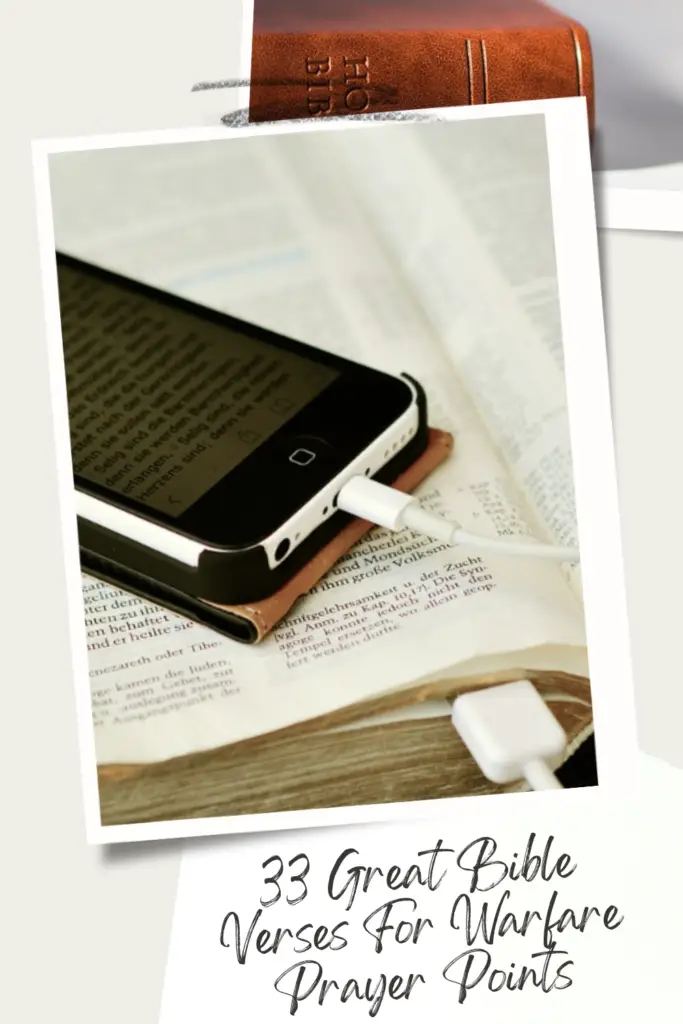 17. Job 8:22, KJV:
They that hate thee shall be clothed with shame; and the dwelling place of the wicked shall come to nought. 
18. Isaiah 8:12, KJV:
Say ye not, A confederacy, to all them to whom this people shall say, A confederacy; neither fear ye their fear, nor be afraid. 
19. Proverbs 24:15, KJV:
Lay not wait, O wicked man, against the dwelling of the righteous; spoil not his resting place: 
20. Lamentations 3:37, KJV:
Who is he that saith, and it cometh to pass, when the Lord commandeth it not? 
21. Psalm 7:9, KJV:
Oh let the wickedness of the wicked come to an end; but establish the just: for the righteous God trieth the hearts and reins. 
22. Psalm 28:4, KJV:
Give them according to their deeds, and according to the wickedness of their endeavours: give them after the work of their hands; render to them their desert. 
23. Zechariah 2:5, KJV:
For I, saith the LORD, will be unto her a wall of fire round about, and will be the glory in the midst of her. 
24. 1 John 5:4, KJV:
For whatsoever is born of God overcometh the world: and this is the victory that overcometh the world, even our faith. 
25. Matthew 18:18, KJV:
Verily I say unto you, Whatsoever ye shall bind on earth shall be bound in heaven: and whatsoever ye shall loose on earth shall be loosed in heaven. 
26. Matthew 16:18, KJV:
And I will give unto thee the keys of the kingdom of heaven: and whatsoever thou shalt bind on earth shall be bound in heaven: and whatsoever thou shalt loose on earth shall be loosed in heaven. 
27. Philippians 2:9-11, KJV:
Wherefore God also hath highly exalted him, and given him a name which is above every name: That at the name of Jesus every knee should bow, of things in heaven, and things in earth, and things under the earth; And that every tongue should confess that Jesus Christ is Lord, to the glory of God the Father.
28. 2 Corinthians 2:14, KJV:
Now thanks be unto God, which always causeth us to triumph in Christ, and maketh manifest the savour of his knowledge by us in every place. 
29. Ephesians 6:10, KJV:
Put on the whole armour of God, that ye may be able to stand against the wiles of the devil. 
30. 2 Corinthians 10:2-3, KJV:
For though we walk in the flesh, we do not war after the flesh: (For the weapons of our warfare are not carnal, but mighty through God to the pulling down of strong holds;) 
31. 1 Corinthians 2:6, KJV:
Howbeit we speak wisdom among them that are perfect: yet not the wisdom of this world, nor of the princes of this world, that come to nought: 
32. 1 John 2:8, KJV:
He that committeth sin is of the devil; for the devil sinneth from the beginning. For this purpose the Son of God was manifested, that he might destroy the works of the devil. 
33. Revelation 12:11, KJV:
And they overcame him by the blood of the Lamb, and by the word of their testimony; and they loved not their lives unto the death. 
READ ALSO: Spiritual Warfare Prayer Points With Scriptures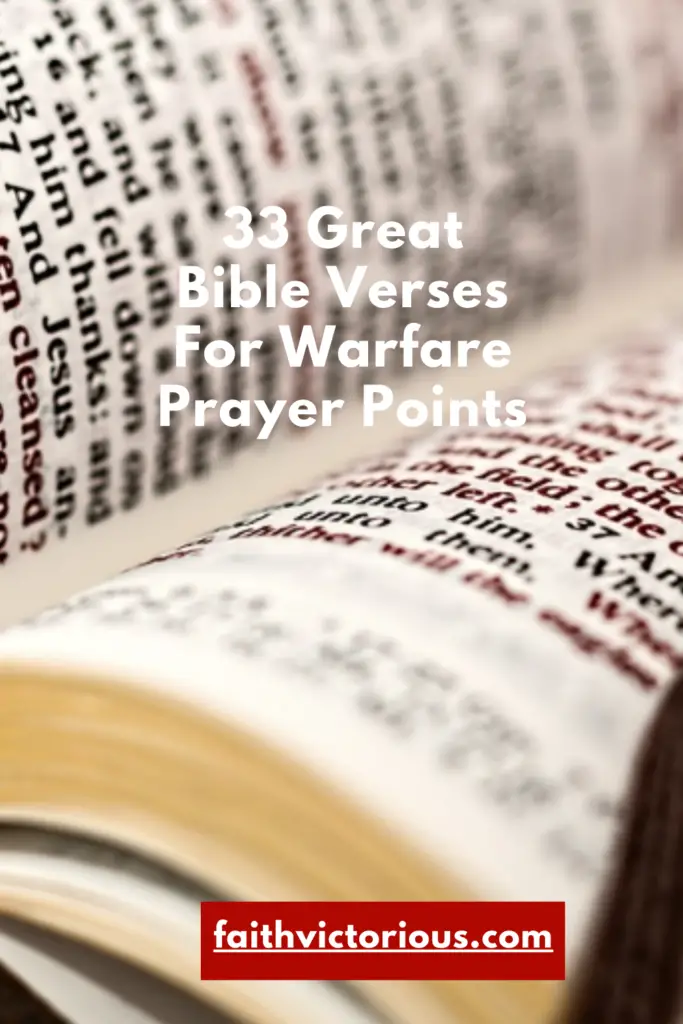 Conclusion
These bible verses for warfare prayer points certainly are not all there is to bible verses for warfare prayer.
But, these ones are sufficient for every occasion and adept at what they do – the defeat of Satan and his hordes of demons.
Commit them to your memory and then through meditation, get them into your spirit, for that's where you need them for proper and permanent storage.
And then make your tongue to do its job by using it to shoot aside every time and anytime the enemy rear its ugly head around you.
Your mouth, the use of your mouth, how much and how well you use your mouth determines your victory in spiritual warfare.
And take… the sword of the Spirit, which is the word of God (Ephesians 6:17, KJV)
God bless you.
All the best!
33 Great Bible Verses For Warfare Prayer Points