Are you surfing the net for bible verses for protection from all evil – demonic attack and assault?
Look no further, you have come to the right place.
We know that it can be time consuming some times to find the perfect scriptures that matches your situation adequately, one with which you can properly protect yourself from evil.
To help you out, we have taken it for granted to supply you with 31 bible verses for protection from all evil attack.
Any and all of these bible verses for protection are just the right bible verses you need for your protection from all forms of danger, harm, plague in these evil times.
So, sit back and read through these bible verses for protection.
We trust that you will find one that resonates with you, one that fits the situation and meets your need at the moment.
31 Bible Verses For Protection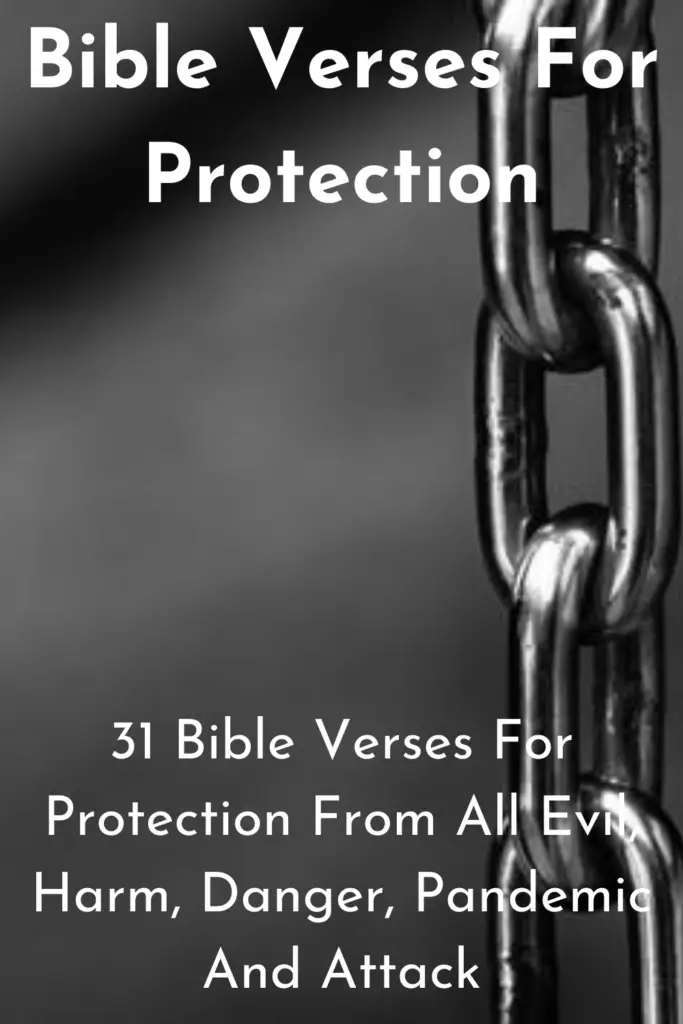 In no particular order, here are 31 bible verses for protection from all evil, satanic and demonic attack for your quick reference.
1. Isaiah 54:17:
"No weapon that is formed against thee shall prosper; and every tongue that shall rise against thee in judgment thou shalt condemn. This is the heritage of the servants of the LORD, and their righteousness is of me, saith the LORD."
2. Psalm 37:14-15:
"The wicked have drawn out the sword, and have bent their bow, to cast down the poor and needy, and to slay such as be of upright conversation. Their sword shall enter into their own heart, and their bows shall be broken."
3. Isaiah 41:10-11:
"Fear thou not; for I am with thee: be not dismayed; for I am thy God: I will strengthen thee; yea, I will help thee; yea, I will uphold thee with the right hand of my righteousness. Behold, all they that were incensed against thee shall be ashamed and confounded: they shall be as nothing; and they that strive with thee shall perish." 
4. 2 Tim 4:18:
"And the Lord shall deliver me from every evil work, and will preserve me unto his heavenly kingdom: to whom be glory for ever and ever. Amen."
5. Psalm 32:7:
"Thou art my hiding place; thou shalt preserve me from trouble; thou shalt compass me about with songs of deliverance." 
"But the Lord is faithful, and he will strengthen you and protect you from the evil one."
7. Psalm 109:1-4:
"Hold not thy peace, O God of my praise;  For the mouth of the wicked and the mouth of the deceitful are opened against me: they have spoken against me with a lying tongue. They compassed me about also with words of hatred; and fought against me without a cause. For my love they are my adversaries: but I give myself unto prayer."
8. Psalm 91:
"He that dwelleth in the secret place of the most High shall abide under the shadow of the Almighty. I will say of the LORD, He is my refuge and my fortress: my God; in him will I trust. Surely he shall deliver thee from the snare of the fowler, and from the noisome pestilence. He shall cover thee with his feathers, and under his wings shalt thou trust: his truth shall be thy shield and buckler. Thou shalt not be afraid for the terror by night; nor for the arrow that flieth by day; Nor for the pestilence that walketh in darkness; nor for the destruction that wasteth at noonday. A thousand shall fall at thy side, and ten thousand at thy right hand; but it shall not come nigh thee. Only with thine eyes shalt thou behold and see the reward of the wicked. Because thou hast made the LORD, which is my refuge, even the most High, thy habitation; There shall no evil befall thee, neither shall any plague come nigh thy dwelling. For he shall give his angels charge over thee, to keep thee in all thy ways. They shall bear thee up in their hands, lest thou dash thy foot against a stone. Thou shalt tread upon the lion and adder: the young lion and the dragon shalt thou trample under feet. Because he hath set his love upon me, therefore will I deliver him: I will set him on high, because he hath known my name. He shall call upon me, and I will answer him: I will be with him in trouble; I will deliver him, and honour him. With long life will I satisfy him, and shew him my salvation. 
"The Lord is my shepherd, I lack nothing. He makes me lie down in green pastures, he leads me beside quiet waters, he refreshes my soul. He guides me along the right paths for his name's sake. Even though I walk through the darkest valley, I will fear no evil, for you are with me; your rod and your staff, they comfort me. You prepare a table before me in the presence of my enemies. You anoint my head with oil; my cup overflows. Surely your goodness and love will follow me all the days of my life, and I will dwell in the house of the Lord forever."
"God is our refuge and strength, an ever-present help in trouble. Therefore we will not fear, though the earth give way and the mountains fall into the heart of the sea, though its waters roar and foam and the mountains quake with their surging."
11. 1 Peter 5:8-9:
"Be sober, be vigilant; because your adversary the devil, as a roaring lion, walketh about, seeking whom he may devour: 
Whom resist stedfast in the faith, knowing that the same afflictions are accomplished in your brethren that are in the world." 
12. Psalm 7:9:
"Oh let the wickedness of the wicked come to an end; but establish the just: for the righteous God trieth the hearts and reins." 
13. Psalm 138:7:
"Though I walk in the midst of trouble, thou wilt revive me: thou shalt stretch forth thine hand against the wrath of mine enemies, and thy right hand shall save me."
14. Psalm 121:7-8:
"The LORD shall preserve thee from all evil: he shall preserve thy soul. The LORD shall preserve thy going out and thy coming in from this time forth, and even for evermore."
15. 1 John 5:18:
"We know that whosoever is born of God sinneth not; but he that is begotten of God keepeth himself, and that wicked one toucheth him not."
16. Psalm 62:1-2:
Truly my soul waiteth upon God: from him cometh my salvation. He only is my rock and my salvation; he is my defence; I shall not be greatly moved. 
Related:
17. Deuteronomy 31:6:
Be strong and of a good courage, fear not, nor be afraid of them: for the LORD thy God, he it is that doth go with thee; he will not fail thee, nor forsake thee.
18. Psalm 5:8-12:
"Lead me, O LORD, in thy righteousness because of mine enemies; make thy way straight before my face. For there is no faithfulness in their mouth; their inward part is very wickedness; their throat is an open sepulchre; they flatter with their tongue. Destroy thou them, O God; let them fall by their own counsels; cast them out in the multitude of their transgressions; for they have rebelled against thee. But let all those that put their trust in thee rejoice: let them ever shout for joy, because thou defendest them: let them also that love thy name be joyful in thee. For thou, LORD, wilt bless the righteous; with favour wilt thou compass him as with a shield." 
19. Psalm 12:5:
"For the oppression of the poor, for the sighing of the needy, now will I arise, saith the LORD; I will set him in safety from him that puffeth at him." 
20. Psalm 20:1:
"The LORD hear thee in the day of trouble; the name of the God of Jacob defend thee;"
21. Psalm 140:1-4:
"Deliver me, O LORD, from the evil man: preserve me from the violent man; Which imagine mischiefs in their heart; continually are they gathered together for war. They have sharpened their tongues like a serpent; adders' poison is under their lips. Keep me, O LORD, from the hands of the wicked; preserve me from the violent man; who have purposed to overthrow my goings."
22. 1 Thessalonians 5:23-24 (NIV):
"May God himself, the God of peace, sanctify you through and through. May your whole spirit, soul and body be kept blameless at the coming of our Lord Jesus Christ. The one who calls you is faithful, and he will do it."
23. Psalm 34: 7:
"The angel of the LORD encampeth round about them that fear him, and delivereth them."
24. Psalm 17:8-9:
"Keep me as the apple of the eye, hide me under the shadow of thy wings, From the wicked that oppress me, from my deadly enemies, who compass me about."
25. Ephesians 6:10-13:
"Finally, my brethren, be strong in the Lord, and in the power of his might. Put on the whole armour of God, that ye may be able to stand against the wiles of the devil. For we wrestle not against flesh and blood, but against principalities, against powers, against the rulers of the darkness of this world, against spiritual wickedness in high places. Wherefore take unto you the whole armour of God, that ye may be able to withstand in the evil day, and having done all, to stand." 
26. Proverbs 18:10:
"The name of the LORD is a strong tower: the righteous runneth into it, and is safe."
27. Psalm 3:3-5:
"But thou, O LORD, art a shield for me; my glory, and the lifter up of mine head. I cried unto the LORD with my voice, and he heard me out of his holy hill. I laid me down and slept; I awaked; for the LORD sustained me. I will not be afraid of ten thousands of people, that have set themselves against me round about. Arise, O LORD; save me, O my God: for thou hast smitten all mine enemies upon the cheek bone; thou hast broken the teeth of the ungodly. Salvation belongeth unto the LORD: thy blessing is upon thy people."
28. Isaiah 43:2 (NIV):
"When you pass through the waters, I will be with you; and when you pass through the rivers, they will not sweep over you. When you walk through the fire, you will not be burned; the flames will not set you ablaze."
29. Psalm 28:7:
"The LORD is my strength and my shield; my heart trusted in him, and I am helped: therefore my heart greatly rejoiceth; and with my song will I praise him."
30. Psalm 35:1-2:
"Plead my cause, O LORD, with them that strive with me: fight against them that fight against me. Take hold of shield and buckler, and stand up for mine help." 
31. Psalm 27:1-3:
"The LORD is my light and my salvation; whom shall I fear? the LORD is the strength of my life; of whom shall I be afraid? When the wicked, even mine enemies and my foes, came upon me to eat up my flesh, they stumbled and fell. Though an host should encamp against me, my heart shall not fear: though war should rise against me, in this will I be confident."
PS: Unless otherwise stated all scriptural quotations in this post are taken from the Authorised King James Version. And all scriptural quotations tagged NIV are taken online from the New International Version 2011, published by Biblica.
How To Use Bible Verses For Protection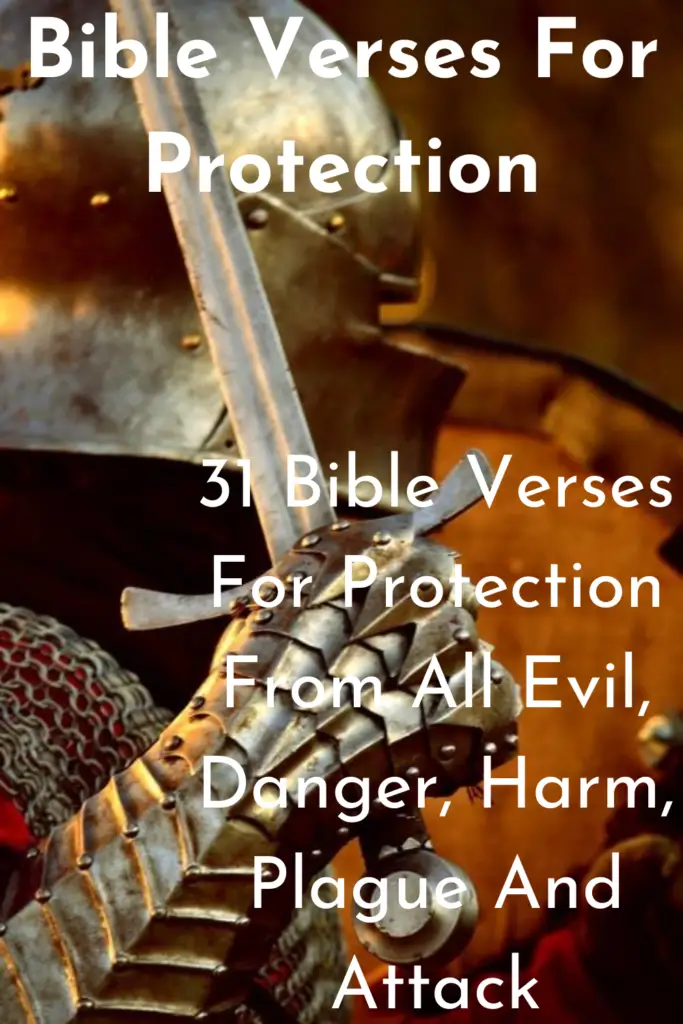 The Word of God proclaimed is your best protection from all evil and every attack.  
The Scripture calls the Word of God 'the Sword of the Spirit….
If the bible was written today, the apostle Paul will no doubt call it 'the bullet of the Spirit'.
Of course, you know bullets are useless unless you fire them off the riffle.
It goes without saying that the best form of defense is offence.
That's to say the best way to protect yourself, family, children and loved ones from evil is to go on the offensive with the Word of God.
So the best way to apply bible verse for protection for self or on loved ones and family members is to pray it and say it.
Personalize the prayers and the declaration.
Pray them day and night, say them day and night until you literally feel God's wall of protection all around you.
And if you truly believe what you pray and say, then you will see these bible verses for protection work for you.   
Wrapping up
We are sure we have been able to help you with adequate scriptures that meet your need for protection at this time.
We know that if you take the time to really read through all the 31 bible verses for protection above, you will no doubt find one that resonates with you, one that meets the situation at hand most perfectly.
So go ahead, put the 'wall of protection' on yourself, family and loved ones with these bible verses for protection and watch you and loved ones enjoy divine protection from evil.
Shalom!
Please share if you find the post helpful!
PS: Please if you find any bible verse for protection that you think we should add to this list, you can shoot us a comment using the comment box below and we will be more than glad to add it.
Thanks!
31 Bible Verses For Protection From All Evil