Burdened and weighted down with guilt and condemnation and are looking for bible verses for forgiveness to help you pull through with God and self!
Or you are having a hard time trying to forgive someone – forgiving others can be tough and hard sometimes, you know.
Yet, it is possible to do.
We all at one time and the other have missed it, somewhat fallen out of favor with God and with other people.
Oh the guilt that clouds our hearts and cripple our boldness with God and sometimes with men at such moment!
But thank God for the provision of forgiveness in God's word through the power of the blood of Christ.
And thank God all the more for bible verses for forgiveness with which you are able to plead your case with God and obtain forgiveness.
Plus, thank God for Bible verses for forgiveness that will help do the battle over your heart until you're able to say that you have forgiven that person who hurt you.
There's no better ground to stand to obtain forgiveness with God than with accurate bible verses for forgiveness that helps you pass the message across.
We understand and have therefore taken for granted to help you with quick reference and on-hand bible verses for forgiveness to help you settle your score with God and with people.
READ ALSO: Bible Verses For Marriage
25 Bible Verses For Forgiveness
For your quick reference, we have broken bible verses for forgiveness into two parts: bible verses for forgiveness from God and bible verses for forgiving others
Let's see!
Bible Verses For Forgiveness From God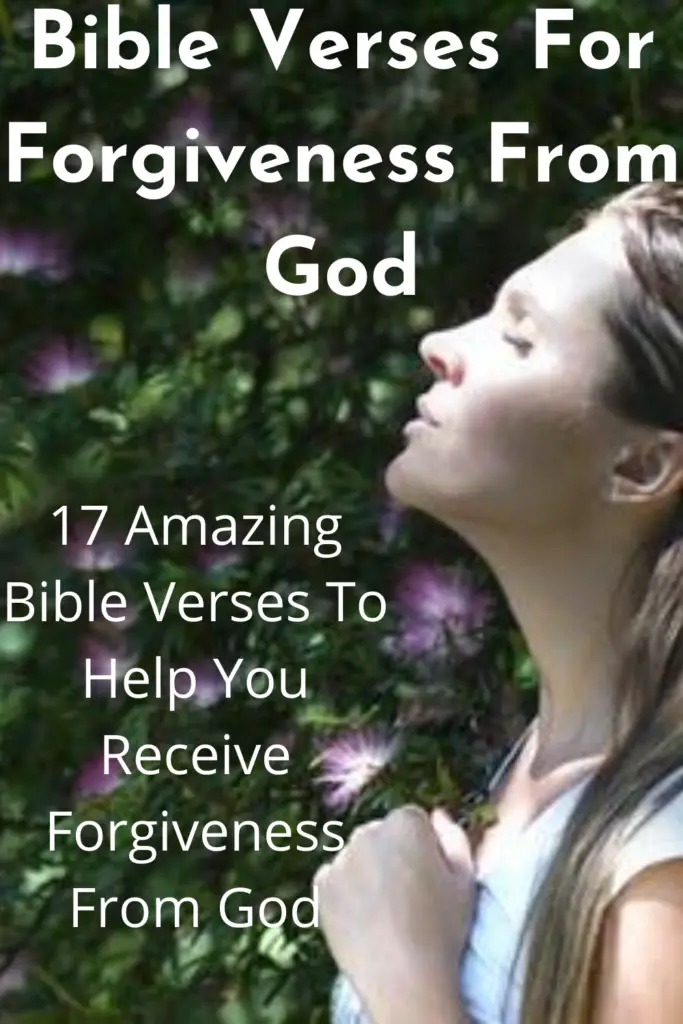 1. 1 John 1:7, 9:
"But if we walk in the light, as he is in the light, we have fellowship one with another, and the blood of Jesus Christ his Son cleanseth us from all sin. … If we confess our sins, he is faithful and just to forgive us our sins, and to cleanse us from all unrighteousness."
2. Psalm 51:
"Have mercy upon me, O God, according to thy lovingkindness: according unto the multitude of thy tender mercies blot out my transgressions. Wash me throughly from mine iniquity, and cleanse me from my sin. For I acknowledge my transgressions: and my sin is ever before me. Against thee, thee only, have I sinned, and done this evil in thy sight: that thou mightest be justified when thou speakest, and be clear when thou judgest. Behold, I was shapen in iniquity; and in sin did my mother conceive me. Behold, thou desirest truth in the inward parts: and in the hidden part thou shalt make me to know wisdom. Purge me with hyssop, and I shall be clean: wash me, and I shall be whiter than snow. Make me to hear joy and gladness; that the bones which thou hast broken may rejoice. Hide thy face from my sins, and blot out all mine iniquities. Create in me a clean heart, O God; and renew a right spirit within me. Cast me not away from thy presence; and take not thy holy spirit from me. Restore unto me the joy of thy salvation; and uphold me with thy free spirit. Then will I teach transgressors thy ways; and sinners shall be converted unto thee. 

"Come now, let us settle the matter," says the Lord. "Though your sins are like scarlet, they shall be as white as snow; though they are red as crimson, they shall be like wool.
4. Isaiah 43:25-26:
"I, even I, am he that blotteth out thy transgressions for mine own sake, and will not remember thy sins. Put me in remembrance: let us plead together: declare thou, that thou mayest be justified."
"Who is a God like you, who pardons sin and forgives the transgression of the remnant of his inheritance? You do not stay angry forever but delight to show mercy. You will again have compassion on us; you will tread our sins underfoot and hurl all our iniquities into the depths of the sea."
6. Isaiah 53:3-5:
"He is despised and rejected of men; a man of sorrows, and acquainted with grief: and we hid as it were our faces from him; he was despised, and we esteemed him not. Surely he hath borne our griefs, and carried our sorrows: yet we did esteem him stricken, smitten of God, and afflicted. But he was wounded for our transgressions, he was bruised for our iniquities: the chastisement of our peace was upon him; and with his stripes we are healed."
7. Numbers 14:19
"Pardon, I beseech thee, the iniquity of this people according unto the greatness of thy mercy, and as thou hast forgiven this people, from Egypt even until now."
8. Matthew 26:28:
"For this is my blood of the new testament, which is shed for many for the remission of sins." 
9. Ephesians 1:7:
"In whom we have redemption through his blood, the forgiveness of sins, according to the riches of his grace;"
10. Romans 4:6-8:
"Even as David also describeth the blessedness of the man, unto whom God imputeth righteousness without works, 
Saying, Blessed are they whose iniquities are forgiven, and whose sins are covered. Blessed is the man to whom the Lord will not impute sin."
11. Colossians 2:13-14:
"And you, being dead in your sins and the uncircumcision of your flesh, hath he quickened together with him, having forgiven you all trespasses; Blotting out the handwriting of ordinances that was against us, which was contrary to us, and took it out of the way, nailing it to his cross;"
12. Romans 11:27:
"For this is my covenant unto them, when I shall take away their sins." 
13. Hebrews 4:15-16:
"For we have not an high priest which cannot be touched with the feeling of our infirmities; but was in all points tempted like as we are, yet without sin. Let us therefore come boldly unto the throne of grace, that we may obtain mercy, and find grace to help in time of need." 
14. 1 John 2:1-2:
"My little children, these things write I unto you, that ye sin not. And if any man sin, we have an advocate with the Father, Jesus Christ the righteous: And he is the propitiation for our sins: and not for ours only, but also for the sins of the whole world."
READ ALSO: Bible Verses For Protection
15. Hebrews 8:12:
"For I will be merciful to their unrighteousness, and their sins and their iniquities will I remember no more."
16. Matthew 6:12-16:
"And forgive us our debts, as we forgive our debtors. And lead us not into temptation, but deliver us from evil: For thine is the kingdom, and the power, and the glory, for ever. Amen. For if ye forgive men their trespasses, your heavenly Father will also forgive you: But if ye forgive not men their trespasses, neither will your Father forgive your trespasses."
17. Daniel 9:19: (NIV):
"Lord, listen! Lord, forgive! Lord, hear and act! For your sake, my God, do not delay, because your city and your people bear your Name."
Bible Verses About Forgiving Others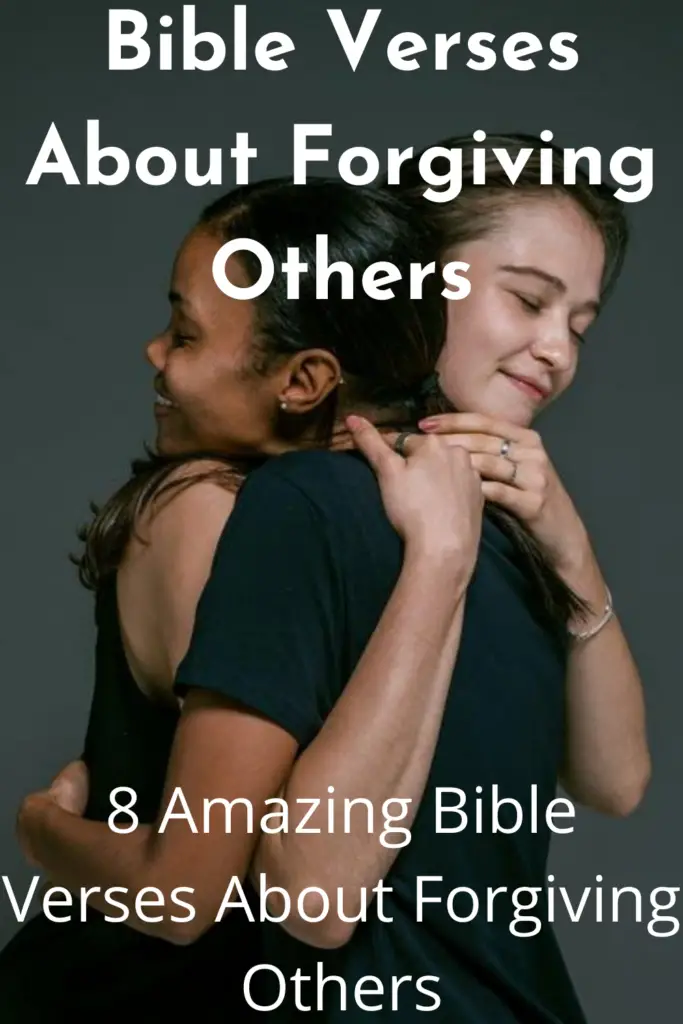 18. Colossians 3:12-13:
"Put on therefore, as the elect of God, holy and beloved, bowels of mercies, kindness, humbleness of mind, meekness, longsuffering; Forbearing one another, and forgiving one another, if any man have a quarrel against any: even as Christ forgave you, so also do ye."
19. Ephesians 4:31-32:
"Let all bitterness, and wrath, and anger, and clamour, and evil speaking, be put away from you, with all malice: And be ye kind one to another, tenderhearted, forgiving one another, even as God for Christ's sake hath forgiven you."
20. Mark 11:25:
"And when ye stand praying, forgive, if ye have ought against any: that your Father also which is in heaven may forgive you your trespasses." 
21.Matthew 18:21-22:
"Then came Peter to him, and said, Lord, how oft shall my brother sin against me, and I forgive him? till seven times? Jesus saith unto him, I say not unto thee, Until seven times: but, Until seventy times seven."
"This, then, is how you should pray: " 'Our Father in heaven, hallowed be your name, your kingdom come, your will be done, on earth as it is in heaven. Give us today our daily bread. And forgive us our debts, as we also have forgiven our debtors. And lead us not into temptation but deliver us from the evil one.' For if you forgive other people when they sin against you, your heavenly Father will also forgive you. But if you do not forgive others their sins, your Father will not forgive your sins."
23. Ephesian 4:1-3:
"I therefore, the prisoner of the Lord, beseech you that ye walk worthy of the vocation wherewith ye are called, With all lowliness and meekness, with longsuffering, forbearing one another in love; Endeavouring to keep the unity of the Spirit in the bond of peace."
24. Luke 6:37:
"Judge not, and ye shall not be judged: condemn not, and ye shall not be condemned: forgive, and ye shall be forgiven:" 
25. Luke 17:3-4:
"Take heed to yourselves: If thy brother trespass against thee, rebuke him; and if he repent, forgive him. 
And if he trespass against thee seven times in a day, and seven times in a day turn again to thee, saying, I repent; thou shalt forgive him."
READ ALSO: Bible Verses For Birthdays Wishes
PS: Unless otherwise stated all scriptural quotations in this post are taken from the Authorised King James Version. And all scriptural quotations tagged NIV are taken online from the New International Version 2011, published by Biblica.
How To Use Bible Verses For Forgiveness
God always desires that you bring back His word back to Him on anything that you are asking of Him.
And He is bound by His word and faithful to it.
If you are looking at receiving forgiveness from God, then take a hold on any of the bible verses that best communicate what you want to say to God and then go pray it in faith.
And once you are in faith and your heart is assured that God has heard you, then quit praying and start thanking God for forgiveness.
That way you again experience the peace of God that comes with forgiveness.
You'll find that you're light again; your guilt and sins (consciousness) all gone.
Plus, to forgive others, look for any of the bible verses for forgiveness that helps you forgive others, meditate on it, pray it, until the love of God arise in your heart and you are able to stand up on your feet declaring I forgive so and so.
When you have forgiven and let go of someone by the power of God, you will know – the weight on your heart and mind will go and joy, compassion, laughter and sometimes sigh and tears will take its place.
That's a sure sign that God has performed a miracle in your heart and that you have put off the burden that not forgiving others have put on you.
Final word
We believe these bible verses for forgiveness have met your very need.
We trust that the Holy Spirit will use any or all of these bible verses for forgiveness to help you receive forgiveness from God.
Plus, we trust that the same Holy Spirit will help you find a place in your heart to forgive that person that has hurt you through the bible verses for forgiveness above.
Whatever your case, we are sure you will find true and lasting peace having receive forgiveness from God and having also forgiven others.
Shalom!
Please share if you find the post helpful!
25 Bible Verses For Forgiveness To Restore Peace