Looking around for scriptures on praying in the Spirit!
We have you sorted out.
A lot has been said and written about praying in the spirit – a somewhat controversial topic, you know!
But what does the bible really say and teach about it.
These scriptures on praying in the spirit will point you on the right direction.
Plus, they will help you with quick reference study on praying in the spirit in a one-stop shop, all for your reading pleasure.
Ready, let's go!
READ ALSO: Prayer Points For The Church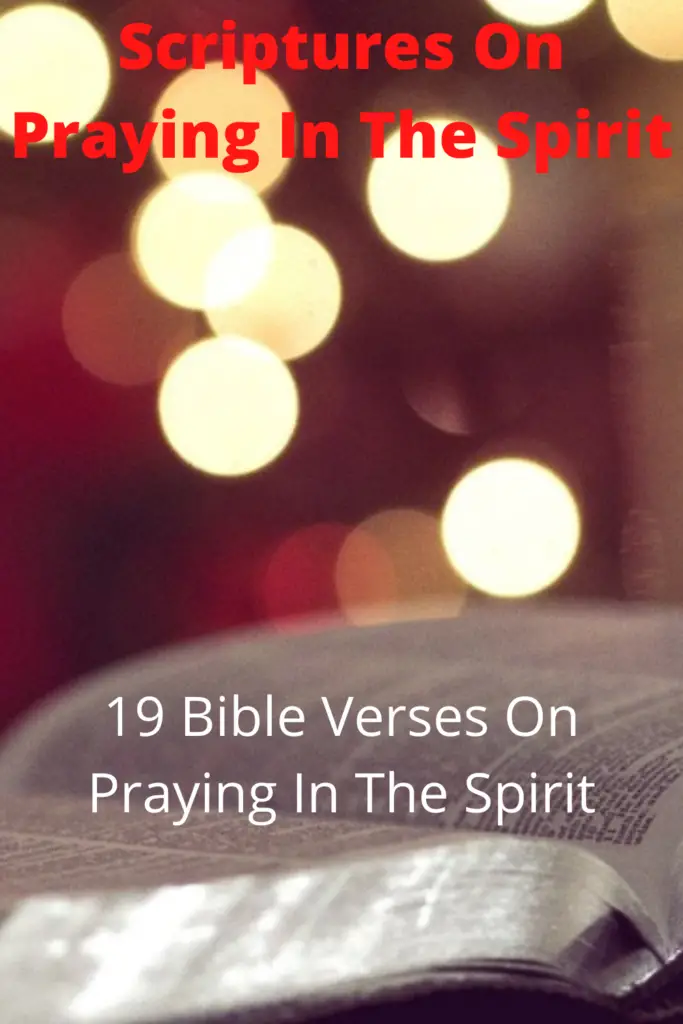 19 Scriptures On Praying In The Spirit
"In the same way, the Spirit helps us in our weakness. We do not know what we ought to pray for, but the Spirit himself intercedes for us through wordless groans. And he who searches our hearts knows the mind of the Spirit, because the Spirit intercedes for God's people in accordance with the will of God."
2. Ephesians 6:18:
"Praying always with all prayer and supplication in the Spirit, and watching thereunto with all perseverance and supplication for all saints;"
3. Jude 1:20:
"But ye, beloved, building up yourselves on your most holy faith, praying in the Holy Ghost,"
4. 1 Corinthians 14:14-15:
"For if I pray in an unknown tongue, my spirit prayeth, but my understanding is unfruitful. What is it then? I will pray with the spirit, and I will pray with the understanding also: I will sing with the spirit, and I will sing with the understanding also." 
5. Galatians 5:16-18:
"This I say then, Walk in the Spirit, and ye shall not fulfil the lust of the flesh. For the flesh lusteth against the Spirit, and the Spirit against the flesh: and these are contrary the one to the other: so that ye cannot do the things that ye would. But if ye be led of the Spirit, ye are not under the law."
READ ALSO: Can You Get The Holy Spirit Back?
6. John 16:13:
"Howbeit when he, the Spirit of truth, is come, he will guide you into all truth: for he shall not speak of himself; but whatsoever he shall hear, that shall he speak: and he will shew you things to come."
7. John 14:15-17:
"If ye love me, keep my commandments. And I will pray the Father, and he shall give you another Comforter, that he may abide with you for ever; Even the Spirit of truth; whom the world cannot receive, because it seeth him not, neither knoweth him: but ye know him; for he dwelleth with you, and shall be in you."
8. Zechariah 12:10:
"And I will pour upon the house of David, and upon the inhabitants of Jerusalem, the spirit of grace and of supplications: and they shall look upon me whom they have pierced, and they shall mourn for him, as one mourneth for his only son, and shall be in bitterness for him, as one that is in bitterness for his firstborn."
9. James 5:16:
"Confess your faults one to another, and pray one for another, that ye may be healed. The effectual fervent prayer of a righteous man availeth much."
10. 1 John 2:27:
"But the anointing which ye have received of him abideth in you, and ye need not that any man teach you: but as the same anointing teacheth you of all things, and is truth, and is no lie, and even as it hath taught you, ye shall abide in him."
11. 1 Corinthians 14:2:
"For he that speaketh in an unknown tongue speaketh not unto men, but unto God: for no man understandeth him; howbeit in the spirit he speaketh mysteries."
12. John 15:7:
"If ye abide in me, and my words abide in you, ye shall ask what ye will, and it shall be done unto you."
READ ALSO: What Does Born Again Mean?
13. Ephesians 2:18:
"For through him we both have access by one Spirit unto the Father."
14. Ephesians 5:18:
"And be not drunk with wine, wherein is excess; but be filled with the Spirit;"
15. 1 John 5:14-15:
"And this is the confidence that we have in him, that, if we ask any thing according to his will, he heareth us: And if we know that he hear us, whatsoever we ask, we know that we have the petitions that we desired of him."
16. Philippians 4:6-7:
"Be careful for nothing; but in every thing by prayer and supplication with thanksgiving let your requests be made known unto God. And the peace of God, which passeth all understanding, shall keep your hearts and minds through Christ Jesus."
READ ALSO: What Does Praying In The Spirit Mean?
17. Matthew 6:7:
"But when ye pray, use not vain repetitions, as the heathen do: for they think that they shall be heard for their much speaking." 
18. Hebrews 4:16:
"Let us therefore come boldly unto the throne of grace, that we may obtain mercy, and find grace to help in time of need." 
19. John 11:33:
"When Jesus therefore saw her weeping, and the Jews also weeping which came with her, he groaned in the spirit, and was troubled," 
PS: Unless otherwise stated all scriptural quotations in this post are taken from the Authorised King James Version. And all scriptural quotations tagged NIV are taken online from the New International Version 2011, published by Biblica.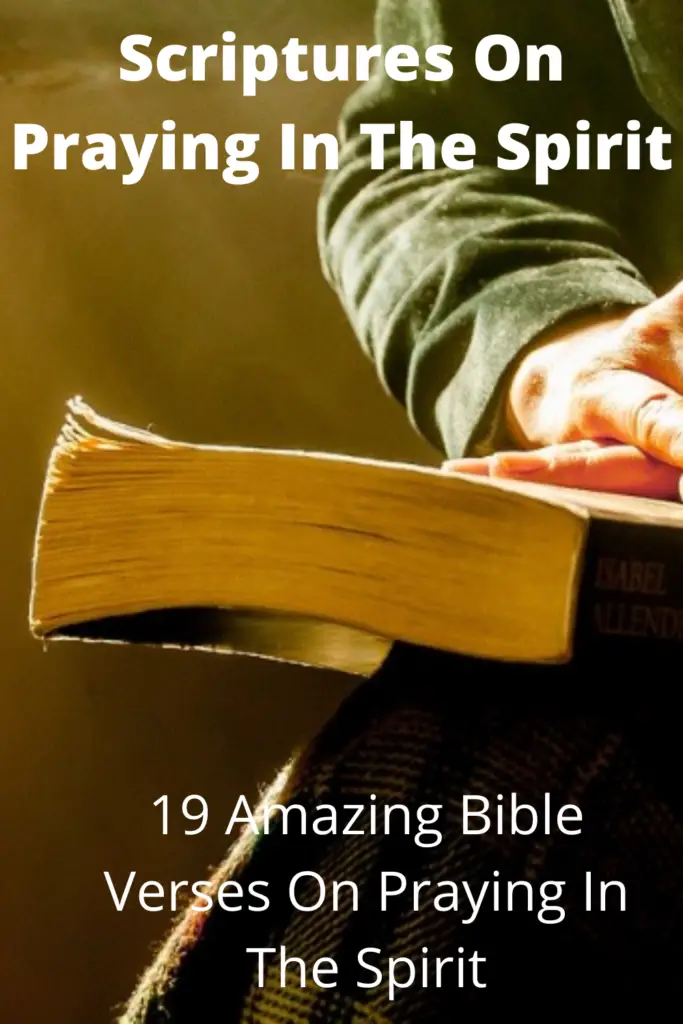 READ ALSO: A Prayer In The Morning
Wrapping up
We trust that these scriptures on praying in the spirit really help you with what you are looking for.
And to make the best of these scriptures, you have got to memorize them, meditate on them, pray them all the time and best of all, act them.
That way, the scriptures on praying in the spirit will become a part of your everyday life.
And don't forget to always pray in the spirit at all time.
This is because the scriptures urge us to do so, under any circumstances and no matter what kind of prayer we are doing. (See Ephesians 6:18)
Be a doer of the word!
All the best!
READ ALSO: How To Receive The Holy Spirit
Please share if you find the post helpful!
19 Scriptures On Praying In The Spirit (Bible Verses)