Here are prayer points for the sick you can use to pray.
You may at one time or the other in life be confronted with health problems directly or indirectly.
It may be you or a loved one that sickness has taken a hold of, but don't worry, you can pray them or your way out of that condition.
But first off, you must know that God has made provision for your healing and health through the death of His Son Jesus Christ.
And it is on the basics of this provision that you can pray, claim and receive your blood bought healing, deliverance and health.
In short, it is through prayer that you appropriate the blessing of redemption, whether it is healing, deliverance, provision, safety, protection and what have you.
That said.
Now to help get you started and headed the right direction, we have put together these prayer points for the sick for a quick reference.
Let's get to it.
READ ALSO: Prayer Points For Healing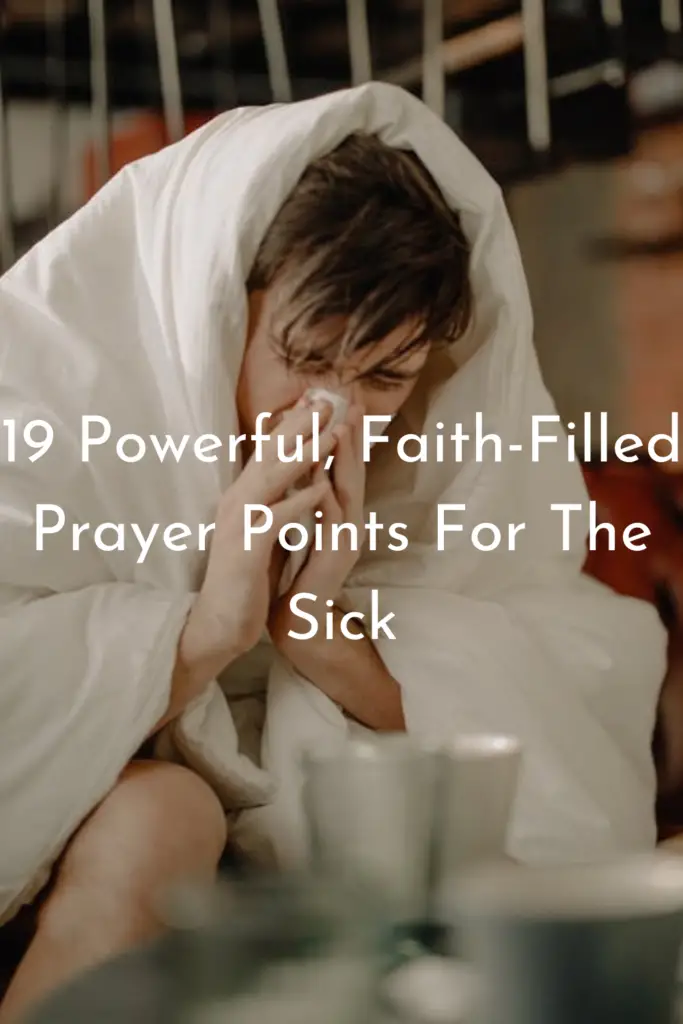 Prayer Points For The Sick
The following are prayer points for the sick you can pray right away:
1. Pray that the word of God will have free course in the life of the sick person.
But the seed on good soil stands for those with a noble and good heart, who hear the word, retain it, and by persevering produce a crop. (Luke 8:15, NIV)
2. Pray that his spirit will be receptive to the word of God because it is God's word that heals.
He sent his word, and healed them, and delivered them from their destructions. (Psalm 107:20, KJV)
These were more noble than those in Thessalonica, in that they received the word with all readiness of mind, and searched the scriptures daily, whether those things were so. (Acts 17:11, KJV)
3. Pray that the sick will look to Christ for their deliverance.
They looked unto him, and were lightened: and their faces were not ashamed. (Psalm 34:5, KJV)
4. Pray and take authority over the sickness in the name of Jesus and command it to leave that person's body or mind.
Then he called his twelve disciples together, and gave them power and authority over all devils, and to cure diseases. (Luke 9:1, KJV) 
5. Pray and command every evil spirit behind the sickness to come out and enter into the person no more, in the name of Jesus.
And when he had called unto him his twelve disciples, he gave them power against unclean spirits, to cast them out, and to heal all manner of sickness and all manner of disease. (Matthew 10:1, KJV)
PEOPLE ALSO READ: Prayer Points On Breaking Limitations
6. Pray and declare that the person's body and mind is the temple of the Holy Spirit, therefore, Satan has no right to violate them.
What? know ye not that your body is the temple of the Holy Ghost which is in you, which ye have of God, and ye are not your own? (1 Corinthians 6:19, KJV)
7. Pray and break Satan's hold over that person's body and mind by the blood of Jesus.
And they overcame him by the blood of the Lamb, and by the word of their testimony; and they loved not their lives unto the death. (Revelation 12:11, KJV)
8. Pray and declare Satan's legal claim over that person's body and mind settled by the blood of Jesus.
Blotting out the handwriting of ordinances that was against us, which was contrary to us, and took it out of the way, nailing it to his cross. (Colossians 2:14, KJV)
PEOPLE ALSO READ: Prayer Points For Wisdom
9. Pray, calling the name of Jesus over that person as many times possible.
And whatsoever ye do in word or deed, do all in the name of the Lord Jesus, giving thanks to God and the Father by him. (Colossians 3:17, KJV)
10. Pray and ask the Holy Spirit of God to take over the person's body and mind and quicken it with the Life of God, in Jesus name.
It is the spirit that quickeneth; the flesh profiteth nothing: the words that I speak unto you, they are spirit, and they are life. (John 6:63, KJV)
11. Pray and ask the anointing of the Holy Spirit to invade the person's body, in Jesus name.
For the law of the Spirit of life in Christ Jesus hath made me free from the law of sin and death. (Romans 8:2, KJV)
12. Pray and declare the atmosphere and place where the sick person is, enlivened with the power of God, in Jesus name.
And when they had prayed, the place was shaken where they were assembled together; and they were all filled with the Holy Ghost, and they spake the word of God with boldness. (Acts 4:31, KJV)
13. Pray and demand that the resurrection power of Jesus flow into that person's body and mind right now, in Jesus name.
But if the Spirit of him that raised up Jesus from the dead dwell in you, he that raised up Christ from the dead shall also quicken your mortal bodies by his Spirit that dwelleth in you. (Romans 8:11, KJV)
PEOPLE ALSO READ: Morning Prayer Points For Breakthrough
14. Pray and rebuke oppression of that person's body, mind and soul by the devil, in the name of Jesus.
How God anointed Jesus of Nazareth with the Holy Ghost and with power: who went about doing good, and healing all that were oppressed of the devil; for God was with him. (Acts 10:38, KJV)
15. Pray and declare that Satan should give him up now, in Jesus name.
I will say to the north, Give up; and to the south, Keep not back: bring my sons from far, and my daughters from the ends of the earth. (Isaiah 43:6, KJV)
16. Pray and rebuke the spirit of death over him, in Jesus name.
I will ransom them from the power of the grave; I will redeem them from death: O death, I will be thy plagues; O grave, I will be thy destruction: repentance shall be hid from mine eyes. (Hosea 13:14, KJV)
17. Pray and command him to live and not die, in Jesus name.
Let Reuben live, and not die … (Deuteronomy 33:6a, KJV)
18. Pray and declare liberty, freedom over that person, in Jesus name.
The Spirit of the Lord is upon me, because he hath anointed me to preach the gospel to the poor; he hath sent me to heal the brokenhearted, to preach deliverance to the captives, and recovering of sight to the blind, to set at liberty them that are bruised. (Luke 4:18, KJV)
19. Pray and pronounce him healed, strong and whole, in Jesus name.
But Jesus turned him about, and when he saw her, he said, Daughter, be of good comfort; thy faith hath made thee whole. And the woman was made whole from that hour. (Matthew 9:22, KJV)
Now, go ahead and thank God for victory, in Jesus name.
You may as well now tell the person to get up and walk, do something he has not been able to do since he was sick, in Jesus name.
PEOPLE ALSO READ: Prayer Points For Financial Breakthrough With Bible Verses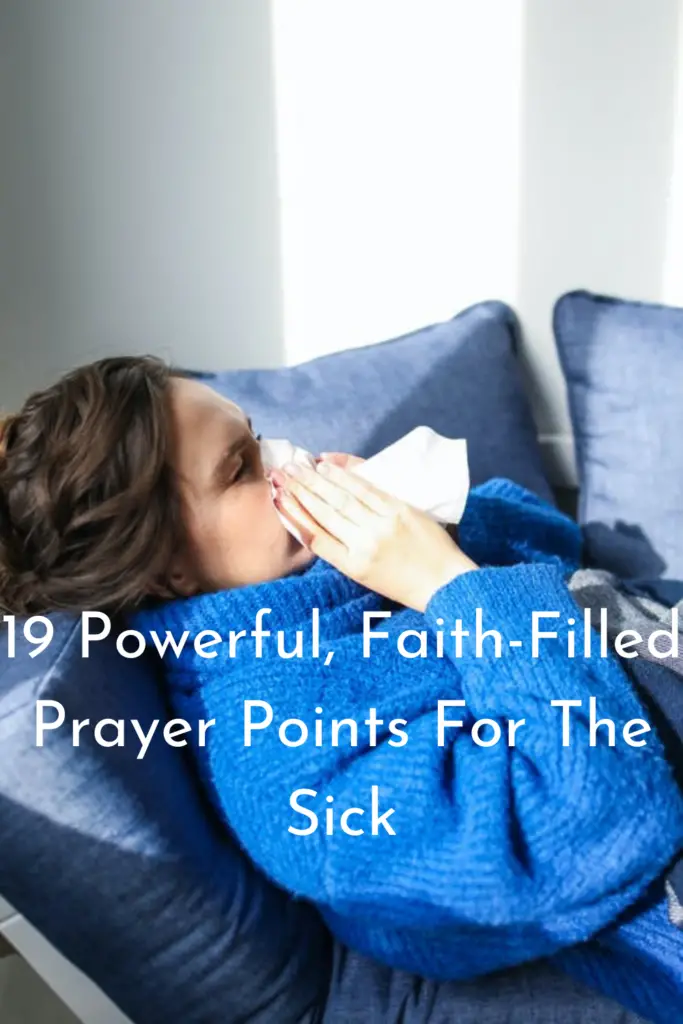 Conclusion
Knowing full well that sickness is captivity and oppression of the devil, you must be ready to take a stand in the authority in the name of Jesus and do spiritual battle over the sick until you have the victory.
So that is why your approach to these prayer points for the sick must be strong, serious, audacious and positive.
You must be strong, authoritative, firm and bold seeing you are going to be dealing with the devil and his demons of sickness in this case.
You must be ready to cast him out in your prayer.
Well, these prayer points for the sick have furnished you with the approach, the attitude and what to say or pray as well.
When you do this fearlessly, you will be surprised at the result that you get.
Sicknesses and diseases are caused by demons 90 percent of the time. So when you learn to discern and cast them out, then you would have learned one of the greatest secrets to success when it comes to praying for the sick.
PEOPLE ALSO READ: Warfare Prayers Against Sickness
Now, you can pray these prayer points for the sick over a person by laying your hands on them, you can as well pray it over the phone on the person if you cannot get to the person because of distance or location – for there's no distance in the spirit.
Faith and prayer are not inhibited or limited by distance.
All the best!
19 Faith-Filled Prayer Points For The Sick