Here are midnight prayers for marriage that you can use to pray.
Don't leave your marriage to chance, Satan will ruin it.
It may surprise you to know that the destruction and collapse of Christian marriages and homes is top on the list on Satan's yearly agenda.
He hates Christian-godly-biblical marriage, he hates the fact that you are married, he hates it the most because you are a Christian.
Why?
It is because, the Christian marriage is an expression of trinity in the natural real (the husband, the wife and God)
It is more like a church.
For where two or three are gathered together in His name, He is there in their midst. (See Matthew 18:20, KJV)
That's marriage in a nutshell.
And you think that Satan will be happy with it.
No, a thousand times no.
He hates the Christian marriage and home same way he hates the church, the body of Christ.
That's why he will not stop throwing tantrums at your home and marriage.
But you can check him, you can stop him.
These midnight prayers for marriage will help you start out checking and stopping him from interfering with your marriage and home.
Ready to pray?
Let's go.
READ ALSO: Prayer Points For A Successful Marriage
Midnight Prayers For Marriage
The following are midnight prayers for marriage you can promptly pray to take spiritual charge over your home and spiritual responsibility for your marriage:
1. Pray first of all and thank God for the gift of life, love, marriage and togetherness, in Jesus name.
2. Pray and rededicate your marriage to the Lord, handing over every aspect and phase of your marriage to His loving and able hands, in Jesus name.
…for I know whom I have believed, and am persuaded that he is able to keep that which I have committed unto him against that day. (2Ti 1:12, KJV)
3. Pray and ask the Lord to inspire divine love, true love for one another in your marriage, in Jesus name.
A new commandment I give unto you, That ye love one another; as I have loved you, that ye also love one another. (John 13:34, KJV)
4. Pray and ask the Lord to give you and your spouse compassion for each other, in Jesus name.
5. Ask the Lord to teach and inspire in your heart the ability to quickly and easily forgive one another, in Jesus name.
6. Pray and ask the Lord to give you grace for tolerance and forbearance, in Jesus name.
And be ye kind one to another, tenderhearted, forgiving one another, even as God for Christ's sake hath forgiven you. (Ephesians 4:32, KJV)
7. Ask God to grant you understanding and insights into the strengths and weaknesses of your spouse and the ability to manage them, in Jesus name.
Likewise, ye husbands, dwell with them according to knowledge, giving honour unto the wife, as unto the weaker vessel, and as being heirs together of the grace of life; that your prayers be not hindered. (1 Peter 3:7, KJV)
8. Pray and declare that no satanic agenda to destroy your home will prosper, in Jesus name.
9. Pray, resist and declare that no strange man or woman shall know his or her way into the heart of your spouse, in Jesus name.
10. Pray and bind demons of lust that may be lingering and loitering around in the heart of your spouse, in Jesus name.
11. Declare that your spouse will not fall for sin, fornication and adultery, in Jesus name.
Verily I say unto you, Whatsoever ye shall bind on earth shall be bound in heaven: and whatsoever ye shall loose on earth shall be loosed in heaven. (Matthew 18:18, KJV)
12. Declare that your spouse is holding on to the truth and integrity of God's word, come rain or sun, no matter the pressure to sin, in Jesus name.
PEOPLE ALSO READ: Midnight Prayers For Protection
13. Declare that the no man or woman shall have the advantage over your spouse, in Jesus name.
He disappointeth the devices of the crafty, so that their hands cannot perform their enterprise. (Job 5:12, KJV)
14. Pray and ask the Lord for financial increase, growth and prosperity for you and your spouse, in Jesus name.
15. Declare that the heavens are opened over your marriage for financial plenty, harvest and increase, in Jesus name.
But my God shall supply all your need according to his riches in glory by Christ Jesus. (Philippians 4:19, KJV)
16. Pray the blessing upon your children that they will be mighty upon the earth, and that they will flourish and prosper because they are the seed of the righteous, in Jesus name.
17. Pray and declare that the counsel of God shall prosper in their lives, and that they will not fall for the evil in their generation, in Jesus name.
His seed shall be mighty upon earth: the generation of the upright shall be blessed. (Psalm 112:2, KJV) 
18. Declare that your home will be flooded with peace and established in righteousness, in Jesus name.
19. Pray and declare that because you are the righteousness of God in Christ Jesus, it is well with you, your spouse and your children, in Jesus name.
In righteousness shalt thou be established: thou shalt be far from oppression; for thou shalt not fear: and from terror; for it shall not come near thee. (Isaiah 54:14, KJV)
20. Declare that every root of bitterness in your home is destroyed now by the blood of Christ, in Jesus name.
21. Pray and claim protection in the blood of Christ on your marriage, it will never be spotted or faulted by Satan and his evil hordes of darkness, in Jesus name.
22. Pray and ask the Holy Spirit for wisdom to manage your home and bring it onto prosperity and increase, in Jesus name.
Through wisdom is an house builded; and by understanding it is established: And by knowledge shall the chambers be filled with all precious and pleasant riches. (Proverbs 24:3, KJV)
23. Ask the Lord to fill your home with His divine presence, love and peace, so that everyone that enters your house will literally feel the presence of God, seeing that your home has become an abode of God on earth, in Jesus name.
Jesus answered and said unto him, If a man love me, he will keep my words: and my Father will love him, and we will come unto him, and make our abode with him. (John 14:23, KJV)
Now go ahead and thank the Lord for answer to prayers, in Jesus name.
PEOPLE ALSO READ: Midnight Prayer Points For Financial Breakthrough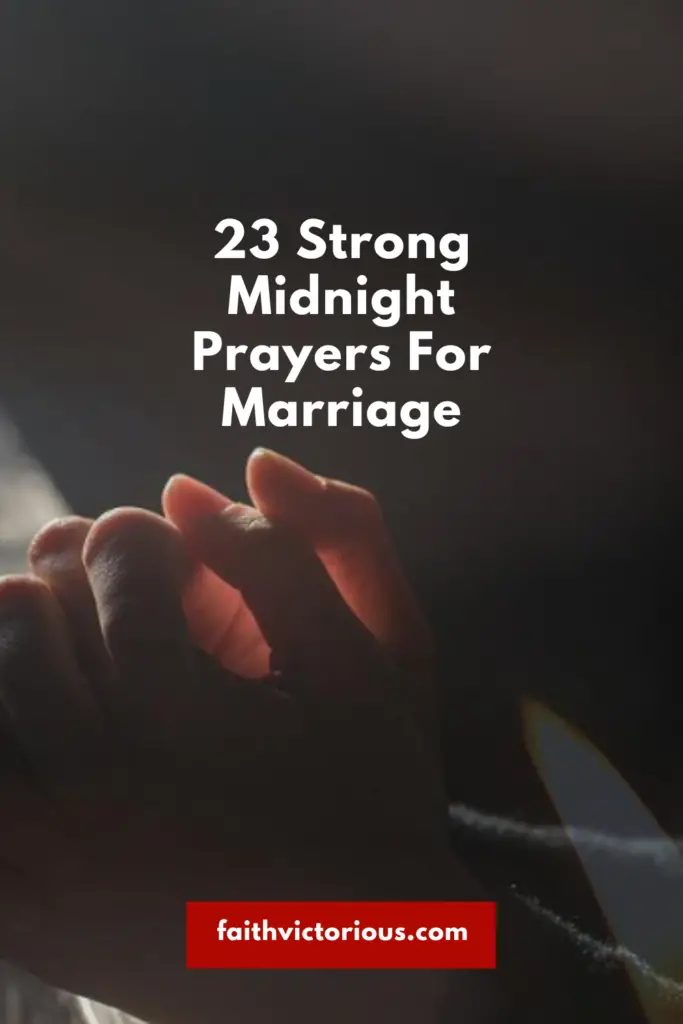 Conclusion
Nonetheless exhaustive, these midnight prayers for marriage will give you a head start in prayer.
You are to pray these prayers, believing, trusting and with faith expectation.
You have got all it takes to stop the devil in his track as he goes about ravishing and ragingly razing and raving homes and Christian marriages.
You've got the word, you've got the Spirit and you've got the name of Jesus Christ.
So having done all to stand, stand, praying and watching over your marriage and home, through the watchful eyes of faith and prayer.
You have got nothing to lose, but everything to gain when you pray.
Particularly when you even set the time of the midnight to pray.
That's because night time is good for spiritual warfare, it is the best time to contend with Satan over your home, marriage and every other thing that concerns you and to forestall his plans and even take back what he has stolen from you.
Now, you will do well to give yourself to praying these prayers often and most importantly praying them in the most spiritually advanced way to pray – praying in the spirit.
That's because when you pray in the spirit, you pray well, you pray exhaustively and you pray sufficiently.
And pray in the Spirit on all occasion with all kinds of prayers and requests. (Ephesians 6:18a, NIV)
God bless you!
All the best!
23 Strong Midnight Prayers For Marriage